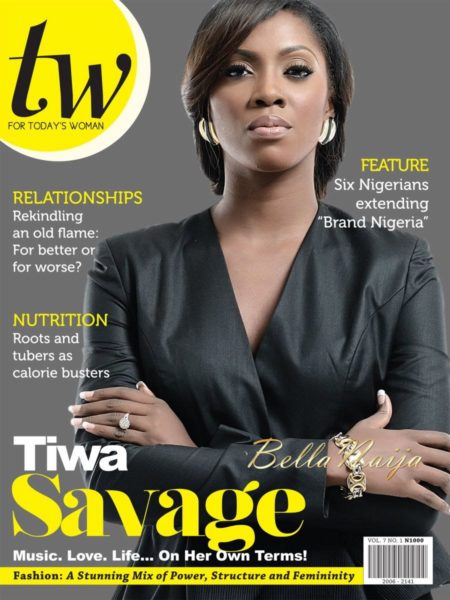 It's the lovely Ms. Tiwa Savage.
The music superstar is the cover star for TW Magazine's October 2013 issue. On the cover, Tiwa is serving a serious look in a black outfit.
It's has been a busy year for the chanteuse, with the release of her debut album – Once Upon a Time, being named a brand ambassador for two brands, premiering her talk show on Ebony Life TV and locking down love.
In this issue, Tiwa Savage and her manager/fiancé Tunji "Tee Billz" Balogun speak about their love story, public scrutiny of their relationship, his tough guy image, managing their personal and professional relationship, balancing each other and a whole lot more.
Now that's a must read.
Veteran Nollywood actor Basorge Tariah Jr, is TW's October celebrity feature. The actor who has been in the movie industry for over three decades, speaks on maintaining morals, professionalism and authenticity.
Made Music Group's first lady Emma Nyra is also featured in the issue. The singer/songwriter opens up about her childhood, staying relevant and future goals.
Meet 11 year old Zuriel Oduwole, a documentary filmmaker and interviewer who recently made headlines as the youngest person interviewed by Forbes Magazine, in this issue. The in-depth interview is part of the festivities commemorating International Day of the Girl Child.
In celebration of Nigeria's independence six individuals who have helped place Nigeria on the world map by pursuing excellence – Aliko Dangote, D'banj, Lanre DaSilva Ajayi, Dr. Joe Okei–Odumakin, Toyosi Akerele and Kanu Nwankwo, are all featured.
The fashion editorial serves as inspiration for today's independent woman who is quietly commanding a presence through her personal style. The Practical Girl's Guide shows you how to wear one of this season's hottest hues: emerald green, while our Accessorized page presents must-have accessories to help you make an independent statement.
Also included in this edition is the latest on the TW Fitness Challenge with Kate Henshaw which sees the TW team working with 19 women to help them lose weight and get fit.
Regular features on relationships, health, finance & beauty, plus articles to help you live your best, most authentic life, this edition is definitely a must read.
The issue is now available at newsstands nationwide. You can also get TW Magazine on your iPad, simply go to: https://itunes.apple.com/us/app/twmagazineapp/id662035026?mt=8 | www.twmagazine.net.
Cover Credits
Cover Story: Chinedu Iroche
Photography: Moussa Moussa
Fashion Editor: Pepper Okwesa-Chikezie
Styling: D.E.E.V.A.S.
Makeup: Joyce Jacob
Hair: TJ