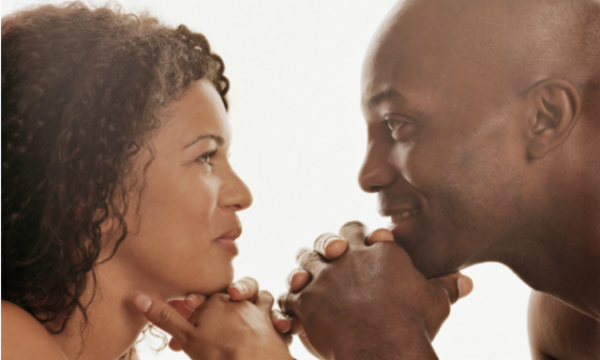 'Femi, can you imagine!' Biola exclaimed between tears.
'He just called me and told me that it is over. What have I done wrong?' she continued.
'Don't mind him Biola; he is just immature. There are other guys out there, don't worry.'
Femi was used to reassuring Biola. He held her hand and pulled her into his chest. Her neck nestled in the crook of his, just as warm tears streamed down her face.
'Is there something wrong with me?' Biola desperately asked.
'No, nothing is wrong with you. The pain will pass. Don't worry.'
He cradled her face in his hands and turned it to face his he looked into her eyes and smiled.
'It'll be alright.' He stated again.
In that moment, in that very second, she noticed that his upper lip trembled. His heart started racing and she knew that it was coming; the man that she knew knew everything about her, was about to kiss her. He leaned in closer and before she could utter a word, he kissed her cheek, placed her head back on his shoulder and kept silent for few more minutes.
***
Every girl has that person they think is nice and sweet. A guy who her parents approve of, however, he might be a bit too nice, and predictable. So she decides to keep him as a friend, on the back burner, in case the adventurous guy she's currently dating messes up. This is a man who is dependable and sincere; he knows her probably better than she knows herself, he has been there for her through all of her trying times yet she denies him a place in her heart. She simply labels him her 'bestie'. The same applies to guys who have that girl that really cares about them, the one that they always have a laugh with, the one that irrespective of their faults still cares deeply for them. But unfortunately, there is no chase, there is no game, it's all too easy, so they lose interest.
Let's take a look at society and more specifically, the Nigerian Society. Everyone is trying to be 'Big Girls and Big Guys.' The girls go for the guys with the money, looks and charm. And the men go for the women most guys seem to be after, the 'It Girl.' She's probably between a size 6-10 US, prances around in her Louboutin shoes accessorised by her Birkin bag; with a face like Beyoncé's and a body like Rihanna's . However, we all fail to realise one very important fact, there is a 75% chance that if we choose the 'It Girl' or the guy on his 'Bad Guy P,' we will most probably get our hearts broken. Mainly because he was never really interested in her in the first place, so he went in and as soon as he was done, he tapped out, or worse – end up broke! Broke, because that girl has milked him for every last penny he is worth.
So why indulge in this trivial pursuit? Girls are always talking about how horrible men are, how they are all players, and then they fail to realise that at one point, they chased that guy in the first place and guys always complain that the babes in Lagos are after their money.
Oh, how much easier the world of love would be if we all considered dating our best friend! I know some of you may argue that 'he's like a brother to me' or 'we know too much about each other.' The beauty is that you do know a lot about each other. You have rapport, you understand each other's strengths, weaknesses and temperaments, and therefore your relationship is bound to last a lot longer. Being with someone who knows you through and through is what you should strive for.
So go on, what are you waiting for?
Photo Credit: hellobeautiful.com
______________________________________________________________________________________________________
Georgette Monnou was born in Lagos, Nigeria and has lived in various countries since then. She is in the final year of her Law degree in the UK. She updates her two blogs regularly, which are inspired by her passion for Nigeria and life itself.http://theunspokenwords93.blogspot.co.uk/ and http://wordsanddesigns.wordpress.com/.