As the holidays draw nearer, it is a delight to know that the November edition of LPM is HERE!
They have a new home; they have moved to their own space which they can't wait to debut
Tagged – "Discover Accessories", the event will kick off at 12 noon. Apart from shopping for the very best in African fashion, lifestyle, beauty and accessories, you will get delicious food from Tash Bistro, frozen yoghurt from Yoghurt Frenzy while Elle's Ice Box will be present for cocktails and other refreshments.
Vendors that will be present at the event include but are not limited to;
Desire 1709 | AAbiodun | Elle's Ice Box | Elle's Boutique | Hair Matters | DiDi Creations | Tash Bistro | Onikeke | Sybil's Jewelry House | House of Nefertiti | Jedidiah's Place | Lush Jewels | Biddy's Mondo | TFP | Didi Rose | Habeeb Diaw | Mindset | Starlicious | Yoghurt Frenzy | L'Espace | Labiz | House of Sura
Check out popup.lpmnigeria.com for their curated online pop-up featuring Agu, Obsidian, Toju Foyeh, Lady Biba and House 38.
Admission is free for all.
Date: Sunday 24th November 2013
Time: 12 Noon – 7 PM
Venue: Factory 36, 36 Balarabe Musa Crescent, off Samuel Manuwa, Victoria Island, Lagos
Contact: For more info and general enquiries, call  08162463603 | add BB pin 28BC6BE3 | follow on www.twitter.com/LePetitMarcheNG | www.lpmpaper.tumblr.com | www.instagram.com/lpmnigeria | sign up here for news updates and LPM highlights http://eepurl.com/y2RPT
****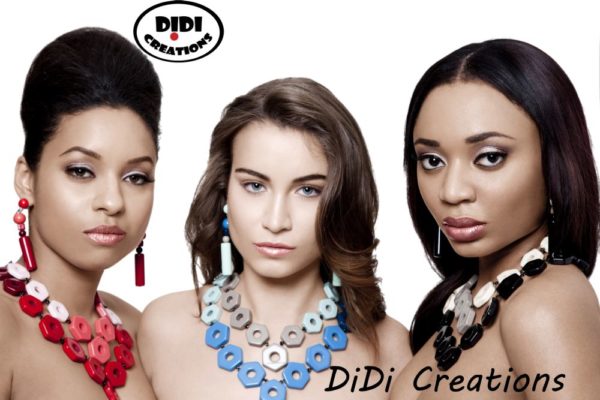 LPM November Vendor Spotlight – Didi Creations
DiDi Creations Ltd. is a fashion company incorporated and based in the United Kingdom. Tina Ndidi Ugo is the Creative Director.
They cater for the fashion conscious male and female; through creating unisex clothes, bags, footwear and accessories.
The Beginning
"I had always loved to stand out from the crowd through my choice of clothing, hair, make-up and accessories from my teenage years. This metamorphosed into my university days at the University of Ibadan where I would alter already made clothes through shredding, painting etc. just to look different.
After graduating in 2001, I worked briefly in the corporate sector; insurance, aviation and publishing. I quit the corporate world in 2005 to become an entrepreneur and set up my first fashion business same year, though it was part time at the time, as I ventured into other businesses."
My Brand Story/Evolution
"I relocated to the United Kingdom for further studies and decided to stay back after my MBA. I was aware of how tough the job market can be, hence I decided to set up my own business upon graduation.
The fashion industry became my first option as it was innate I would eventually be fully involved in it at some point in my lifetime. I decided the brand will be a one stop fashion centre that will cater for the fashion conscious male and female across the globe through creating unique pieces of clothing, bags, footwear and accessories.
Since this was going to become my full time job, I knew it had to be done professionally and fortunately, my recently concluded MBA at the time had prepared me on the steps to follow in setting up a business professionally.
I followed the following steps;
(1.) I wrote my business plan
(2.) I decided on how the business was going to be financed and eventually settled to use; personal savings, bank loan and getting an Angel Investor on board.
(3.) As a Designer, one of my major concerns was finding the right name for the brand. After much deliberation, I decided to use my middle name "Ndidi" because it was my native name and I wanted my African heritage to be associated with the brand.
However, I had to shorten it by removing the first alphabet "N" and stuck with "DIDI" to enable everyone irrespective of their ethnicity or nationality pronounce it with ease and accurately.
I spoke with a few friends and family regarding my proposed business name; "DiDi Creations". Some thought it sounded great, while a few suggested just calling the brand "DiDi" without the "Creations", whereby I explained to these minority that since the brand would be all about creativity of different fashion pieces, I felt It was necessary to have it as I proposed, which they eventually saw reason with me.
(4.) I then searched for the availability of the name on companies house and fortunately it was available and I incorporated it immediately.
However, while searching for the domain name, myself and my IT team discovered .com wasn't available at the time so I had to settle for .co.uk. ,hence www.didicreations.co.uk
(5.) Next was to decide which demographic I wanted the brand to cater for; wherein I decided we would cater for the middle to the upper class of the society.
(6.) I sourced for artisans and manufacturers across the globe whom I worked with (and still do) to create our perfect finished bags, footwear and jewellery.
(7.) As soon as our pieces were ready, I went back home to actually launch the brand in Nigeria on the 10th of June, 2012 in Lagos. This was due to the fact that I wanted a presence back home as well.
(8.) After our successful launch, we needed stockists in Nigeria as people needed a physical outlet where they could purchase our pieces, so we started stocking with L'Espace in Lagos as one of stockists in July 2012, and still do till date.
(9.) Then came the need to start making our clothing towards the end of 2012, and I wanted to be directly involved in the sewing as well; which saw me going back to a private fashion school in London to learn Dress making and Sewing."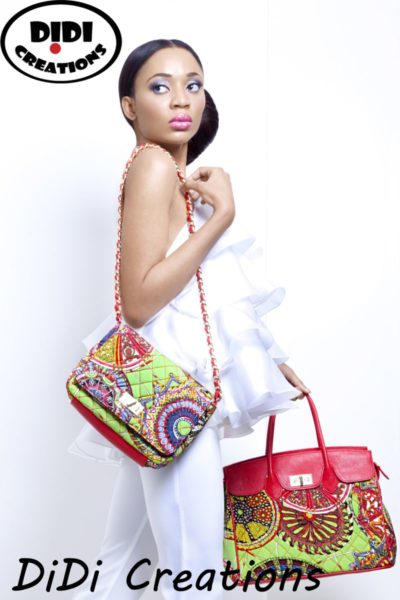 Our Signature and Aesthetic
"Offering Quality and Value for money to clients is key in everything we create, hence our slogan 'Premium Quality for Less'.
We are known for creating statement pieces (sometimes one offs) and most of our design inspirations are drawn from colours, retro, African arts and culture; hence the colourful, retro and afro centric theme in most of our designs."
What Makes African Fashion Unique?
"I would start by saying Africa is a huge continent with diverse people, culture and tradition. However, irrespective of our differences, one thing I have observed we all tend to have in common for our different traditional African attires and fashion pieces is the use of vibrant colours.
Our unique African clothing are quite colourful, distinct, easy to wear and maintain."
Lately, a handful of Designers (both local and global) are beginning to make bags, footwear, accessories, contemporary pret-a-porter outfits and even haute couture pieces using African and African inspired fabrics."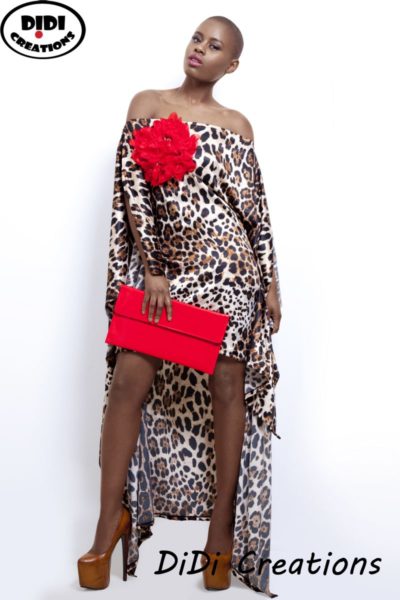 What Makes African Fashion Worth Discovering?
"Prior to the Africa Fashion Week London 2013 where I showcased in August, I was invited to the BBC Radio 4 to discuss African Fashion on The Woman's Hour.
This same question sprang up and my response was; African fashion is worth discovering because Africa is the next "Big Thing" in the fashion world. Our diverse culture means we have a wide range of variable to offer on the fashion scene. We have loads of talented and untapped Artisans across the continent, hence this is worth discovering.
For emerging African Designers in Diaspora like myself, it's been noticed (surprisingly) that most of my clients who actually buy my African inspired pieces or my ethical pieces are not even of African heritage.
Some household brands in the industry are already tapping into this vacuum as well through infusing African inspired fabrics and themes into their designs.
For instance, the Burberry Prorsum Spring/Summer 2012 collection during the London Fashion Week 2012 had a handful of pieces made from what I would call African prints or "Ankara" as popularly known.
High Street brands across the globe are also cashing on this discovery as well; for instance I have a few accessories that I bought from Top Shop, River Island, New Look and an Ankara print shoe and purse from Aldo. These accessories are no different from what can be bought off our numerous markets in Nigeria and other parts of Africa."
When and Where is your next sale?
"Our next sale, which will be our Christmas sale comes up shortly on our website and at our various stockists at the following locations;
L'Espace, 19a Olosa Street, Victoria Island, Lagos
The Library, First Floor, Silverbird Galleria, Abuja.
Vou Brown, 74 Willesden Lane, Kilburn, London, NW6 7 TA"
What would you say have been your highest point in your career till date?
"To be honest, I have a few high points so far and not quite sure which I would classify as highest till date, so might as well share a few here.
One of my significant high points so far I would say was when we got several invitations to participate in different fashion weeks across the globe. I was elated as we were barely a year old at the time and some of these shows were invitation only shows.
However, we did honour and showcased at three different fashion weeks this year; Africa Fashion Week London, Kenya Fashion Week and TABNYC during the New York Fashion Week. I was further excited and motivated by the positive vibes and feedback from the audience in all three shows.
Another high point was when I received our nomination letters for two different award categories in the forthcoming Ebony Business Recognition Award coming up on the 1st of November during the Black History Month in London.
I am also thrilled when Top Beauty and Fashion Magazines both in the UK and Nigeria contact me to loan my pieces for magazine shoots.
Some of my pieces have been featured in the following UK magazines – Black Beauty and Hair Magazine (August/September 2013), Pride Magazine (September 2013), Urban Coco Magazine (September 2013) and Oh Yes Magazine.
I was informed that TW and Swag magazines in Nigeria have also featured my pieces more than once in different issues."
What is your vision for DiDi Creations in the next few years?
"My vision for the brand in the next few years is to eventually own outlets in Nigeria, start stocking at departmental stores across the UK such as Harrods, Selfridges, John Lewis, House of Fraser and Debenhams. Then eventually expand to other parts of the globe."
Any other exciting news to share with the readers?
All I'd say for now is that I don't want to bore you, so please just seat back, relax, stay tuned and "WATCH THIS SPACE".