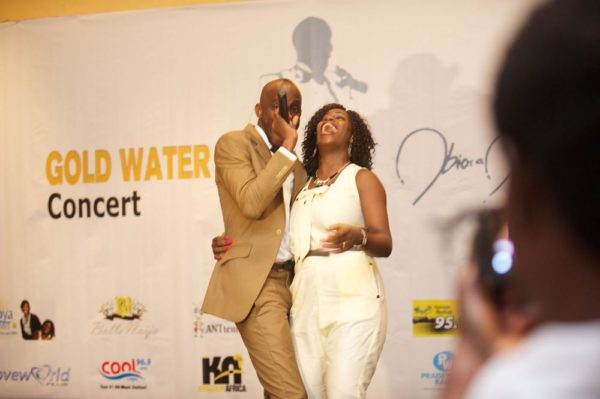 The atmosphere at the Grand Ball Room of Eko Hotel & Suites, Lagos was charged with excitement on Sunday 17th of November 2013, as the unveiling of 'Gold Water', the new album from Obi Mu O crooner, Obiora Obiwon took place.
Setting the tone was Obiwon's The Rebirth Band with popular tunes as fans, friends, family, artistes and members of the All Souls Church (Obiwon's worship family) filled and lit up the entire venue. Notably in attendance among other dignified guests were Obiwon's parents, Humphrey and Chinwe Nwokolobia-Agu among others.
After introductory remarks from the emcee comedian DVD, it soon became evident that music runs in Obiwon's family as his younger sister, Soluchi got on the stage as co-emcee, and additionally charged the room with a session of pure worship.
The Performances
A video biography of Obiora Obiwon played on screen, explaining in his own voice the transition from secular to gospel music. Defying the convention of keeping the major act till late, Obiwon mounted the stage immediately with performances of 'The Overflow', 'Pour Your Love' and 'Hail My King', all brand new songs from the Gold Water album. 'Hail My King' which features Frank Edwards, Eben and Kenny K'ore was performed alongside Kenny K'ore. The song which ended the first set struck a notable chord right on the spot, immediately raising members of the audience to their feet.
The evening proceeded quickly with exciting performances from Kenny Kore, Mike Abdul and Monique, Nikki Laoye, Jodie, ID Cabasa, Victoria, Nutty Josh, Ayo Vincent, Victoria, Tochi, the Alien Nation Dance crew, rib-cracking jokes from DVD, even as guests were entertained to a dinner buffet. Many of the guests pledged their support to the Gold Water project.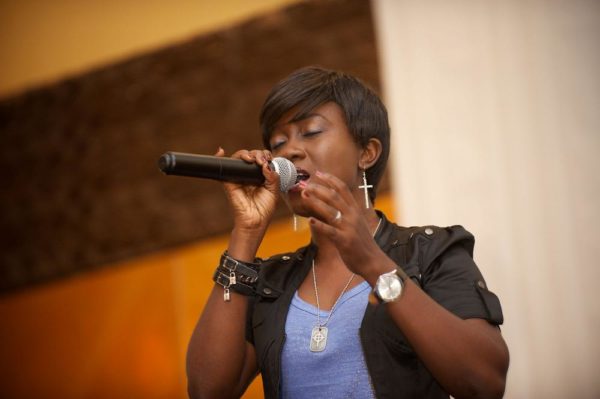 Obiwon rounded off the evening with performances of 'Holy Spirit', The Price', 'When I Say I love You' and 'Testify'. The performance of the love song 'When I Say I Love You' provided a romantic moment of stage when Obiwon was joined on stage by his wife Nkechi, whom the song is dedicated to. Testify which had been released as a single earlier in the year proved its growing stellar form, even as Obiwon was joined on stage by Mike Abdul and the Alien Nation dance crew while being motivated by a swaying audience which brought the event to a grand close.
The event was supported by Blue Mango Interiors, Posh Secrets Wears, Loya Milk, BellaNaija, 360Nobs, Praise World Radio, Reel Radio, Kingdom Africa, Love World Plus, Anttention.com, Phat-E Productions and CoolWazobiaInfo.
The 12-track Album Gold Water is available at Spinlet.com as well as other leading music retail stores.
Wish you'd been there? Get your experience and listen to some of the songs he performed live below.
Listen to 'Hail My King' featuring Frank Edwards, Eben, Kenny K'ore: HERE
Listen to 'Testify' featuring Mike Abdul: HERE
Listen to 'Pour Your Love': HERE
______________________________________________________________________________________
BellaNaija.com is a Media Partner with Gold Water Concert 2013