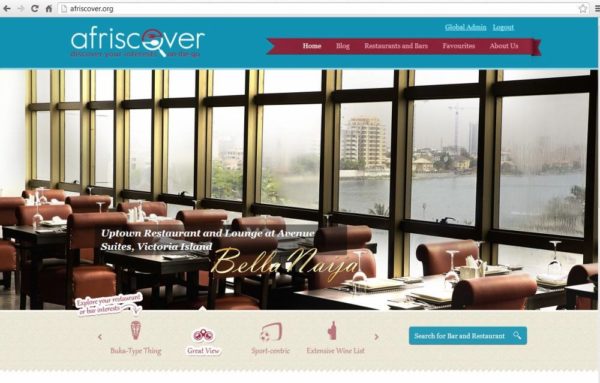 The Christmas holiday is upon us and Afriscover knows that the streets of Lagos will soon be packed with the 2-week holidayers. If this is you (or not), make sure you have a look through the listings on Afriscover.org to figure out which restaurants / bars match your interests.
At afriscover, users can select restaurants and bars based on their interests; and with search options such as "live music", "outdoor seating", "great view" etc, you won't miss out on all the great bars and restaurants they have to offer.
Afriscover is an African-focused interest discovery platform that helps tourists, expatriates, repatriate and locals find the perfect bar or restaurant as they move around the African neighborhoods. Unlike other discovery sites, Afriscover aims to be more than just a search site but a platform that delivers a personal and interactive user experience right from the first click.
Here's how they do this:
Photos: Afriscover believes in graphics and illustrations. Humans are instantly excited by pictures and so they deliver on photos to help users connect visually with restaurants and bars, especially those they have not been to. Photos often help the decision-making process of where to go and why. Everything looks better with pictures – it is safe to say you will never find a venue on our site without a set of recently taken photographs.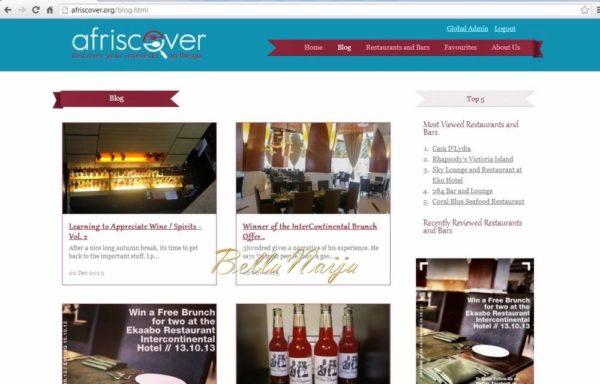 Up to date Information: Afriscover has personally verified all the information in their restaurant and bar database. They source reliable contact information, opening times, specific tips on the ambience and menu of the local restaurants and bars. They like dependable websites and reckon you do too.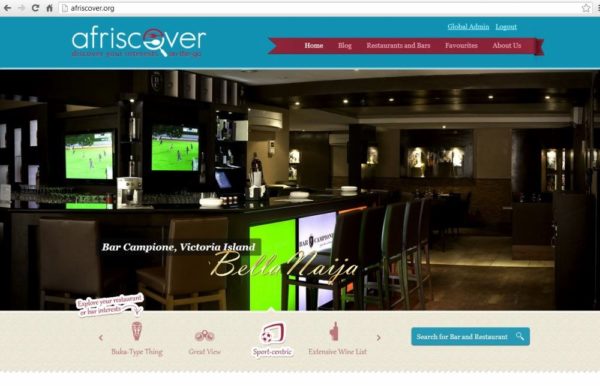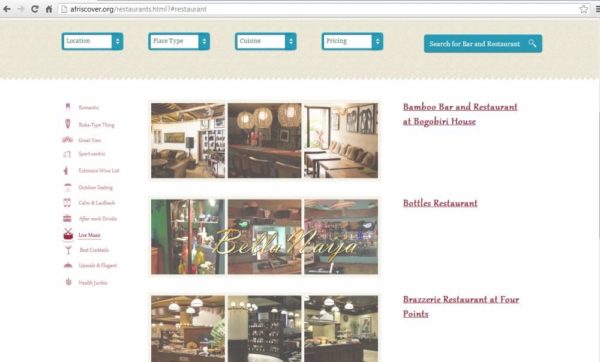 Venue visibility: Just like the saying, "Make new friends but keep the old; one is silver and the other's gold", Afriscover recognizes both dated and recently opened bars and restaurants. Everyone seems to forget their old favourites when a new place opens. They want to improve the visibility of the overlooked ones and remind you why you loved them in the first place.
Your Voice: Their blog is primarily focused on giving a voice to upcoming food and liquor enthusiasts.
Afriscover is currently present in Lagos and have begun their expansion projects into Abuja and Accra.
Check out their menu on the afriscover site.
Hey, can you guess the locations of the great restaurant or bars? Fabulous right? if you want to know more about them, check them out here: www.afriscover.org
***
Call for bloggers, Restaurant critics & Restaurateurs
Visit afriscover.org, and help contribute in making Africa local. Afriscover is currently looking for bloggers and restaurant reviewers based in Lagos, Abuja or Accra. If you would like to get involved do drop them a line at [email protected]. They would be delighted to hear from you.
If you are a restaurateur and would like your restaurant to be listed, it is simple – send them an email and they will arrange for their in-house photographers to capture visually alluring images to your restaurant. All emails will be replied within 24 hours.
Get in touch via email: [email protected] | Like them on Facebook: Facebook.com/afriscover | Follow them on Twitter: @afriscover | Follow them on Instagram: @afriscover
Copyright. All images are of exclusive property of Afriscover and their internal Team of photographers. The images may not be reproduced, copied, transmitted or manipulated
______________________________________________________________________________________
Advertorial – Sponsored Content