"Stylish simplicity makes everything appear better" – Yewande Alaka
My Style is one of our favourite features on the BN Style page, and judging from the responses it gathers, I can safely say, it has our readers interested.
BellaNaija reader Yewande Alaka is our My Style focus for this edition and she is a beautiful Sagittarius with a Bsc. in Business Information Systems and Management & an Msc. in International Business Management. She was born on Friday 20th December  and currently lives in London.
Even though she has achieved a lot in the past 10 years, she still wants to come home to Nigeria where she believes her dream of a career in fashion will come true. After all there is no place like home.
Yewande sees her style as playful and colourful but always classy.
Keep scrolling to see Yewande's style, find out what she thinks every girl should have and whose style she loves more, Genevieve Nnaji, Kim Kardashian or Eku Edewor.
My Style is…
…playful, colorful but always trying to keep it classy.
Where Style Meets Personality
I am very girly when it comes to dressing up. I am a junkie for colors; this is where it reflects in my personality because I am always a happy, lively and energetic. However I still always try to incorporate male looks sometimes just because that is what fashion should be about – the ability to try new stuff, mixing & matching, playing with colour etc but still working with what works for you and makes you comfortable. I must say comfort is key!
Lastly, I am a principled person and this reflects in my style by keeping my looks conservative. I am not a huge fan of exposing body parts (although I think I can be caught wearing short dresses on nights out).
Where I Shop Till I Drop
I honestly do not have a favorite clothing store. I shop anywhere! When I say anywhere I mean from high end net-a-porter to as random as Sunday markets where you get bargains! I must say I love bargains, sale periods are my favorite.
But I would usually be caught with brands like ASOS, Zara, H&M and Forever 21 in my wardrobe. I am a Primark junkie, they have so many wardrobe basics and necessities at amazing prices you can't even say no to.
I know I am a shopaholic and I love designer brands. Whenever I desire something really expensive, I come up with a plan to gift myself for maybe my birthday so I save up and buy it. After all we only live once. Lastly, Virgos Lounge satisfies my love for trendy but vintage pieces.
My Tresses
I must say I don't experiment a lot with my hairstyles. I'm usually very skeptical when it comes to trying a new hairstyle, this is just the fear of it not looking good on me. So I would usually be caught with a weave installed. When I get bored of weaves, I would have a DIY up-do. When I want to wear a flattering evening dress, an up do is usually way to go.
Although I have been on my natural hair now since 2010 but I never do the kinky natural twist as I find it time consuming and requires dedication. Although its absolutely gorgeous when I see my friends or people who have them. 7 out of 10 times, I would be caught wearing short 12 inch curly hair. That should be my favorite because I get to play with it and style it differently.
My Makeup Look
I try not to be too loud with my make up, I usually prefer when it has a nice flow with the outfit. I think wearing different lipsticks gives a different look every time so I try to experiment with it.
Feet & Shoes
On a Regular day
I usually find wearing maxi dresses or skirts really comfortable for day looks. When I decide to wear jeans, I might have a bit of the tomboy look going on because I like male looking flat shoes (brogues, loafers, etc).
Bag Life
Getting My 'Working Class Girl' On
I just finished school and haven't secured a professional job yet. But I think work looks should be kept highly professional but also not too boring.
I love colors so I could still add colors to my outfits on a working day.
I Own the Night
When I'm going out, I usually spend quite a lot of time on my makeup (my dad and other half hates this part so much, lol). I am a sucker for dressing right for an occasion. I really dislike when I'm over dressed or under dressed; just right is perfect for me. I can wear short, long or midi dresses depending on the gathering.
I Think Every Girl Should have
Bags! I love good quality handbags. It has such fantastic durability. I usually get classic handbags because I know it would hardly go out of fashion and it's a great compensation for spending a large amount. Tank tops and denim shirts are life savers. Whenever in doubt of what to wear, a tank top or denim shirts works the magic.
My Advice for Other Stylistas
I believe in not copying other peoples style, just be yourself and work with what works for you. I mean, you can always get inspiration from people's style or looks but just make sure to wear something you are 100% comfortable with. Also study your body type and know what fits your body.
3 Times the Charm
If I Could Steal a Celebrity's Wardrobe
I would definitely love to have Kim Kardashian's wardrobe. I lover her versatility with her style. She makes almost everything look gorgeous except when she shows off too much skin though.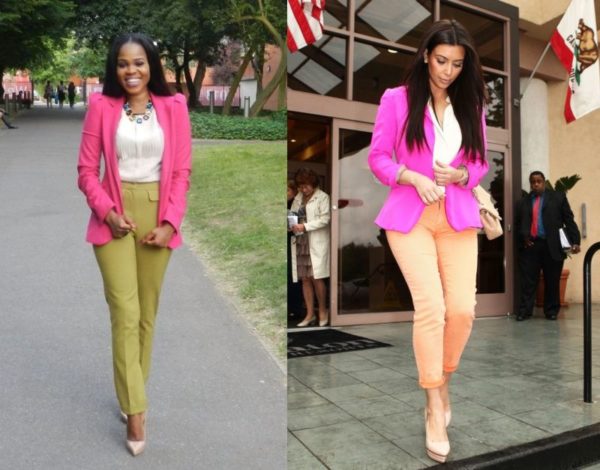 Which Celebrity Stole my Look
I think Eku Edewor and Genevieve Nnaji. Their style is just absolutely gorgeous and effortless.
Eku's style is a breathe of fresh hair, I love how she's always classy with her looks and can go from glamorous, chic, and casual to edgy and tomboy-ish.
Genevieve is just classy and effortless, she hardly disappoints on the red carpet.
My Style Philosophy
"Less is more" and "stylish simplicity makes everything appear better"

Thank you to Yewande for sharing her amazing style with us. To find out more on her style, you can find her on Instagram @wiz_allure | On Twitter @weeziypepermpe | Visit her style blog swishstyles.blogspot.co.uk
***
Don't forget to Follow BN Style on our Social media: Twitter: @bellanaijastyle | Instagram: @bellanaijastyle for all your fashion scoop and special features.
Photo Credit: Kimkardashian.celebuzz.com
______________________________________________________________________________________
If you are interested in appearing on My Style, simply send two pictures of yourself or that of a friend depicting a typical day and night look with a short summary of your style to style(at)bellanaija(dot)com. When your entry is approved, you will be required to send in more pictures and personal commentaries on your style or that of your friend as the case may be!