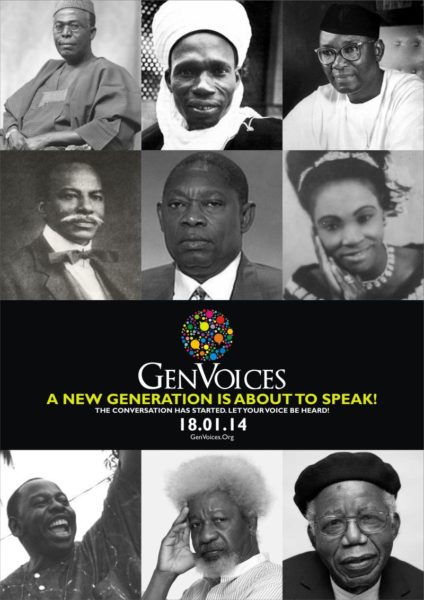 Following a landmark endorsement by the United Nations, Generational Voices (GenVoices) – the project-driven platform to harness the offline and online energy of young Nigerians for practical efforts towards nation building, has unveiled other details for the historic 100,000 Voices Telethon to be hosted by host station, Channels Television from 10AM – 1PM today, Saturday 18th January 2014.
"We are excited to announce that Africa's first Global Black Entertainment Network, EbonyLife TV will be airing the broadcast live as well, working through Channels Television," said Naomi Lucas, who is Project Manager. "They will be joined by the preferred station for young people in Nigeria, Beat FM, which will also be broadcasting the event live."
With this, the GenVoices Telethon will be broadcast across Nigeria through Channels Television and to at least 22 African countries through DSTV's EbonyLife TV – reaching at least 25 million across the continent and the Diaspora through the internet.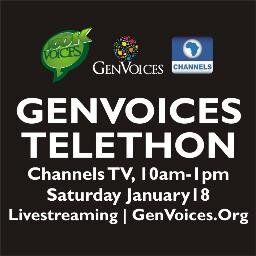 30 chapters of GenVoices will also join the broadcast live across the six geo-political zones as well as 10 country chapters of GenVoices, with Channels Television also broadcasting live from the Yar'Adua Centre in Abuja. YouTube, Google+, Online Streaming, Tweets and Facebook posts will be flooded with their "Ready To Lead, Ready To Serve" message. During the program, they would receive live correspondence from the over 30 GenVoices Chapters in the United Kingdom, Cyrpus, Texas, New York, Washington DC, Canada, Spain, Ghana and the six geopolitical zones across Nigeria.
Some of Nigeria's most respected leaders have also been unveiled to make generational statements at the telethon. They include the chairman of the Dangote Group, Aliko Dangote; Nigeria's former High Commission to the United Kingdom, Christopher Kolade; Chief Executive of EbonyLife TV, Mo Abudu; Chief Executive of the Private Sector Health Alliance of Nigeria, Muntaqa Umar-Sadiq, agriculture entrepreneur and The Future Awards Africa Young Person of the Year 2011, Nnaemeka Ikwegwuonu; actress and one of TIME's 100 Most Influential People in the World, Omotola Jalade-Ekeinde, among others.
"We are very excited to begin the countdown to 10am Saturday," said Alkassim Abdulkadir, who is with the coalition. "A generation is about to speak – and take charge of the Social, Technological, Economic and Governance sectors of our society. It's about time."
About GenVoices
Generational Voices (GenVoices) is a growing global movement of 18-40 year olds supported by a dynamic group of older mentors & contributors. It was conceived as a means to convert the online and offline energy of young Nigerians into practical efforts towards national development. It is clear that without positive participation in governance and policy, this generation will be availed little opportunity to make widespread and definitive impact – so we focus on birthing innovation, fostering dialogue, encouraging acts of service and driving change. GenVoices will raise, support, fund and inspire projects, platforms and individuals to deliver social, technological, economic and political (S.T.E.P) solutions to our country's problems. With a humble sense of responsibility and maturity, we will guard the hopes of young Nigerians as we help to build this nation. For more information, visit www.genvoices.org or follow @genvoices on Twitter.
About Red Media Africa
Red Media Africa is a PR & Communication firm under the parent company, RED. An innovative media company focused on Africa, RED's vision is to excite and empower an evolving generation through the media's limitless possibilities. Built across tools and platforms, its Communication Division holds Red Media, Red Marketing and Red Media-SME Support; and its Content Division holds the Y! brands, including Y! TV, Y! TV, Y! Magazine, YNaija.com, Teen Y!, TeenYNaija.com, Y! 2015, YNaija2015.com and the Y! Annual Black Ball/Y! 100Most Influential List. It also anchors a development firm, The Future Project Africa, which presents Africa's leading youth platform, The Future Awards Africa, and other projects including the Nigeria Symposium for Young & Emerging Leaders and The Future Enterprise Support Scheme.
___________________________________________________________________________
Advertorial – Sponsored Content