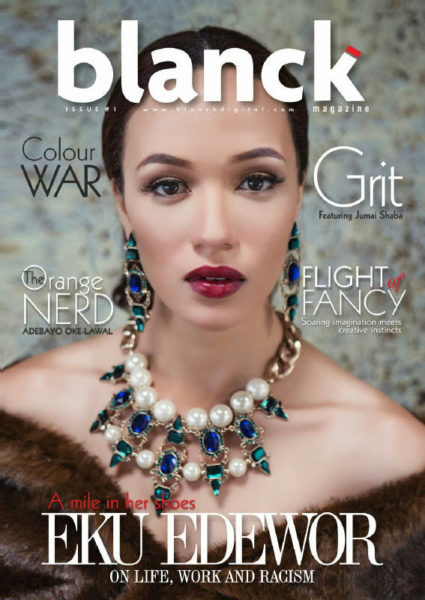 Pretty Hurts!
And Queen Bey was absolutely right when she recorded that track for her fifth studio album – BEYONCE.
Nigerian media personality/actress Eku Edewor is on the cover of the debut issue of Blanck Magazine for January 2014. The publication is creatively driven by Franka Asindi Chiedu, the former editor of Complete Fashion Magazine.
In Blanck, we can see the uber glam direction Franka is taking the digital magazine.; one luxe page at a time.
Now back to Eku. Having read the complete interview, we see a driven, smart and yet delicate side of the Flower Girl actress.
She dishes on being picked on because of her skin, racism, life and work. The interview was conducted in late 2013.
To read the full interview, Click Here
You can also check out the excerpts below
On personal struggles of being of mixed race: "I suffer from acts of racism all the time, intentional and unintentional. I mean some of the racism I have experienced is simply a cultural reaction to me that is not meant to be an insult but invariably it is.
I've learnt that people will always find something wrong with you and working in an environment that is predominantly darker skinned I feel that people tend to refer me to my colour a lot and not always in a positive way. Some of the comments I get are; 'She's only successful because she's light skinned, or she's only considered attractive because she's light skinned'.
I have lost jobs I've got because there will always be an opinion that states, she's too fair people will not relate to her, let's go with a more African look. This is particularly hurtful because at that point I am unable to prove my talent. It always surprises me when I deal with these issues because it's clear that I am an African, I have been accepted as one, my show is still successful despite being the only host and most importantly, the face of Africa is not one shade.
I therefore am very grateful to those that have chosen my talent first. What is interesting, is that I can't count on both hands other mixed race personalities in my environment so I wonder who people refer to when they state I am only successful because I am fair."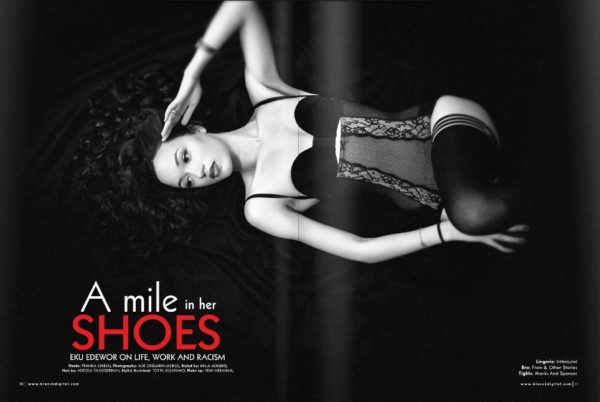 On describing her personality: "I think I'm easy going , energetic, a deep thinker, social, reclusive, I am a constant contradiction and as as result I think I always end up surprising people."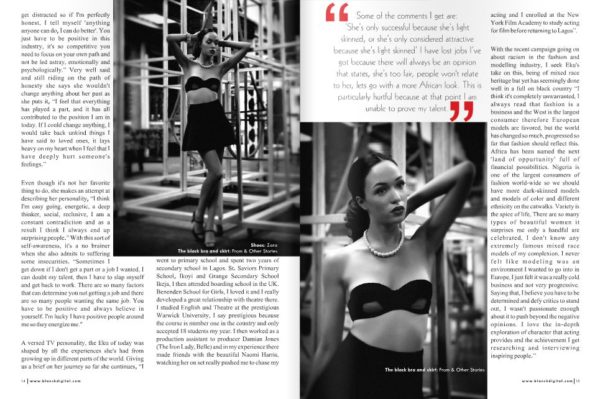 On being above the competition: "I am competitive but with myself in the sense that I have personal goals I want to achieve and as a result I can be pretty hard on myself if I feel I'm not where I want to be. I don't compare myself to anyone, I do always try to better myself, my craft, my image etc, otherwise you get distracted so if I'm perfectly honest, I tell myself 'anything anyone can do, I can do better'. You just have to be positive in this industry. It's so competitive  you need to focus on your own path and not be led astray, emotionally and psychologically."
On her schedule: "I'm definitely going through a transition. It's really more of an expansion in the sense that I have a lot of things going on and therefore I am having to be more conscious of my schedule as it's packed. I'm the only anchor on 53 Extra now, so that's a big responsibility and it has been nice to get a lot of support from our viewers.
My first movie – Flower Girl came out this year and that has done exceedingly well. I'm currently on location in Ghana on my second movie this year – When Love Comes Around, a movie by Zynell Zuh.
I have a much bigger part in this movie, so I am excited that people will be able to see more of what I can do. I shot a drama series this summer for M-Net, a project by Efe Tobari and also had a small part in a pilot in the UK called The Rules to Making Money and of course The Island is still in the pipeline. To top that off, I'm hosting the second season of Pepsi Top Ten Countdown a weekly music chart show, so as you can imagine life at the moment is work, work, work."