TW Magazine has presented us with its February 2014 "Love" issue with Nollywood Kate Henshaw and TW Celebrity Fitness Challenge Winner in 2013, on its cover.
Kate speaks to Abiola Awosanya, on life post divorce, being fit and fabulous at 42, as well as using her positive disposition to encourage others.
The TW Celebrity this month is Tunde Kelani. The award winning film director, fondly called "TK", talks about his love and passion for cinema, inspiration for his art, being a perfectionist and much more.
Staying with the love theme, TW chats with Mabel Okungbowa, wife of popular producer OJB Jezreel, about her selfless gesture to donate one of her kidneys to him, despite his marrying and fathering children with two other women.
OJB and Mama J as she is fondly called, share their story of tolerance, strength and what they call love. We also see love through the eyes of Patricia and Ademola Oduwole, the parents of 11-year-old high achiever Zuriel Oduwole, who is a documentary filmmaker and the youngest person ever interviewed by Forbes Magazine.
Basking in the "Johnny" fame, rising music star Yemi Alade, talks about the message and essence of her work., since winning the first ever Peak Talent hunt.
Nigerian media personality Toke Makinwa rocks 8 pieces from young emerging Nigerian designers for the fashion editorial. Toke shares details about being single again after a decade long relationship; finding herself, love for her career and her surprise wedding.
In the spirit of love for self and exuding strength, TW's Practical Girl's Guide shows you how to play up your masculine side without being manly using tailored items & mixing them with softer ones.
Packed with regular features on relationships, health, finance & beauty, plus articles to help you live your best, most authentic life, this edition is definitely one not to be missed!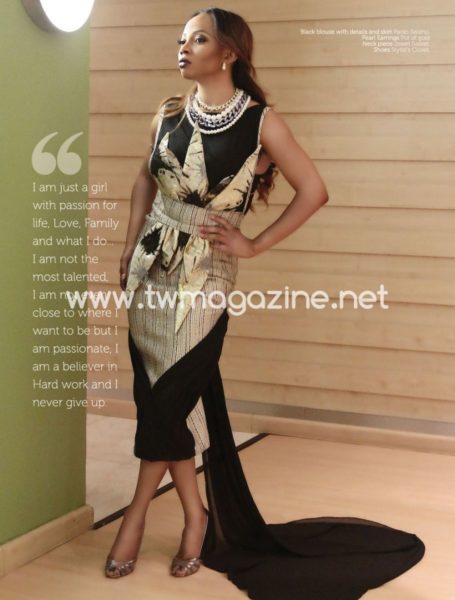 Issue out now and available at newsstands nationwide. You can also get TW Magazine as a free app on your iPad, iPhone & iPod simply go to: https://itunes.apple.com/us/app/twmagazineapp/id662035026?mt=8
You can also get TW free for Android device at the Google Play Store: https://play.google.com/store/apps/details?id=com.twmagazine.mag&hl=en
For more info go to the official website: www.twmagazine.net. You can also find TW on Facebook & on Twitter.
Cover Credits
Cover Story: Chinedu Iroche
Photography: Isaac Emokpae
Outfit: Ejiro Amos Tafiri
Stylists: Favor Olugu, Tosin Adeola & Halima Babalola (for Fruition Image);
Makeup: Zaron Cosmetics
Hair: Apples & Oranges