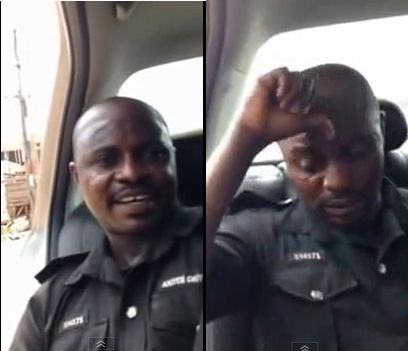 We are pretty sure this police officer won't be asking for bribe anytime soon.
Yesterday, BN reported that a Nigerian police officer was caught on camera requesting for dollars as bribe from a Nigerian-American and two Nigerians for alleged traffic offences. If you missed it, click here
The officer identified as Corporal Aniyem Chiyemm, has been arrested and is currently facing an orderly room trial. If he is found guilty, Aniyem will face disciplinary actions.
The Police High Command in Abuja made the announcement of his arrest.
Unknown to him, the corporal was secretly filmed by one of the men in the car. "I am not doing illegal duties…Arrange dollars, give us dollars" he said to the men in Egbeda, Lagos.
Watch the clip again