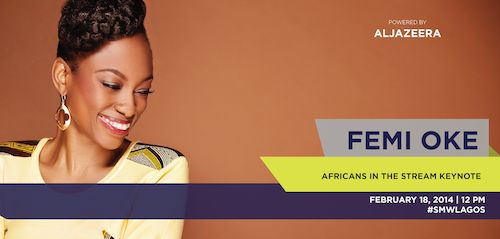 Good Morning Lagos! We are excited about the 2014 edition of Social Media Week and we bet you are too. To get your #SMW day started here are a few of the major day two events for the on-going Social media Week Lagos 2014 event.
To view the full event schedule check HERE | Follow @smwlagos for updates with #SMWLagos.
View the schedule below.
#TravelAfrica: Book It! How Online Travel Portals are Helping to Re-Brand Africa & Grow Tourism
Date: Tuesday 18th February 2014
Time: 10:30 AM – 11:30 AM
Venue: #SMWexperience Hub at Four Points Oniru Chieftaincy Estate Plot 9/10, Block 2 Lekki,Lagos
Twitter Conversation Hashtag: #SmwTravelAfrica

TravelAfrica Day will look at the impact social and digital media has on the travel, tourism and hospitality industry in Africa. We are now a new breed of travellers. Even five years ago, travelling was different. These days travellers are 'Digital Nomads' and have a wealth of information available to them in an instant.
Gone are the days when travellers consulted their travel agent for their needs. Travelers are now their own agents, booking flights, hotels and other deals online. In an in depth conversation with several online travel portals we will find out how these companies are getting social on the web, uncovering Africa's hottest tourist destinations and using mobile to get travelers from around the world to quickly and securely book their next trips to the continent .
Moderator: Roxanne L. Scott
Panelists: Mark Essien, CEO of hotels.ng, Maija de Rijk-Uys, Head of International Markets at Travelstart, Kehinde Otitoju, Digital Field Marketing Manager – Nigeria and West Central Africa at Four Points Sheraton, Melissa Barto, PR & Communications at AFKInsider.
Africans In The Stream Keynote With Femi Oke
Date: Tuesday 18th February 2014
Time: 12 PM – 1 PM
Venue: #SMWhq @ Volkswagen 179 Akin Adesola Street Victoria Island, Lagos
Twitter Conversation Hash Tag: #smwAJStream
Hosted By: Al Jazeera

Femi discusses why Al Jazeera's award-winning social media show The Stream is such a great format for connecting Africans in debate.
Featuring some of the most dramatic moments, contentious and passionate The Stream clips from all over the continent as well as some behind-the-scenes revelations about how the show is put together, ending with an impromptu Stream debate live on stage. If you're in the audience for Femi's keynote you could be in the SMW Lagos edition of The Stream.
The Stream is a phenomenon begun by Al Jazeera – a web community with its own daily TV show. This award-winning programme taps into the extraordinary potential of individuals, through social networks, to disseminate news and information. The viral nature of social media allows for news and information to spread and advance rapidly. While these developments have the potential to generate more heat than light, to a broadcaster like Al Jazeera they are also an opportunity to reach news and voices in places and levels previously impossible – expanding and enhancing Al Jazeera's mission of giving voice to the voiceless.
Later in the evening from 8 PM, she will host a Tuesday special edition of Al Jazeera Presents: The Stream live screening and tweet-in with Femi Oke… #SMWexperience Hub @ Four Points Got opinions? Like to Tweet? Join Al Jazeera live on the Tuesday edition of The Stream with host Femi Oke.
Open & Connected: Shaping Democracy in Africa With Technology
Date: Tuesday 18th February 2014
Time: 1:30PM-2:30PM
Venue: #SMWhq @ Volkswagen 179 Akin Adesola Street Victoria Island, Lagos
Twitter Conversation Hashtag: #smwEiERSVP

With landmark elections in Ghana in December 2012; Kenya in March 2013; South Africa coming up in 2014, Nigeria in 2015 and Uganda in 2016, the objective of this interactive session is to show how communities are sharing tech tools across the continent to hold elected officials accountable.Mzalendo in Kenya gave birth to Shineyoureye in Nigeria, Oderko in Ghana and similar platforms in South Africa, Egypt and Tunisia.#RSVP was created by EiE for Nigeria's 2011 general Elections, and variations of it have been used across the continent.The session will be for tech in governance enthusiasts as well as those generally interested in good governance and accountability.
First Bank Presents: 120 Years of History. Great Nigerians You Never Knew With Emeka 'Ed' Keazor
Date: Tuesday 18th February 2014
Time: 6:30 PM – 9 PM
Venue: #SMWhq @ Volkswagen 179 Akin Adesola Street Victoria Island, Lagos
Twitter Conversation Hashtag: #smw120YEARS
A celebration of First Bank's 120 year history with a special presentation on '100 Great Nigerians You Never Knew' by Emeka 'Ed' Keazor;
The presentation will also cover a case study examination of the 20 greatest "unknown" Nigerians in history. This being to highlight the utility of social media in highlighting hidden gems in our nation's history. Further purpose being, a factual re-engagement with/re-appraisal of Nigerian history and identity.Speaker; Ed Emeka Keazor. A Lawyer, Historian, writer/blogger. His style shall be informal and interactive and geared towards stimulating delivery and interaction.