Hello Tripican Fam! If you liked The Croods, Frozen, 101 Dalmatians, Epic, Despicable Me 1 & 2 you will definitely love Mr Peaboy & Sherman.
The DreamWorks tale follows the worlds most extraordinary dog Mr. Peabody taking on his hardest task yet, raising a human child-Sherman. Along the line, they bond, travel through time in their WABAC time machine, introduce the year 2000 to the BC and generally bring the past to the future.
It's a great movie for the kids and of course the kid in all of us. Check out the Synopsis below and don't forget to visit www.tripican.com for this and more discounted tickets.
Synopsis
Mr. Peabody, the most accomplished dog in the world, and his mischievous boy Sherman, use their time machine – the WABAC – to go on the most outrageous adventures known to man or dog. But when Sherman takes the WABAC out for a joyride to impress his friend Penny, they accidentally rip a hole in the universe, wreaking havoc on the most important events in world history.
Before they forever alter the past, present and future, Mr. Peabody must come to their rescue, ultimately facing the most daunting challenge of any era: figuring out how to be a parent. Together, the time traveling trio will make their mark on history.
Cast
• TY Burrell as Mr Peabody
• Max Charles as Sherman
• Stephen Colbert as Paul Peterson
• Allison Janney as Paula Peterson
• Ariel Winter as Penny Peterson
• Leslie Mann
Watch the Mr Peaboy & Sherman Trailer

Cool Ads & Images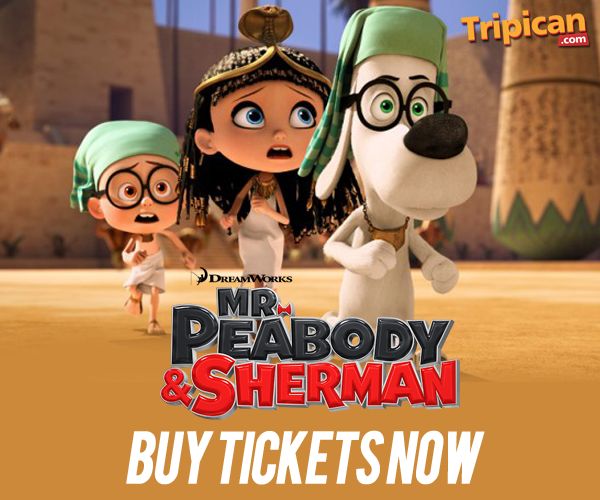 For more information please visit www.tripican.com