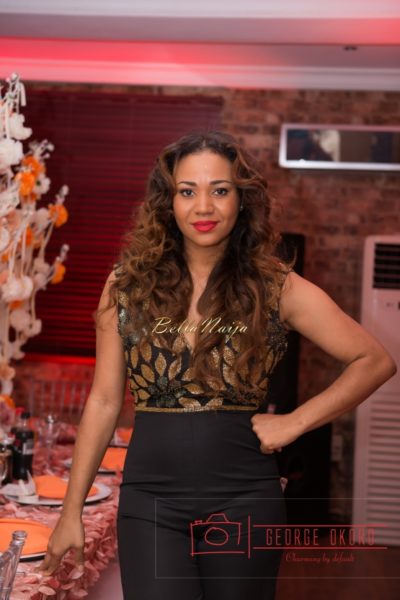 How do you host "The Perfect Dinner Party"?
Christine Ogbeh, founder of The Wedding Guru is here to help you out!
Christine is a fabulous event guru who designed the P-Square traditional weddings – Peter and Lola's in November last year, then Anita and Paul's last month. For her birthday this year, she decided to throw the perfect dinner party without spending silly but also achieving her goal –  a combination of great friends, an elaborate design plan and a comfortable space.
This was her perfect party formula –
Event: The Wedding Guru's birthday party
Location: A comfortable space – her house
Number of Guests: 25
Occasion: Birthday (or any other purpose to celebrate)
Catering: 3 course meal
Theme: Extravagant yet affordable
Games: Celebrity Doubles, Word Night, etc.
She took on the challenge and deviated from the regular. She decided that she was going to convert her own space, create a guest list of her closest friends (which she had to stick to), create a menu that was easy yet different and find the right caterer to achieve this with, draw up a list of cheap yet exciting entertainment, order little souvenirs for each guest to remember the day, get a good DJ and a great photographer to capture the fun.
Today she shares with BN, 7 useful tips for a home dinner party that can ensure an unforgettable night: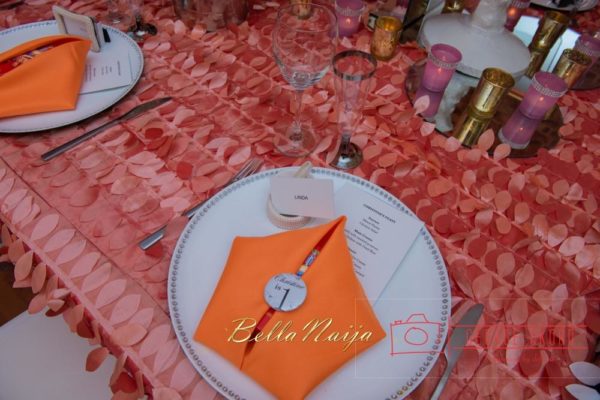 1. Start Early: Make sure you plan ahead of time and even if it was a last minute idea, wake up early on the day to tidy up all loose ends. Won't be bad to take a 30 minutes power snooze before you start getting ready because it will be a long evening with you on your feet most of the time.
2. Outsource Catering: It may seem like you are saving a lot cooking in-house but you might want to consider outsourcing catering. Consider your number of guests and also if you have the time or energy to cook a delicious meal and still get ready for your guests.
3. Create the Right Ambience: Yes it's your house that you have lived in and love every bit of but won't hurt to do something different especially if most of your guests have visited before. Will be a pleasant surprise. Consider hiring more tables and chairs and getting the table professionally set. House dinners can be tricky. For one, you will be bringing friends and family together under your roof and it is imperative that they all get along (even if its just for that evening). Light, witty and interesting conversations are a must.
4. Keep Guest List Small: To play the perfect host will mean you being on your feet and mingling with your guests through the night. This will send a message that you are happy to have them over and will set a relaxed mood. A week to the event Christine finalised her guest list, which had to have a max number of 25 so every guest could get her full attention as the ideal hostess. She initially wanted to have invitation cards but realized in 2014, she could do it by text, BBM or e-mail and still achieve the same effect and of course at the same time save some money. When creating the perfect event with a limited budget, you have to allocate funds wisely!
5. Games: They add a lot of fun and laughter so think of something fun and creative and involve everyone at the dinner table.
6. Plan Music Ahead: You can opt for a good home sound system if you do not want to go with a DJ. Simply buy mix music CDs and play them back to back, or make a playlist on your phone/MP3 player.
7. Lastly, look the part! You don't want your guests arrive to find you still in your loungewear or with bendy rollers in your hair.
Last word from Christine:
Today in Africa, the trend is to have as many people as possible at an event but back in the days the ideal celebration was with a small number of close family and friends. With these tips, I hope this makes people realise that to celebrate an event or a wedding doesn't mean you have to invite the whole world. The people that really matter are the ones closest to you.

People may judge you at first for not inviting them but trust that they will soon forget. Really, why invite John who was in your class 20 years ago and is your friend's cousin?! Lol.
Enjoy and be inspired!
***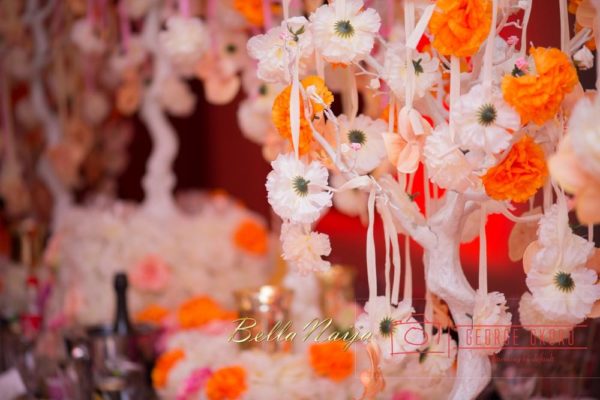 The Wedding Guru team had to come up with the design plan for the event. Christine told them that she was the client for a change. They worked with orange, pink and coral. It came out looking very elaborate and dramatic. She says, "I wanted people to have a shocking experience when they walked in." This was achieved by setting up a long dinner table setup for 25 with dramatic designs and they nailed it spot on. They incorporated a few of the tree props used for Anita and Paul's wedding and further embellished the trees to fit her design plan.
The theme for the night was Christine is 1. She turned 'something'- one (lol) so she decided to start all over from 1 again. Her cake was designed to look like a one year old birthday cake and she created vintage badges – the ones we all wore as kids. For the day, the badges said "Christine is 1". All guests had to wear them throughout the night.
Time for Jokes, Games and Speeches! Christine's close friend acted as the MC.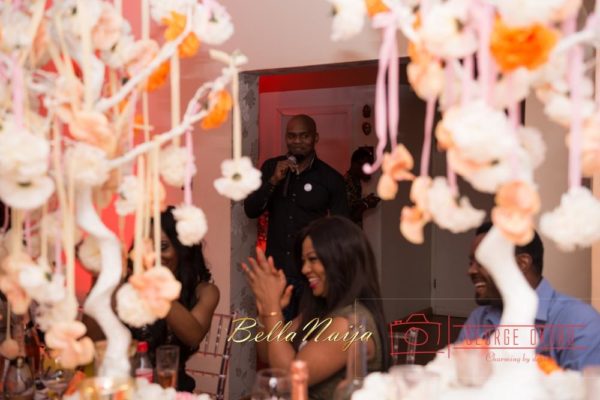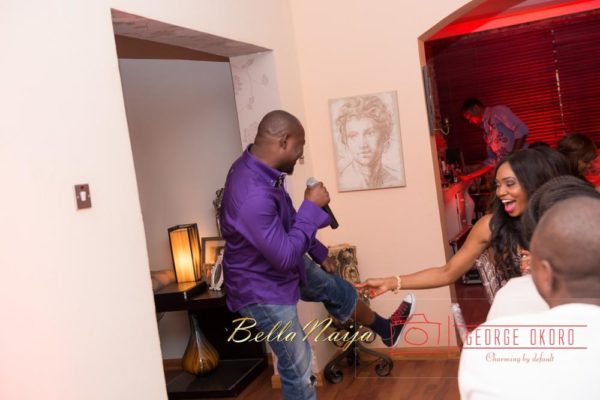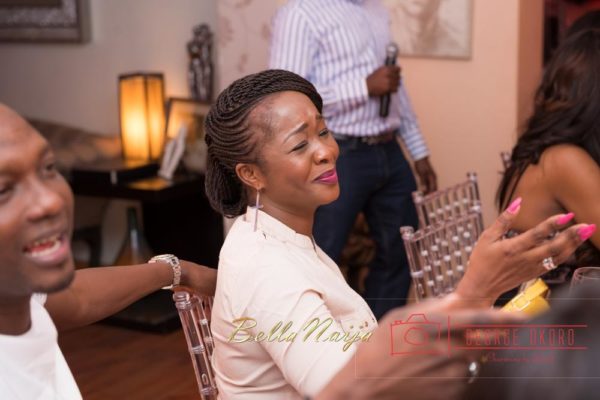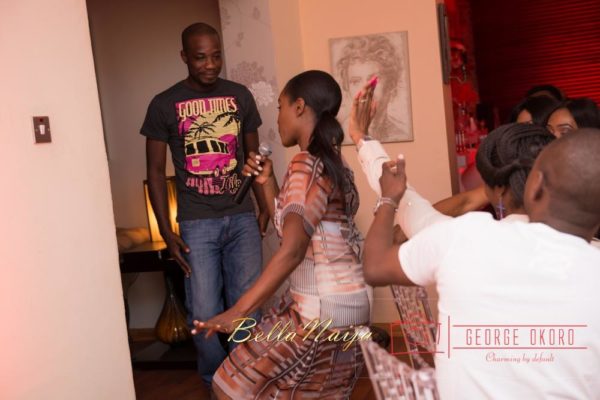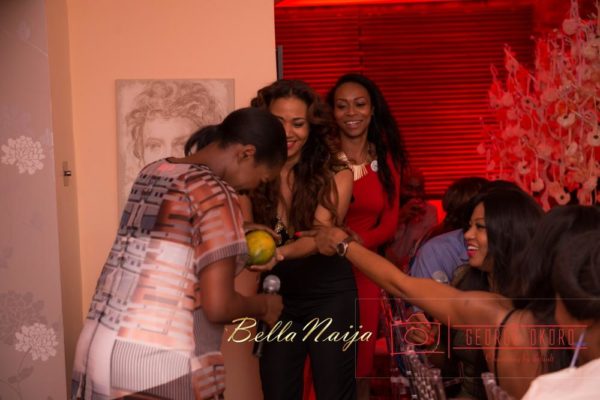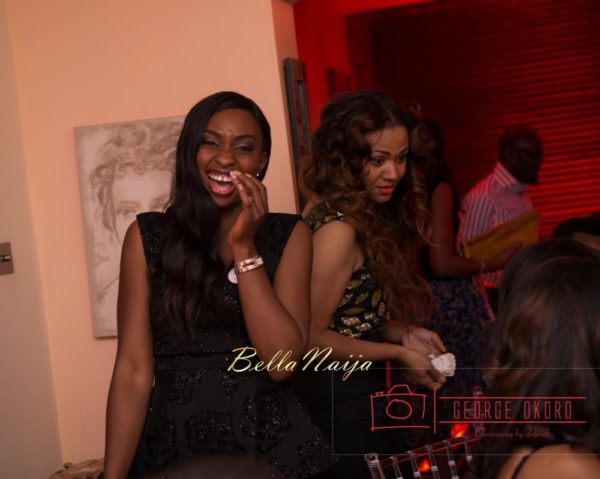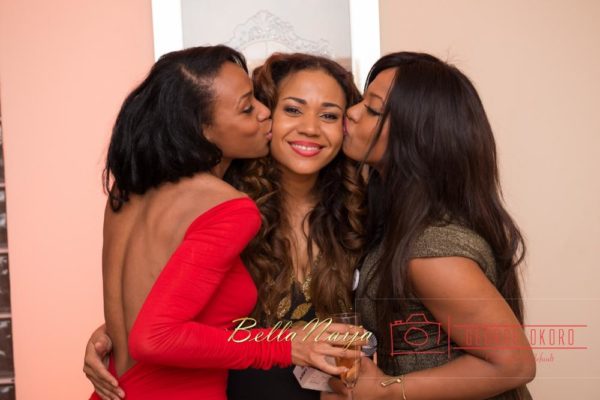 After all the fun and games, they had to end the night with an Oscars selfie – Hey George!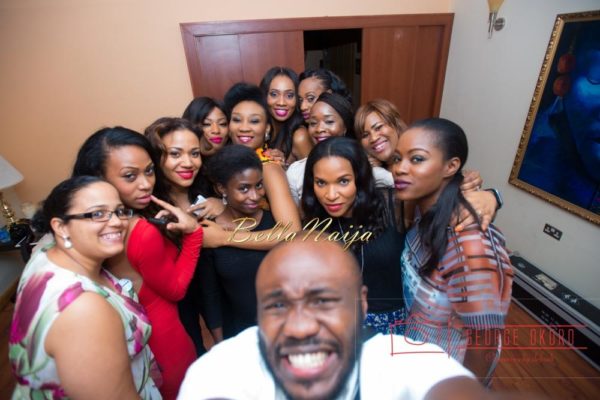 Décor, Event Planning, Place Name Cards, Menu Cards: The Wedding Guru | www.twguru.com | 08181200008 | instagram.com/theweddingguruu
Photography: George Okoro | instagram.com/georgeokoro
Souvenirs: The Gift Source
Edible Souvenirs: Little Dudes
DJ: Dj TTB
MC: The Hostess' friend – Funmi Ogun
Catering: Vanilla Restaurant
Small Chops: Starters Abuja
Dessert: The hostess – Christine Ogbeh
Cake: Edible Creations