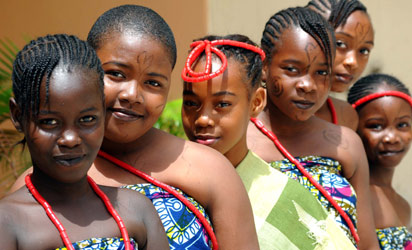 Yesterday, children all over Nigeria celebrated an atypical Children's day. It wasn't filled with the usual fun festivities normally carried out. This is because most children are aware that over 200 of their peers – the Chibok school girls – are still missing.
Children across the country held special prayer sessions for the Chibok girls, Vanguard reports.
In Enugu, thousands of secondary and primary school students were present at the Michael Okpara Square where they prayed for the girls and carried placards demanding their release.
One of the students' guardians who prayed on their behalf said:
"We did not come here to celebrate. Rather we came to express our anguish at the continued plight of our mates in the hands of the Boko Haram people.
We came to seek God's intervention so that they can be freed because just like us, they committed no crime by going to school.
We are confident that God will answer us because even as we are praying, we know that His angels are already at work in Sambisa Forest or wherever our mates are being held."
In addition to the prayers, some school children in Abuja wrote letters to Boko Haram and President Goodluck Jonathan, which they presented to First Lady, Dame Patience Jonathan. She hosted children at the banquet hall of the Presidential Villa.
Promising to personally deliver the students' letter addressed to the President, she however noted that she couldn't do the same for the Boko Haram letter.
"Let me thank the children that gave me letter to give to Boko Haram. I have received your letter, but I am not the one to give it to Boko Haram because I do not know Boko Haram and I have never seen Boko Haram.
But I will give it to the National Security Adviser or Chief of Defence Staff who will submit your letter accordingly," she said.
Photo Credit: Vanguard/NAN