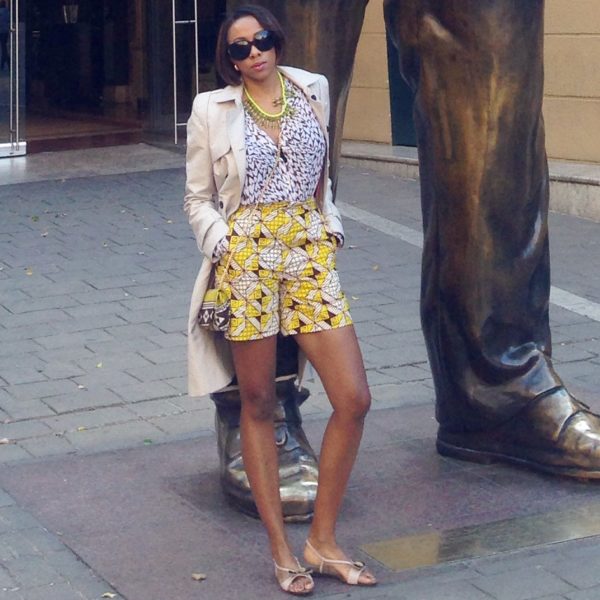 Hey BN Beauxs, did you follow me when I hi-jacked BellaNaija's Instagram for the 2014 MTV Africa Music Awards – MAMAs?
Let me tell you exactly what happened during the weekend in Durban. Here's what I did not tell you on Instagram…
I work within the African entertainment sphere from behind the camera as a TV Producer for my production company Film Factory, to the front of the camera as a TV Presenter for the coolest fashion shows on Multichoice Nigeria – The Fashion Protege and Glam Report TV.
And of course I'm most widely known for my raspy  – I tell myself it's sexy – voice; I am also a weekend Radio Presenter for The Beat 99.9FM
A week before the 2014 MTV Base Africa Awards, I received a phone call from BellaNaija, asking if I was interested in an all expense paid, VIP access trip to Kwazulu-Natal, Durban, courtesy of MTV Base Africa and South African Tourism.
Of course I said "HELL YES!' Duh?!?" I wasn't quite sure what my role was…would I be sipping Champagne with French Montana, perhaps feeding Trey Songz some strawberries on a boat or…
Reality kicked in, I was to document the entire trip the way #FashionistarFade knows best; by showcasing the best of African Fashion at the best of African events. I "asked" if I could hi-jack @BellaNaijaOnline on Instagram and showcase South Africa, MTV MAMA and fashion through my eyes.
Seems simple, right?
I called my stylist Ify Onyido (@iolastylist) and told her about my #MamaStyleTakeOver, she was super excited. I was worried because I wasn't sure which designer I was going to wear for the show, what about hair and makeup and OMG what's my weight allowance because I already have a suitcase set aside for my shoes.
Thank God Ify did her research and told me it was winter in South Africa because I had packed a few bikinis (in case I did get to feed Trey Songz on a boat).
Wednesday Evening: My flight on South African Airways was booked for Wednesday 4th June 2014 at 10pm. I arrived at 8.30pm to be greeted by an empty check in desk. After experiencing car problems, sitting in traffic, having to pack my luggage in the dark – that's another story- this was the icing on the cake. I was told the check in desk was closed and could not fly. Aaaaaaargh!!
I have to give a huge thanks to the woman,  whose name I've forgotten, I think the GM of SAA at the International airport, she listened to my dilemma and once I told her I was working for Bella Naija/MTV Base/ Beat FM/South African Tourism in fact any company that came to mind, she checked me in and I ran like Chanel was having a 90% sale.
Last person on board, phew! Let the fun begin.
Thursday Morning: Touch down Jo'burg. The sun was just rising, I checked into the hotel and as I was waiting for the stores to open I decided to have a quick nap but all I could think about was, "Did I pack enough shoes, Gosh I think I forgot my bracelet, I hope all the designers love the way I rock their clothes, did I even bring all the clothes…..zzzz….."
#OOTD: I threw on a chiffon heart print shirt by Republic of Foreigner, yellow Ankara shorts by Grey, green and yellow chunky necklace by Ariaba, a cute Ankara print bag by Mak Nisy available at Grey Velvet, a trusty Mac and some superstar Versace shades and these flats are from Kurt Geiger. You like?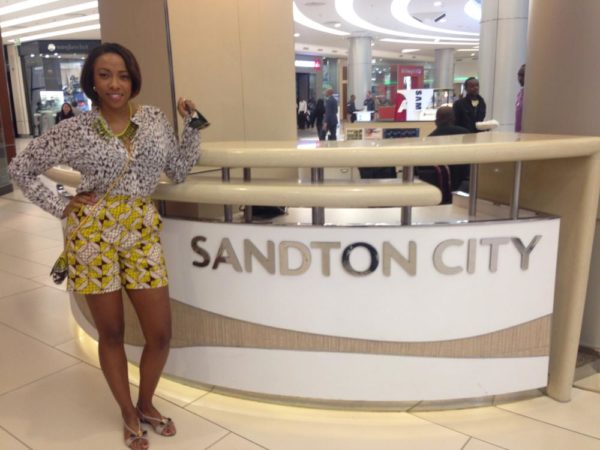 First stop was Sandton Mall, needed to get my phone sorted so I could Instagram and keep up with my social media life. Then I took a picture at the Iconic Landmark, Nelson Mandela Square.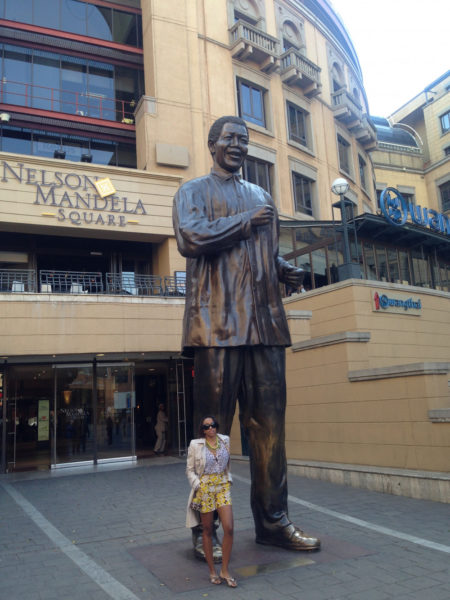 I had lunch and bumped into the Ghanaian rapper D-Black. Made a few phone calls and realised that all my mates like Efya, Tiwa Savage, Ice Prince, Sarkodie and other media presenters were arriving into Jo'burg on Friday morning.
I called up Vimbai Mutinhiri, co-presenter of Star Gist who lives in Johannesburg and arranged to have dinner and drinks at Signature.
#OOTN: In pictures this looks like a monochrome dress but it's a actually 2 piece lace blouse which I tucked into a high-waisted skirt from Fashpa.com. For a pop of colour I added a bright orange leather clutch and bracelet from, handmade by Ariaba. The black suede and clear shoes were an impulse purchase from Mobo store, Lagos.
Friday Morning: A very early start, my flight to Durban was 8am. It was a very cold morning. I grabbed the warmest outfit my stylist had given me. Arrived at the airport and I was on standby, typical. The staff at SAA were very helpful and informed me that there was a flight every hour from Jo'burg to Durban so worst case scenario I would be on the 9am flight.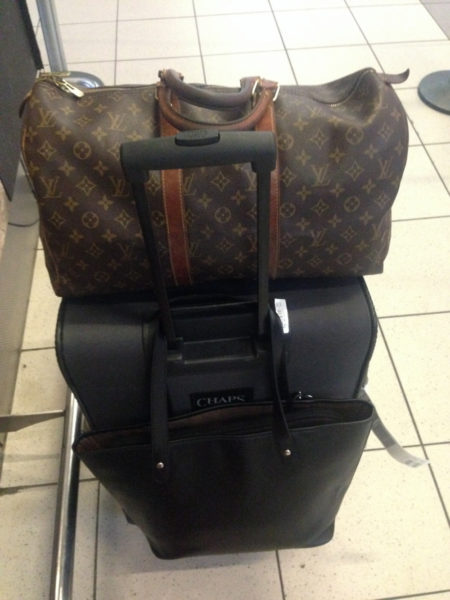 Good news, there was space for me on the flight. Once again, I was running, I ran past Sarkodie, I think I saw Don Jazzy buying perfume (not sure, I was so tired at the time) and finally last person on board, again. Just as I settled in, the pilot announced the plane had a generator problem and we would be delayed.
I heard a few people call my name and I realised Efya, Tiwa, Freeze, Stephanie Coker and loads more people were on my flight to Durban, sweeeeeet!
#OOTD: Faux leather crop jack, chiffon blouse with matching print silk trousers all by Alter Ego. Black pumps by Versace.
Touch down DURBAN.
Everyone was at the Airport: Phyno, Dr Sid, Don Jazzy, Miguel etc… Perfect time for selfies! Whilst everyone else was trying to sort out their phones, I went shopping and ended up with this flyazz Tom Ford cat eye stunners.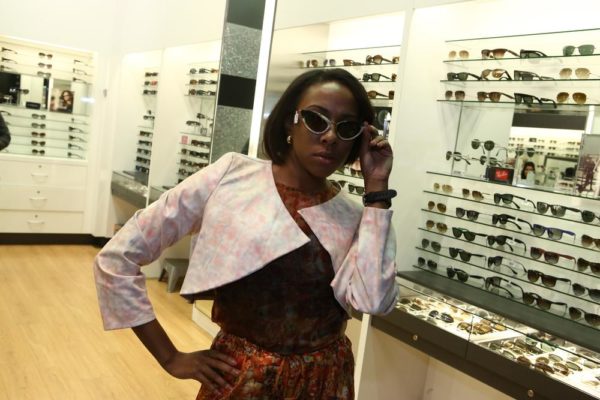 The MTV Base and South African Tourism team had organised the trip quite well. All artistes boarded one bus whilst all media personalities/staff boarded another. On my bus I had my BEAT FM Colleague, Osi, Chico from Classic FM, Freeze from Cool FM, Big Tyme from Rhythm FM, members of the press and winners of the South African Tourism trip.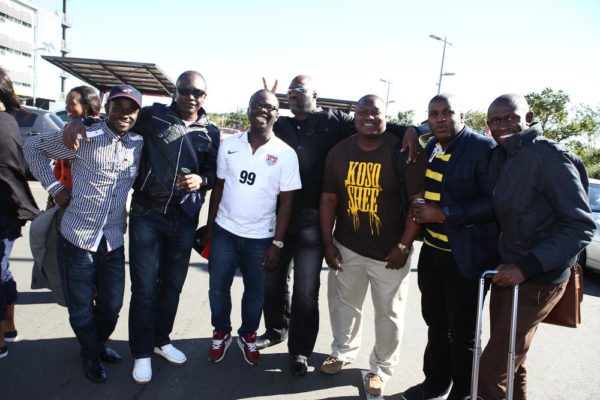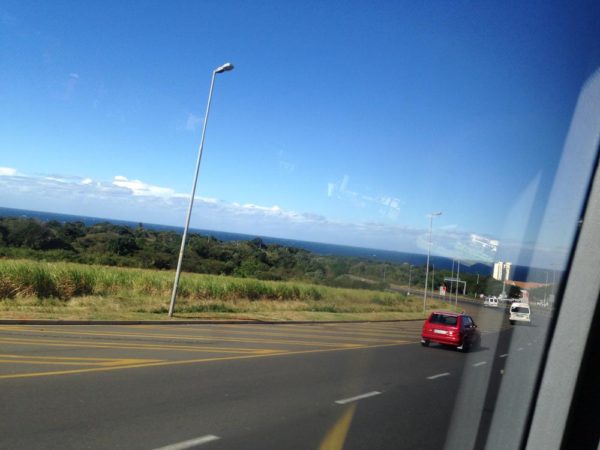 Check out the view as we leave the airport and arrive into Kwazulu-Natal. Can you feel the excitement?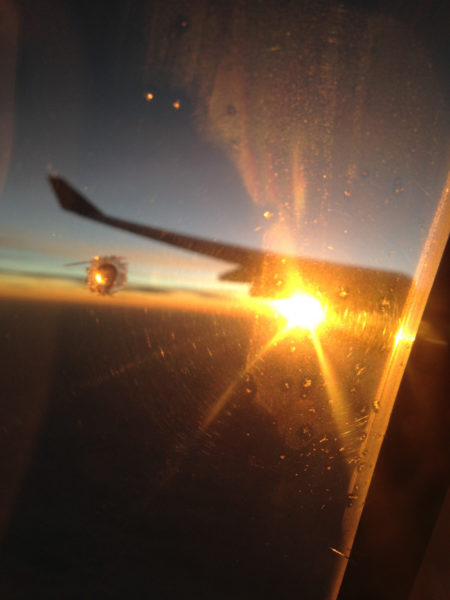 Checking into the Southern Sun Hotel went smoothly, had lunch and was treated to an amazing spa treatment.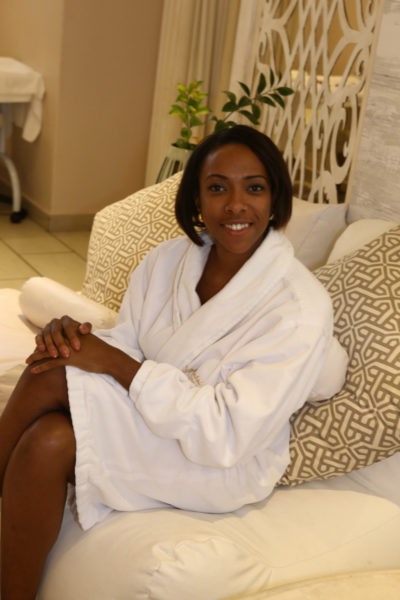 The South African Tourism team gave me my press pass, I bumped into Efya and we were off to the MTV Base Africa Awards 2014 Press Conference.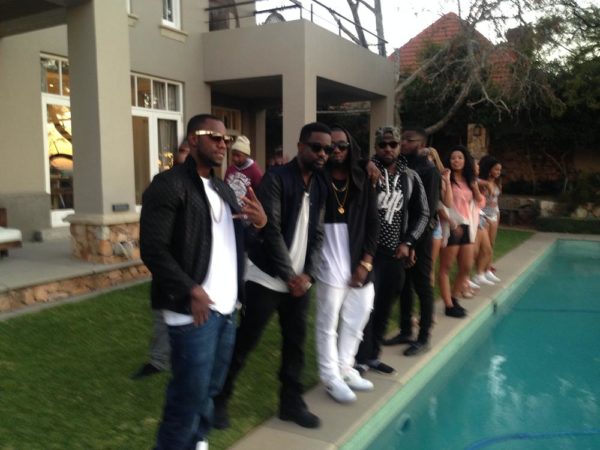 Most of the nominees, presenters and of course press were there, Flavour, Diamond, Tiwa, Miguel, Trey Songz, French Montana were there however, it was Khloe Kardashian's arrival that stole the show. When a reporter asked French Montana if he was dating Khloe, he quickly dismissed this and answered, "Pass. No comment."
Friday Evening: By this time I realised I had a major problem…battery life. Every time I posted a picture onto @BellaNaijaOnline the numerous likes and comments were draining my battery life and there was no time to charge my battery, Oh Dear!
Once I arrived back at the hotel from the press conference, the South African Tourism team informed me of dinner at the local MOYO restaurant. I felt like superwoman, I had 15 minutes to shower change, do hair and makeup and be back down for the limousine to take me to the restaurant. Clearly I'm not super, just a woman because 45 minutes later the chauffeur opened the limo door for me and off I was to try some authentic local cuisine.
#OOTN: Chiffon Shirt and Silk Oleku Trousers by Ejiro Amos-Tafiri. Earrings, necklace and calf hair clutch by Ariaba. Shoes from ASOS.com (they actually delivered right to my doorstep in Lagos. Sweeet!)
Dinner was entertaining and delicious, I had oysters for starters, Oxtail with Cous-Cous for my main course and wine, lots of white wine.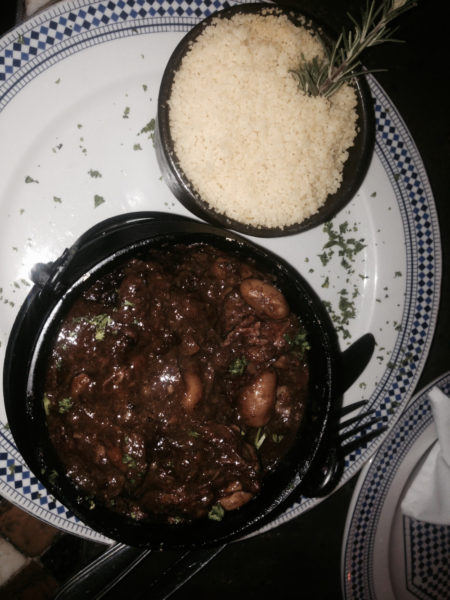 The SAT team took us to a club for a pre-MAMA party, but most people were tired and wanted out.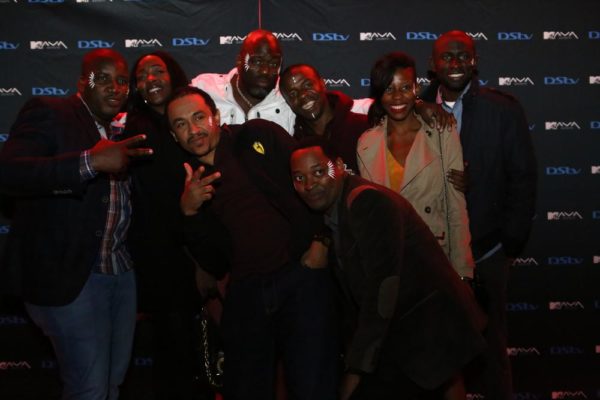 But not me… TDFW! I saw my mate Mokgadi, Fashion Editor of Grazia SA, we ditched the SAT team and went in hunt for Trey Songz, I mean the after party. We arrived at club VOGUE and Voila my table was right next to Trey's. Can't remember much of what happened but I somehow managed to lose my mate Mokgadi and my phone. Crap! I'm knackered and I can't wait to sleep tomorrow is the MTV MAMAs! Excited much?
Saturday Morning
Oooooooh today's the MTV MAMAs, I'm jittery. I sent my amazing dress to be steam ironed whilst I went shopping at the Gateway Mall, in Durban.
Time to spend my Rands and Naira! It was winter remember, so although my fave high street stores such as Topshop and Zara were there, I couldn't find anything that I really wanted, except shooooooes! I bought one pair from Zara and another from Nine West.
I was still tired and slightly hungover, I grabbed some good ol' McDonald's, took some random selfies with my crappy backup phone and headed back to the hotel. I desperately needed a nap and wanted to sulk some more for losing my main phone, which by the way had the all pictures I had taken with Trey Songz!
#OOTD: Silk print long shirt and matching trousers by Jewel by Lisa, Bag by Mak Nisy available from Grey Velvet, Hat from  H&M, glasses by Tom Ford and neon yellow shoes from ASOS.com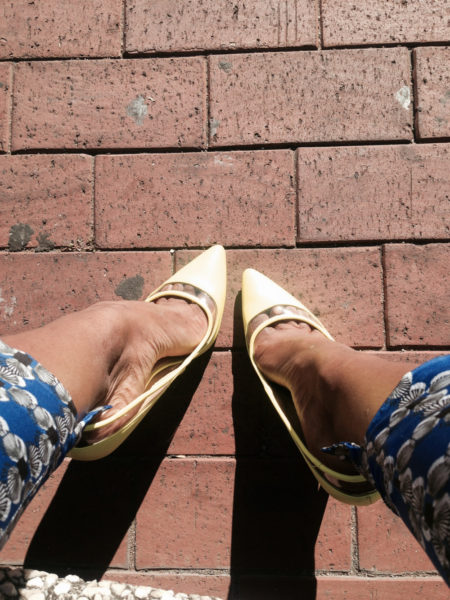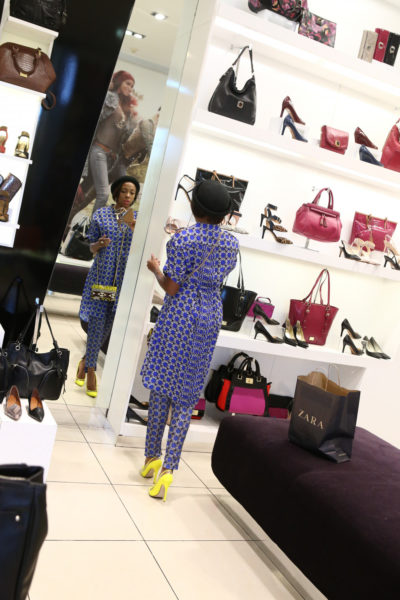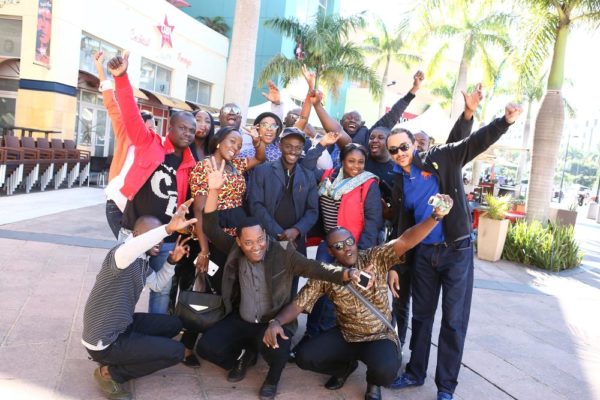 I woke up with knocks at my door from Debola Falana, my hair and makeup artist. I knew what that meant, it was time. I said a quick prayer and the preparations began. Shower, hair, makeup, bejewelled and dressed …double crap my phone did not charge, the socket was faulty. I was ready, well almost.
#OOTS: AMAZING dress by Iconic Invanity and jewellery by Ariaba. Hair and Makeup by Debola Falana. Postive attitude, ALL ME!
I had about an hour to kill so I charged my phone and went in search of Efya aka My Life saver.
I asked her if I could borrow her phone to take pictures and record videos, she agreed without hesitation. Thanks Beaux!
I got a sneak peek into what she would be wearing, I bumped into Dija from Mavin Records, Dr Sid, Anna Ebiere and lots of other people.
My phone rang, the limousine was here. Thanks to South African Tourism and MTV Base Africa for the VIP treatment, I had champagne and biltong as we drove down the traffic free streets of Kwazulu-Natal, towards the Durban International Convention Centre.
A few red carpet pictures and lots of air kisses later, we were guided to the VIP seats.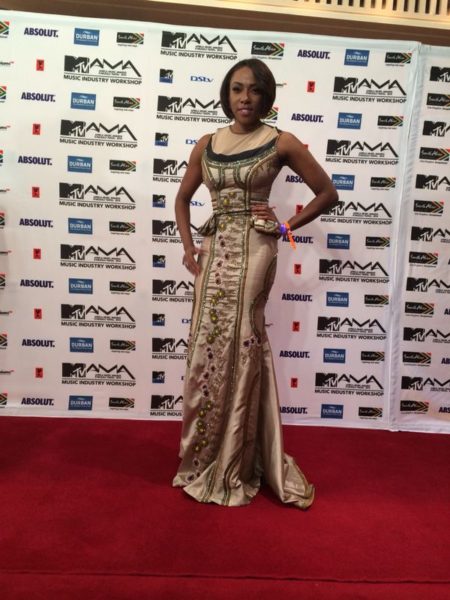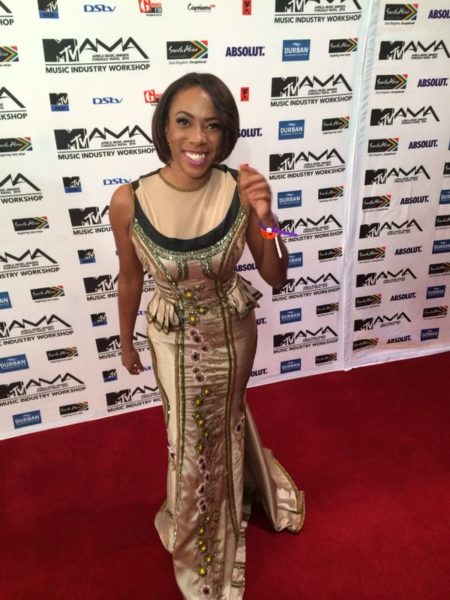 Now we all know in Nigeria the VIP seats means you are practically kissing the stage and feeling drips of sweats from the artists that perform.
To the rest of the world, VIP seats are usually, the best vantage point, which is an aerial viewpoint. I sat down for about 5 minutes took pictures of the stage, appreciated the lighting, listened to Lupita's acceptance speech then bleep bleep, my battery was on less than 10%.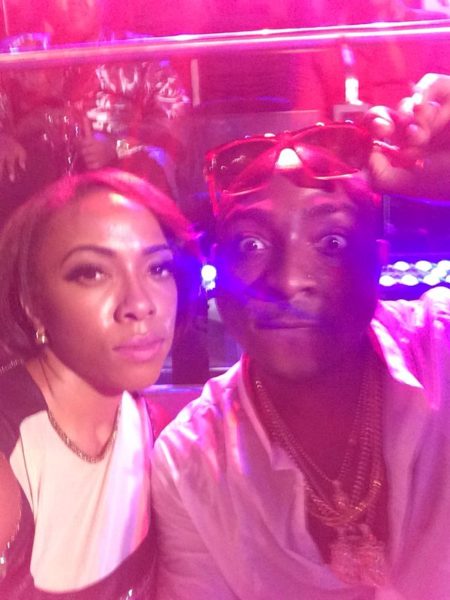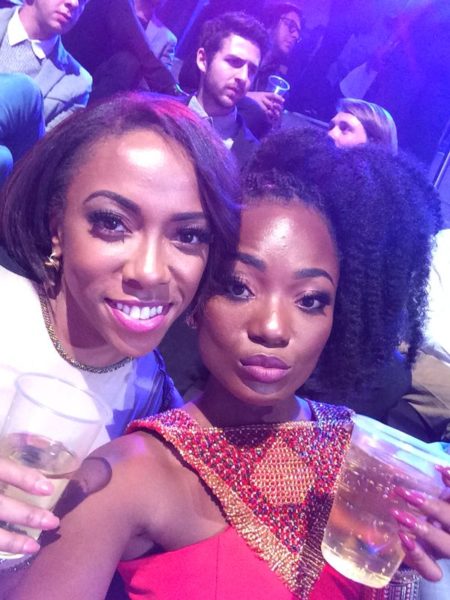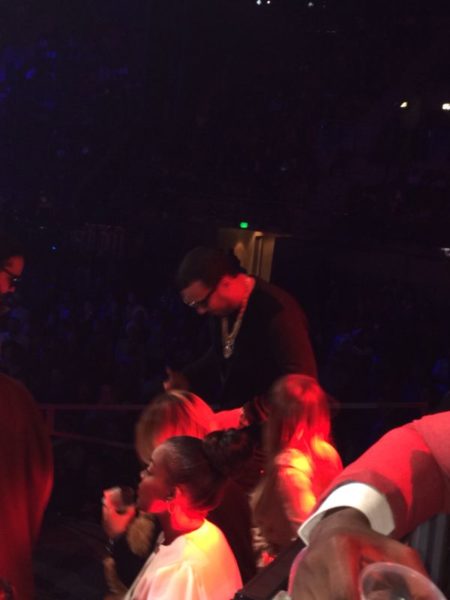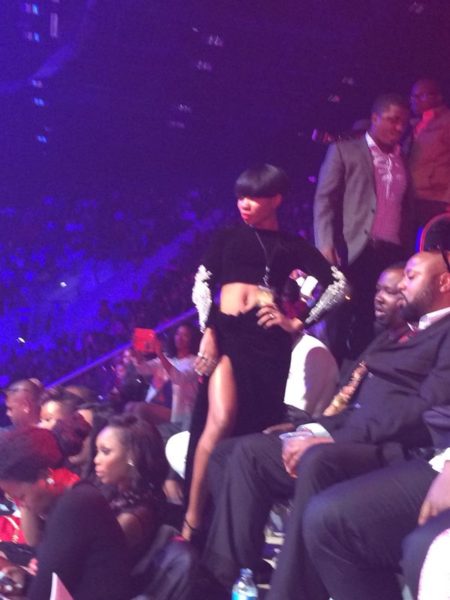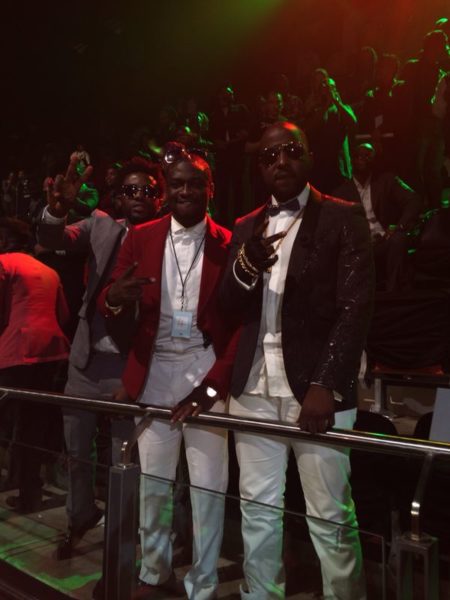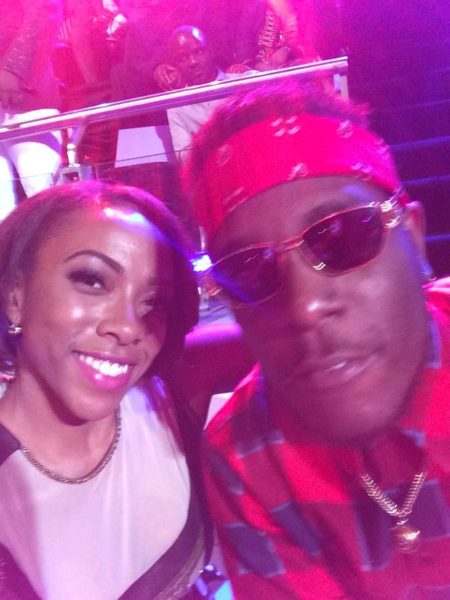 I had to find Efya and get her phone, immediately my producer instincts kicked in, I spotted the backstage area, I saw where all the artists where sat and swiftly excused myself from the rest of the media crew. As I made my way towards the backstage I was informed that all the passes I had were not able to admit my entry to the backstage/artist area.
I am Fade Ogunro, "you know say backstage no be problem", I saw a few staff from MTV Base that I know and they handed me the ALL ACCESS pass. Hallelujah! Imagine if I had been bounced, damn!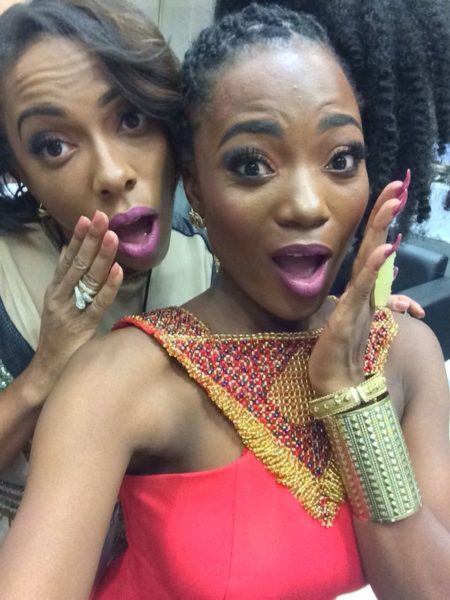 First person I saw was Don Jazzy, then Efya, Dr Sid was getting ready for his Surulere performance and as I walked towards the stage I saw Sarkodie and Miguel just before they performed together, which was one of my favourite performances of the night.

Miguel loved my dress, we talked about a few things and including his performance with Mariah Carey at the BET 2013 awards.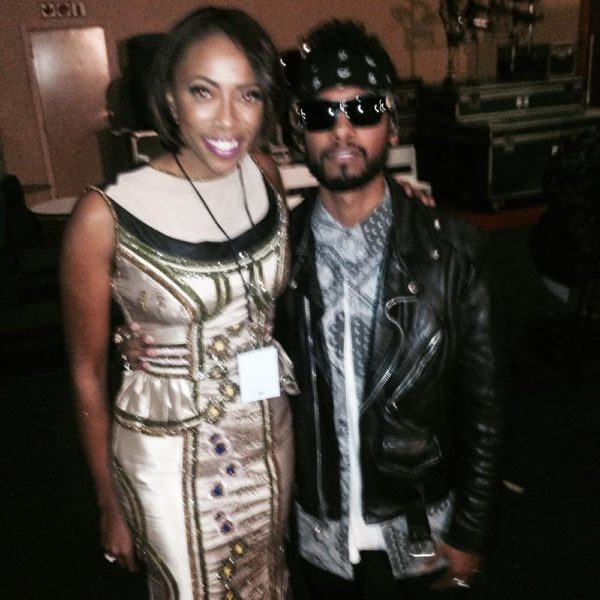 I followed Efya to the stage and as she announced Sarkodie as the best Rapper, I was taking pictures of DJ Cuppy  and MTV Base VJ Nomuzi, whose all white dress was stunning!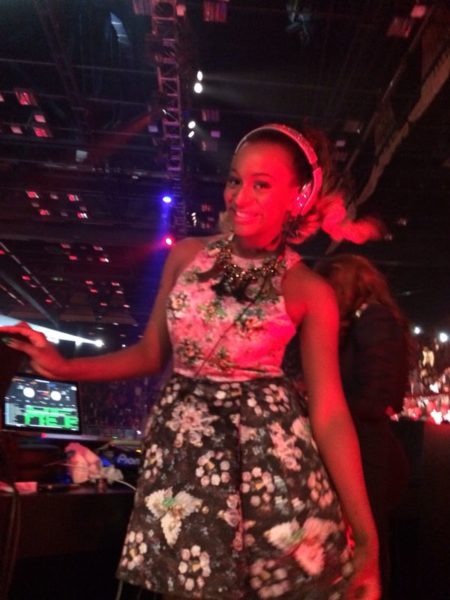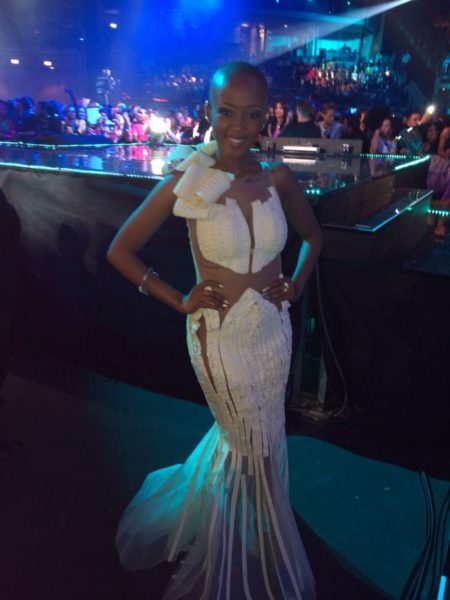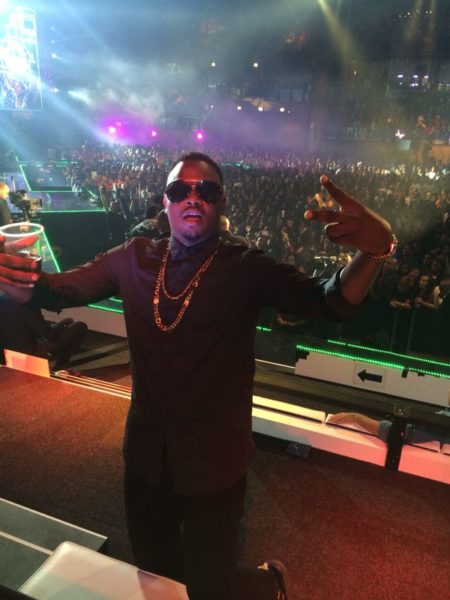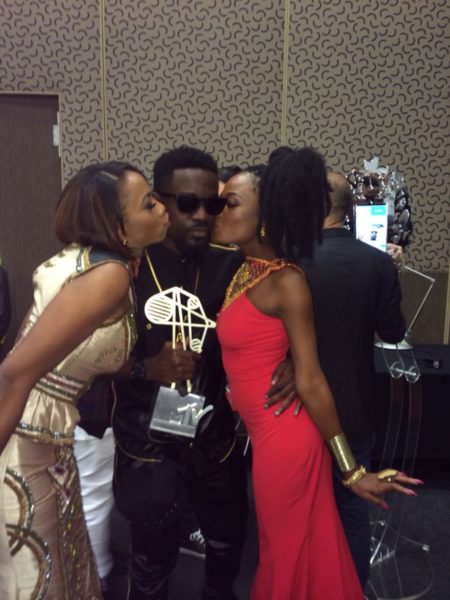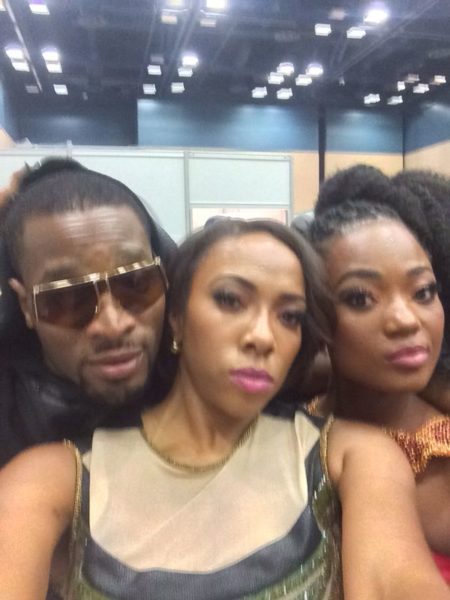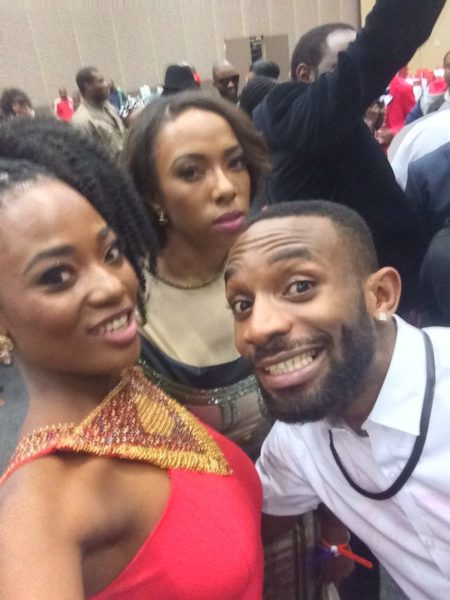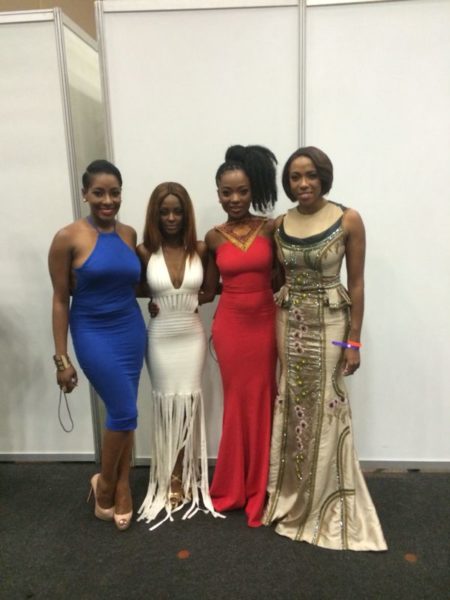 After blagging myself backstage, I had to find a seat where the artists where as every seat was pre-allocated. Luckily I knew the guy in charge who told me Sarkodie's seat was now available. This was now mine, all mine!!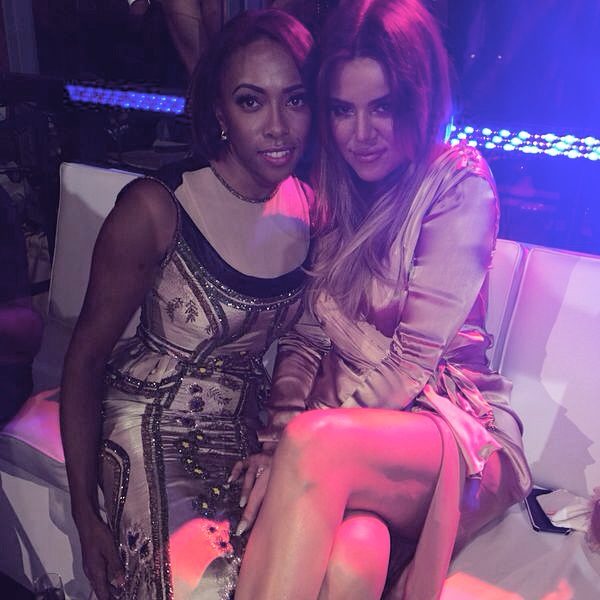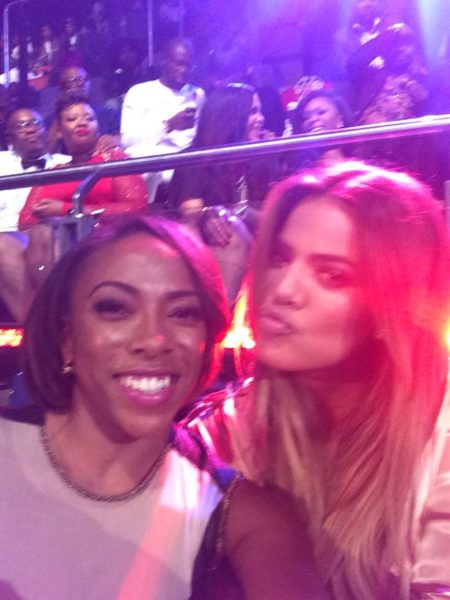 I took selfies with Khloe Kardashian who wanted Iconic Invanity's Instagram as she loved my dress, we spoke about her sister's wedding and our mutual friend that attended.
She introduced me to Robs Cheppy her hair and makeup artist who took some pics of us and I awarded her Gucci shoe my #ShoeOfTheDay Award. I was sooooo happy for my "secret twin" Tiwa Savage, for winning the BEST FEMALE award everyone says we look alike, we don't see it, do you?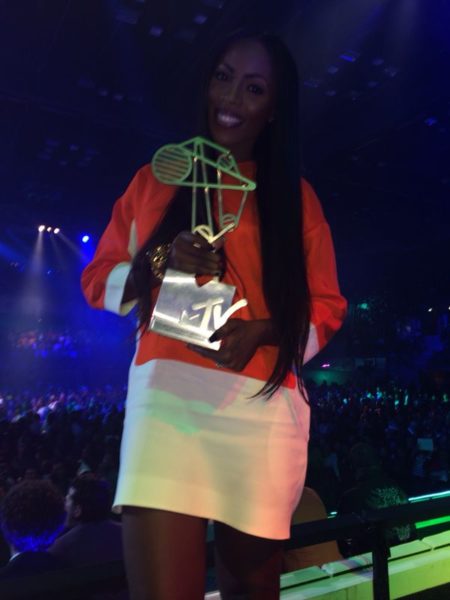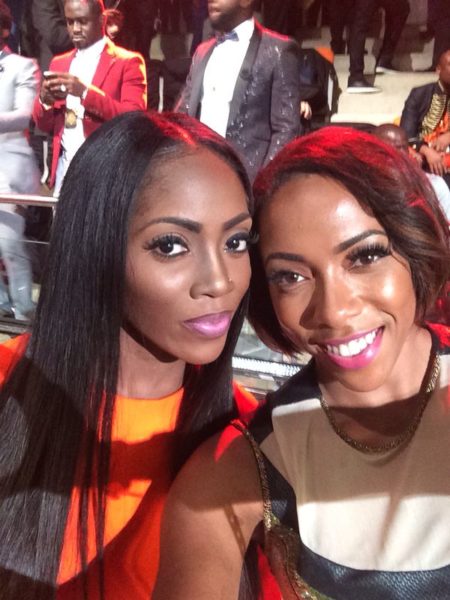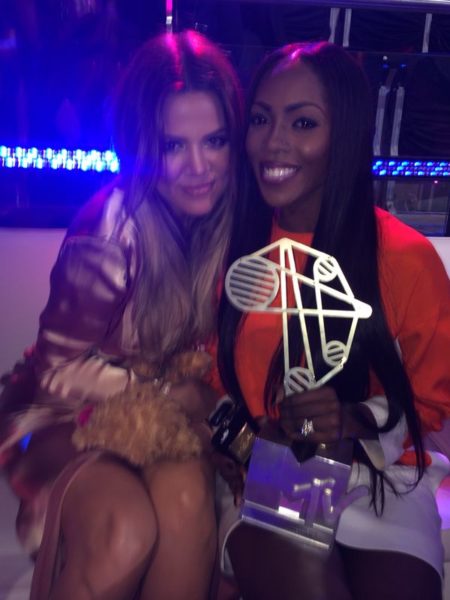 A huge congrats to Davido for his two awesome wins. During his Skelewu performance, I tried teaching Miguel how to do the dance and Davido joined us live during his performance. Did you see me on TV? (See the video below – Skip to 5.26).
The atmosphere was superb. It was a great live show, the sound, the lights, the production and general organisation were of the highest standards.
The show maybe over but the party was just getting started. My feet were killing from all the running around and dancing, I had to get out of my Guiseppe's and into some flats and into a looser fitting clothes.
#OOTN: White Shirt, Hot Pink Blazer and Trouser Suit by Vonne Couture, bag by DOT available at Grey Velvet, silver shoes – by I'm not telling you because I luuuurv it so darn much, I don't want y'all catting me. *Fashionable kisses and Fashionable Secrets*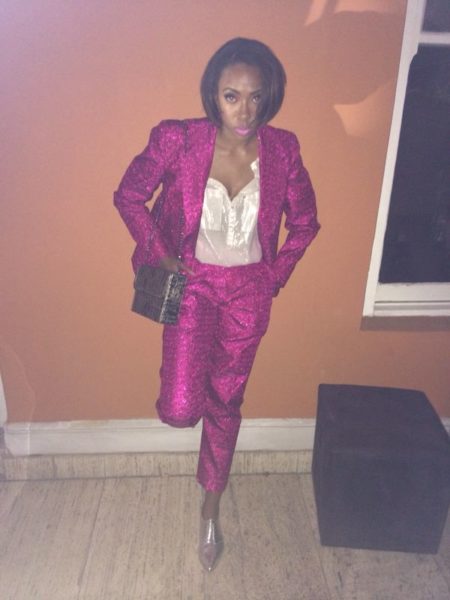 Efya and I partied with Trey Songz, D'banj, the Twerk Girls and watched as Trey hand picked the girls he wanted to sit in his section whilst the rest of the fans, groupies, dreamers and psychos were graciously told by bouncers and body guards that they was no room for them.
Did I mention that it was a free bar, that's right all drinks, any drink any bottle was indeed free! Excuse me whilst I turn up!
Thanks to Theo from Mafikizolo for dropping us back to the hotel and sorry if I talked your ears off. My head and feet hurt! Good night.
Sunday Morning: My last day in Durban, what better way to view the city than on a boat ride with the South African Tourism Team and the rest of the media crew.
I was super tired from the night before so I was very chilled, with the exception of a few spins on the pole right in the middle of the boat. I did not even do my hair or wear makeup, really could not be bothered.
Hid my bad hair with a hat, the bags under my eyes with glasses and brightened up my face with a pop of colour on the lips.
After the boat ride we had lunch at MAX's restaurant and I started to fall asleep right there at the table. Classic case of N*ggaritis! I literally slept the entire day.
#OOTD: Silk pyjama print shirt and trousers by Ejiro Amos-Tafiri, Hat from H&M and pumps by Versace. Vegas Volt lippy by MAC.
Monday Morning: Time to bid farewell to Kwazulu- Natal, Durban. Your breath taking views will surely be missed but I will definitely return during the summer, when I can actually wear my bikinis, even if Trey Songz is not with me.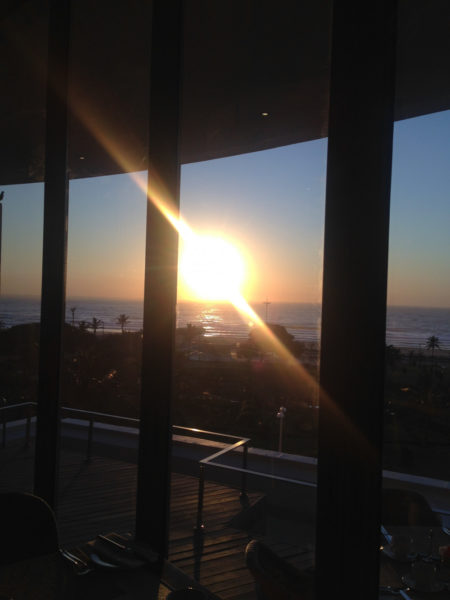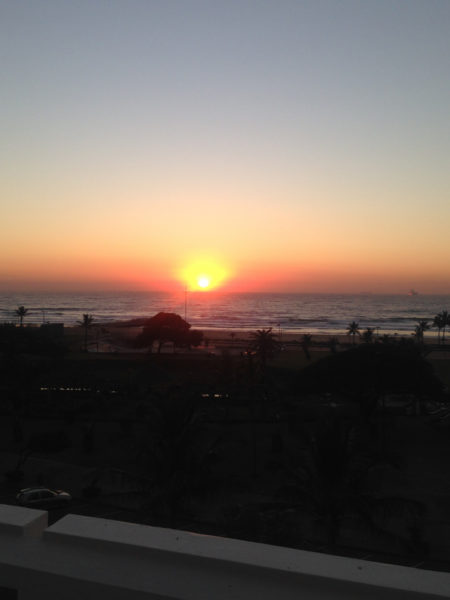 We arrived safely to Johannesburg and most of the Media Crew caught a connecting South African Airlines straight to Lagos. I stayed one more day and had a quick interview, I got a phone call from Ice Prince, he was shooting a video so I went on set and said hello to Sarkodie, AKA, Tiwa was there and so was Dr Sid.
Check out that sunset! I'm ready for Lagos.
#OOTD: White shirt – Zara, Hand Beaded multi coloured trousers – Iconic Invanity, Jewellery – Ariaba. Hair and makeup – Me!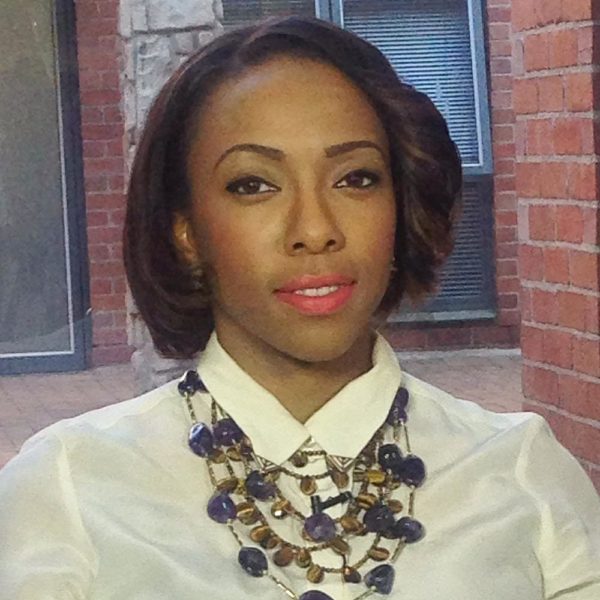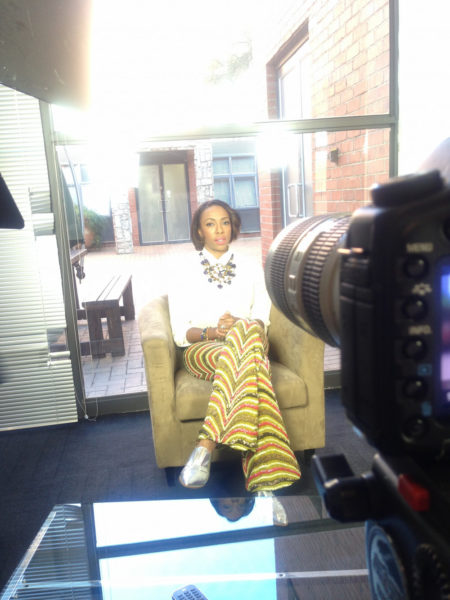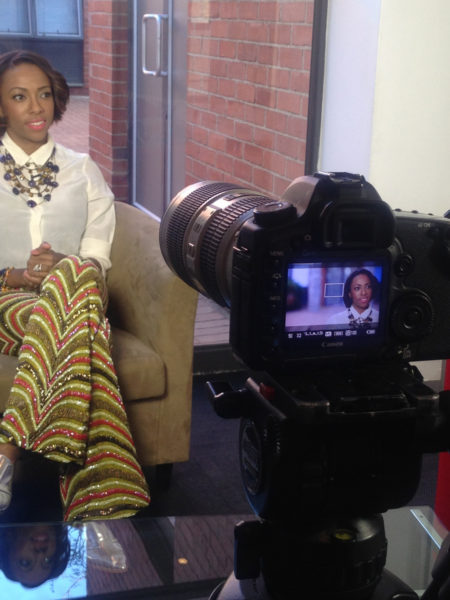 Tuesday Morning: As I walk through the airport, guess who I see? Kcee and Diamond Platnumz. You know what this means #SHADYSELFIE.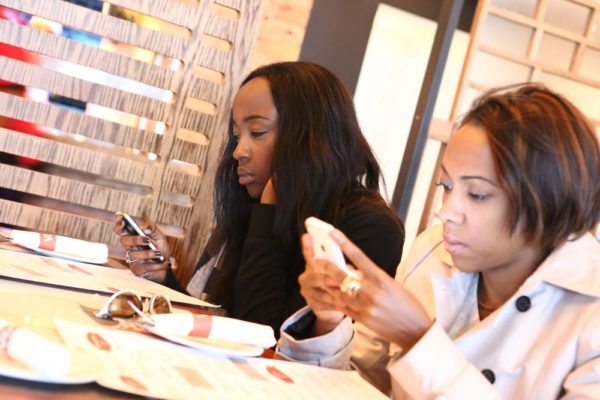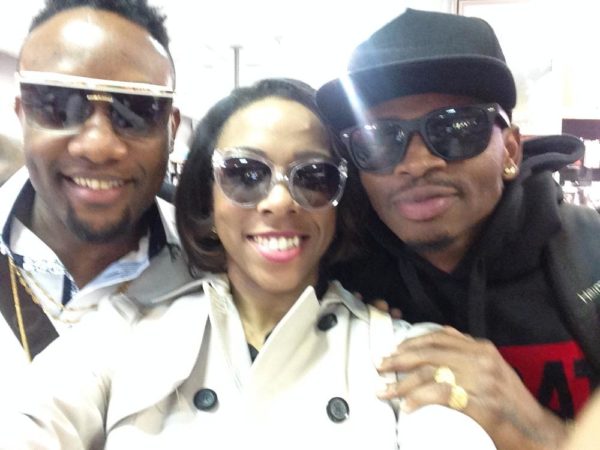 Time to log out of the @BellaNaijaOnline Instagram. Your likes drained my battery, I wonder how Kim Kardashian does it anyway…Goodbye South Africa, I'm leaving with fantastic memories and a slight flu. Thanks to BellaNaija, MTV Base Africa and South Africa Tourism.
Perhaps I may do the #BETTAKEOVER…hint, hint, wink, wink.
To Keep Up with me, Follow me on Twitter and Instagram @FADEOGUNRO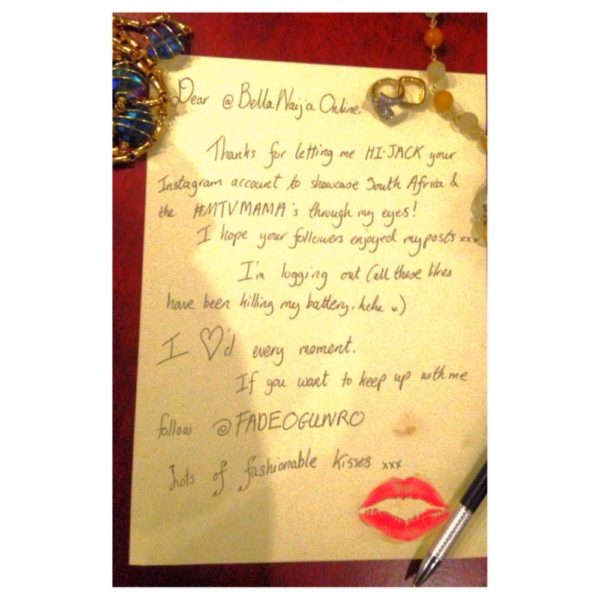 Lots of Fashionable Kisses *mwah*