Hello Tripican Fam!
Its #WomanCrushWednesday and today Tripican.com is crushing on Thandie Newton!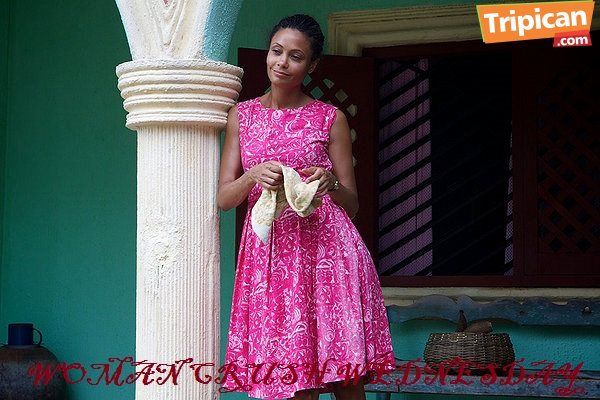 Are you still eager to see the long-awaited movie – Half of a Yellow Sun? Now you can! It will be hitting cinemas on the opening weekend of Friday 1st of August? Get ready people, this movie is going to be a great one.
Now, let Tripican refresh your minds about the movie! Click to visit a time when Chiwetel Ejiofor visited Nigeria; and talked to Bellanaija on the movie, being in love, James Bond and kids.
Visit www.tripican.com for updates on ticket availability.
Synopsis
Olanna (Thandie Newton) and Kainene (Anika Noni Rose) are glamorous twins from a wealthy Nigerian family. Upon returning to a privileged city life in newly independent 1960s Nigeria after their expensive English education, the two women make very different choices.
Olanna shocks her family by going to live with her lover, the "revolutionary professor" Odenigbo (Chiwetel Ejiofor) and his devoted houseboy Ugwu (John Boyega) in the dusty university town of Nsukka; Kainene turns out to be a fiercely successful businesswoman when she takes over the family interests, and surprises even herself when she falls in love with Richard (Joseph Mawle), an English writer.
Preoccupied by their romantic entanglements, and a betrayal between the sisters, the events of their life seem to loom larger than politics. However, they become caught up in the events of the Nigerian civil war, in which the lgbo people fought an impassioned struggle to establish Biafra as an independent republic, ending in chilling violence which shocked the entire world.
Cast
• Chiwetel Ejiofor as Odenigbo
• Thandie Newton as Olanna
• John Boyega as Ugwu
• Genevieve Nnaji
• Onyeka Onwenu
• OC Ukeje
Watch the Trailer

How exciting! Rate the trailer on a scale of 1 – 5 stars
• 5 stars
• 4 stars
• 3 stars
• 2 stars
• 1 star
Movie Images
Get tickets for this and more tickets, visit www.tripica.com
Photo Credit: www.rottentomatoes.com