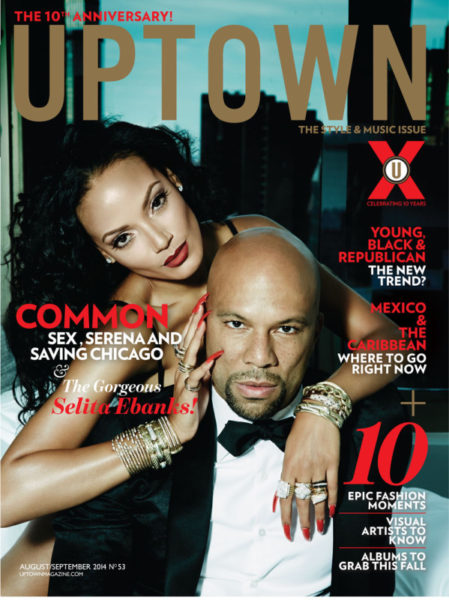 If that isn't a hot cover, I don't know what is!
For its 10th anniversary "Music & Style" issue, rapper Common and sexy model Selita Ebanks are heating things up on the September 2014 cover.
Common , who just released his 10th album talks to Uptown's Ericka Blount Danois about his album, his sex-symbol status, his love for Serena Williams, how "not awkward" it was posing with Selita who is Serena's bestie, and how he still feels like a new artist.
Speaking on his sex-symbol status, Common said – "It's not what I reach for, but I like women, so I'm not running away from it." "But I'm not running out saying, 'Hey let me get my eyebrows arched' or whatever sex symbols do."
We have a few behind-the-scenes images showing Common looking dapper in a tailored Caruso Black tuxedo and Selita wearing a pair pf La Perla black bra & panties – is there any other way to do it? The pair are on location at The EWOW Penthouse Suite at The W Times Square.
For more images visit www.uptownmagazine.com