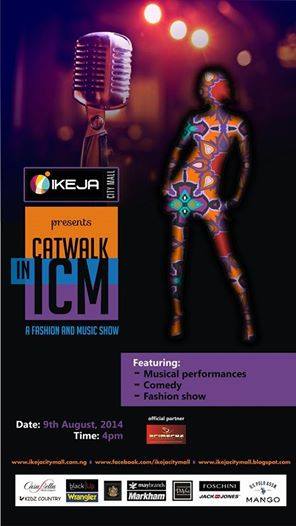 Ikeja City Mall presents the 2nd edition of its Ikeja City Mall Fashion & Music Show!
The event promises to be filled with glitz and glamour designed to showcase the Summer collections of fashion stores in ICM; bringing celebrities, models and artists to entertain guests at the shopping mall. In addition, it will feature a fashion display, light and music performances from models and comedians, raffle draws, special sales/auctions and celebrity guest appearances.
Participating stores at the event include Foschini, Markhan, Mango, Maybrands, US Polo, Kidz Country, Wranglers, Jack & Jones, BlackUp, Bruno's Place, Casabella and DaViva.
The event will also host internationally renowned models, Ken Okoli (Mr Nigeria 2010) Adedamola Cruz (Best Model of the World Africa 2011) Victor Kwen, Francis Chinko, Kelvin Godson, Michelle Udoka (Miss Global Nigeria 2013) Micus Pius (Mr Universe Nigeria 2013) and more.
Attendance is free!
Date: Saturday 9th August 2014
Time: Red carpet: 4PM | Main Show:5PM
Venue: The Ikeja City Mall, Obafemi Awolowo Road, Alausa, Ikeja, Lagos
For more information visit the ICM Facebook Fan Page http://www.facebook.com/ikejacitymall | Visit their website: www.ikejacitymall.com.ng | Visit their Blog: http://www.ikejacitymall.blogspot.com | Follow them on Twitter @ikejacitymall
_________________________________________________________________________
Sponsored Content