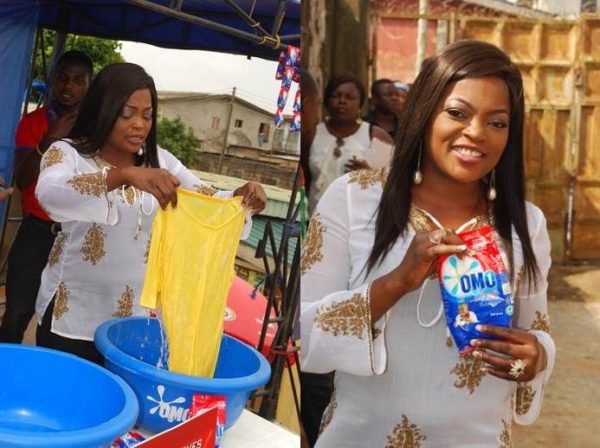 New OMO Ambassadors Funke Akindele, Chioma Chukwuka-Akpotha and Ali Nuhu, slated to delight consumers with the amazing OMO laundry experience, have been knocking on doors and storming various markets nationwide to reward loyal consumers.
The Nollywood stars are delighted visiting neighborhoods and engaging fans with the new OMO Fast Action Detergent, to share their experience.
The market storm features lots of activities with consumers winning various prizes including plasma TV sets, electric blender, washing machines, iPad, standing fans and lots more.
Chioma Chukwuka-Akpotha who visited Aba, Abia state in early August and is scheduled to visit Enugu and Owerri in September shared her experience saying "The New OMO Fast Action Detergent renews, washes with less scrubbing and takes away tough stains faster. I grew up with OMO. It is an age long tradition in my house. I am a living proof that OMO works."
Funke Akindele has been spotted visiting various neighbourhoods in Ilorin, Kwara state this August, demonstrating the fast action power of the new OMO Detergent. She will also be touring other South West states in September.
Another brand ambassador, Ali Nuhu is currently in Kebbi State acquainting Nigerians in the north with the new OMO Fast Action Detergent. He will visit neighborhoods and markets in Kebbi on Friday 22nd August 2014.
Last week, he toured Sokoto state visiting various neighborhoods including Hajia Alima and the Diplomat areas of the state. Having done some surprising knocks in the neighborhoods, he moved straight to the Fish and Meat Market in Sokoto State where a crowd was eagerly waiting to see their most celebrated Nollywood Star.
"It is as though new OMO Fast Action  Detergent has a commitment with those fabrics. It only removes the dirt and maintains the Colours," a consumer, Oyindamola Dada said.
_______________________________________________________________
Sponsored Content