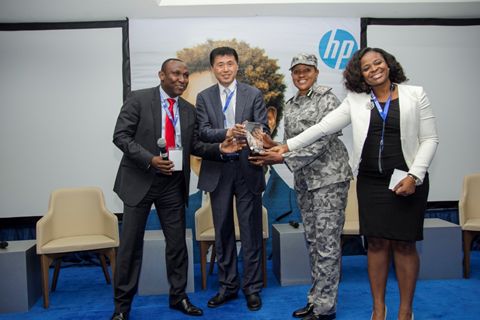 HP in its bid to show its commitment to protecting customers and its brand recently hosted an Anti-Counterfeiting Conference at the Transcorp Hilton Hotel in Abuja.
The aim of the conference was to intensify the fight against the negative effect of counterfeit trade. The conference brought together HP Partners; representatives from various ministries and government parastatals; procurement officers; media organizations, and law enforcement organizations responsible for Anti-Counterfeiting in Nigeria.
Some of the organizations in attendance – with each agency discussing its efforts in fighting counterfeits – were Anti-Counterfeiting Collaboration (ACC), Intellectual Property Lawyers Association of Nigeria (IPLAN), Standards Organisation of Nigeria (SON) & Nigerian Customs Service.
The conference also provided a platform for brand representatives from across Nigeria to exchange experiences and best practices, and learn how brands such as HP, Microsoft, Unilever, British American Tobacco Nigeria (BATN) and GlaxoSmithKline have been taking action against illicit trade.
Through its Anti-Counterfeiting Programme, HP aims to actively educate its customers and partners to be vigilant against fake printing supplies and it cooperates closely with local and global law enforcement authorities to detect and dismantle illegal operations that produce counterfeit HP Printing products.
_______________________________________________________________
Sponsored Content