This woman's selfie taken at the Notting Hill Carnival has been shared thousands of times after she was punched in the face for telling a man not to touch her.
In a Facebook post, Mary Brandon, a student at Leeds University, says she was enjoying the west London spectacle on Bank Holiday Monday when she felt a man grab her bum.
She exposes the darker side of the annual party that is "supposed to be about community and good vibes".  To "get the word out that this isn't OK" to hit a woman, she posted this image of herself.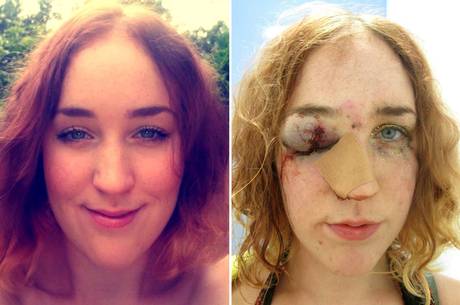 Mary revealed that she had to spend nine hours at the hospital receiving treatment following the alleged assault.
On the incident, Mary said; "A man in the crowd grabbed my arse. When I told him not to he did it again.
I pushed him away, exercising my right to tell a man to stop touching my body without my permission, so he took a swing at me and punched me in the face."
Mary said that some of her friends had suggested it might be "best not to do anything at all" when a man assaults you sexually.
Her response was that anyone who thinks it is "OK to treat women like this" should stay away from the carnival in the future, adding that "I can honestly say I will always stand up to someone who thinks they can get away with this behaviour. I'd take a punch again from this loser or any other loser who thinks it's OK to treat women like this."
The Evening Standard reports that the police is currently investigating the incident.