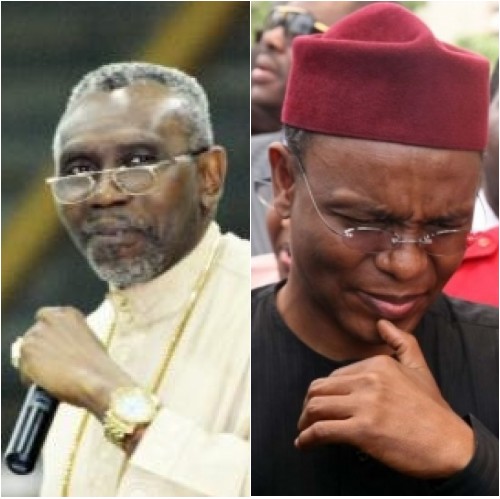 This week it was discovered that Pastor Ayo Oritsejafor's private jet was used to transport $9.3 million by two Nigerians and an Israeli from Abuja to South Africa.
This money was found seized by the South African government, and the Nigerian government is currently conducting diplomatic discussions with South Africa to release the money. Read more here and here.
Yesterday, the Senior Pastor Word of Life Bible Church responded to allegations he was involved in the deal. Read his statement below. In turn, former Minister of FCT, Abuja Nasir El-Rufai released a statement via his media advisor accusing the CAN head of "mixing his religious role with politics" and asking him to "look beyond the bling" to seek the truth.
***
El-Rufai's Statement:
"When light unexpectedly shines on murkiness, those exposed by the stinging rays often berate the light rather than regret the muck. That is the plight of Ayo Oritsejafor whose private jet was identified as the vessel impounded by the South African authorities for ferrying $9.3m cash into their country. A statement from Eagle Air admitted Oritsejafor's interests in the aircraft, but said it leased the plane to Green Coast which in turn acknowledged hiring the plane out for the trip to South Africa.
Unable to shake off his connection to the plane, Oritsejafor has resorted to abuse and vilification. Were he more reflective, he would be pondering how, of all the private jets available in Nigeria, it was his that came to be involved in a covert arms purchase scandal. Would he have managed any objectivity if the plane involved happened to belong to a prominent person of another faith or political persuasion?
Since abuse is not argument and is incapable of displacing fact, Oritsejafor may care to answer if the jet involved in the scandal is the same one that was "donated" to him in 2012? Did he register it as a commercial aircraft or is the plane illegally moonlighting as one? Has he ever reflected on the impropriety of mixing his religious role with politics? Having strayed into politics, and an irresponsible variant at that, can he expect the veneration enjoyed by his predecessors such as Cardinals Olubunmi Okogie and John Onaiyekan? Why is he the first CAN leader to provoke pitiful mirth and amusement when he is not being derided as a tragedy, a sort of Ichabod, desperate to separate glory from a revered body? Amidst his jitters, Oritsejafor must look beyond the bling to ask himself if it was any of the individuals he abused yesterday that asked him to make his aircraft available for monkey business, or get himself involved in the politics of division.
It is pertinent that we invite the Federal Government to reflect on its role in this episode. Our country needs to bolster its military and security forces with the material resources they need to defeat insurgency and restore security to every inch of its territory. This would require arms imports. But should Nigeria violate the arms export regulation of other countries in this endeavour? Should the FG recklessly impair and jeopardise diplomatic relations by conducting covert arms purchases in friendly countries without the consent of their governments? Such conduct invariably leads to suspicions that such covert arms procurement may not be for purposes of national security.
This instance of arms procurement outside official channels amidst an escalating insurgency must concern every patriot. In his House of Commons statement last week, Mallam El Rufai had alluded to the clear implications of the likely link between governmental murkiness and the escalation in the insurgency. The government has long tried to explain away its incompetence in upholding security by blaming insurgency on the major opposition party. But it is becoming increasingly clear to many that this insurgency is benefitting the ruling party and the incumbent president by providing them a pretext to postpone elections and, at the minimum, disenfranchise large swathes of the population that have never supported the PDP or voted for Jonathan.
Mallam Nasir El Rufai urges every Nigerian to vigilance in these troubled times. The tragedy of mindless terror should not be allowed to become an endless catastrophe because of narrow political calculations."
Ayo Oritsejafor's statement, via CAN, saying the private jet has been leased since August 2014:
"Our attention has been drawn to the desperation of some elements working for a particular political party within our society to tarnish the image of the President of Christian Association of Nigeria, Pastor Ayo Oritsejafor. They are working for the All Progressives Congress and they are not unknown to us.
Let Nigerians have this background for them to judge themselves. These shameless characters including a former Minister of the Federal Capital Territory (FCT), Nasir El-Rufai and National Publicity Secretary of All Progressives Congress, Lai Mohammed, went to UK to embark on an image laundering for their political party, the APC. El-Rufai had once said there are three sets of Boko Haram in Nigeria: Islamic Boko Haram, Politicians' Boko Haram and Christians' Boko Haram which he said are being funded by President Goodluck Jonathan and coordinated by CAN President, Pastor Ayo Oritsejafor.
He went further to claim that the CAN President has been given N50 billion by the President and a Jet. The same characters, went head to sponsor a negative report in Sahara Reporters. I had expected that by now no sane mind will take any report by Sahara Reporters serious because it is an online news medium which thrives on falsehood and survives on false propaganda and blackmail. The aircraft in question is owned by Eagle Air Company and the CAN President is an interested party in the company.
Since August 2 2014, this Aircraft has been leased to Green Coast Produce Limited. They lease this aircraft and people rent it from them. Anybody in this country will attest to the fact that Pastor Ayo Oritsejafor has been following chartered Airlines. All investigations about the plane should be directed to the management of Green Coast Produce Limited, a duly registered company. Further enquiries about this should be confirmed from Eagle Air Company which leased this Aircraft. El-Rufai has accused Jesus Christ severally in recent times. El-Rufai and his group met and decided to launch a blackmail against Pastor Ayo Oritsejafor because he is an ardent supporter of President Goodluck Jonathan.
This, he did, to elicit sentiment from the society. We want Nigerians to ponder over this: if Nigeria wants to buy arms, the government knows where to get their weapons. How did Pastor Ayo Oritsejafor come into this? The report is a well-organized orchestrated plan, all because of their desperation for the 2015 general elections. If not for the blindness and intellectual myopia of some Nigerians, people in the calibre of El-Rufai shouldn't be taken seriously and should not be walking on the streets. This was the same El-Rufai abusing Gen. Muhammad's Buhari (retd) and ex-President Olusegun Obasanjo, calling them all sorts of names. El-Rufai is more of a Street Boy whose history and antecedents are very much known.
He has been the person defending Boko Haram and this is an opportunity for him to hide his misdeeds. We are waiting and we can assure you that at the appropriate time, he and his allies will pay dearly for it. The international community sees APC as an Islamic party; instead of El-Rufai to deny that, he was busy orchestrating spurious propaganda against Pastor Ayo Oritsejafor. The public should also not forget that it was Pastor Ayo Oritsejafor who went to the United States' Congress and suggested that Boko Haram Islamic sect should be domesticated as a Foreign Terrorist Organization (FTO). It is the same El-Rufai who is accusing the CAN President as the person behind Boko Haram.
A word should be enough for the wise!"
Sunny Oibe Director of National Issues (CAN)
***
Photo Credit: snitchngr.com & nigerianwatch.com