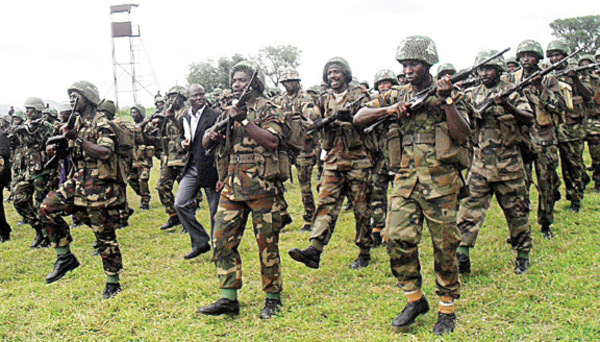 The Nigerian army is set to arraign 16 soldiers over the abduction of the over 200 Chibok girls who were taken by insurgents from Government Secondary School, Chibok in Borno State in April.
After the Sallah holidays, the soldiers are expected to be present at the General Court Martial at the Maxwell Khobe Military Cantonment, Rukuba, Jos in Plateau State, Punch reports.
Three of the 16 soldiers are officers. They are Lieutenant Col. A. O. Ojo, 2nd Lieutenant V.I. Godknows, and Captain O. O. Ogunrinde.
According to reports, the officers are being charged for "failure to perform military duty, an offense that attracts a maximum of two years' imprisonment."
A source told Punch that:
"Only Lieutenant God knows and 13 soldiers were on duty in Chibok. They were not stationed within the school. No soldier was stationed in the school and they didn't know that the school was in session.

Nobody notified these people that the girls were having an examination in the school. Even the principal admitted in her statement that the soldiers were not notified.

They were told that their camp was about to be attacked so they went out to lay in ambush for insurgents. One of the soldiers died.

But I can confirm to you that the Army has  concluded preparations to arraign them."