When I walked out of the elevator and into the L'Oreal office in Ikeja, Lagos, the one thing that struck me was branding. From the frames of product adverts on the wall, to the colours and décor, both floors belonging to the brand are all about telling people who they are and what they stand for.
Waiting for the reputable makeup guru that is Bimpe Onakoya was not hard as I was filled with more excitement than anything else. She arrived right on time and was quick to dish out a smile. We exchanged pleasantries and from then on the layers that make up this inspirational woman began to unfold.
We talked on her life, passion, family, growth and above all the experiences that have led up to this time in her life. Read on to find out these and more about the Makeup Artistic Director Mayeblline New York Nigeria – Bimpe Onakoya.
Tell us about yourself and how you started a career in makeup?
Well, my name is Bimpe Onakoya nee Ogunmakin – the Makeup Artistic Director Maybelline New York Nigeria. I was born and brought up in Ondo town in Ondo state, from a polygamous home and growing up I had a good childhood. My journey started long ago while I was in secondary school. My best friend then traveled to Paris for a long vacation and came back with a beautiful makeup palette, and we just went to town with it.
My love for makeup started right from there, through out attending Obafemi Awolowo University (OAU) and as an undergraduate in UNILAG – that was when Bimpe met makeup proper. I would do makeup for beauty pageants during hall weeks, and my friends would come to me for help with makeup, tying Gele and so on for different events. It just came naturally to me.
During this time, Bayo Haastrup had finished from my department and picked an interest in me. While I was waiting for my call up letter after graduation, Bayo called me and said he wanted me for a job. At this time I was in Warri, my mum was terminally ill and this had taken a toll on our finances. Hoping to earn some money, I came to Lagos, but on the day I was to help Bayo with the job, I was told that my mum had died. It was the darkest time of my life, but even at that the next day I stood up and went for the job like nothing happened and that set the pattern for my life. I am totally and passionately involved with my work.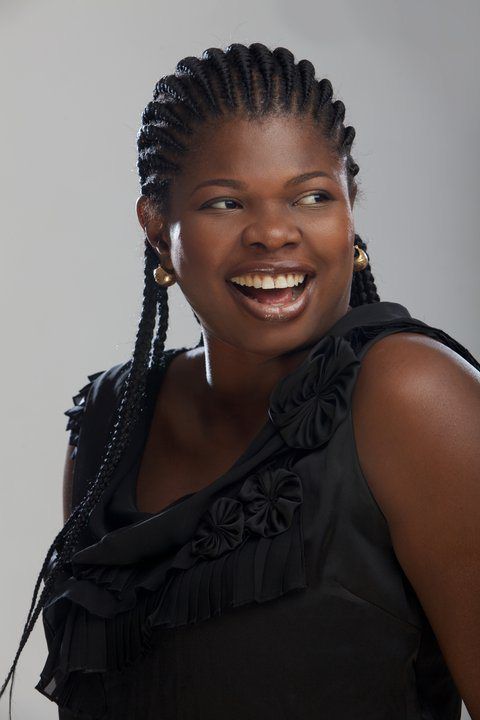 What was your first job?
My first job was the St. Moritz Style Select.
I would come to Lagos to work during my NYSC and I had a brief stint In the banking industry. After I left and understudied Bayo for about 5 months, I went my own way. I started working with advertising agencies, then magazines starting with True Love and then others; and that was a phase of my life that brought my work into the limelight. I went on and worked backstage at fashion shows, did a lot of editorials, TV, media, worked with everyday people, society women and so on.
I got married and relocated to Abuja – after a while my husband saw that I was really not happy, even though I was not complaining, and saw how much I missed the thrill of the industry. He then suggested I come back to Lagos. It was a little tough after I came back because I had already lost 80% of my clientele base, but gradually things started to change. God is merciful.
Early last year I was called for an interview with Maybelline and that was when my life turned around. They signed me on and I really thank L'Oreal for bringing forth this great opportunity and now things have changed. It is interesting and I'm loving this beautiful journey.
Tell us about your New York Fashion Week experience
It was an epic experience. I am the first Africa-based International makeup artist to ever work at NYFW, and it was an eye-opening experience. I have been doing fashion makeup for a long while, but this was totally different. Here in Nigeria we are really trying our best, the shows are getting better and have improved, but it's just totally different in New York. I guess they've been at it way longer, and the experience is priceless. I got to see so many secrets, worked alongside Maybelline makeup artists from all over the world. They were all very warm and accommodating and I felt totally at home.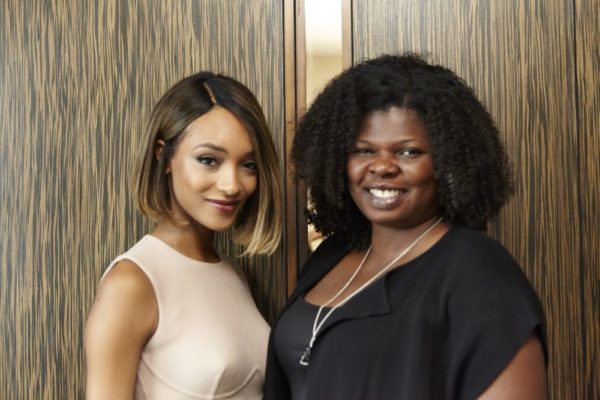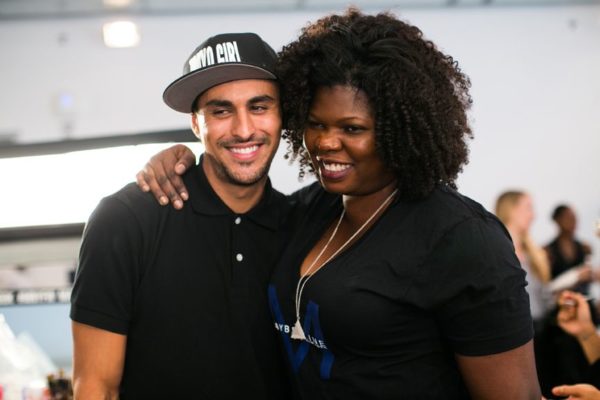 I was in the midst of people of like minds and I loved working there. I got the chance to do makeup on Jourdan Dunn, worked at shows like DKNY, Lacoste, JMendel, Peter Som, Mara Hoffman, Suno etc. I met the President of Maybelline New York and Yadim, the Global makeup artist for Maybelline was unbelievably sweet to me, I couldn't have asked for a better experience. Now that I'm back I'm going to introduce some of the trends at NYFW to LFDW 2014 and it's going to be interesting.
We know New York Fashion Week was really big on Trends. What's hot right now?
It's all about nude. It is big and Maybelline has a nude palette. I would love to introduce the nude trend to our fashion week, but I think most of our designers are into colours.
What can we expect from the upcoming Lagos Fashion & Design Week coupled with your experience from NYFW?
I've been the Head of Makeup for LFDW since its inception and this year is going to be totally different. I'm bringing in the spirit of New York , so it will be a lot of high fashion, street fashion and we are going to have a lot of things we have never done before with skin as never seen before. Think mixing the Lagos Fashion experience with the vibe of Lagos. It is going to be mind bowing and people really need to watch out for the clothes, makeup and a lot more. I want to put Nigerian makeup out there and want others in the world to follow our trends.
The few times we have seen you, you usually have little to no make up on. Is that a preference or do you just prefer doing makeup on other people?
The fact that I'm a makeup artist does not mean I should look like a sign board. I'm like everyone else – my skin still needs to breathe, so I let it and I am very comfortable in my skin. I like to still look like myself and I just like myself this way. I wear foundation and lip gloss and line my eyes and I am good to go. If you look at my face to judge if I would be good at makeup it is up to you – but if you don't call me it's your loss.
You deal with a lot of clients from all over. What's the one thing you don't like when it comes to dealing with them?
I am very easy going and I try not to look at difficult people as being difficult. Because of my personalty I won't talk about them, it will sound petty. But it's part of the experience that has made me who I am. My goal is to just be happy, to make people happy, make an impact on people, and earn some good money while at it – life is too short.
On your Instagram page you use the term #CacaoSlayer or #CacaoNinja. Tell us about that catch phrase.
When Maybelline came to Nigeria I got to test all the powders. As I was checking them out I came to the Cacao powder and I realized there was something really special about it. In my 11 years as a makeup artist I've never seen a shade that rich before. I've used a lot of products but no one has given me that richness. It was like I had found that product I was looking for in my makeup bag.
It's warm, brown, beautiful and blends into the skin. So why are we saying contour? We can Cacao it!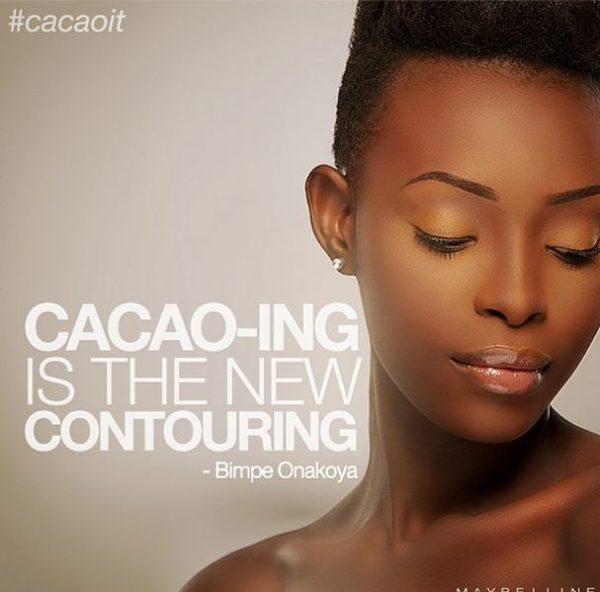 If you were to pick one person whose makeup you would love to do who would it be?
It has always been Alek Wek but I have done her makeup. My idea of beauty is really different and I find beauty in rich African skin. The darker, the better. When I met her, I screamed and told her I've been dying to do her makeup. And that was how we clicked. Maybe now I'd pick Oprah.
If you were to give your younger self advice what would you say?
I would tell myself to still be me. I'm a deeply spiritual person and I must receive a message before I do anything. That way I know when the time is right and then it happens. I am happy the way God has made me and happy to be myself. I am ambitious like others, but I won't step on you to get to where I'm going. If I come back to this life, I will still want to come as Bimpe.
What is your advice for two kinds of makeup artists. Those who want the glam; and those who want it for the passion?
For those who want the glam: It Is still fine. There are 2 markets in Nigeria. Some like 'efizi' and there is a market for that. They should be about the job and if their need for glam is more important than their job, they will eventually fizzle out. The job has to be on point and if that comes with the glam then it's still fine.
For those who want to do it for the passion: I would tell them to continue with their passion. Be dedicated. It might not be rosy but they should take it from me who has gone through some rough ground, it will get better. As long as they know what they are doing. One day you will stand out because your work will speak for you.
You recently won the Vanguard Allure Makeup Artist of the Year – that must be really exciting. Tell us about it.
For 11 years I never won an award, they kept nominating me, but I don't know how to solicit for votes. I don't believe in it. I wont even vote for myself, so I took my mind off it long ago. So I really appreciate this award and the way it came, it came with peace.
What's next for Bimpe?
I have a lot coming up, so many things are cooking. Maybelline is planning to send another Makeup Artist with me hopefully to experience NYFW. Things are about to happen with Maybelline and everyone needs to up their game because Maybelline is about to happen to a lot of people. Maybelline is actually investing in Nigeria, we are here to stay.
There is also an online competition with Maybelline for LFDW. All interested people have to do is follow @maybellinenyng on Instagram. I will create several looks and the makeup artist that can recreate that look perfectly gets the opportunity to win gifts and follow me to work and earn some money as every other Makeup Artist working at LFDW 2014.
A lot of Makeup artists look up to your work and what you have achieved. From your challenges and experiences growing from an unknown Makeup Artist till date, what lessons have you learned that you can pass on?
They should pursue excellence and ignore success. With excellence comes success. They should be nice and humble, most importantly they should perfect their artistry, it's the most important at the end of the day. They should always yearn to learn more , and not put themselves in a box .
A huge thank you to Bimpe Onakoya for the awesome interview. We wish her all this best.
Lead Photo Credit: Kelechi Amadi-Obi