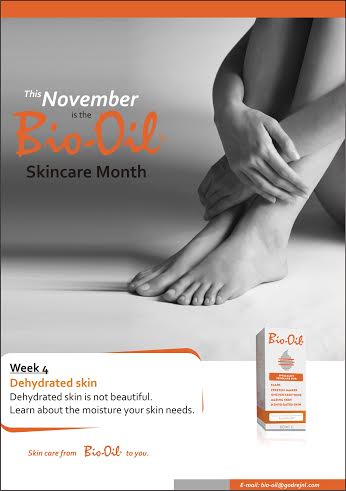 Bio-Oil is a specialist skincare for Scars, Stretch Marks, Uneven Skin Tone, Ageing Skin & Dehydrated Skin.
Bio-Oil is registered with NAFDAC with number 02-6924  to show that it is safe to use.
This month of November has been declared Bio-Oil Skin Care and we will be focusing on Dehydrated Skin.
The top layer of the skin that provides a protective barrier for the skin from external elements contains fatty acids, cholesterol, waxes, triglycerides, oils and a variety of other substances.
This layer is normally made up of about 15% water.
Causes of dehydrated skin
Dehydrated skin lacks sufficient moisture in the cellular system and intercellular channels and can look dull and dry, scaly and flaky. Epidermal moisture levels should be approximately 20-30% in normal, healthy skin. Dehydrated skin occurs when moisture levels are less than 10%. This is caused by a reduction in the barrier properties of the skin, resulting in an increase in trans-epidermal water loss (TEWL).

Stages of skin dehydration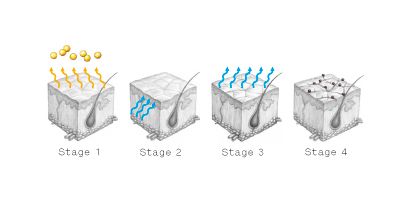 Stage 1
The sebum (natural oil) on the surface of the skin is removed, reducing the skin's ability to regulate the levels of water vapor entering and leaving the upper layers of the epidermis.

Stage 2
Water soluble substances in the upper layers of the epidermis are leached out rendering the skin unable to regulate its hydration levels.
Stage 3
The upper layers of the epidermis become dehydrated. This decreases the flexibility of the skin, and it becomes visibly dry and tight.
Stage 4
The skin cracks, allowing micro-organisms and irritant materials into the epidermis. This increases the possibility of infection and irritation.

Treatment & Control
Bio Oil helps supplement the skin's natural oils which can be stripped away by factors such as extreme weather, water with high chemical content, frequent bathing and the drying effects of central heating and air conditioning. It helps lock in moisture and reduces the rate at which water vapour is naturally lost through the skin's surface, referred to as transepidermal water loss (TEWL).
Extra dehydrated skin advice
• Water – drink and eat it, every time.
• Avoid constant extreme stripping of natural skin moisture through excessive bathing with harsh soaps.
• Avoid use of harsh body cleansers and toners, especially those containing alcohol.
• Replace moisture as often as possible – immediately after bathing, washing with soap, and exposure to extreme cold or hot temperatures.
• Use oils and moisture – For all skin types.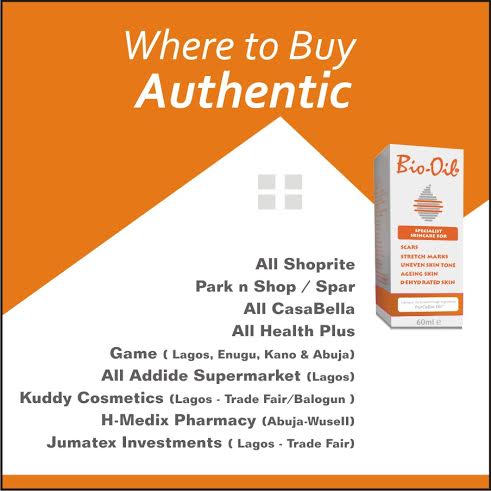 One frequently-asked-question about Bio-Oil in Nigeria is the one of where it is available for purchase.
Here is a list of some of the authourized dealers of Bio-Oil:…
– V-Care Supermarket: 77, Opebi Road, Ikeja, Lagos
– The Bazaar Farm & Stores Ltd: 14, Ade Akinsanya Street, Off Town Planning Way, Ilupeju, Lagos
– GVS Supermarket: 12, Odunlami Street, Anthony, Lagos
– De-Prince Supermarket: 65, Diya Street, Gbagada, Lagos
– Pharm Affairs Supermarket: 122, Ogudu Road, Ogudu, Lagos
– CCD Supermarket: 120, Ogudu Road, Ogudu, Ojota, Lagos
– Jouf Ventures Nig. Ltd: Jouf Ventures Plaza, BBA, Tradefair Complex, Badagry Expressway, Lagos
– Daytona Pharmacy & Supermarket: 21, Admiralty Road, Lekki Phase 1, Lekki, Lagos
– Prince Ebeano Supermarket & Cosmetics: House B, Block A9, Plot 1, Obafemi Anibaba Street, Off Admiralty Way, Lekki, Phase 1, Lagos
– Price Super Stores Limited: Suite K67-K88, Ikoya Shopping Centre, Lekki, Lagos
– Next Cash & Carry: Gwarimpa – Wuse II By-Pass Kado Kuchi, Kado – Abuja
– Somma Commercial Enterprises: Yakuba Jibri Str., Block E, Shop 2, Garki Market
– Jetro Pharmacy & Super Store Ltd.: 84, Yakubu Gowon Crescent, Asokoro Abuja
– Sahad Stores: Plot 1512 use Street off Ahmadu Bello way cadastral Zone A3 area 11 Garki Abuja
– Exclusive Stores: Plot 1202 Adebola Adetokunbo Crescent Wuse 2 Abuja
___________________________________________
Advertorial – Sponsored Content