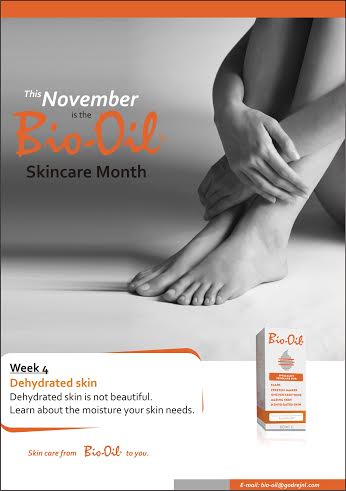 In this on-going Bio-Oil Skin Care month, loads of skin care tips about common skin care issues have been given out and so far, lots of people have won exciting goodies including;
• Free Bio-Oil bottles
• Bio-Oil Gift Packs
• Free Spa Services
• And so much more
This is the last week and you can still be a winner!
All you have to do is follow the weekly posts here on BellaNaija, on Genevieve Magazine's website and social media. You can also tune in to the Catwalk With Kaylah show on Cool FM every Thursday at 5PM, The Woman show with Zoe on Nigeria Info FM every Thursday at 4PM and Tea Break With Titi on Inspiration FM on Wednesday & Thurdays 10:30AM to 1:30PM.
Read, Listen, Participate in answering the questions for this week and stand a chance to win.
Question of this week –
Name two causes of skin dehydration AND two ways to replenish moisture to the skin?
The first 10 people to comment with the right answers win. Be sure to drop your e-mail in the answer as well so you can be contacted!
______________________________________________________
Sponsored Content