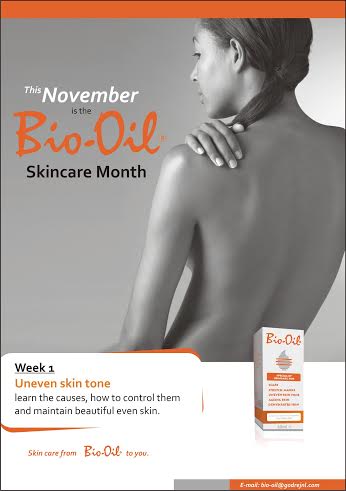 Bio-Oil is a specialist skincare for Scars, Stretch Marks, Uneven Skin Tone, Aging Skin and Dehydrated Skin.
It is NAFDAC (Reg No. 02-6924) registered and safe to use so your skin is in great hands.
This month of November has been declared the Bio-Oil Skin- Care Month and in this post we will be focusing on Uneven Skin Tone.
Uneven skin tone, also known as hyper-pigmentation, is evident in uneven patches of colour of the skin. These show in patches of skin appearing darker in colour than the normal surrounding skin.
Causes of Uneven Skin Tone
Basically, any unevenness in colour is connected with the production of excess melanin,the natural dark pigment found in the skin. Melanin is produced by special skin cells which are located at the bottom of the epidermis (the outermost layer of the skin). Any damage or irritations of these cells result in malfunctioning, and the consequence is production of excess melanin.
Over-exposure to sunlight, acne, picking, scratching, injuries, adverse reaction from use of some damaging cosmetic products, hormonal changes as experienced in pregnancy, menopause or ageing, procedures such as laser hair removal and treatments, etc. Cause hyper-pigmentation.
*It's important to note that dark spots are triggered, and extremely intensified, by direct exposure to sunlight as well. Thus, lack of sunscreen use will only make skin condition ten times worst.
Treatment & Control
With regular application, Bio‐Oil helps to improve the appearance of uneven skin tone caused by hormonal fluctuations, skin lighteners or excessive sun exposure; due to the synergistic effect of the active ingredients in the product, specifically (Vitamin A), (Vitamin E) and other vitamins.
Extra skin tone advice
Avoid or reduce exposure to direct sunlight
Wear sun-screen always.
Properly cleanse your skin every day
Use a gentle soothing toner
Use moisturizers like Bio-Oil for its vitamins that will work towards repairing your skin.
Feed your skin with anti-oxidants and vitamin C-rich foods like Tomatoes and oranges.
______________________________________________________
Advertorial – Sponsored Content