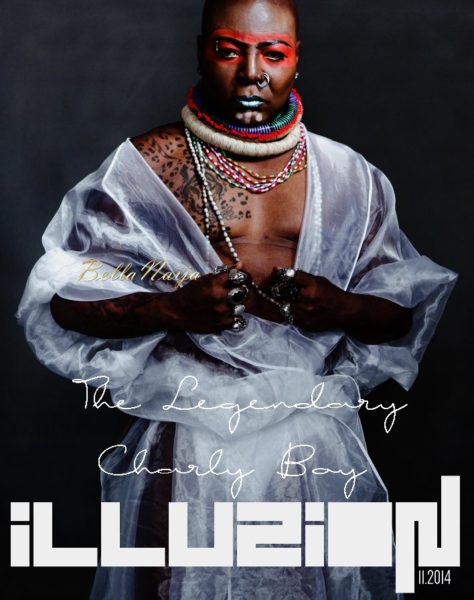 A few days ago BN shared pictures of a new photo shoot that music veteran Charly Boy had posted on his Instagram page and it turns out that the pictures are for a magazine cover.
Charly Boy is featured on the cover of Illuzion Magazine's November 'Pop' Issue wearing a tribal Ade Bakare Couture inspired see through organza sweep coat with only a thong to cover his body.
Along with the photo shoot comes a candid interview with the magazine where he talks about losing his father, Nigeria's anti-gay law and much more.
Read excerpts from his interview below.
On Nigerian anti-gay law: You know our people have a problem with prioritizing. My sexuality as long as long as it is not harassing anybody what has that got to do with the obnoxious corruption that is going on with impunity? People's sexual preference does not come into priority, what is going on with all our money? I blame our people because it's not just about the leaders but followers. I'm not happy with the Nigerian youths, they don't speak about the leadership, threats and pains they experience daily, and they have compromised to such and mortgaged their futures. Out of fear and weakness they left the rot persist which is unfortunate, the future they all talk about, what do they see? Because tomorrow belongs to the youths and if they don't take it back by any means, these riff-rafts will continue to spoil things
On losing his dad: We made peace some twenty years ago, he was the one who initially told me that this lifestyle won't work here, that it will bring disrespect and no one will ever want to work for or with me. That however, gave me more impetus to forge ahead, advanced my stubbornness, consistency and the ability to focus in the face of so many oppositions. So he called me some years ago and told me he was so proud of me and it melted my heart. For the past fifteen years he lived with me, we bonded, we literally became best friends. So when he had a stroke, it gave me time to prepare physically, spiritually and otherwise and the fact that i made him a fulfilled man, I didn't cry, I don't know why but I took it well.
You can see more pictures from his shoot as well as read up his full interview here.
Also in the Novemeber issue of Illuzion magazine is a colourful fashion editorial.
Cover credits
Photography– Terna Iwar
Styling and Creative Direction– Richard Akuson
Makeup– Bookie Lavida
Editiorial Credits
Photography– Terna Iwar
Styling and Creative Direction– Richard Akuson
Makeup-Bookie Lavida
Wardrobe– Siobhan Fashion Stall