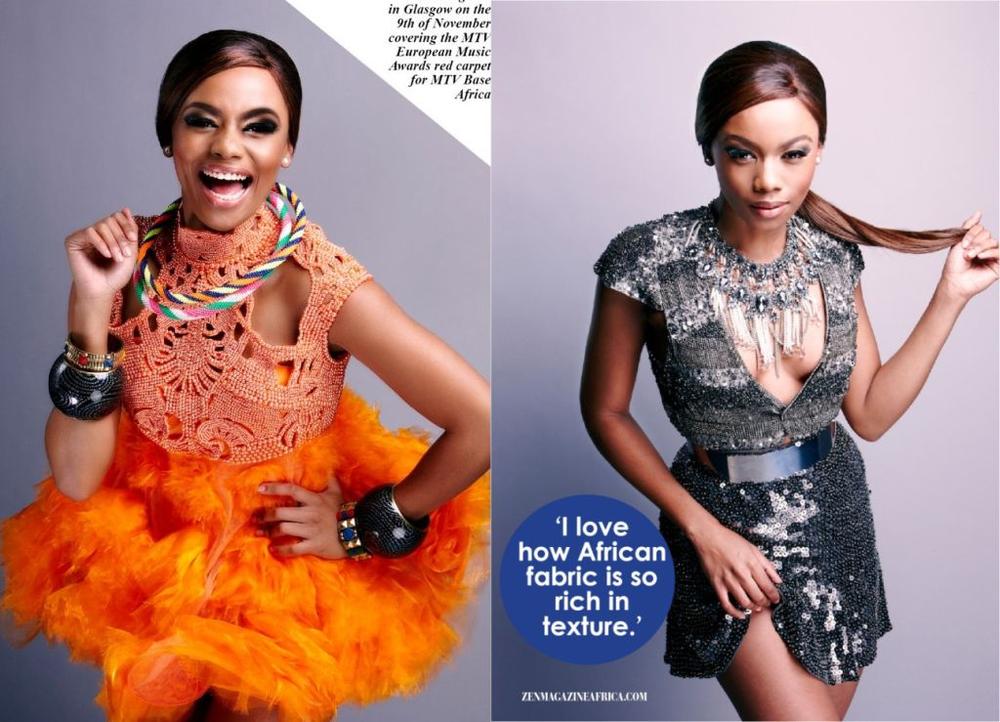 South African Media personality Bonang Matheba started her career at the young age of 15; and now 12 years down the line, Bonang has become more than just a household name, but a beacon of dreams come true for young South African girls everywhere.
In her interview with Zen magazine, Bonang goes into details on her life. She talks about the negative friends she has come across in her career, her mentor, what she loves most about African fashion, 5 African designers she loves, her lingerie line – 'Bonang for Distraction' and what's next for her.
See excerpts below;
On making negative friend in her career
Indeed I have! This is a universal problem, and it happens in all industries. I've had to cut out a few acquaintances after realizing that negative energy from people I associated myself with would weigh me down. Letting go of such relations helped me focus on my career and self-development.
On her Mentor
My mentor has to be my mother. She is my pillar of strength; the tremendous support I get from her amazing. She has always guided me through this journey.
Her 5 favourite African fashion designers
Gert-Cojan Coetzee, Gavin Rajah, David Tlale, Taibo Bacar & Black Coffee.
What she loves most about African fashion
I love how the African fabric is so rich in texture, the prints are so phenomenal. I never get used to them. African prints always have something new for the eye to enjoy.
About "Bonang for Distraction'
Distraction was created for the sole purpose of encouraging women to appreciate their bodies more, and not to wait for approval from second parties to feel sexy. This range is all about distracting women from thinking they are not worthy enough to embrace their sexuality and feel good about themselves no matter what shape or size they fall in.
This coming Summer is going to be a burst of sexy, yes, I'm literally telling you that the next Distraction range is being launched on the 27th of November 2014. This time around it is going to be bigger and better that before. I'm hoping that South African women will fall even more in love with the range and be inspired to constantly feel good about themselves right through the Summer season.
What's next for Bonang
Haha, I won't say much but you will be seeing me a lot.
To read more on the interview, visit www.zenmagazineafrica.com