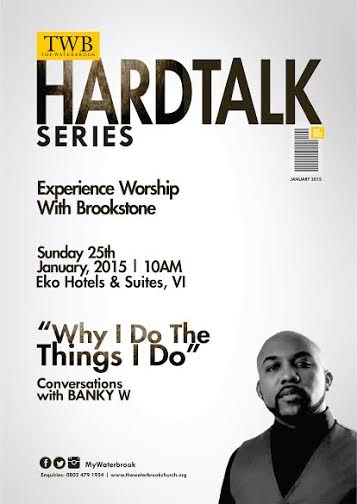 Guess what? Banky W is going to be at The Waterbrook Church this Sunday 25th January 2015!
The R&B singer will be a guest as they premiere a new series titled "Hard Talk" in the edition – "Why I Do the Things I Do…Conversations with Banky W" during their Sunday service.
For the series, a special screening of his new music video 'Mercy' will be featured and will take place at Eko Hotel in Lagos.
It promises to be an exciting time in God's presence as they also look forward to a great worship experience with BrookStone with an expectant heart to receive a word from God. You don't want to miss out so bring a friend or 2.
Date: Sunday 25th January 2015
Time: 10AM
Venue: Eko Hotel, Adetokunbo Ademola Street, Victoria Island, Lagos
For more information, visit www.thewaterbrookchurch.org and follow them on Twitter: @mywaterbrook | Follow them on Instagram: @mywaterbrook | Find them on Facebook: www.facebook.com/mywaterbrook.
See you on Sunday morning!
_______________________________________________
Sponsored Content