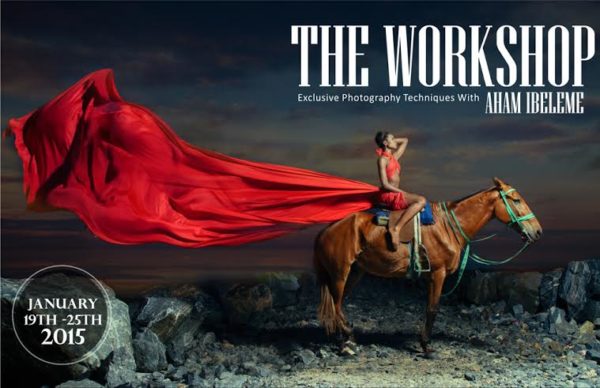 Are you ready for The Workshop Season 2?
This is an opportunity for all photographers – professional or amateur to hone their skills by learning from some of the best in the business.
The one week intensive program (Weekdays and Weekends) will take participants through the tricks of the trade and provide in-depth, practical and hands-on photography instruction that can be used to dramatically improve day to day creative skills as well as practical insight for those hoping to enter into the business of photography.
With the guidance of their professionals, learn how to shoot and edit photographs for portraiture, beauty, fashion and weddings, get involved in interactive knowledge exchange sessions with instructors and other participants and most importantly, have lots of fun.
This season begins this January 2015 with Aham Ibeleme – one of the best photographers in Nigeria today. Click Here to view Aham's portfolio | Click Here to get more details on the workshop with Aham | Click Here to Register.
Watch The Workshop Teaser

The Workshop NG Season 2 with Aham Ibeleme from Orbit Imagery on Vimeo.
Please note that one of the 1st 10 people to register from either the weekday or weekend classes are automatically entered into the Photography Competition that comes up at the end of the Workshop . That means 20 people will get a chance to participate in The Workshop's Photography competition.
The best attendee gets his/her fees refunded in full!
Weekday Classes
Monday 19th – Friday 25th January 2015
Classes will include
10AM – 11:30AM (Lecture) | 11:30AM – 12:00Noon (Break ) | 12:00PM – 2PM (Practicals)
Courses
Introduction to Photography: Monday 19th January 2015
Fundamentals of Studio Lighting: Tuesday 20th January 2015
Fundamentals of Location Lighting: Wednesday 21st January 2015
High End Retouching: Thursday 22nd January 2015
The Business of Photography: Friday 23rd January 2015
Weekend Classes (Extended Duration)
Saturday 24th – Sunday 25th January 2015 | Saturday 31st – Sunday 1st February 2015
Classes will include
10AM – 12:30PM (Lecture) | 12:30PM – 1PM (Break ) | 1PM – 4PM (Practicals (For Saturdays))
12PM – 2:30PM (Lecture) | 2:30PM – 3PM (Break ) | 3PM – 6PM (Practicals (For Sundays))
Courses
Introduction to Photography & Fundamentals of Studio Lighting: Saturday 24th January 2015
Fundamentals of Location Lighting: Sunday 25th January 2015
High End Retouching: Saturday 31st January 2015
The Business of Photography: Sunday 1st February 2015
Venue: Suite 5 Amethyst Block, All Seasons Plaza , Lateef Jakande Rd,Agidingbi, Ikeja , Lagos
________________________________________
Sponsored Content