They are back!
Social Media Week Lagos is back for the third year running.
We are so excited about #SMWLagos 2015.
BellaNaija will be keeping you updated all through the week. Our amazing editorial team will also be on a number panels…so look out for them.
But First – here's the list of today's events!
#SMWInnovators Welcome Breakfast: Citizens, Government & Technology
8:30 AM – 10:00 AM
Hosted by SMW Lagos + EiE
Pencom Innovators Stage @ SMW Lagos Campus
The WoW SuperBooth @ SMW Lagos Daily
9:00 AM – 6:00 PM
Hosted by The WoW Superbooth & SMW Lagos
Landmark Centre – SMW Experience Stage
[Google Hangout] My Journey Interview Series with @EntCreativeNG
10:00 AM – 4:30 PM
Hosted by Enterprise Creative
Google Hangout
#SMWExecutive VIP Suite Powered by UBA – Monday
10:30 AM – 6:00 PM
Hosted by Social Media Week Lagos
UBA Executive Suite @ SMW Lagos Campus
Connecting Strategy with Your Business: A Case Study Approach
10:45 AM – 12:00 PM
Hosted by RainyLemon Limited
Landmark Centre – SMW Masterclass Suite
2015 Elections: Where are the Ethics on Social Media?
12:00 PM – 1:00 PM
Hosted by alli.org
Pencom Innovators Stage @ SMW Lagos Campus
Big Data, Analytics & What It Means for Businesses in Africa
12:30 PM – 1:45 PM
Hosted by Terragon Group
UBA Executive Suite @ SMW Lagos Campus
Using Facebook to Inspire, Advocate, Lead & Drive Social Change
12:30 PM – 1:45 PM
Hosted by Facebook
Landmark Centre – SMW Masterclass Suite
Pencom Presents: Contributory Pension Schemes for All!
1:30 PM – 2:30 PM
Hosted by Pencom
Pencom Innovators Stage @ SMW Lagos Campus
A Connected Africa: The Need for Radical Innovation in Education
1:30 PM – 2:30 PM
Hosted by edugist.org
Landmark Centre – SMW Experience Stage
#SMWPowerLunch – Monday
2:00 PM – 3:30 PM
Hosted by Social Media Week Lagos
UBA Executive Suite @ SMW Lagos Campus
Integrating Africa with Social Media & User Applications
2:15 PM – 3:30 PM
Hosted by Mara Online
Landmark Centre – SMW Masterclass Suite
#SMWDigitalJobs – Tackling Youth Unemployment in Nigeria
3:00 PM – 4:30 PM
Hosted by PARADIGM INITIATIVE NIGERIA
Landmark Centre – SMW Experience Stage
Social Innovator: Social as a Strategy, Social Media as a Tool for the Social SME
4:00 PM – 5:15 PM
Hosted by Afripreneur
Landmark Centre – SMW Masterclass Suite
WordPress BootCamp: Create Professional Looking Websites & Blogs With Ease
5:45 PM – 7:00 PM
Hosted by BrowseDotCom
Landmark Centre – SMW Masterclass Suite
#SMWCocktailsNConvo Monday Mixer Powered By Ciroc
6:00 PM – 8:00 PM
Hosted by Ciroc
#CIROClife Lounge @ SMW Lagos Campus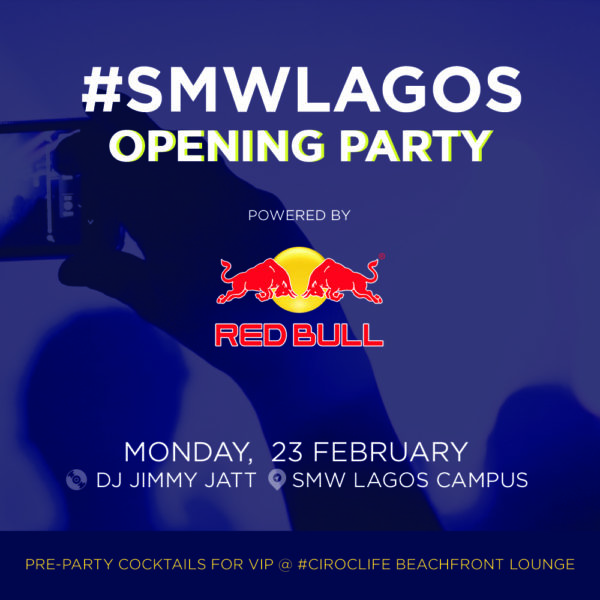 SMW Lagos Opening Night Party Powered By Red Bull
7:00 PM – 10:00 PM
Hosted by SMW LAGOS
Landmark Centre – SMW Experience Stage