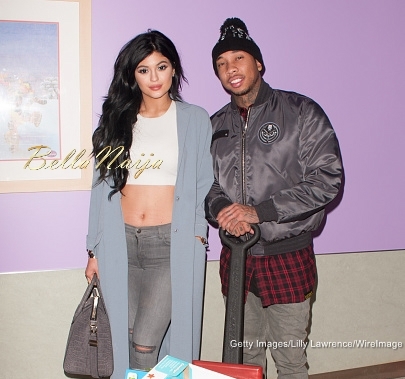 After a long night of Twitter drama between Khloe Kardashian and Amber Rose (click here if you missed it), because of comments Amber Rose made on The Breakfast Club (click here if you missed it). Rapper Tyga went on the same show to clear the air.
He talked at length about some of the issues that have been raised concerning him and rumoured girlfriend Kylie Jenner.
In the interview he denies dating Kylie and states that they really are just friends.
He said, 'I'm not dating Kylie. I just want to get that out [of] the way. I want to be clear to everybody that I didn't leave my family to be with Kylie. That's ridiculous. Me and [ex Blac]Chyna, we broke up almost close to a year [ago] now, because of the decision we made, and things in our relationship that weren't going right, [we] decided to split to raise an emotionally stable kid. It's because [of] what people make it seem… and TMZ, you gotta think, TMZ didn't really care about me until they figured out that I live next door to Kim [Kardashian] and Kanye [West] and all that stuff. But I've been friends with them before I even met [Blac] Chyna. I was friends with Scott [Disick], her family for years, so me hanging out with them was nothing new. People just want to make a story out of it'.
He also touched on the fact that the black society is less accepting of male-female relationships than the white society.
Watch the video below!