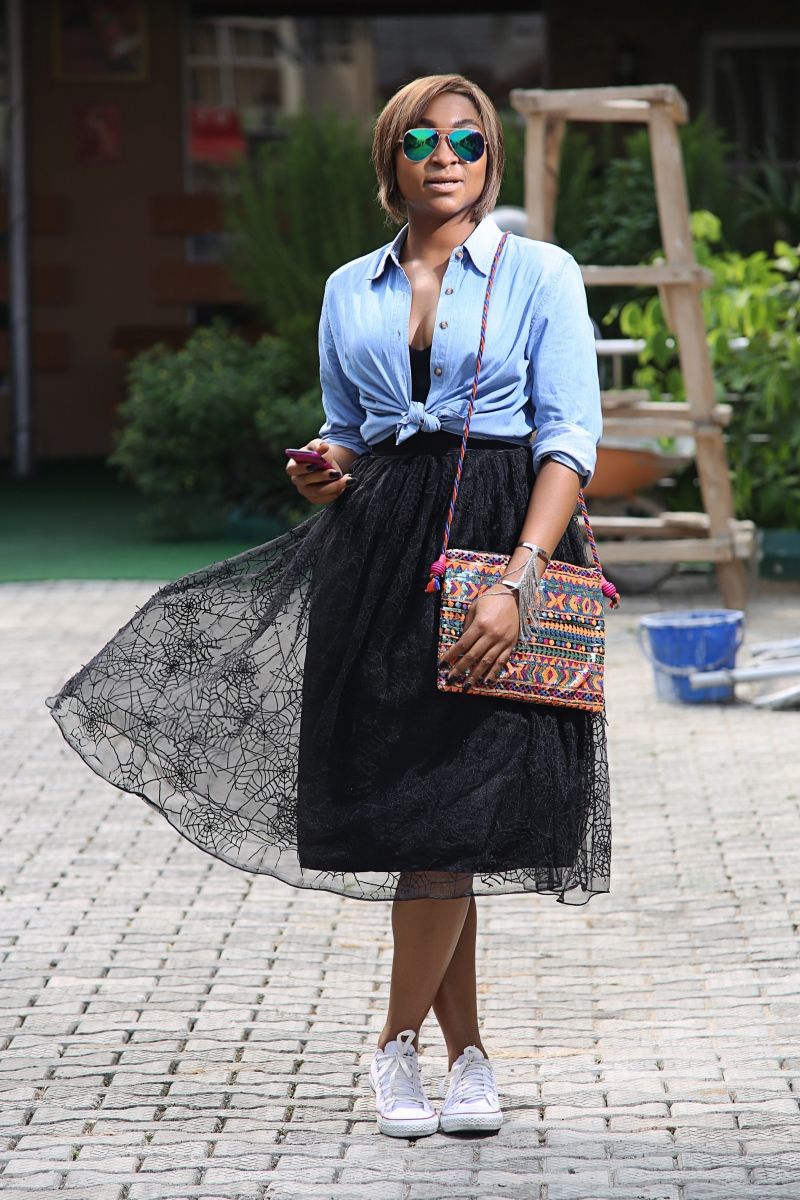 Media Personality Sharon Rekana Ojong has definitely been making her mark on the red carpet recently. With daring and edgy looks, she is becoming one of the stylistas to watch on the red carpet.
Today, she is dishing some style advice on how to rock the tulle skirt. On a recent trip to the L'Emiral Couture store, Sharon decided to share how she rocked a black tulle skirt with web details in 3 fab ways.
Check it out!
1. The Edgy Professional Look
This looks is for the bold fashion lover who still has to get to work during the day. It incorporates stylish glasses with gold detailing, a black corset, silver accessories, and a  black waist coat cinched at the waist with a studded black tummy belt, and black heels; all paired with the black tulle skirt.
This looks is definitely giving off the goth vibe, and still comes across as professional.
2. The Classic Look
This looks is filled with Audrey Hepburn accents. From the hat to the fitted top, it has a vintage vibe that comes across effortlessly.
Sharon created this look with staple pieces – dark round-rimmed glasses, a black sun hat with gold accents, a fitted long sleeved top, the tulle skirt, an embellished clutch and cute paisley print shoes. We especially love the chain detailing at the back of the top.
Her overall look is girly and still classy for the weekend!
3. The Casual Chic Look
This might be our favourite look.

Sharon created a chic boy-meets-girl outfit that just screams 'laid-back'. The look has a cool appeal with the mirrored aviators, light denim shirt knotted at the front and white sneakers; and the skirt adds a girly side.
This look is fun, free and definitely makes a statement.
Which look is your favourite look?
Photo Credits
Photography: Shola Ajisegbede (@Sniper_Ajix)
Skirt: L'Emiral Couture (GTB LFDW Fashion Focus | (@ElanRedOfficial)
Location: ElanRed Boutique