Ezinne & Uchenna's winter wedding was breathtaking in every sense of the word!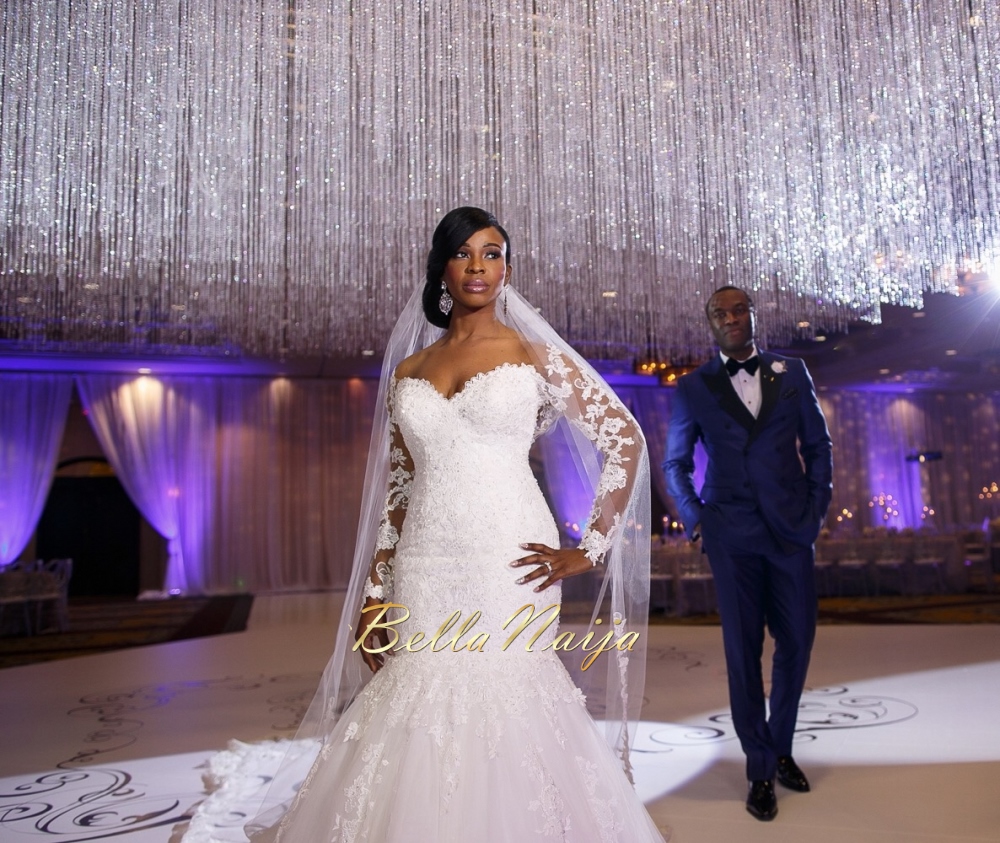 From the decor to the bride's showstopping style, we were drooling over the details and moments, coordinated by Chioma of Dure Events.
Although the couple got married in Texas, they infused their Nigerian culture in their attire, the food, and of course the music. Banky W, Lynxxx & Mr. VSax performed at the white wedding, so you know it was fun all through the day!
BellaNaija Weddings wishes the couple a blessed and beautiful married life as one.
Enjoy their spectacular wedding!
~ All Photography by RH Photo Arts
How We Met
from Ezinne
I just relocated to a new city and found a group page on Facebook for a Nigerian Independence Day Celebration party that had occurred a few days earlier. I was disappointed that I missed the party but quickly forgot about it when I noticed the last person that joined the group (Uchenna). He was handsome and seemed nice so I sent him a friend request. Once Uchenna accepted my friend request he sent me a Facebook message asking if I just moved here. I replied that I did and we continued to chat back and forth on Facebook all afternoon until he eventually asked me for my number.
Pre-Wedding Photos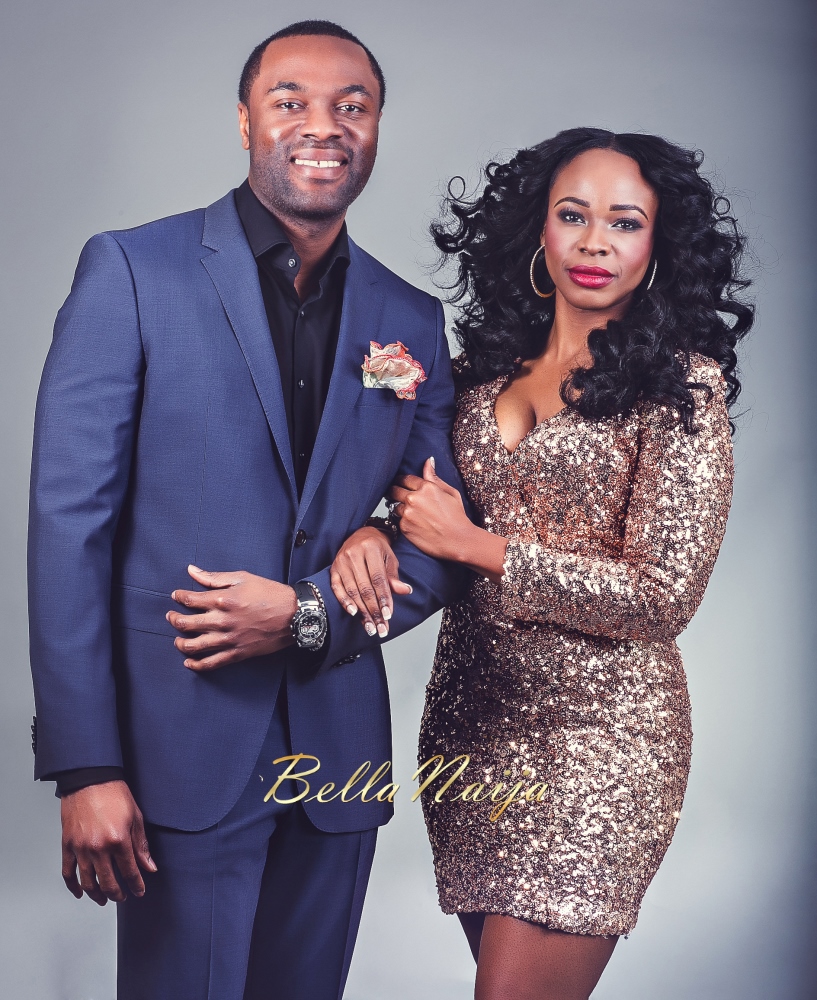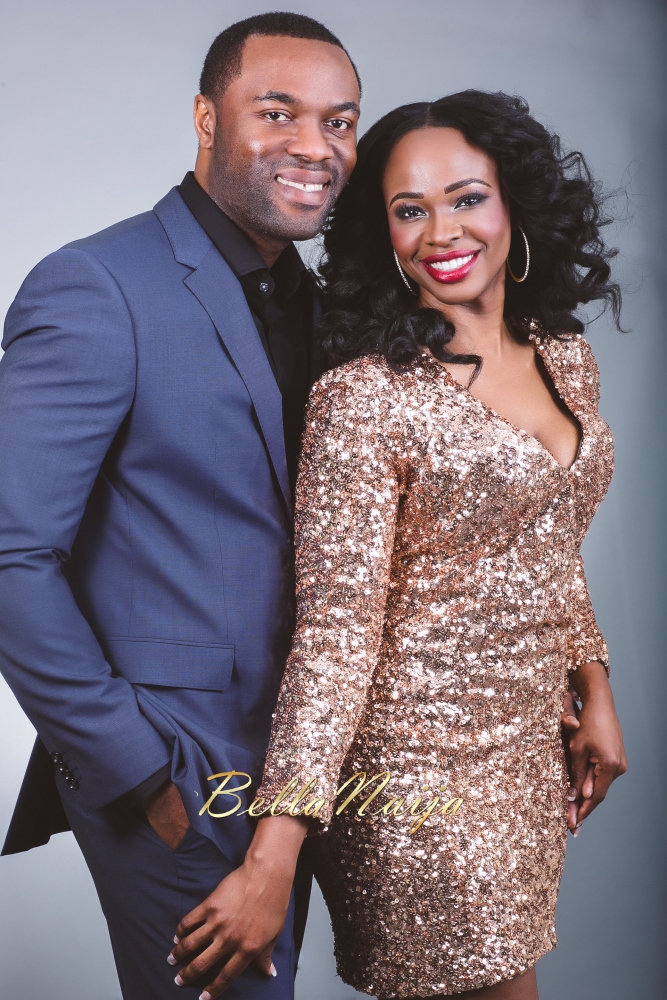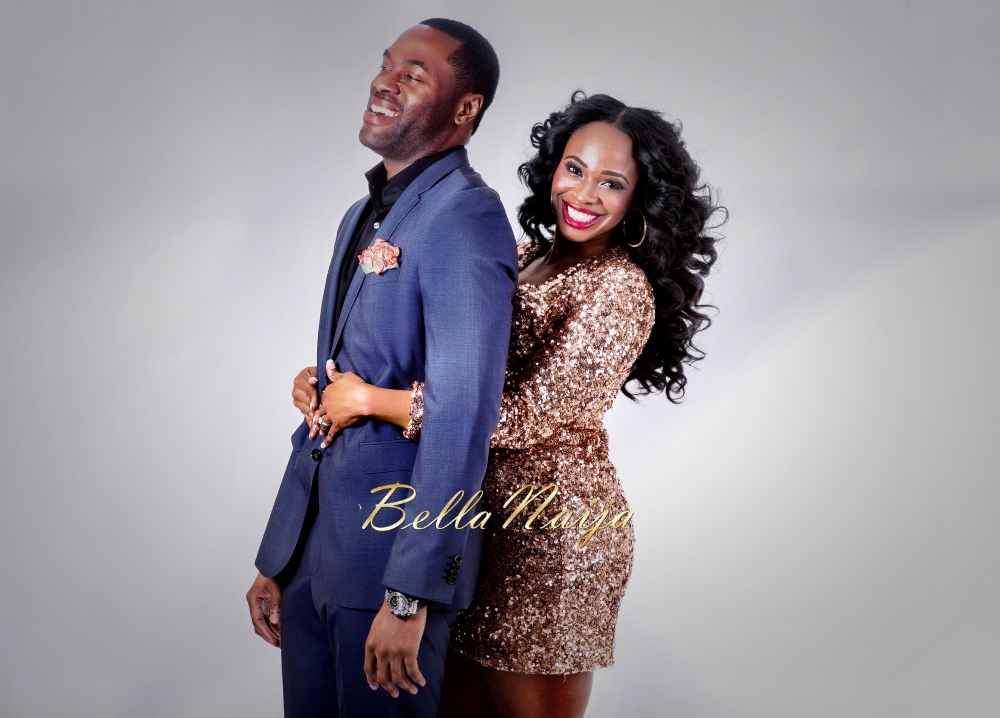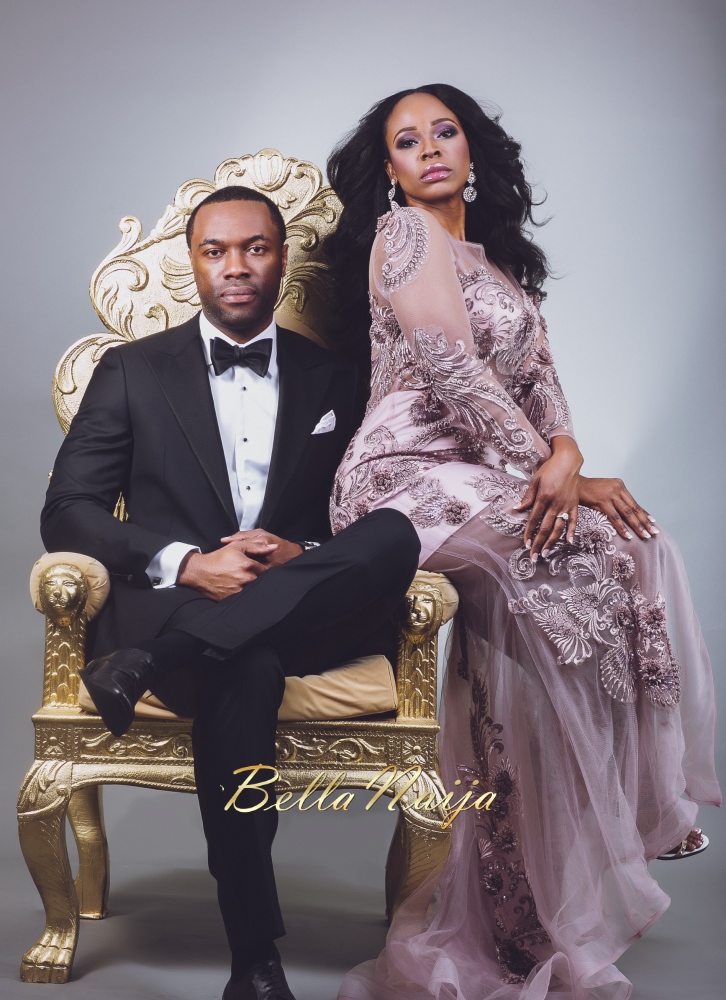 After I gave him my number he immediately called me. After talking all day long we eventually made plans to meet up the next day. I just knew when I met Uchenna there was something special about him so we continued to go on several dates until we became inseparable.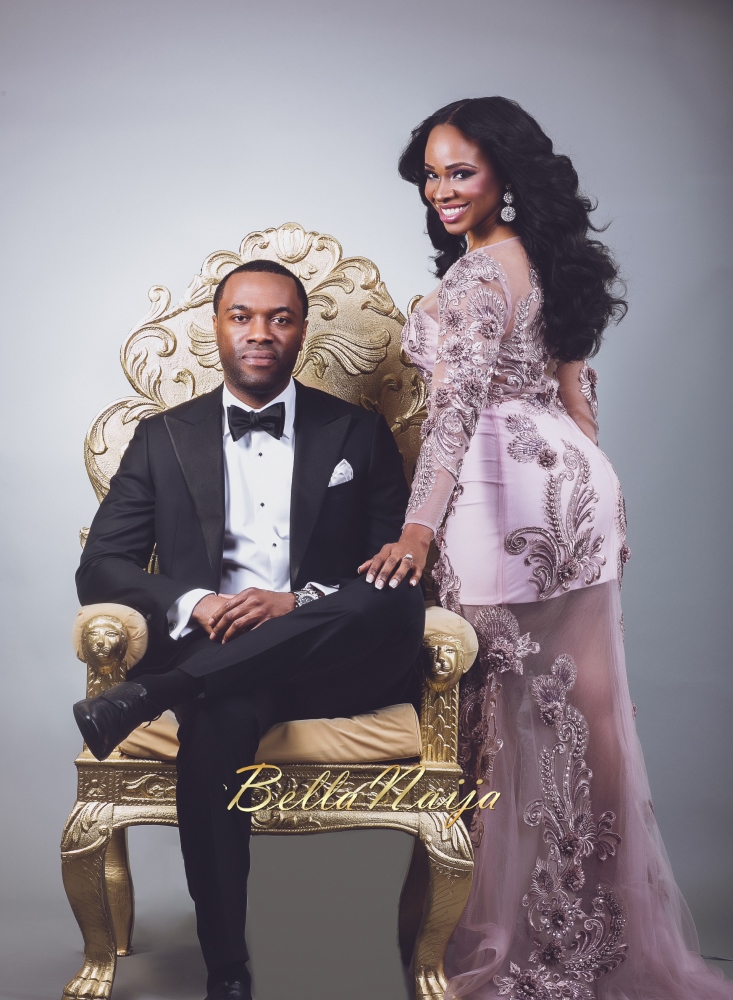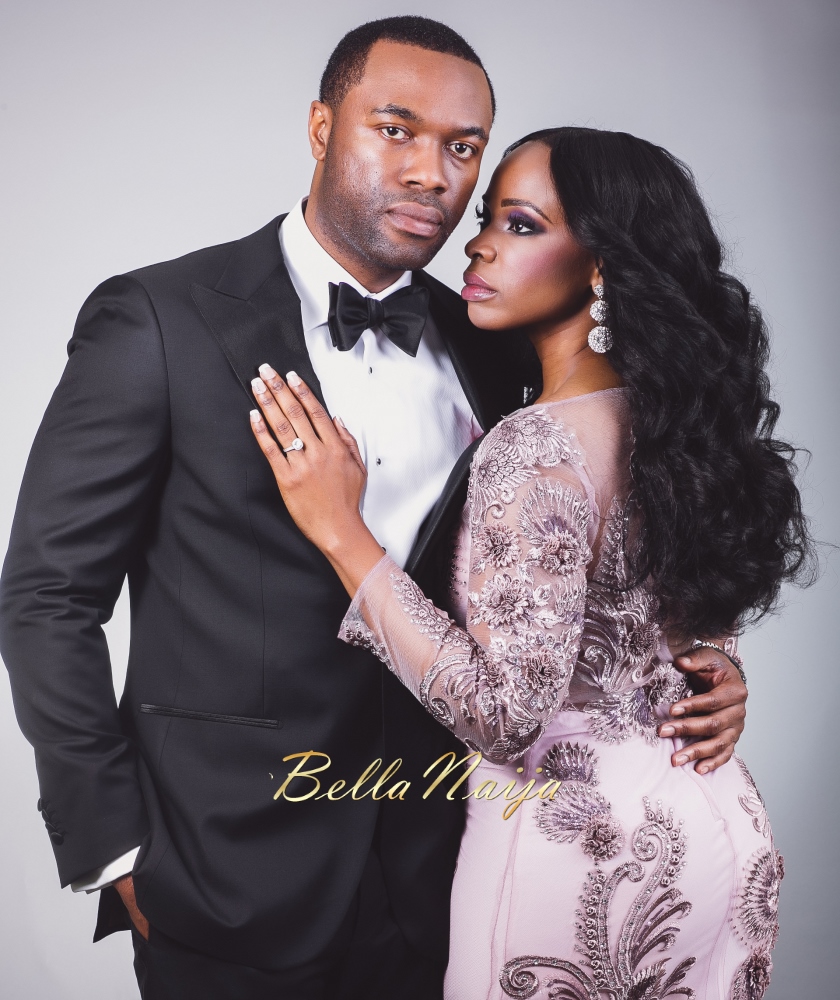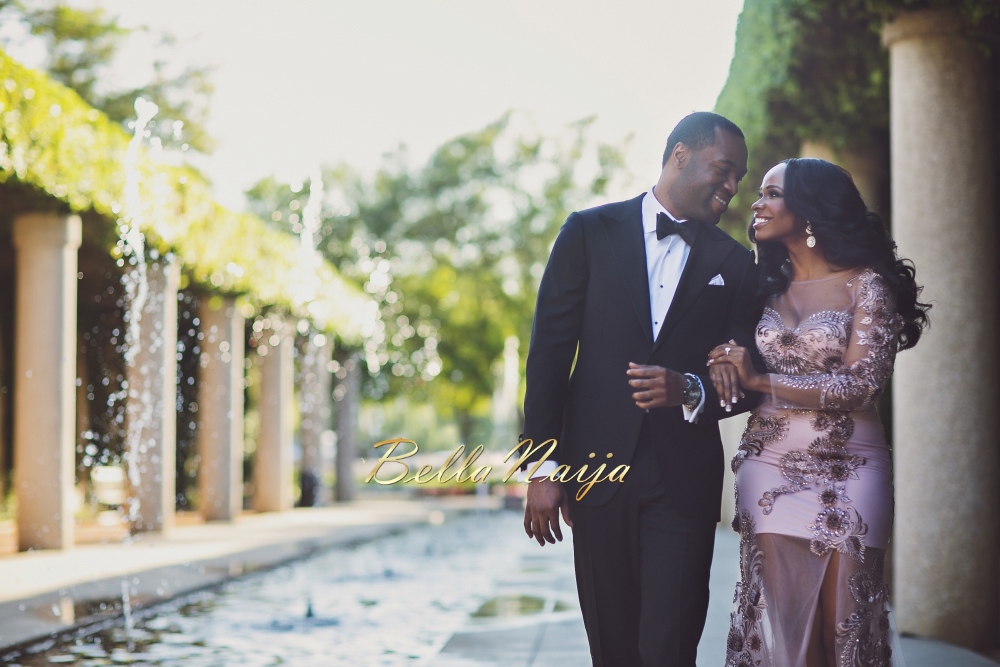 The Proposal!
Apparently, Uchenna had planned for a grand, romantic and surprise proposal to occur during his visit with my family for Thanksgiving. His plan quickly fell apart when the airline rep inadvertently forwarded me his flight itinerary that showed he had changed his departure flight to a day later than the date he told me he would be leaving. My confusion about that situation made him nervous so he aborted his plans and decided to come up with something on the spot. He eventually lured me out of the house by telling me we were going shopping.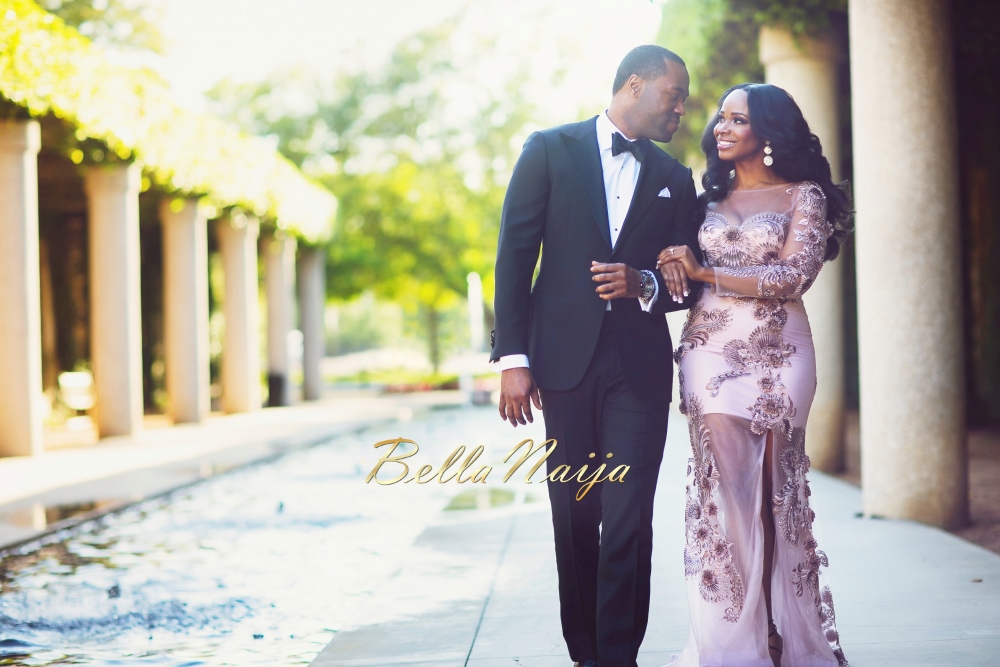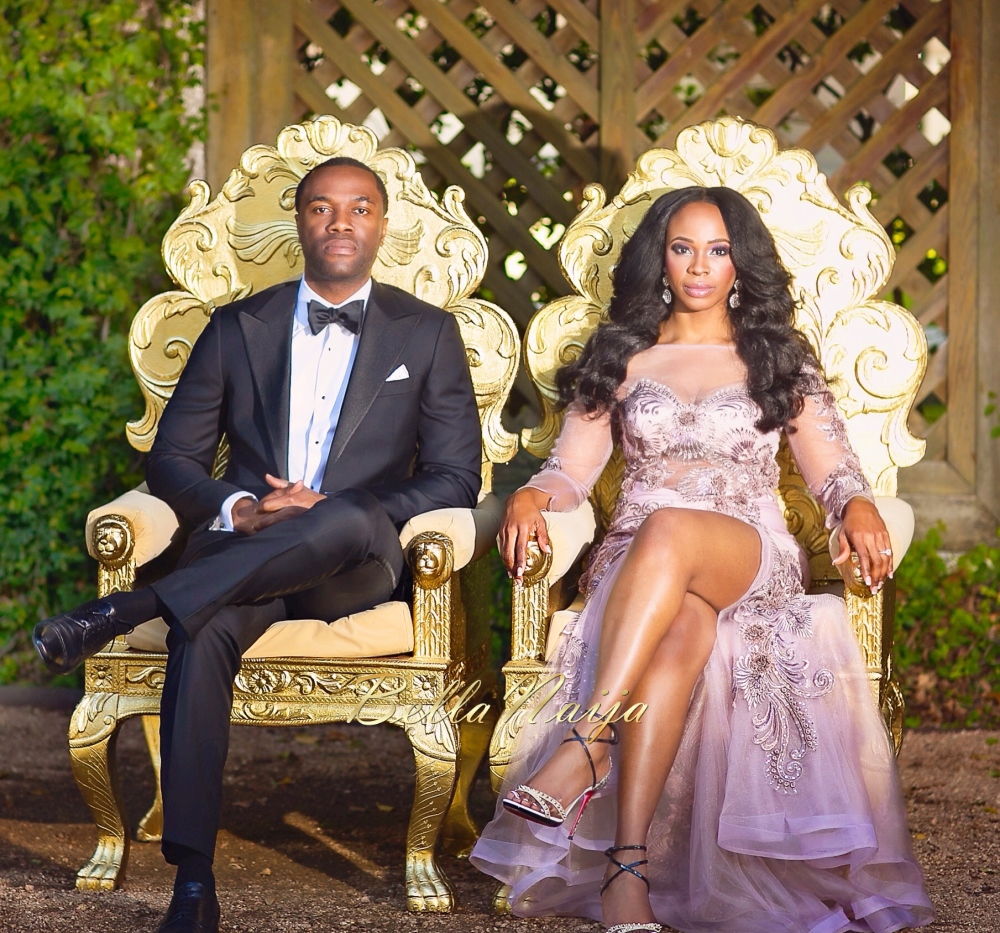 When we got to the mall my two brothers randomly showed up separately and acted like it was just a coincidence we were all at the same mall at the same time. For an hour or so we kept wandering aimlessly around the mall (which I later discovered was because they were looking for a romantic and memorable spot for the proposal to take place) until we arrived at the men's section of a department store when Uchenna decided he was going to propose right then and there. So in front of tons of Black Friday discount shoppers watching us, he got on one knee, spilled his heart out and popped the question with the most gorgeous ring I have ever seen. And of course I said "Yes!"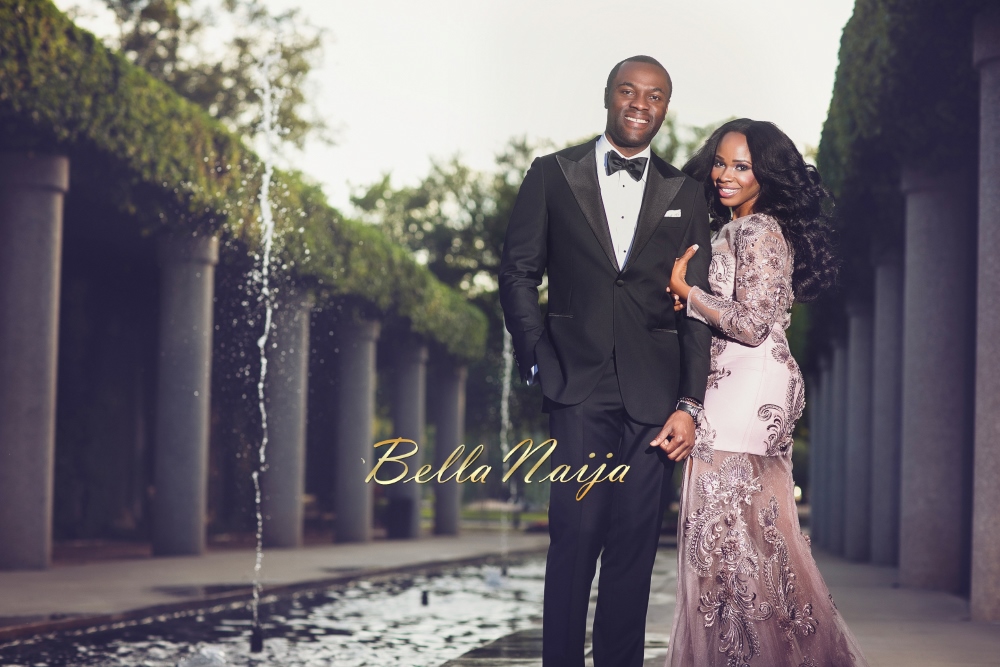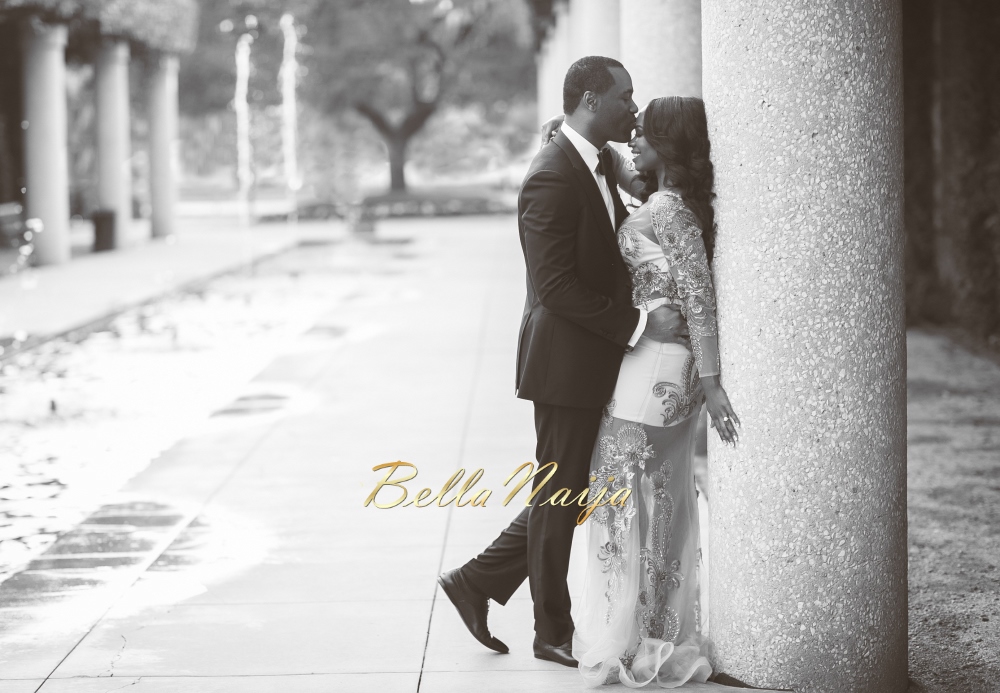 Best Wedding Memories
The best memory that I have from my wedding is seeing our families bond the way they did. Most of Uchenna's family members live in Nigeria and mine live mostly in the United States so the wedding allowed them to finally all meet and bond even more. Our families laughed, cried, danced and celebrated our wedding together like they had known each other for years. It was simply amazing to see that happen."
Wedding Advice
The best advice we can give engaged couples is to remember that although it is your wedding, it is also an opportunity for your families to show you how much they love you. I know this can be difficult to do but try, if possible, to incorporate them into your wedding planning process. Ask them for their opinion or advice throughout the wedding planning process so they truly feel like they are a part of your big day when it arrives."
White Wedding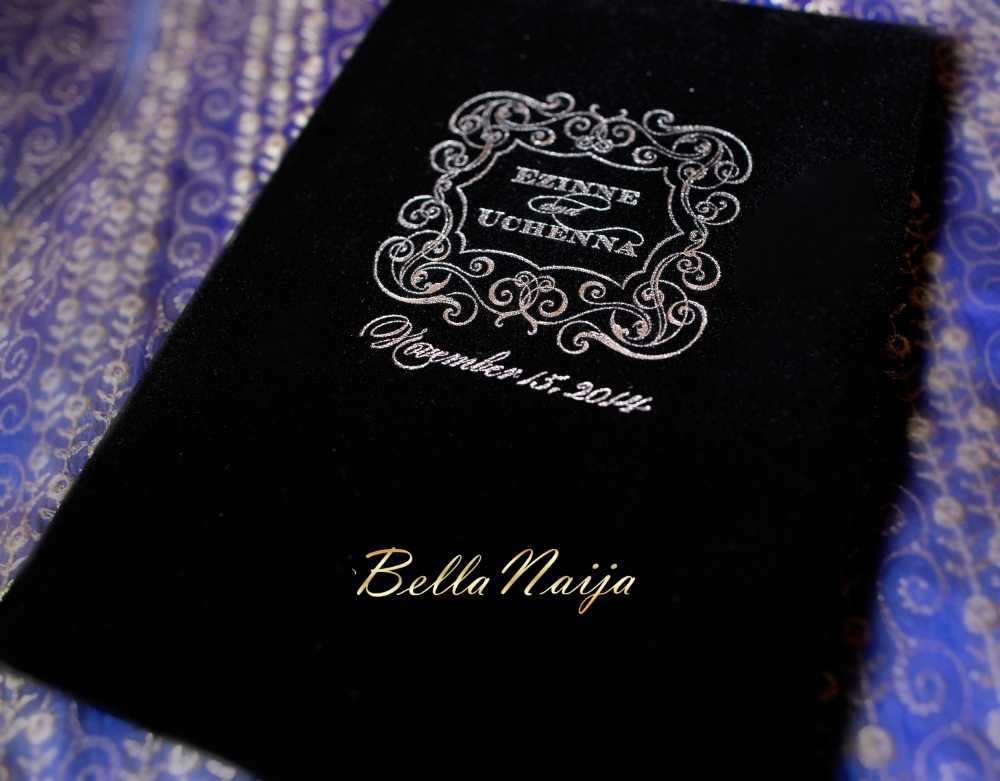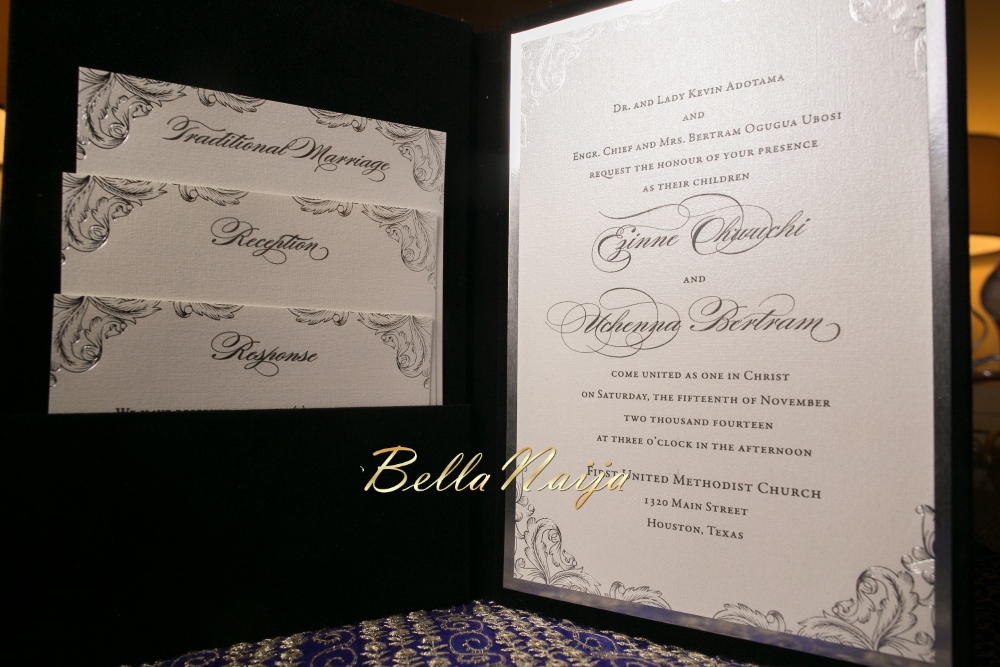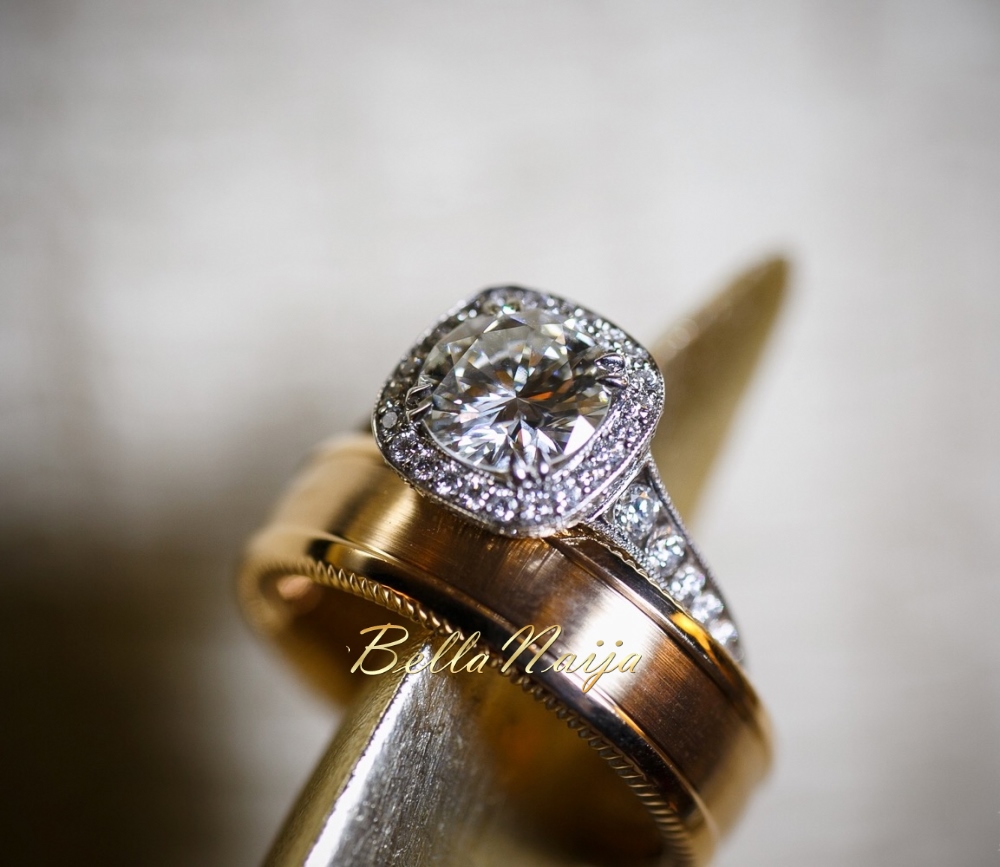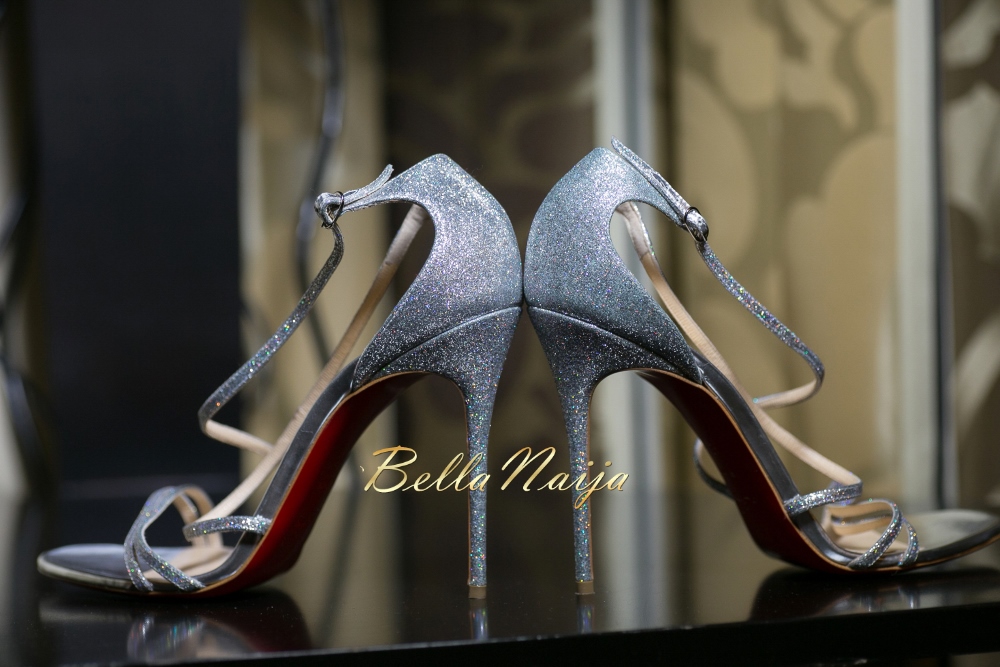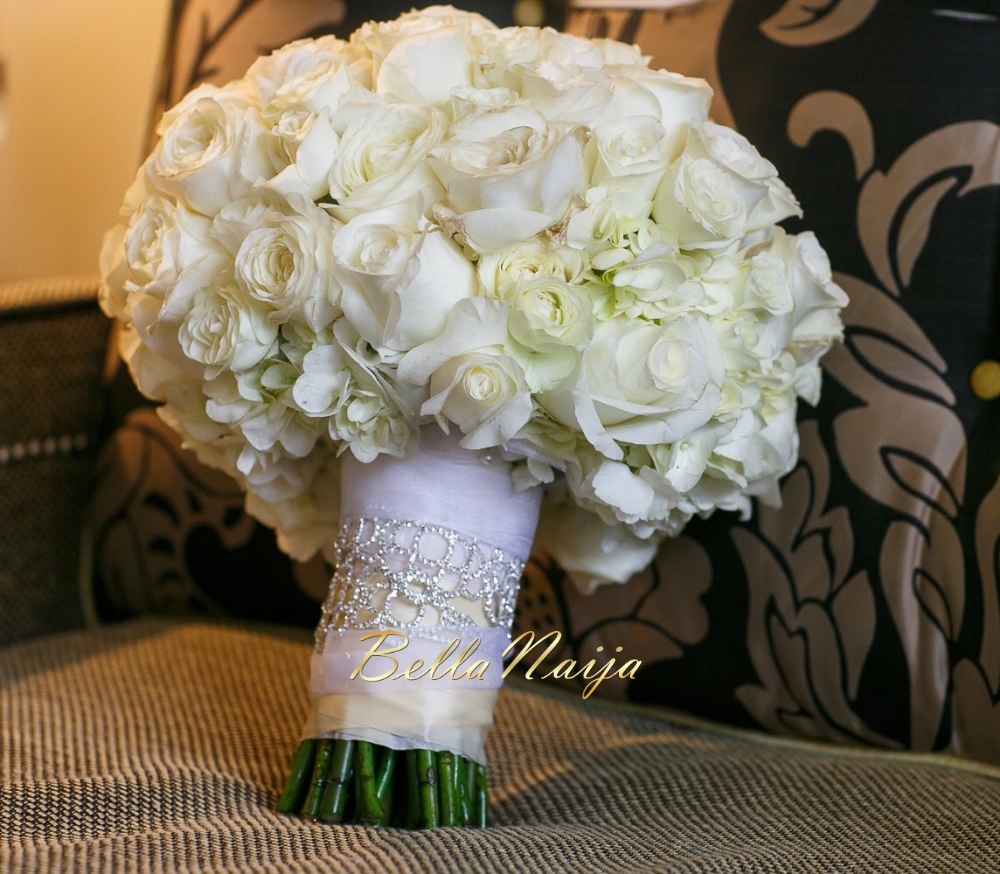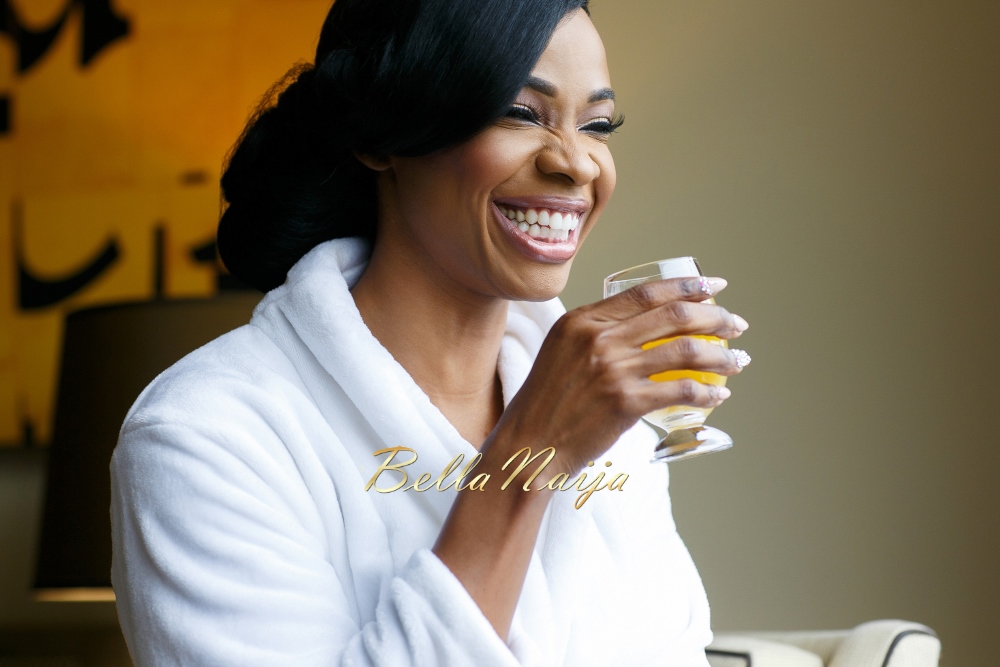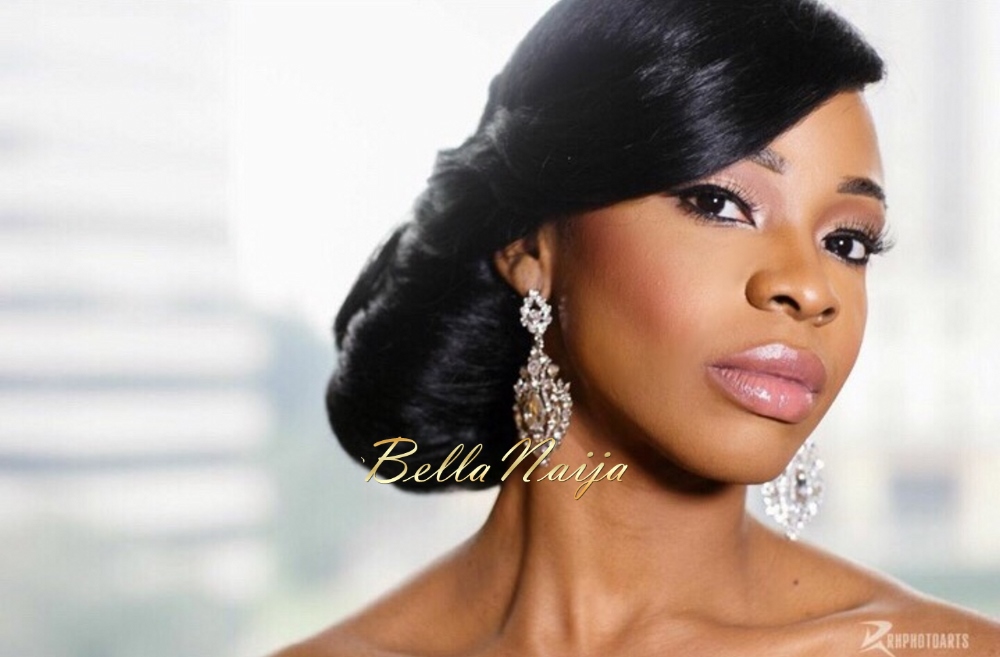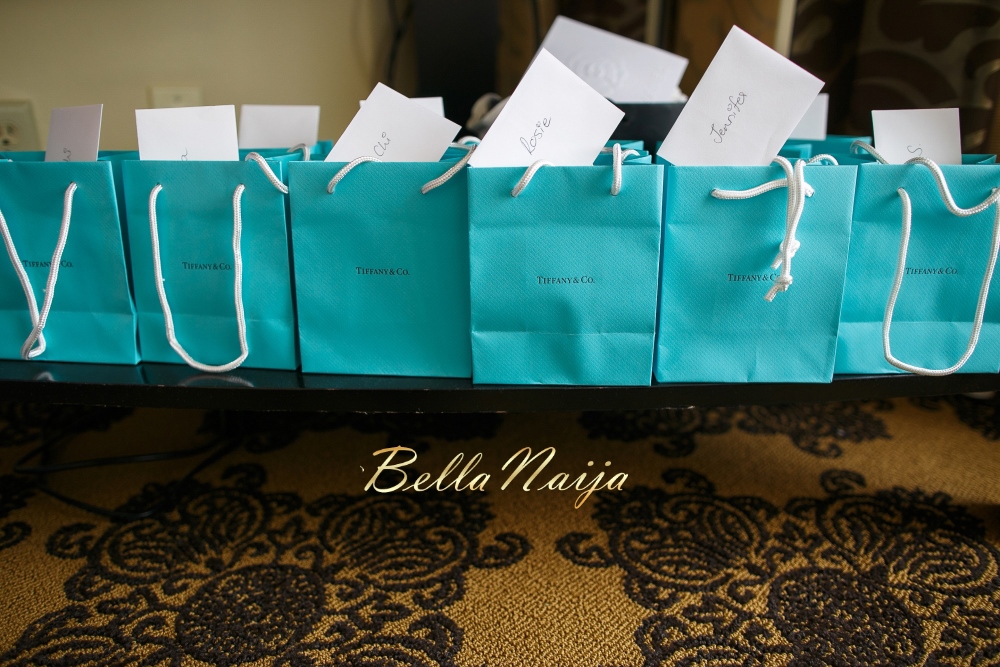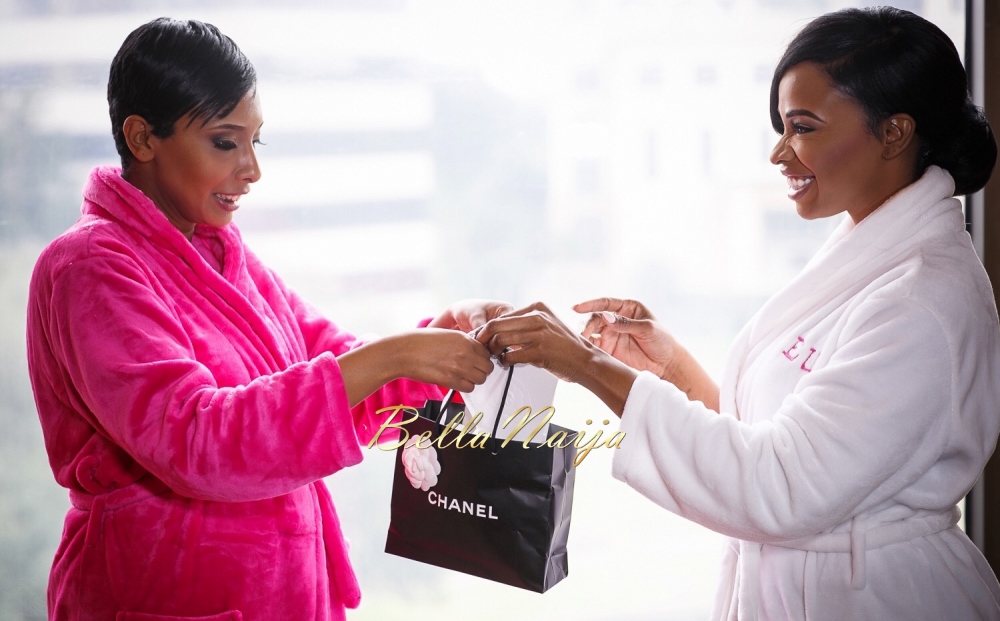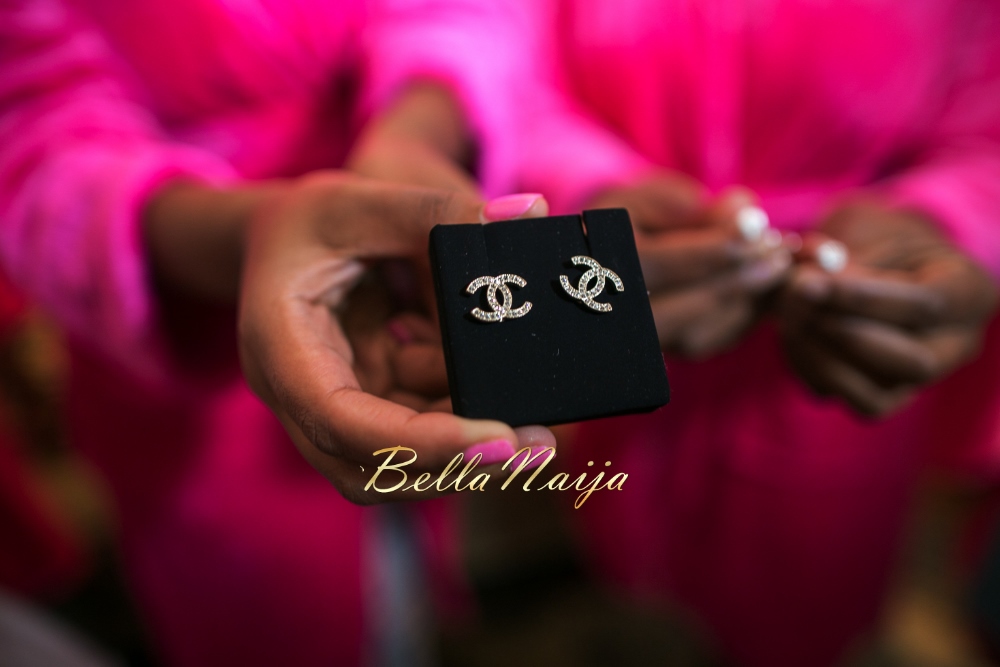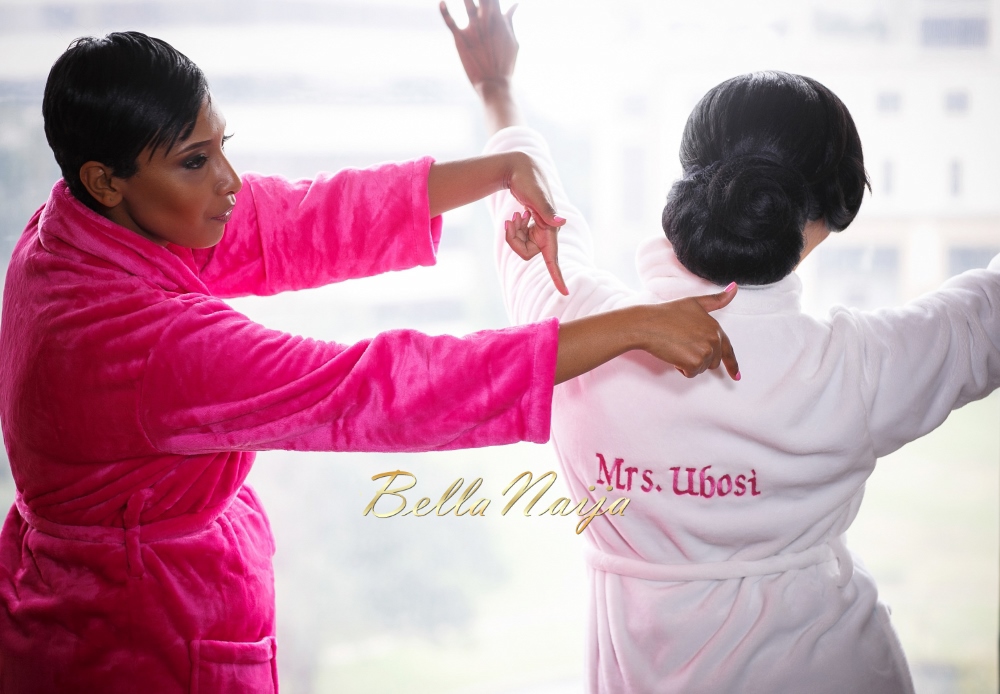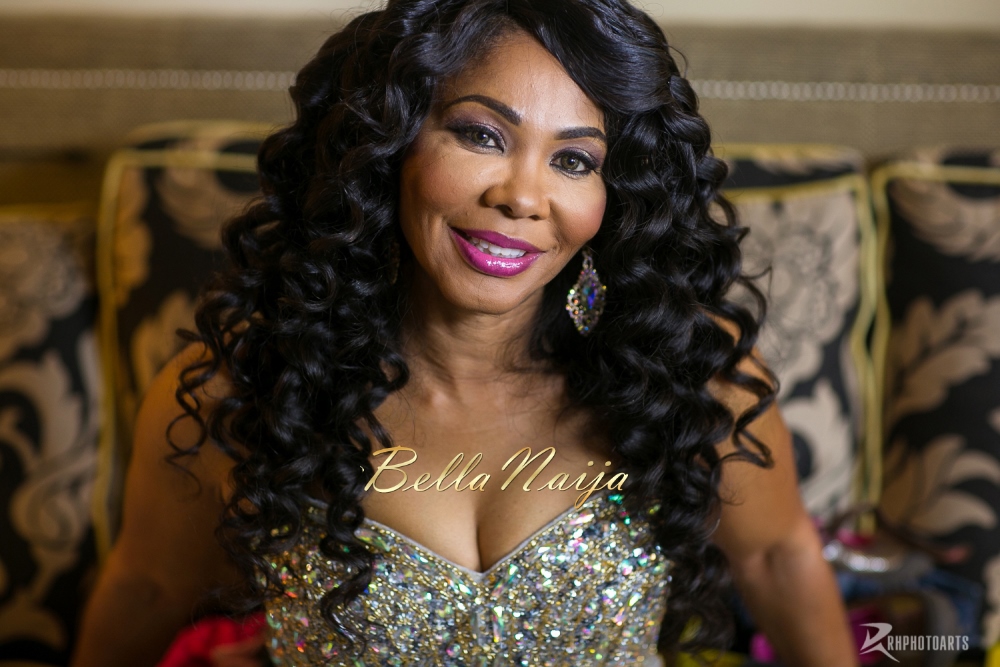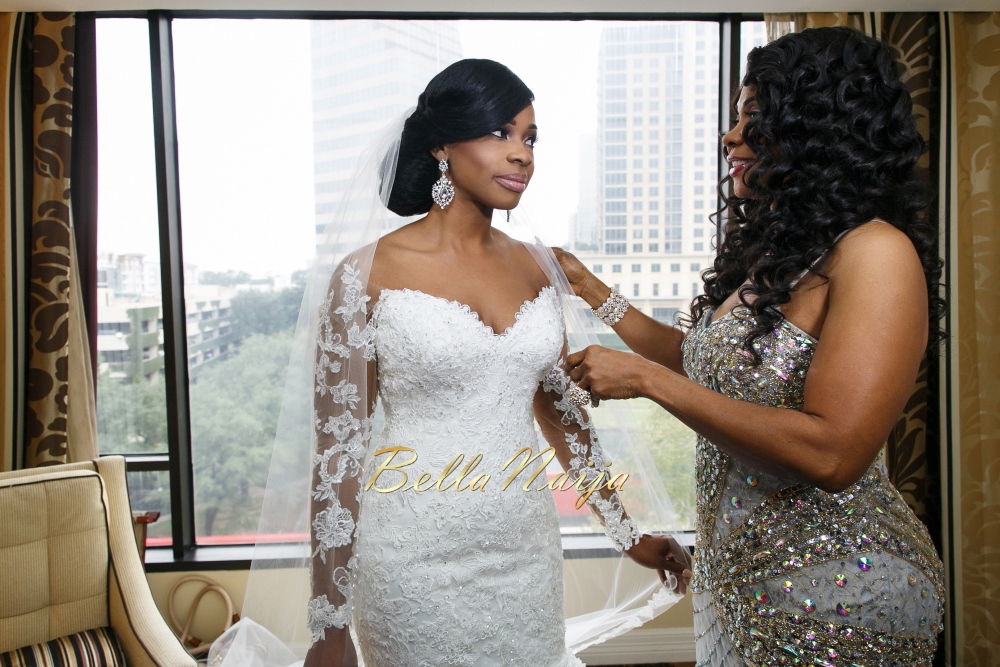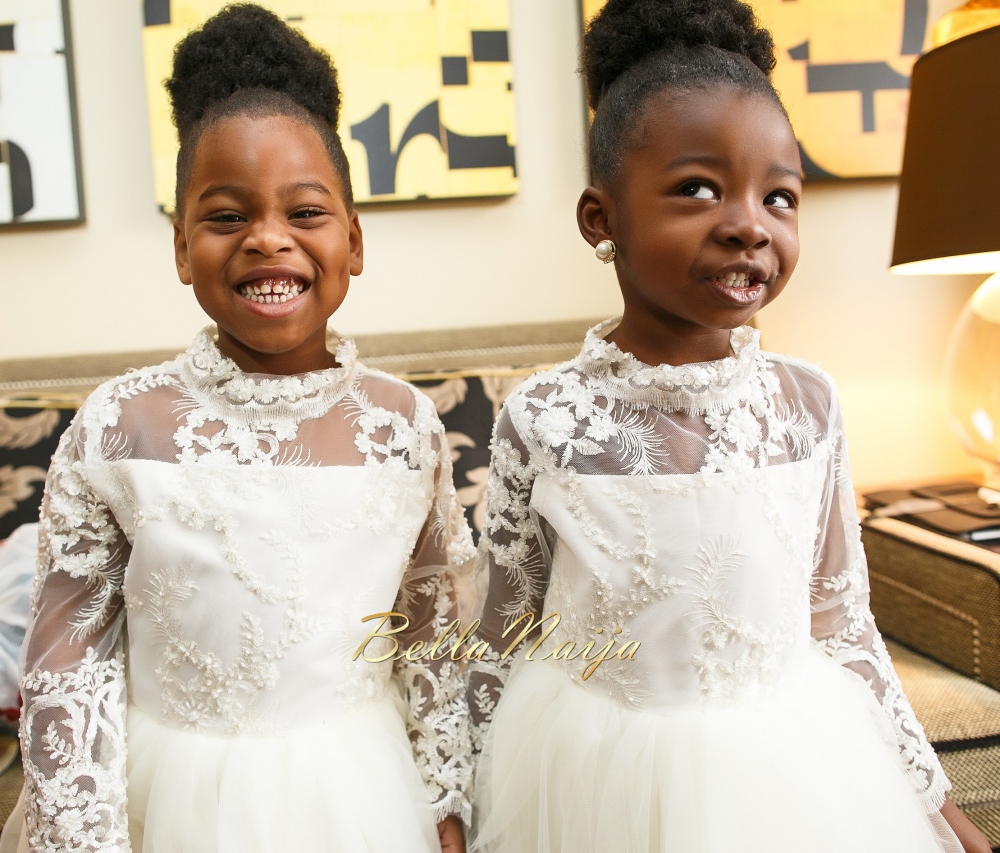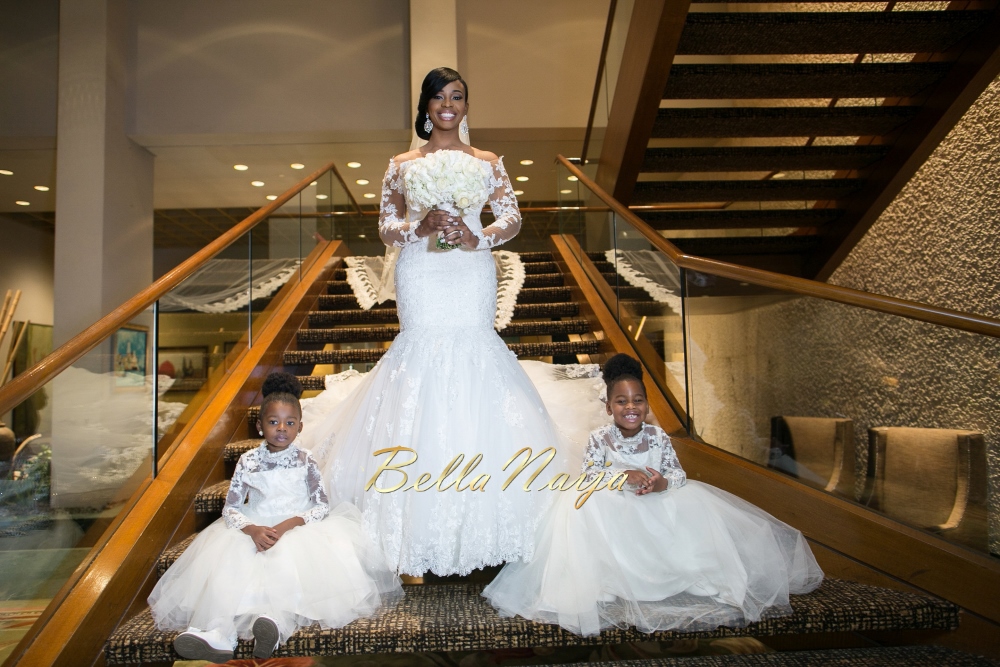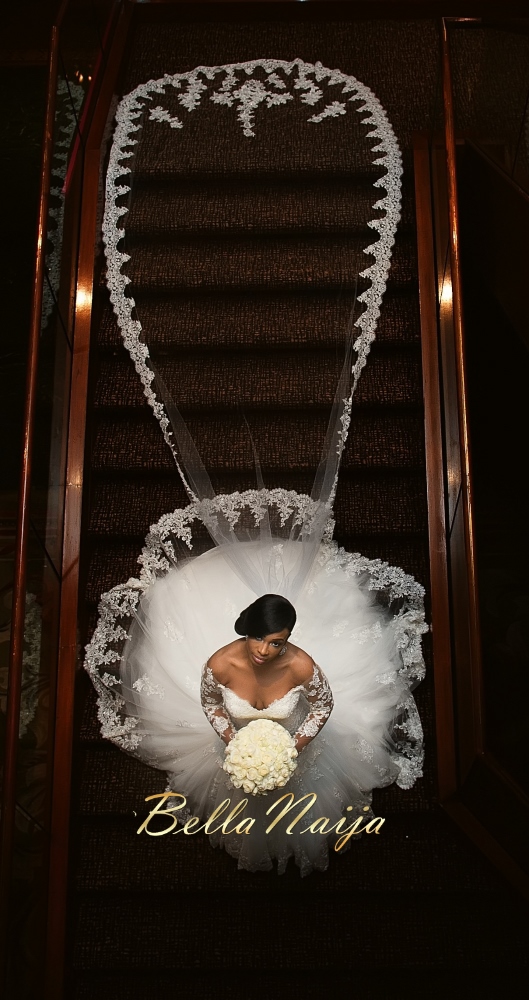 "I love the timeless feel that sleeves add to a wedding dress so I knew I would wear a wedding dress with sleeves on my wedding day. In the beginning of my wedding dress search I tried on several dresses with sleeves but they did not give me the wow factor that I was looking for. My mother suggested that I find a sleeveless wedding dress that I love and then add sleeves to it.
We arrived at LaReve Bridal Couture shop to try on dresses and I instantly fell for the stunning Marianne dress by Maggie Sottero. I loved the lace detail, bead work and how it accentuated my curves perfectly. I ordered my dream gown and a few additional yards of the same lace fabric used to make the dress. This ensured the lace on my sleeves would be the exact color and pattern as the lace on my dress.
I only trusted one person, Kristin Johnston of Kristin Johnston Bridal to make my sleeves for my dress because she had extensive experience with designing dance costumes. Because I did not want my sleeves to look too busy or bulky, Kristin made sure to utilize the most transparent and thin mesh fabric to sew the lace onto. By doing so she created an illusion of lace appliqué floating on my skin. Kristin also made my cathedral veil from the extra lace that was left over. When I had my final fitting, my heart could not stop pounding, I truly could not believe how amazing everything looked."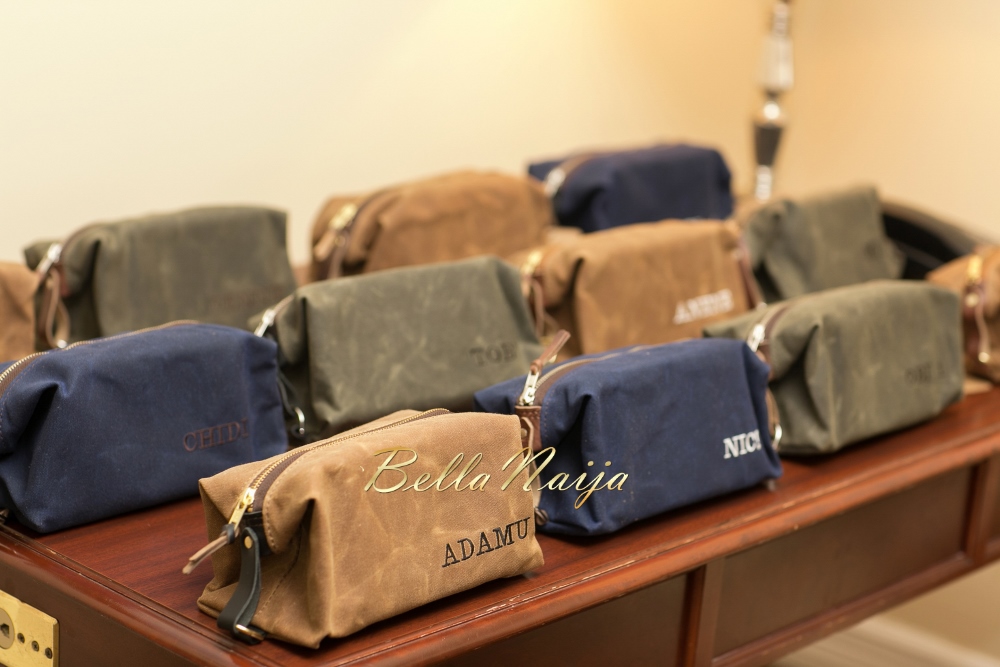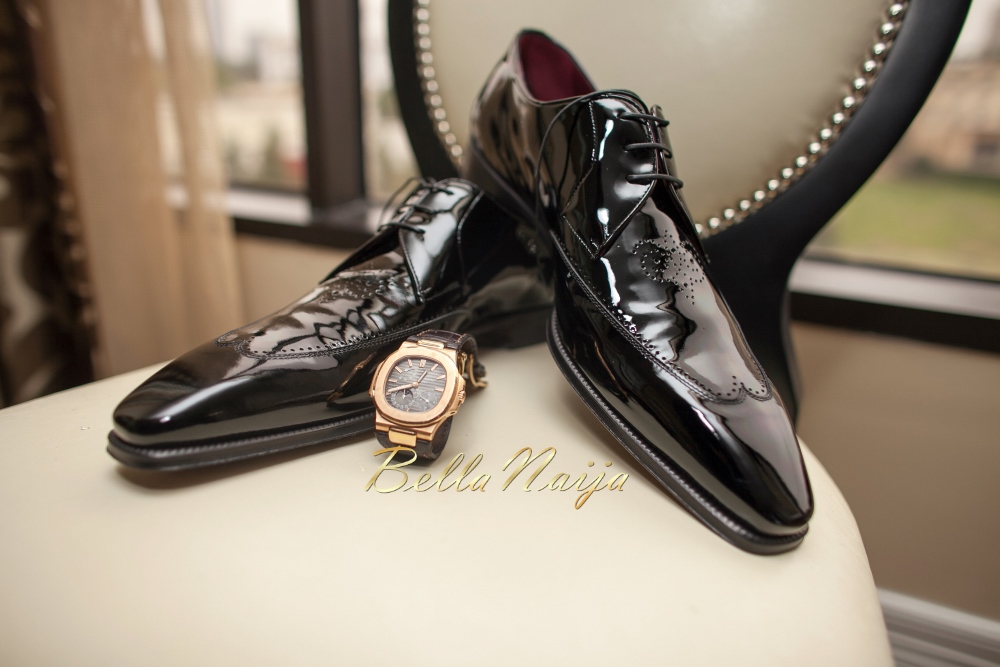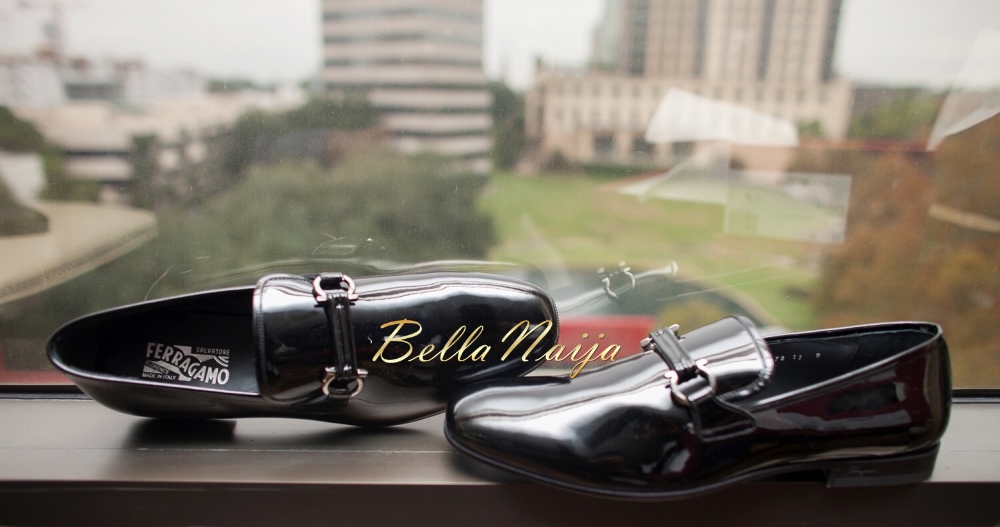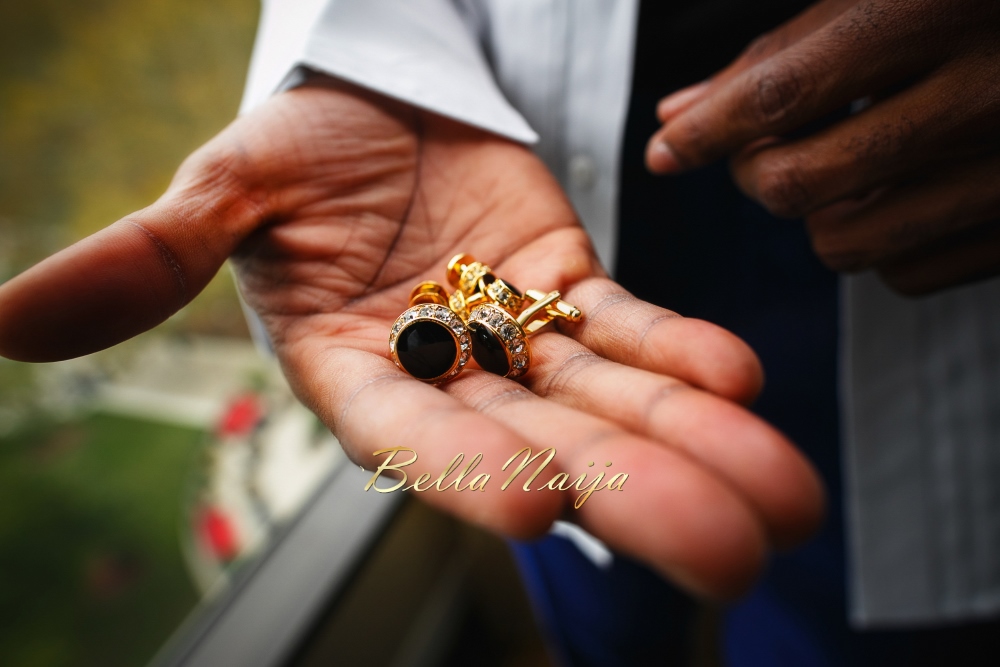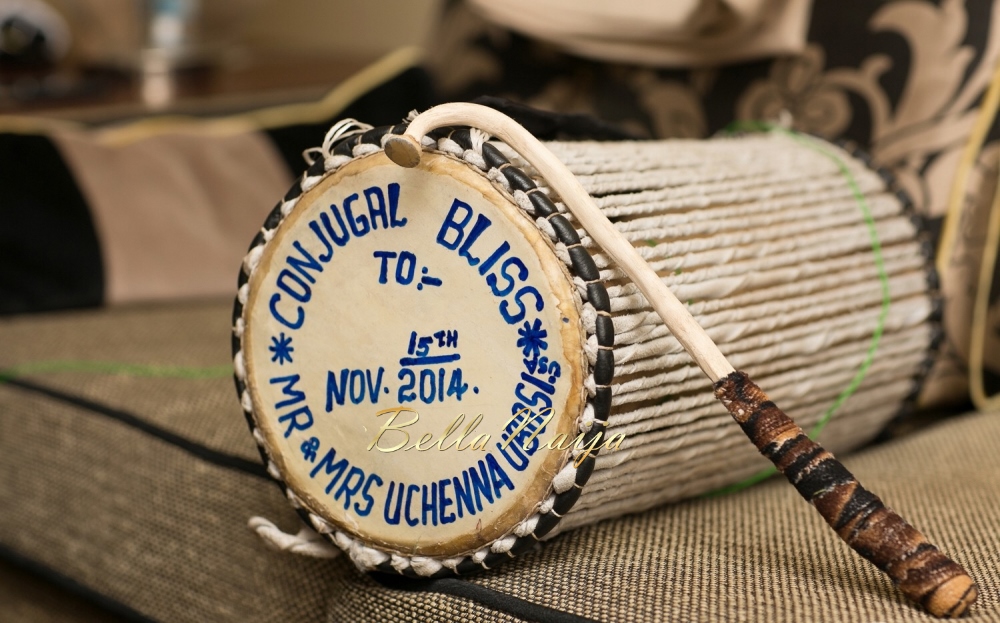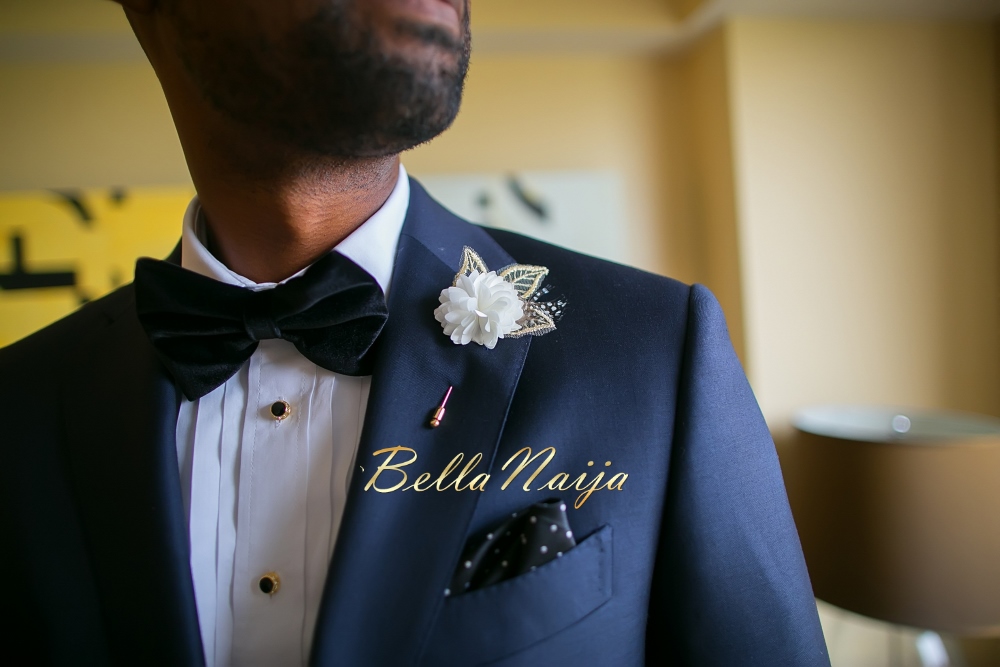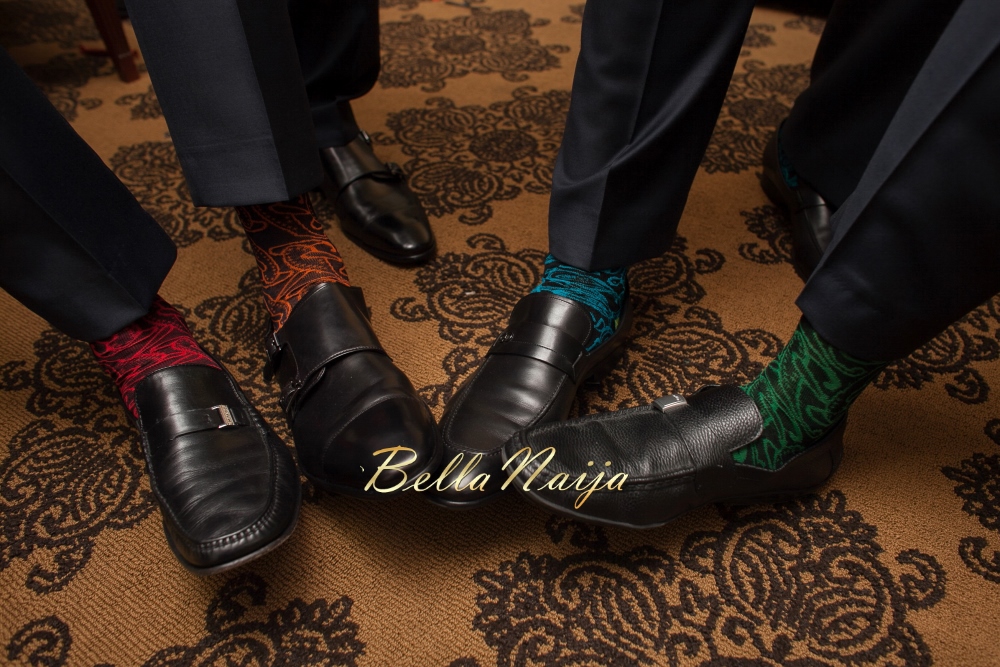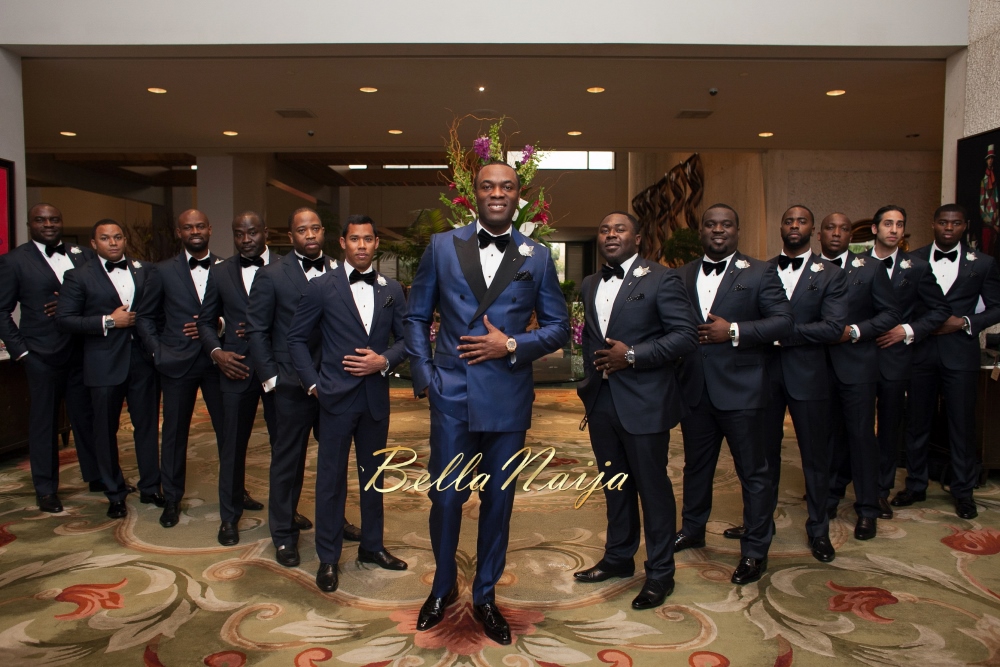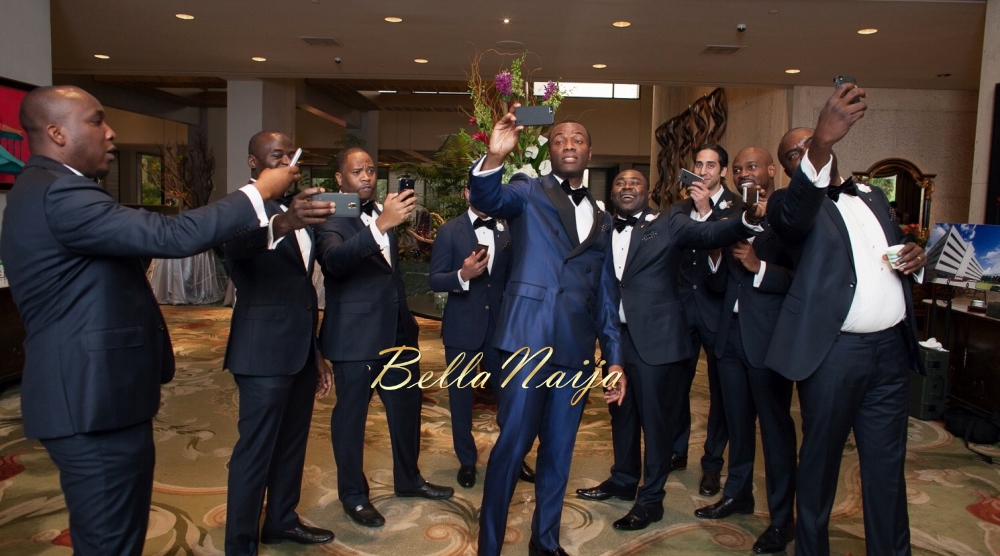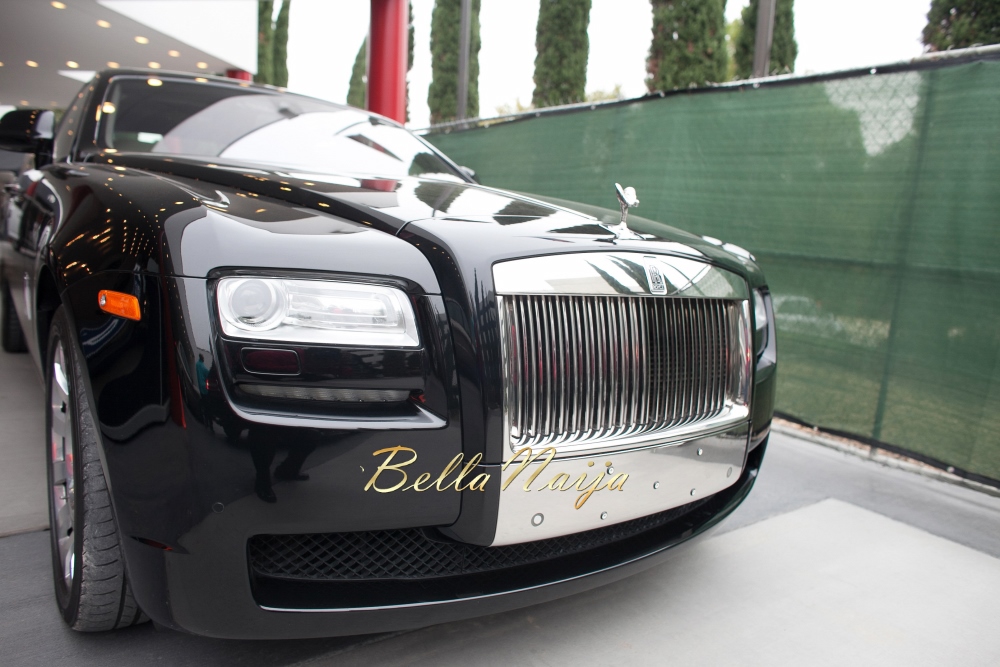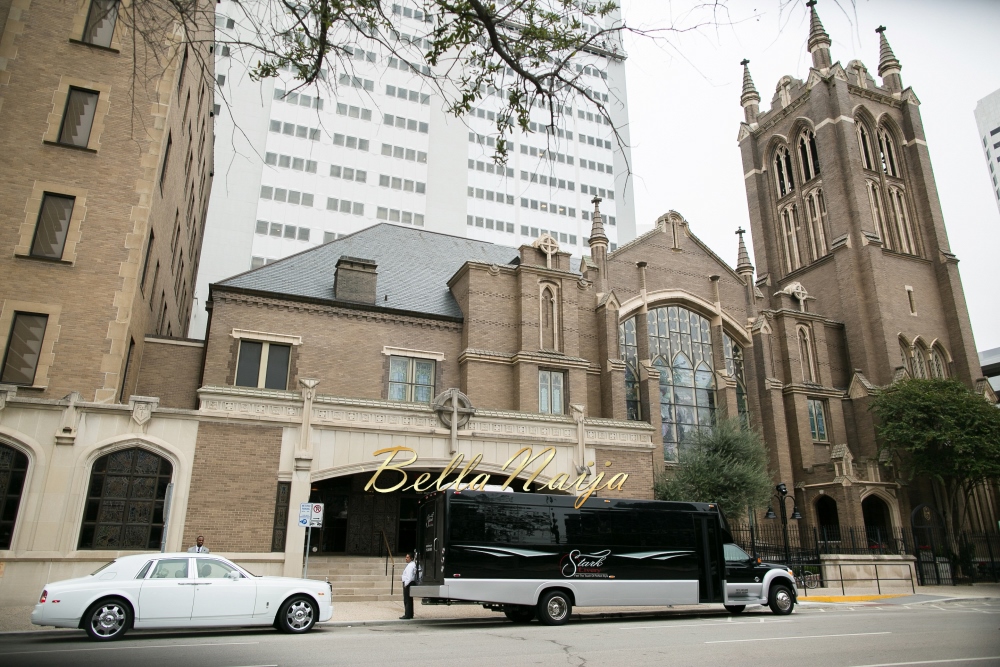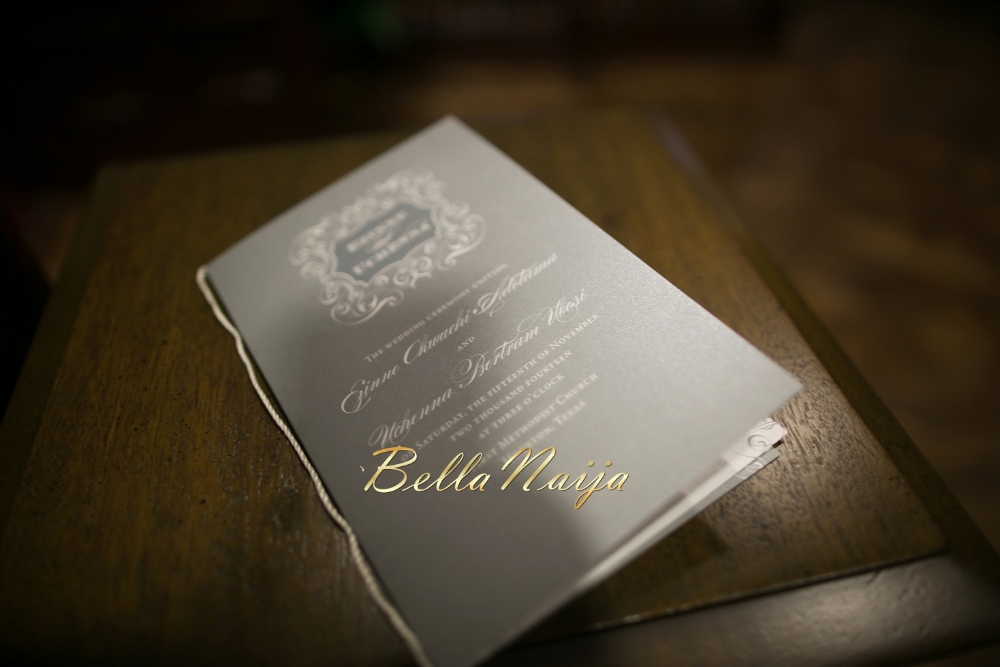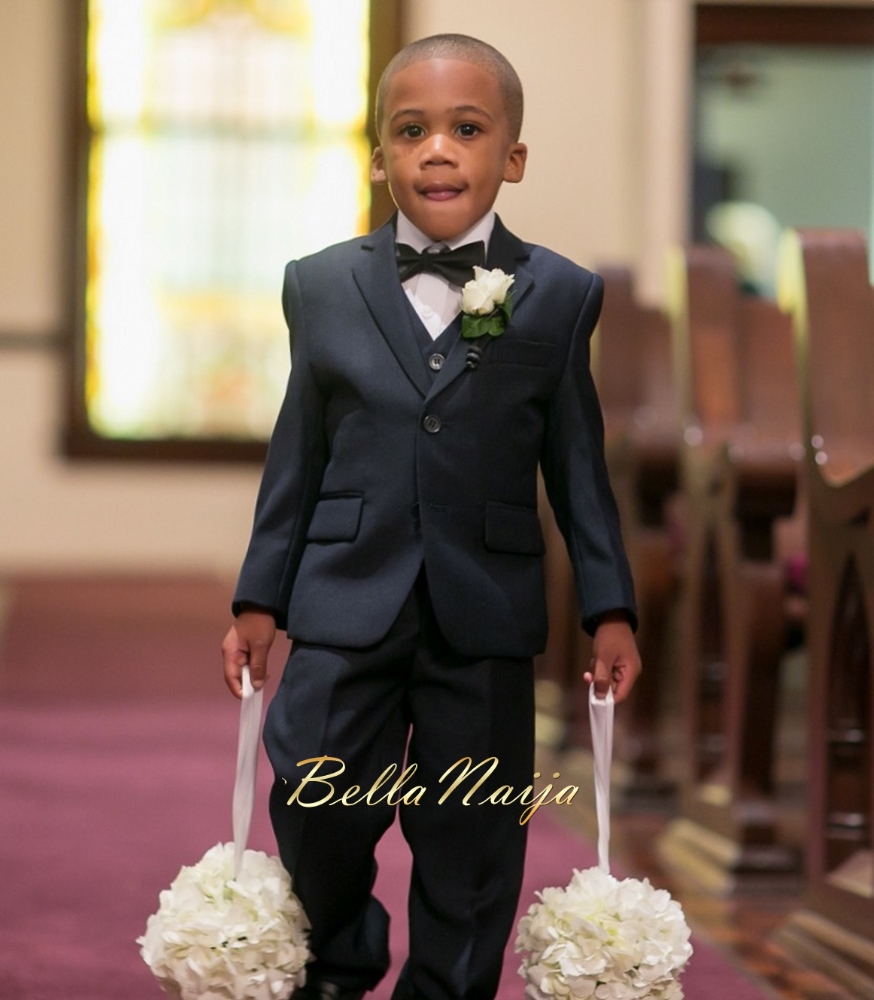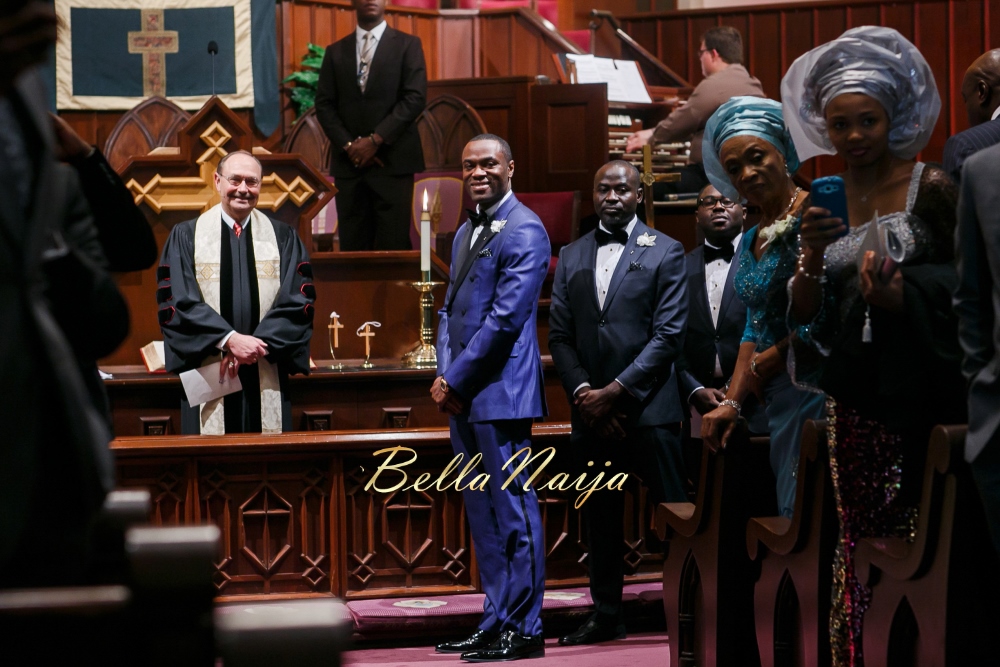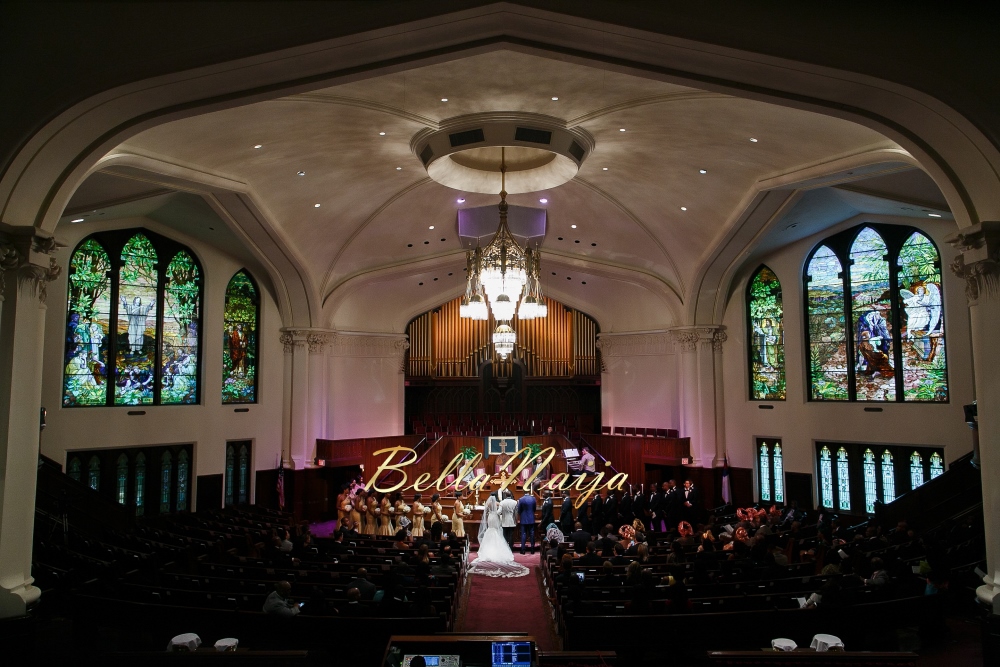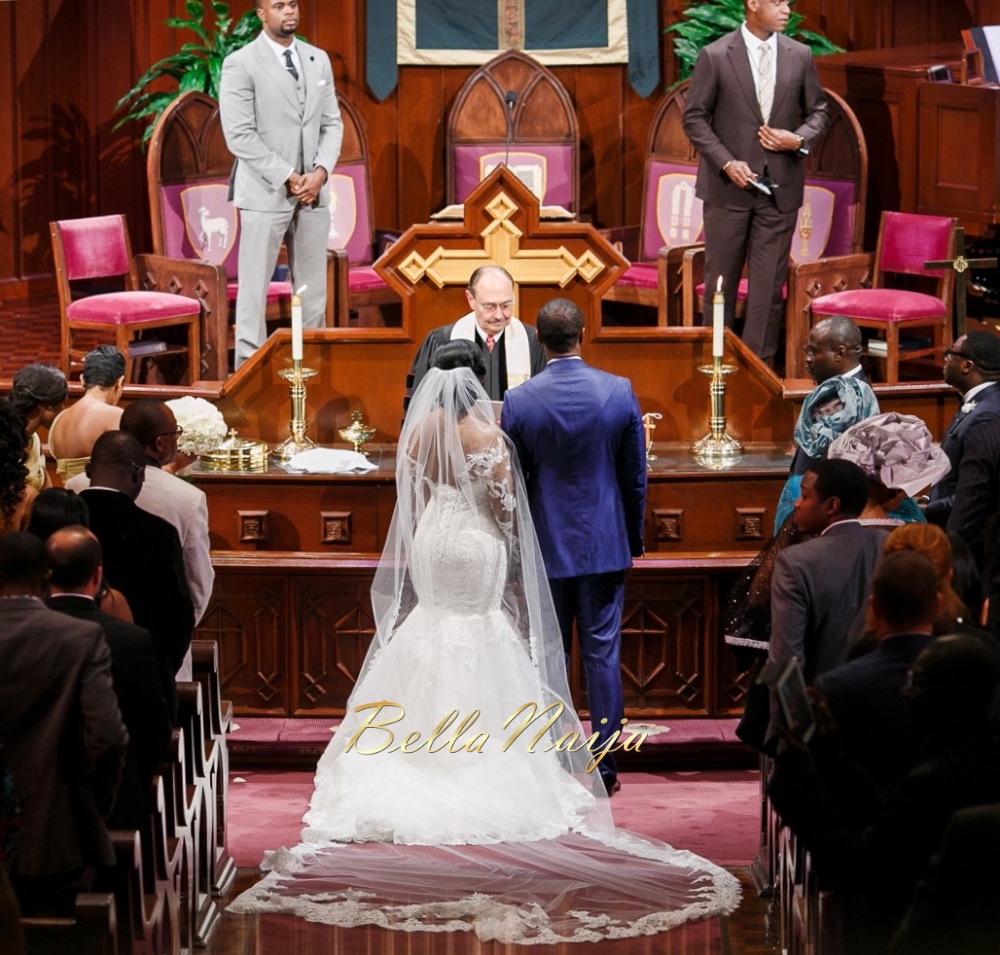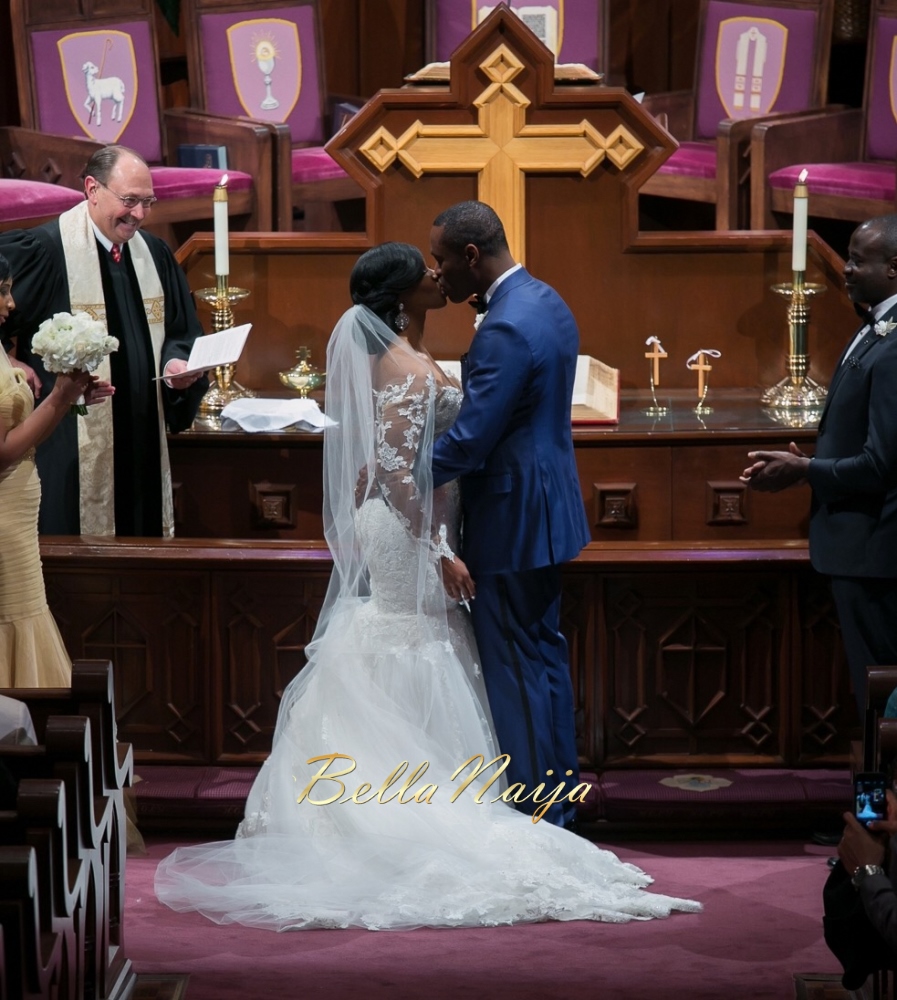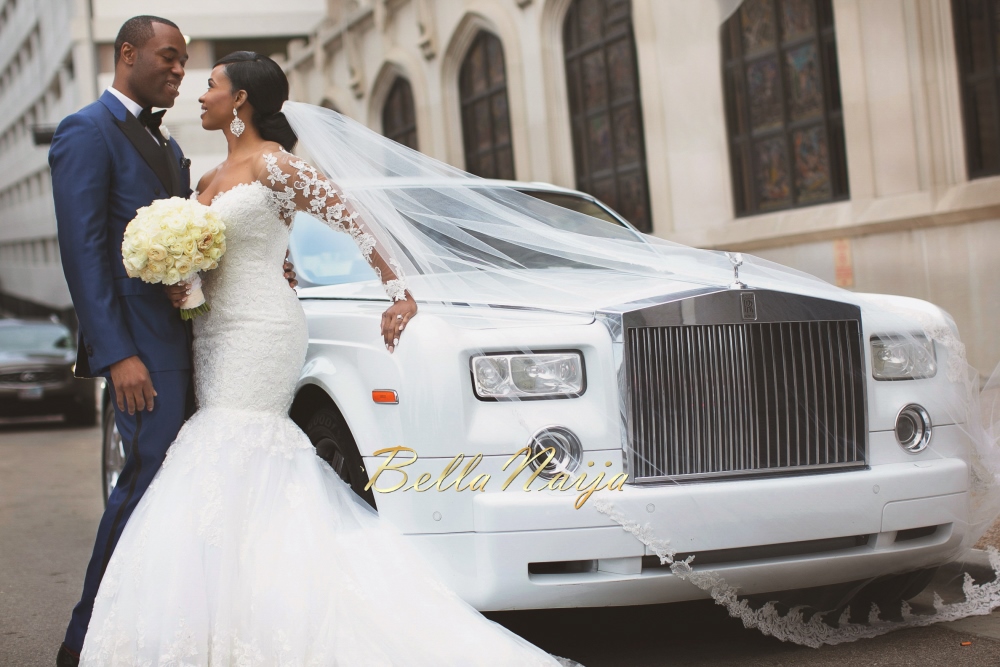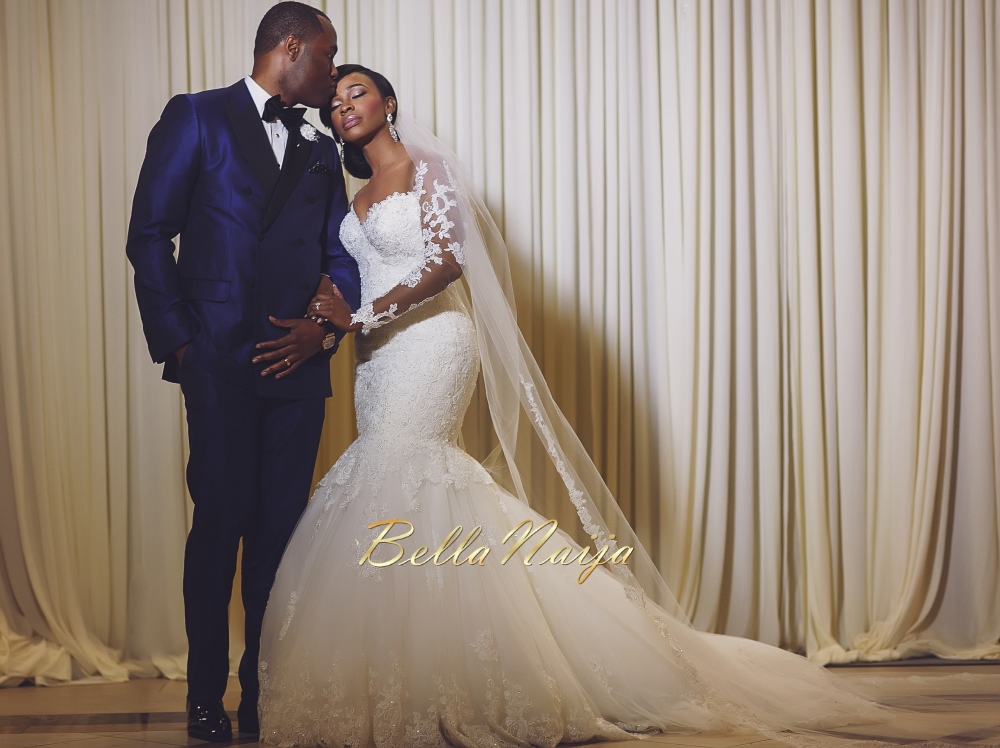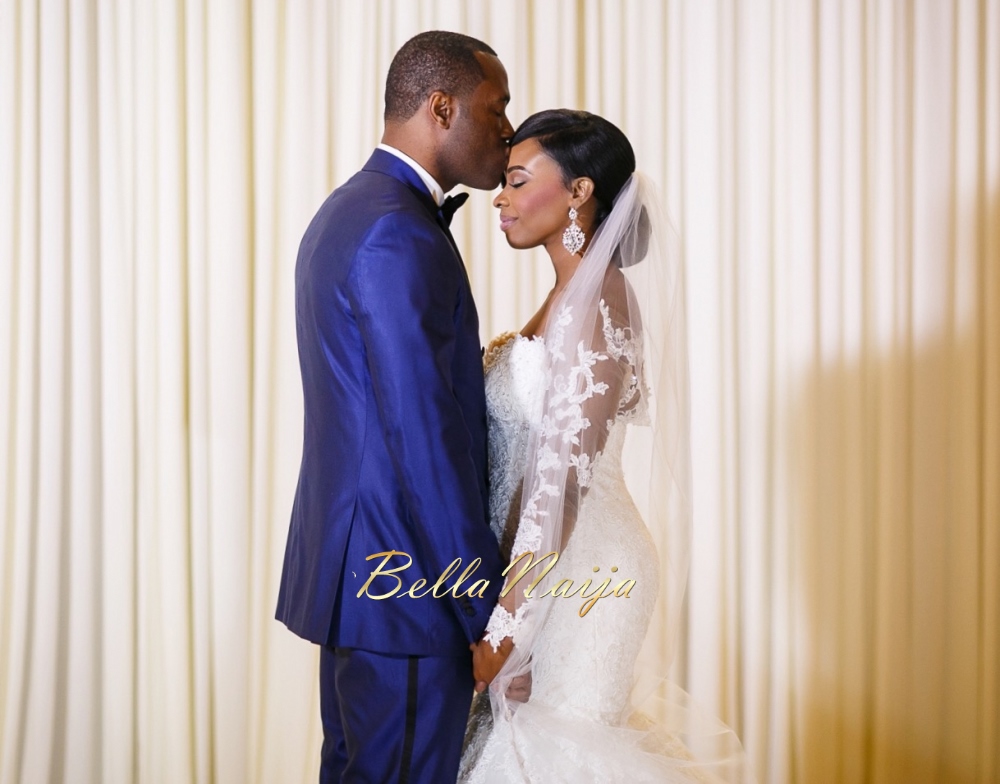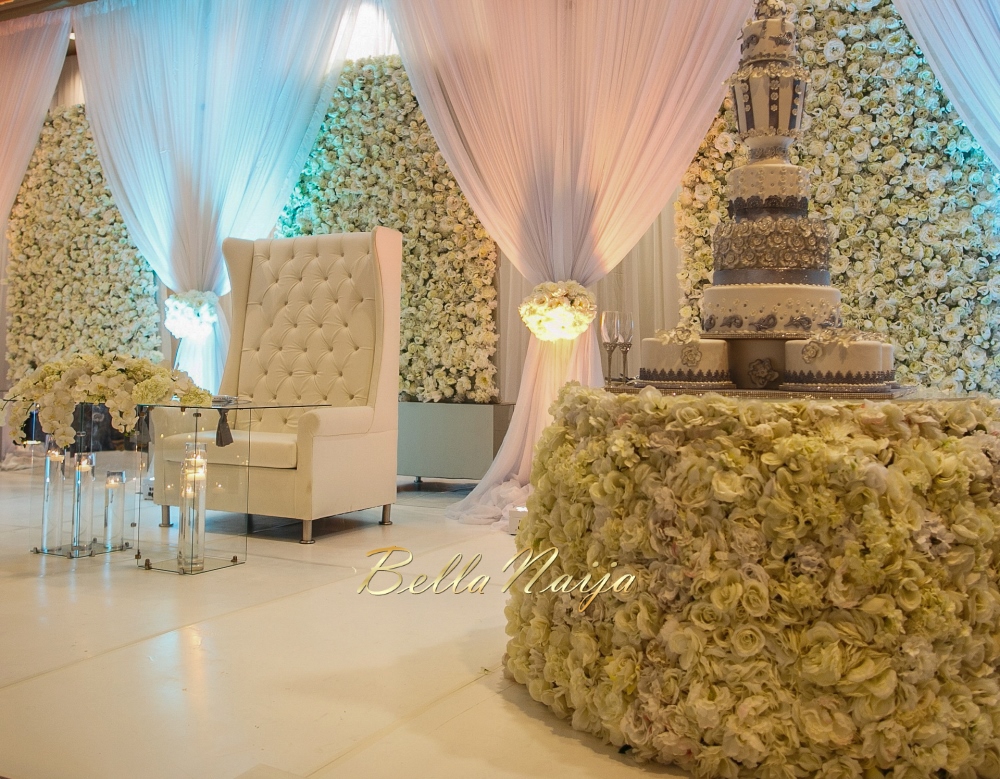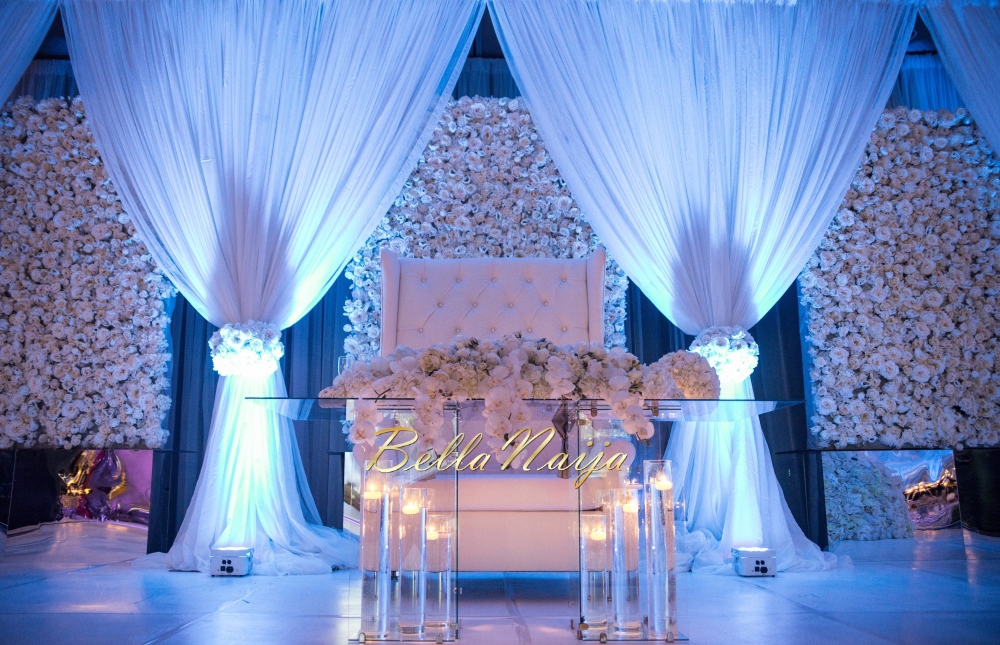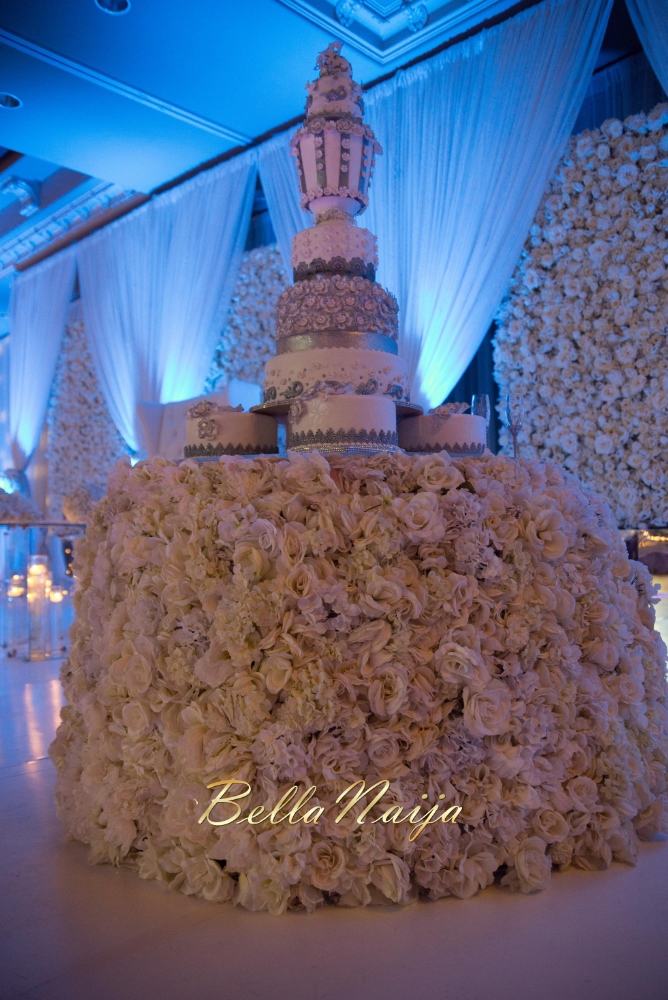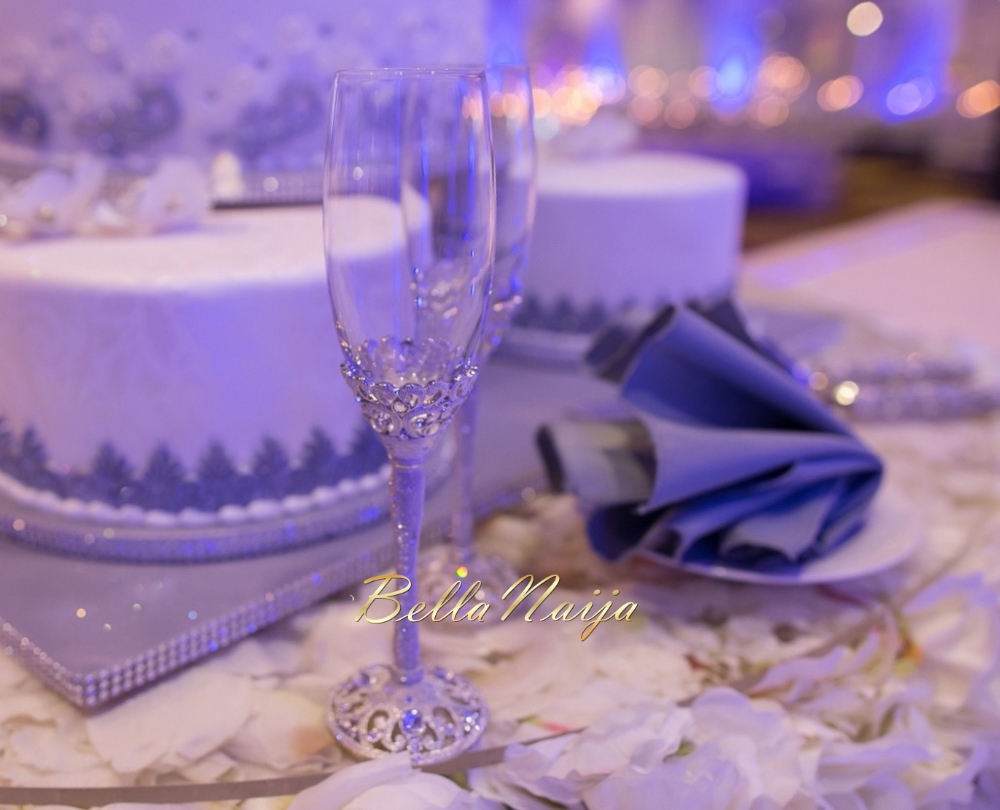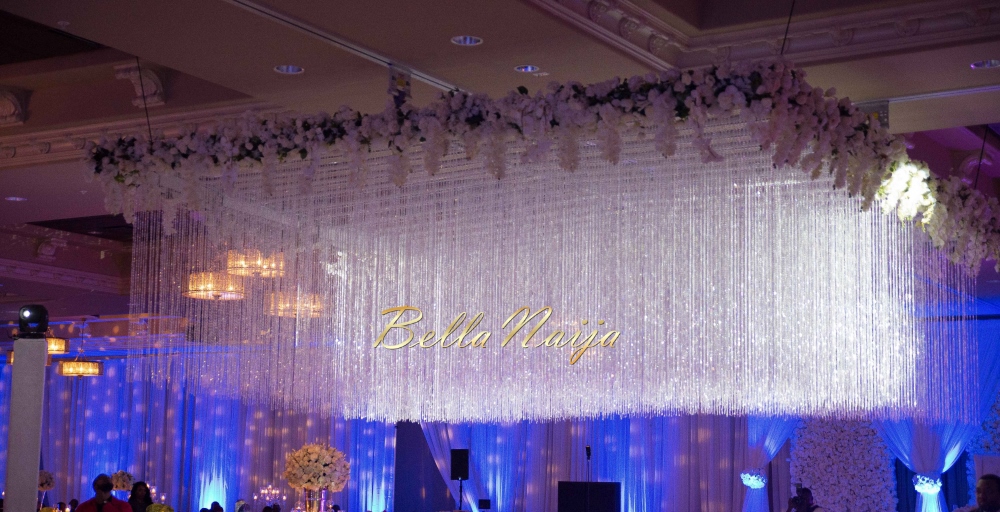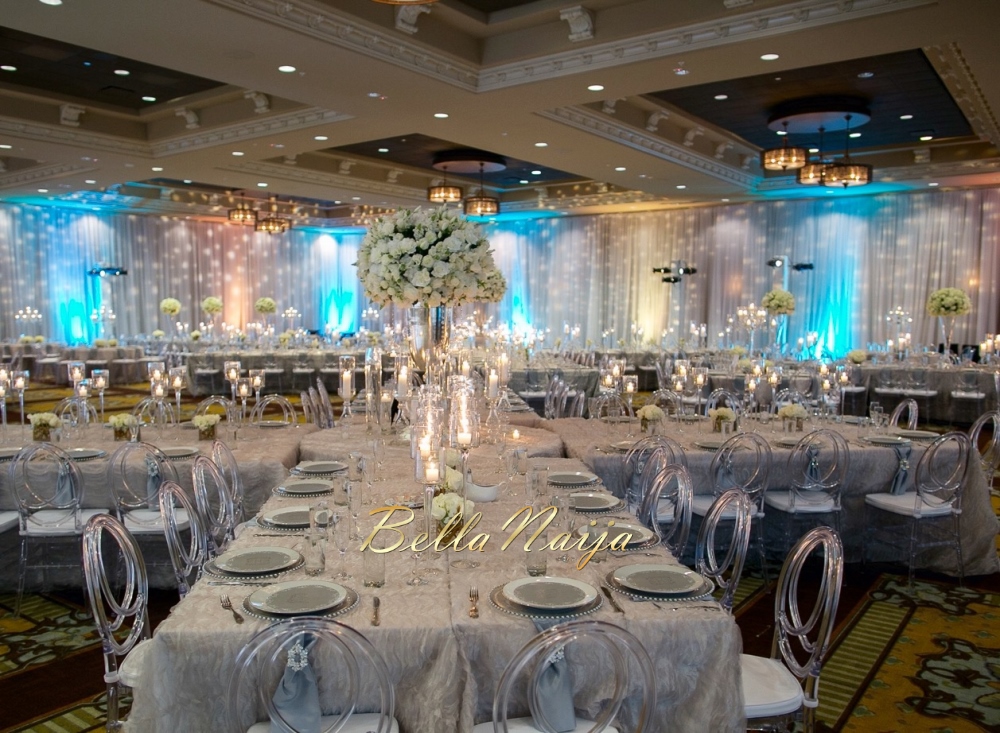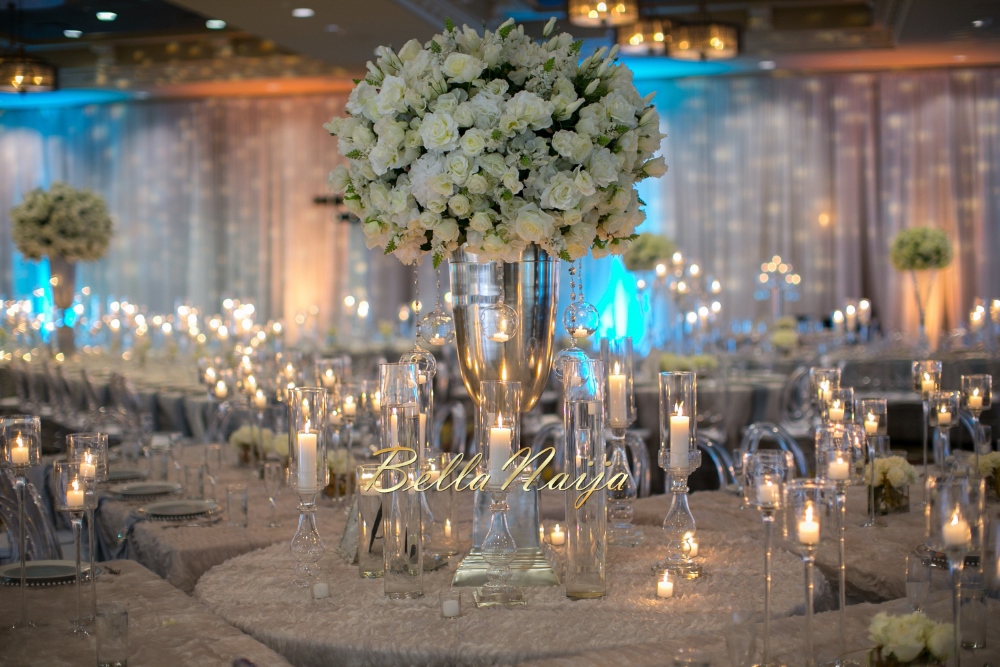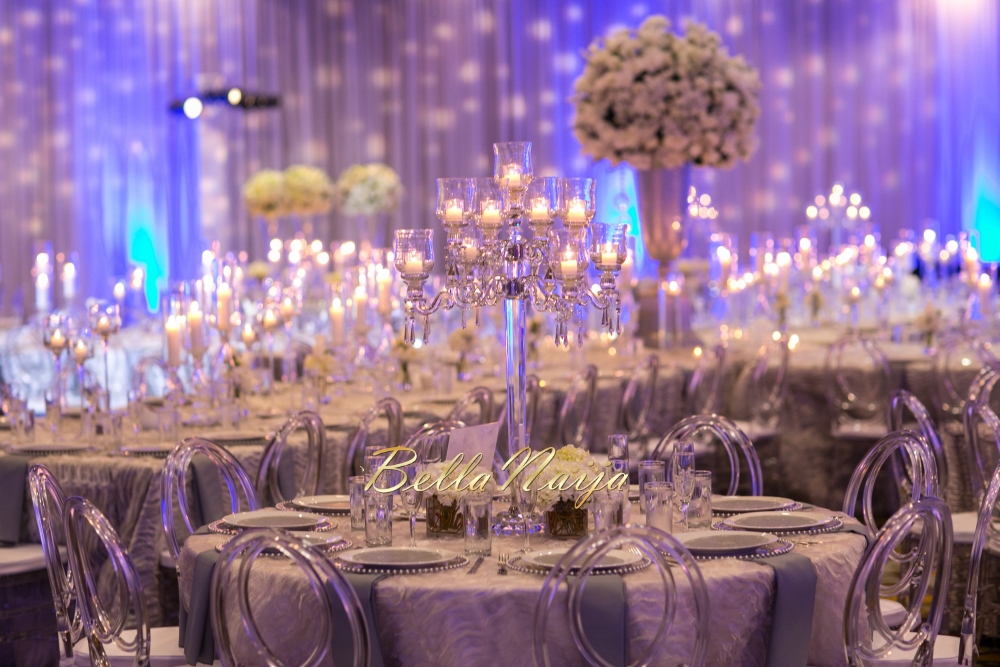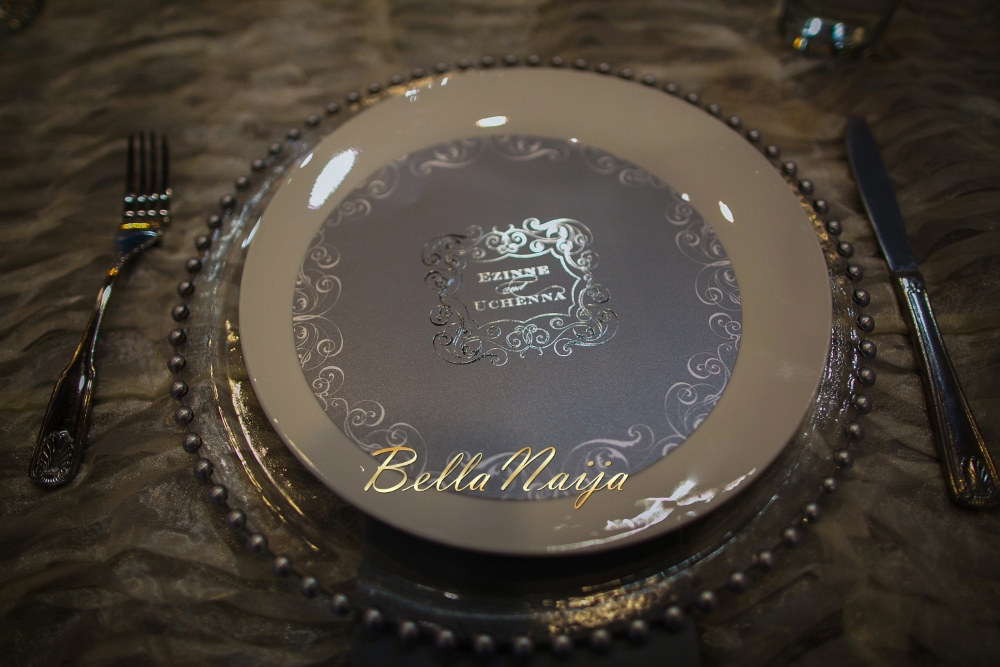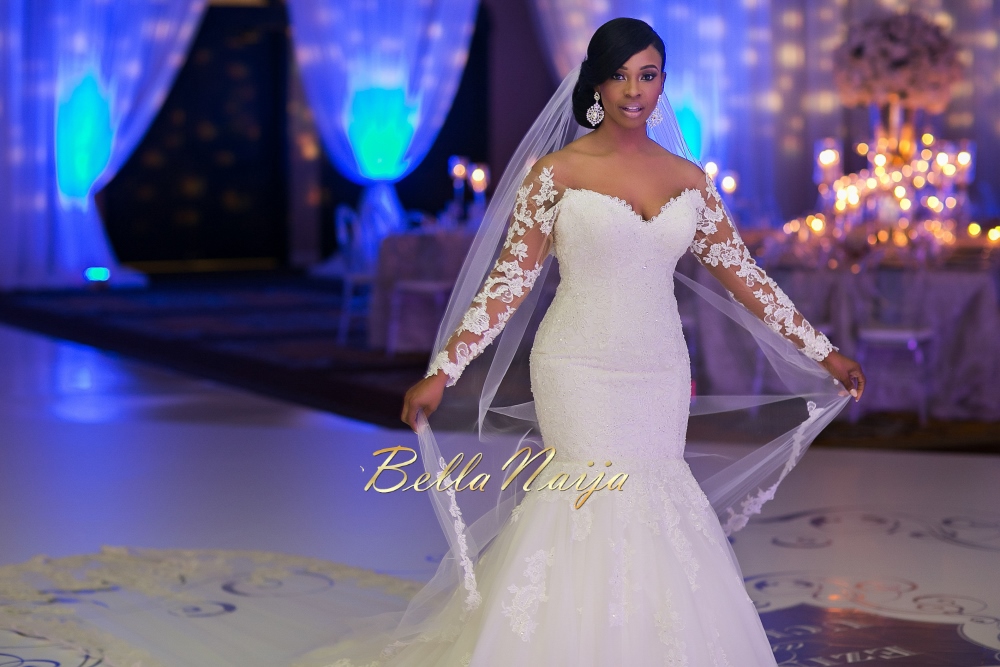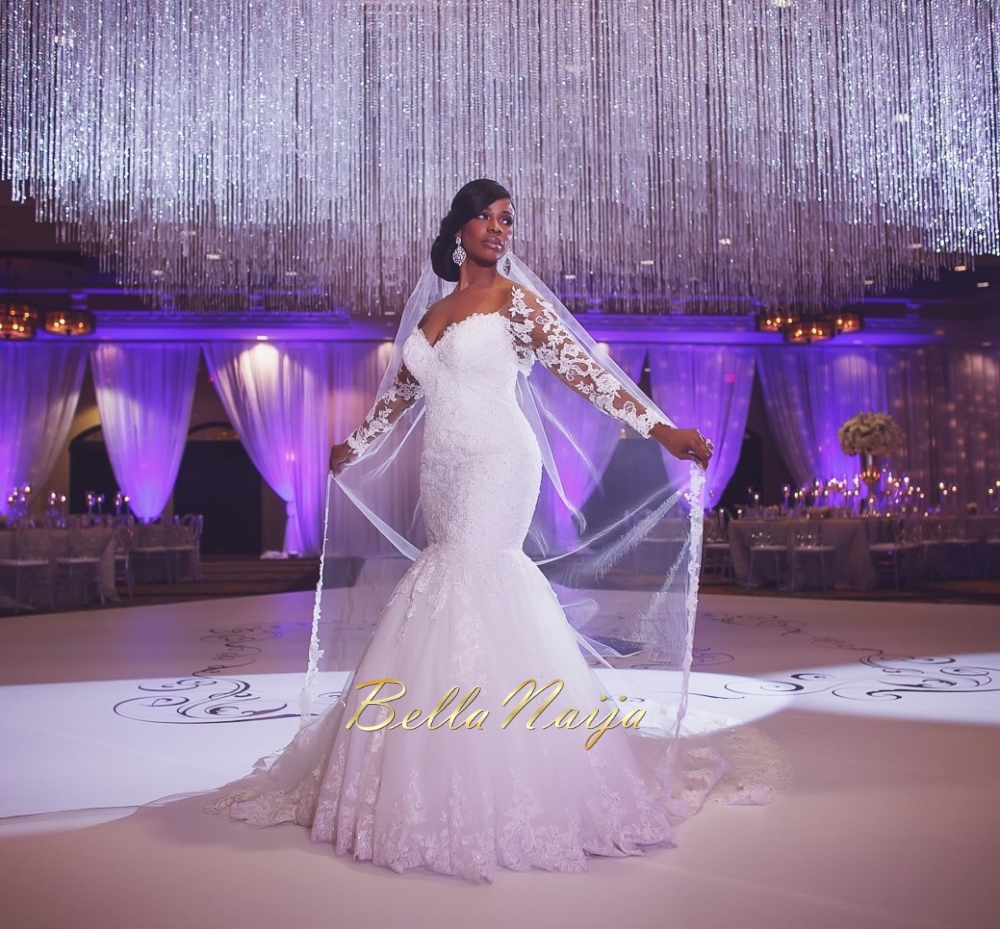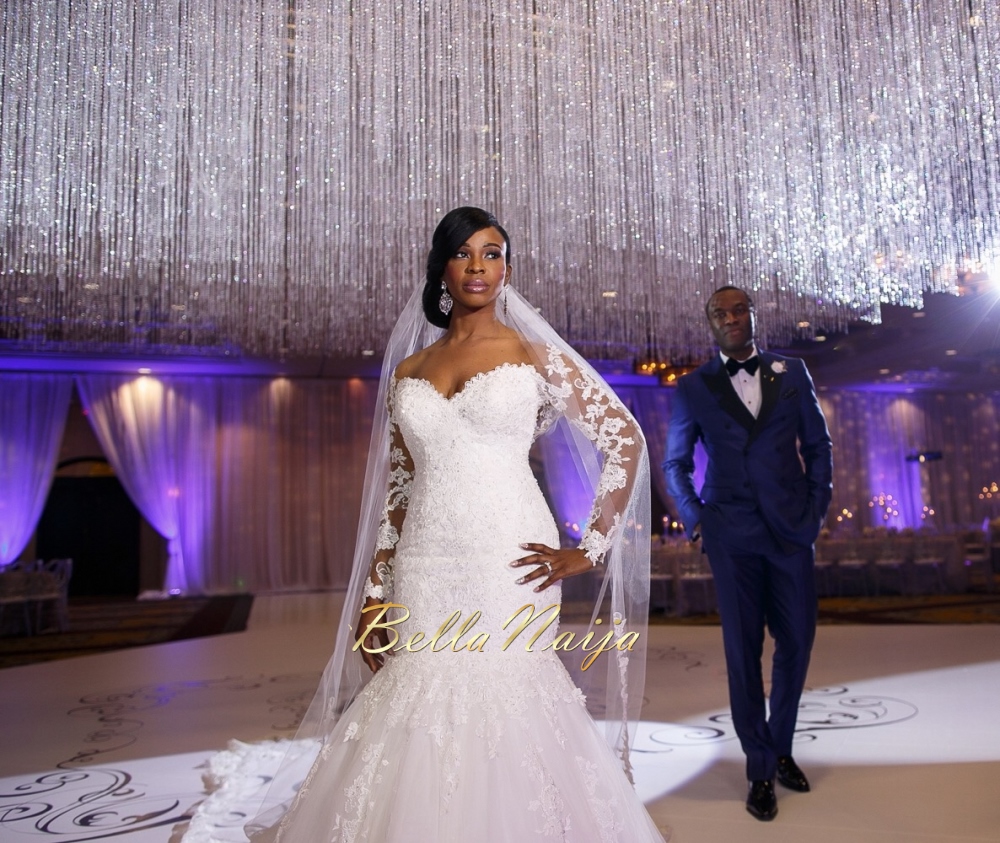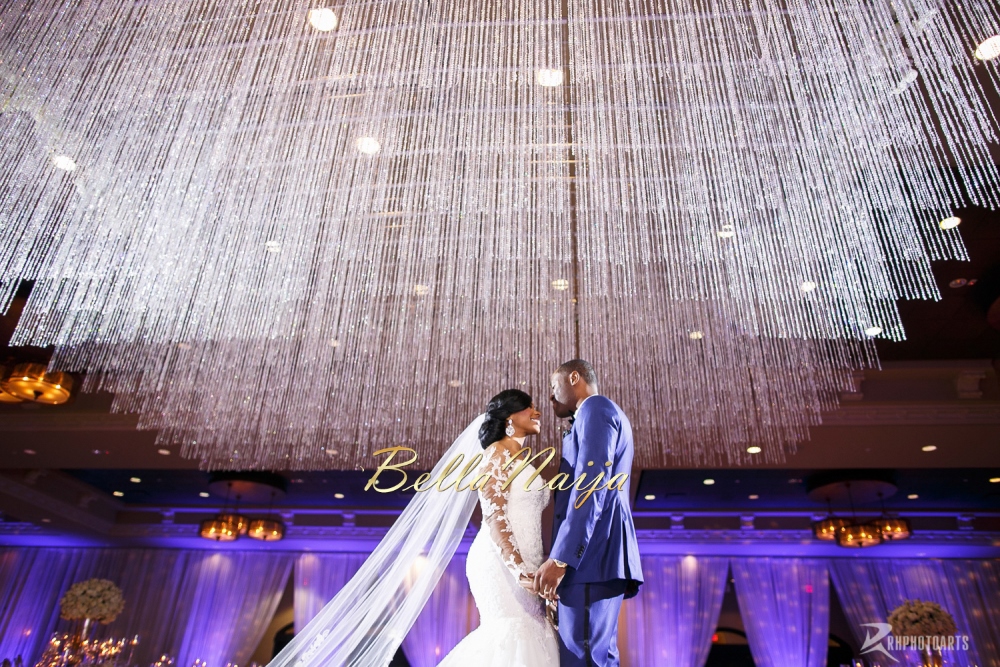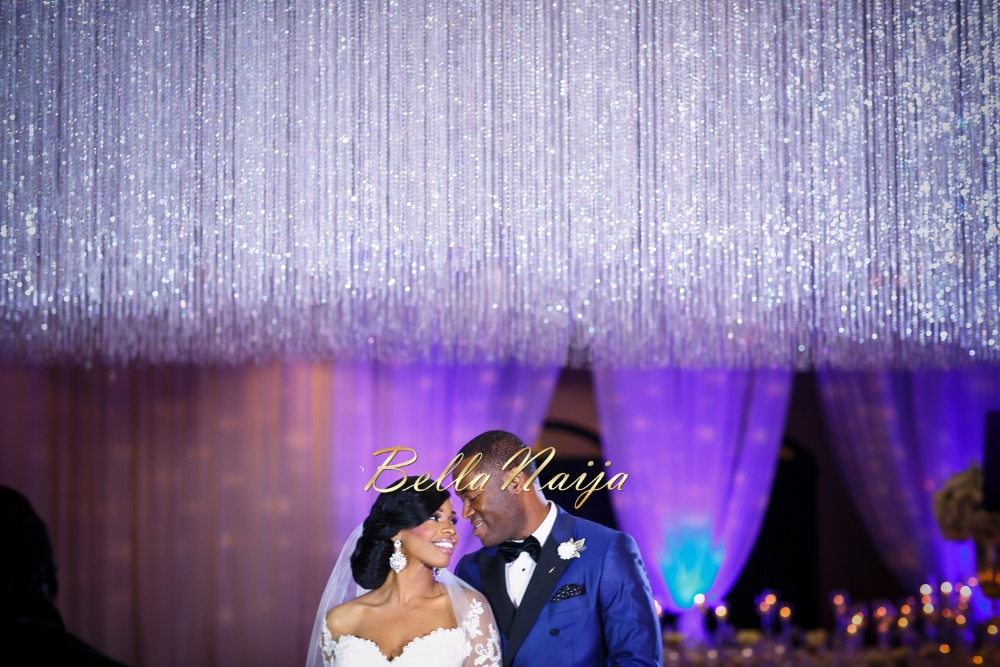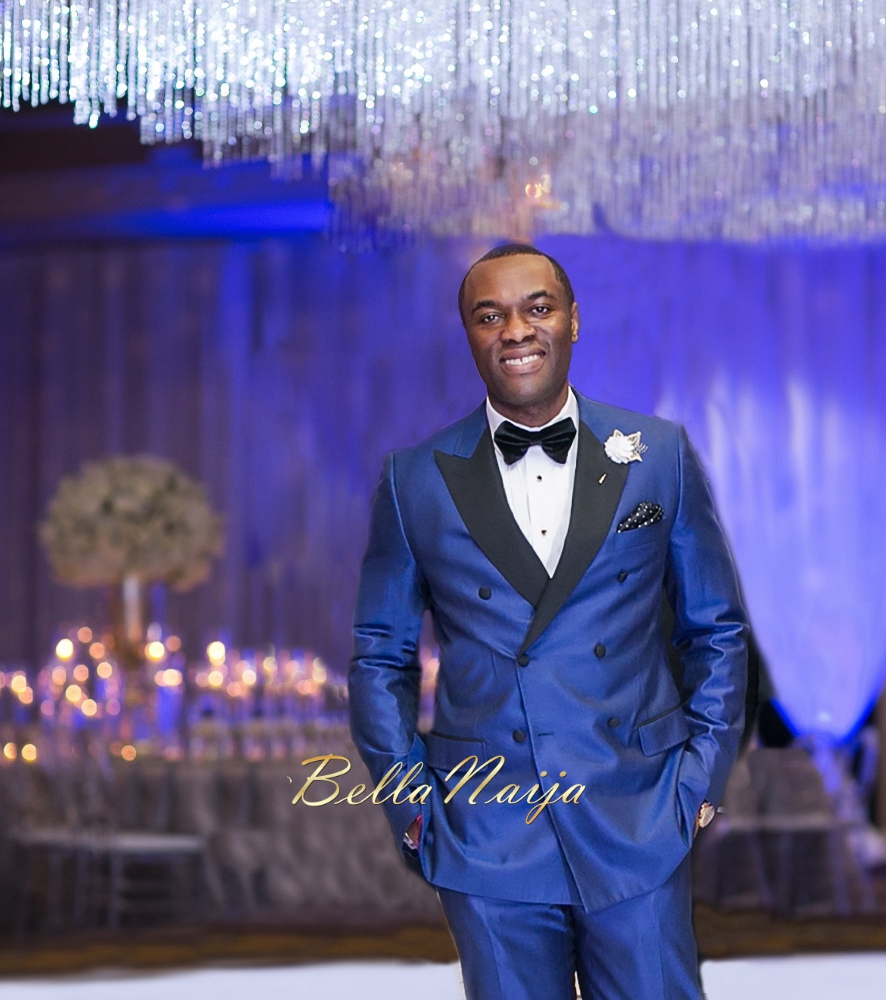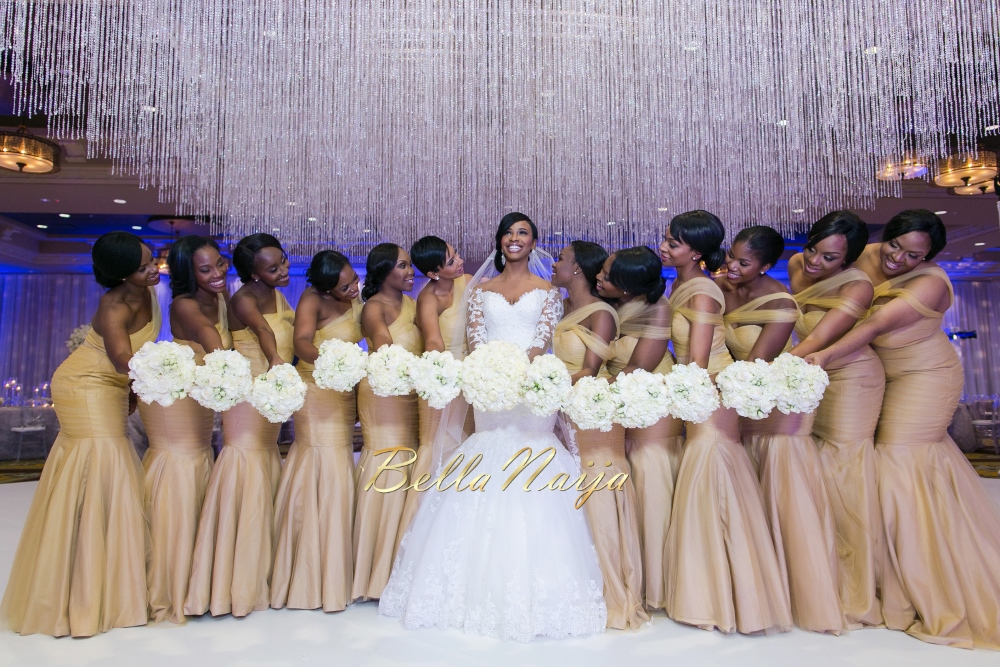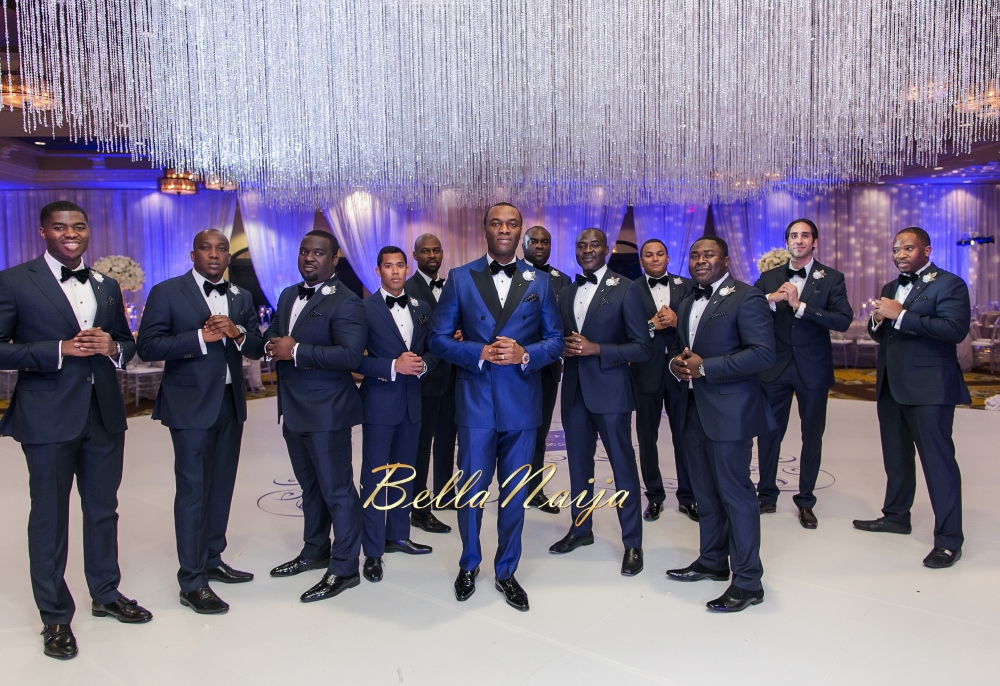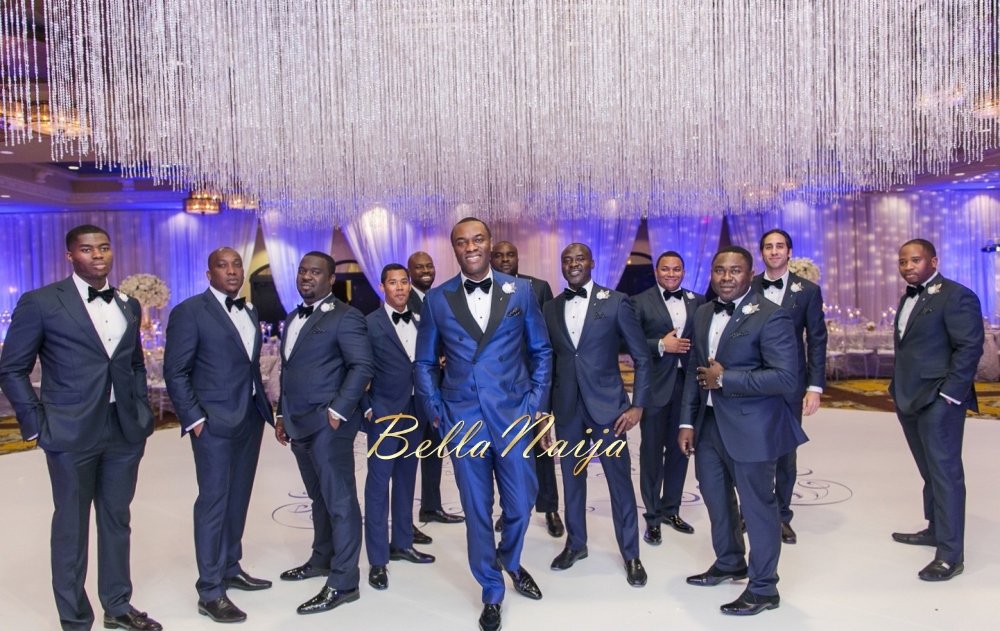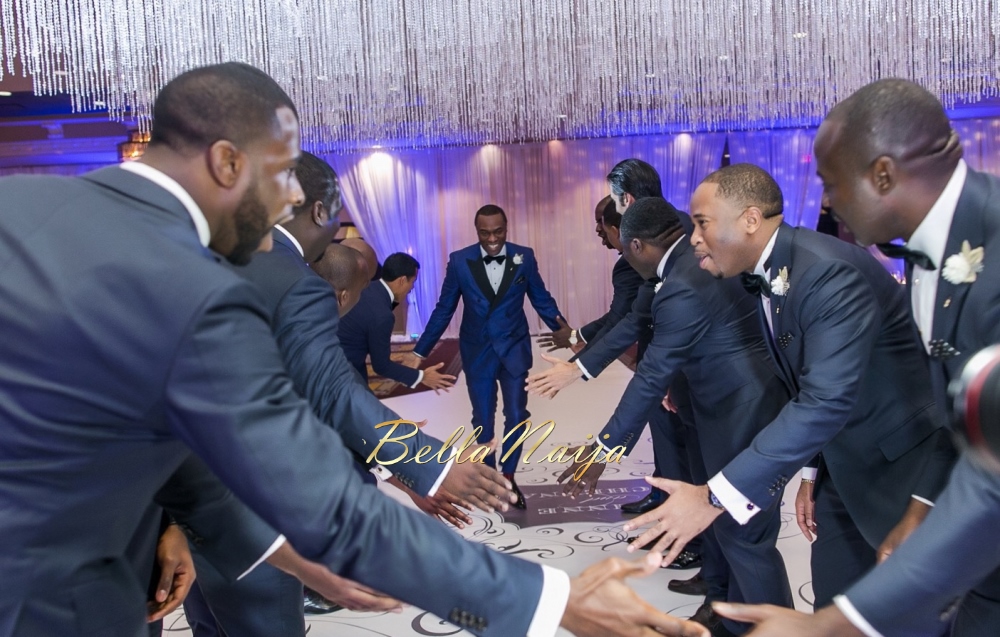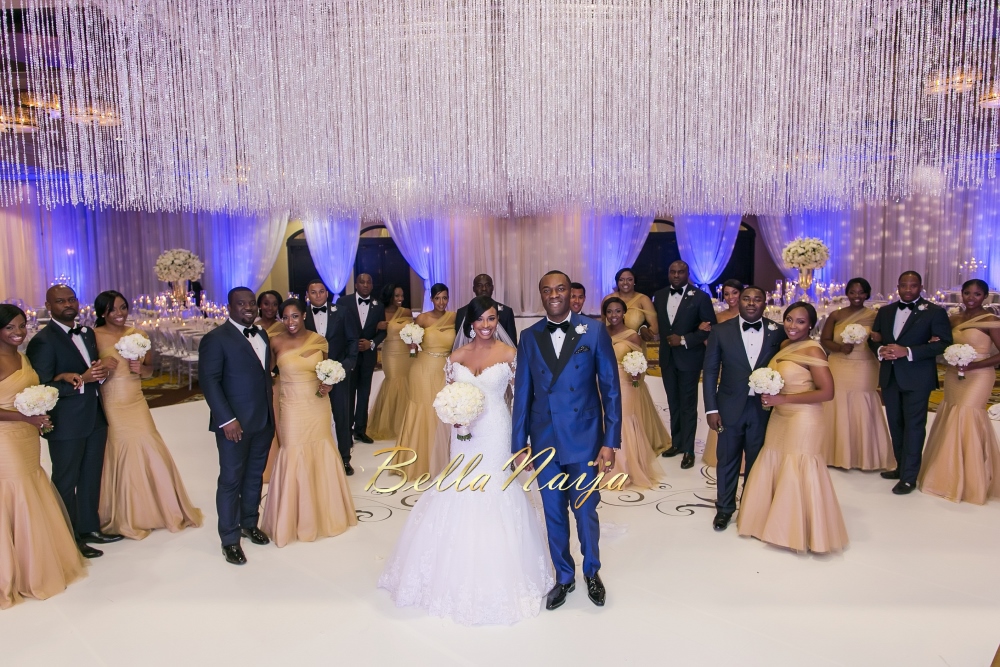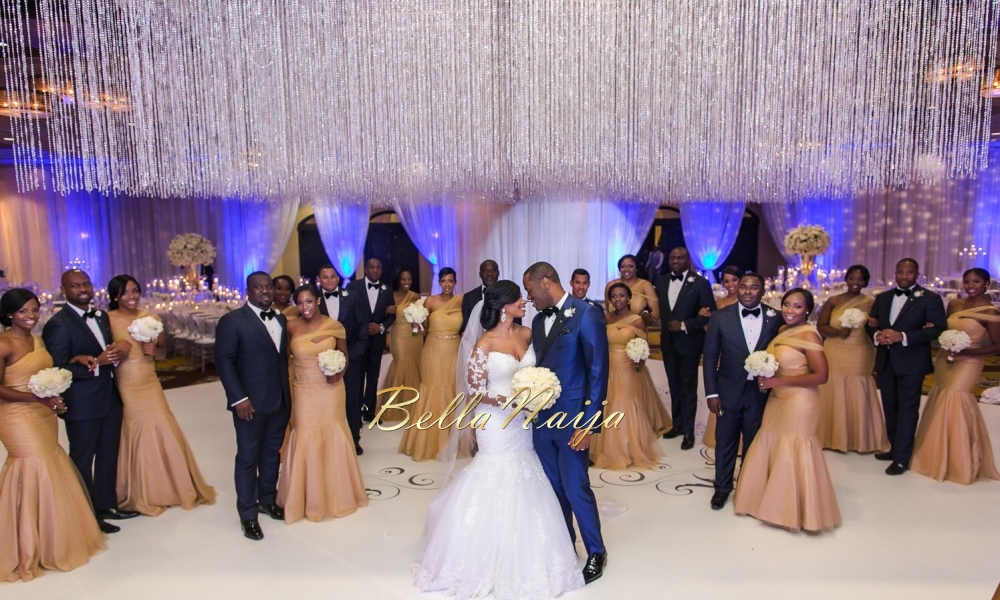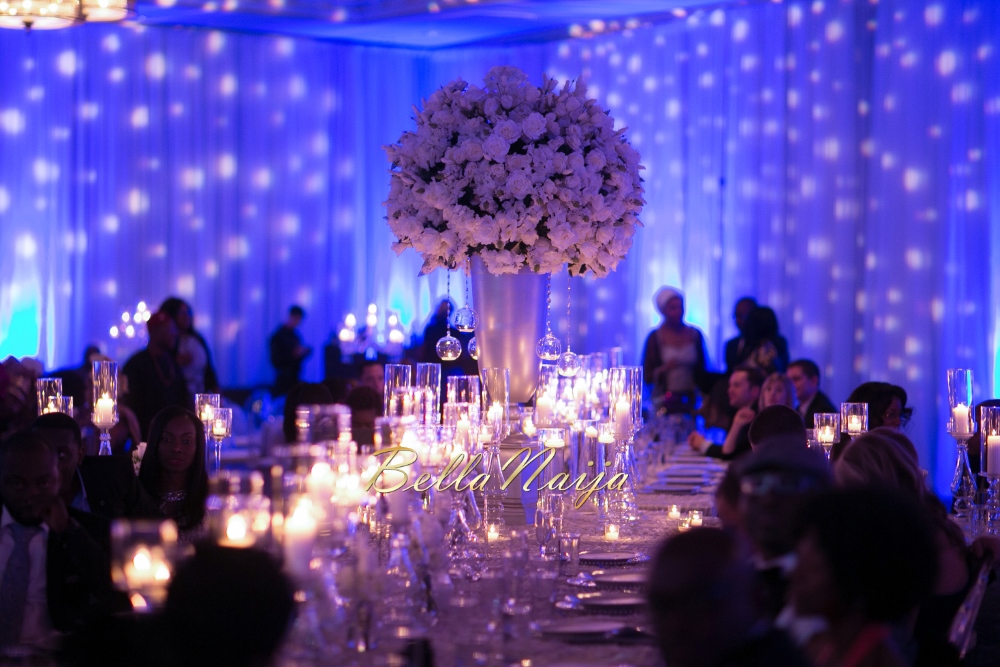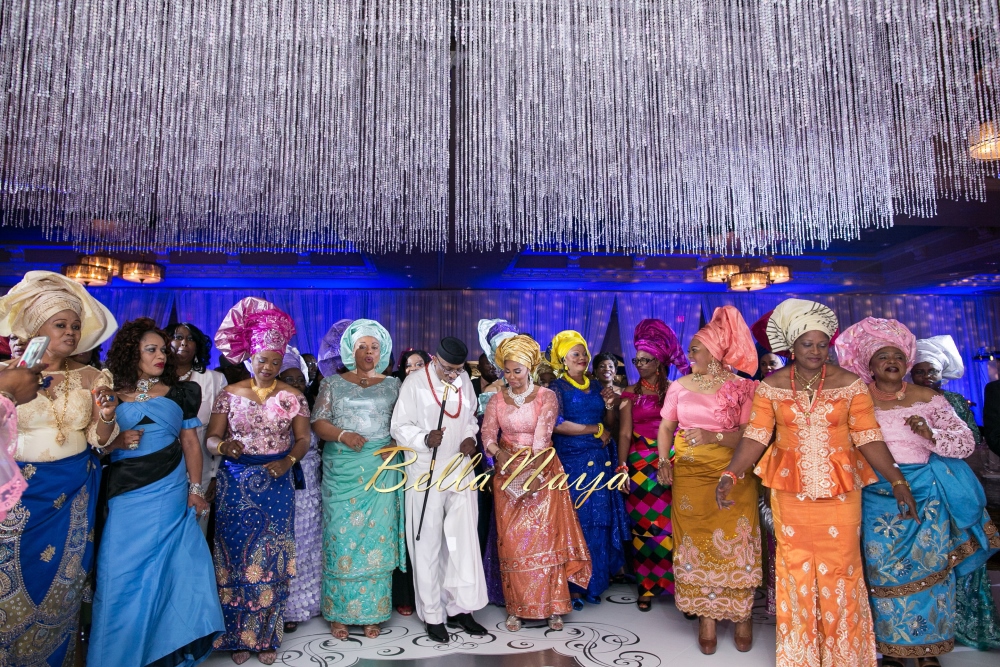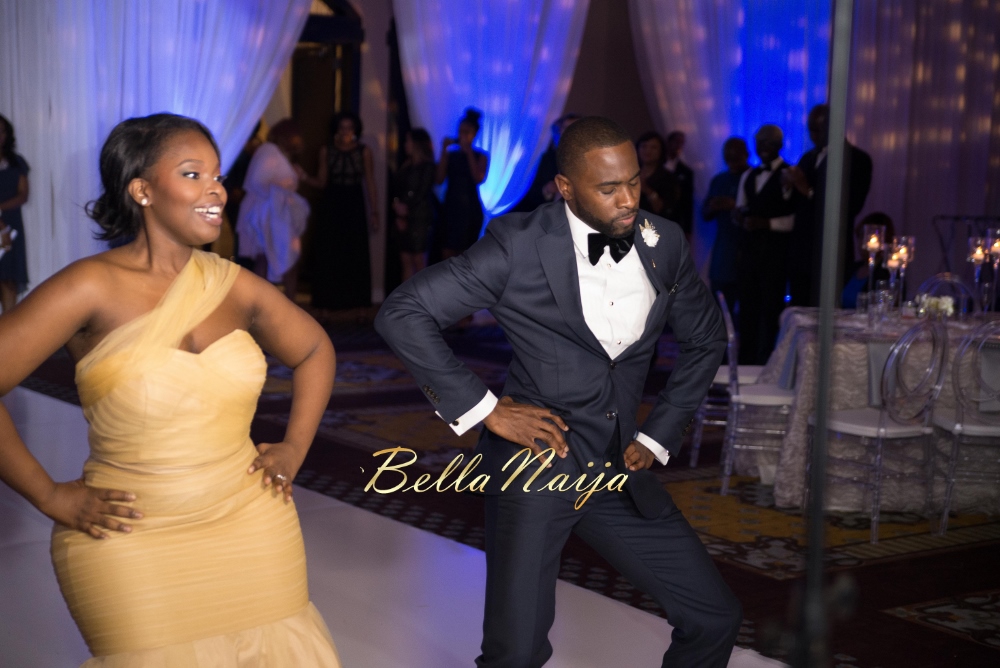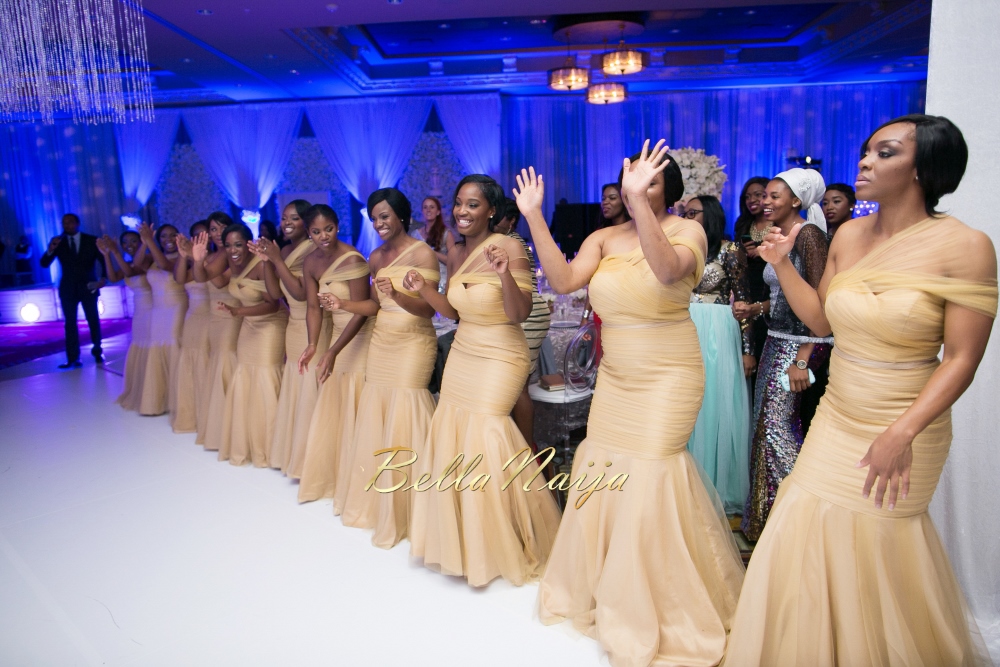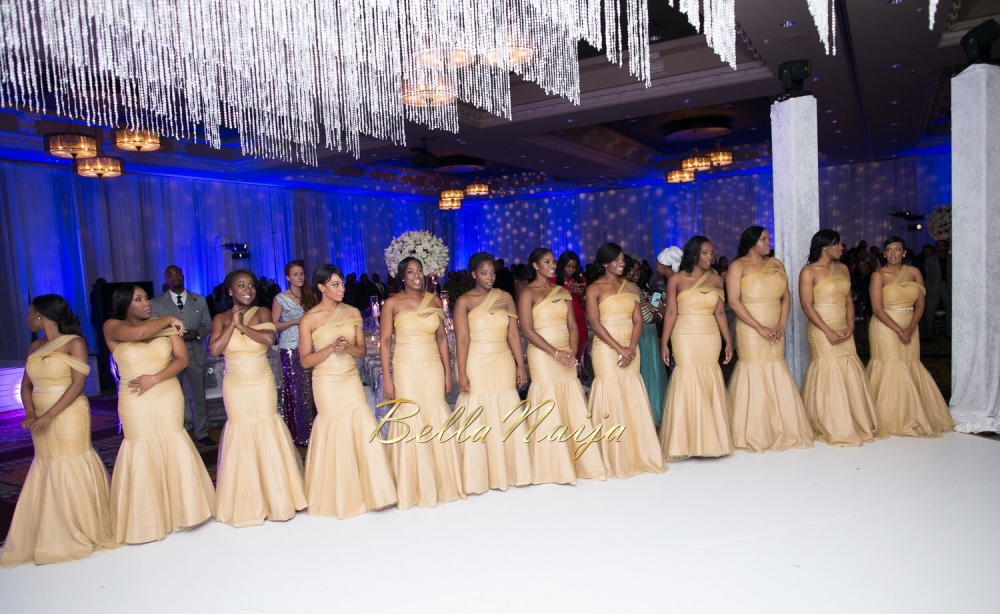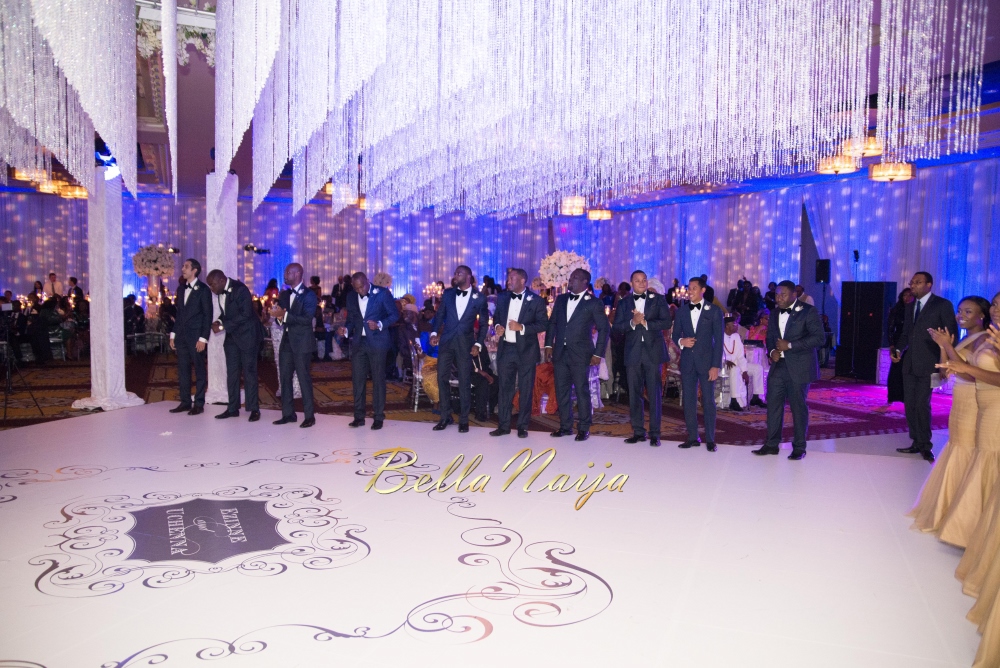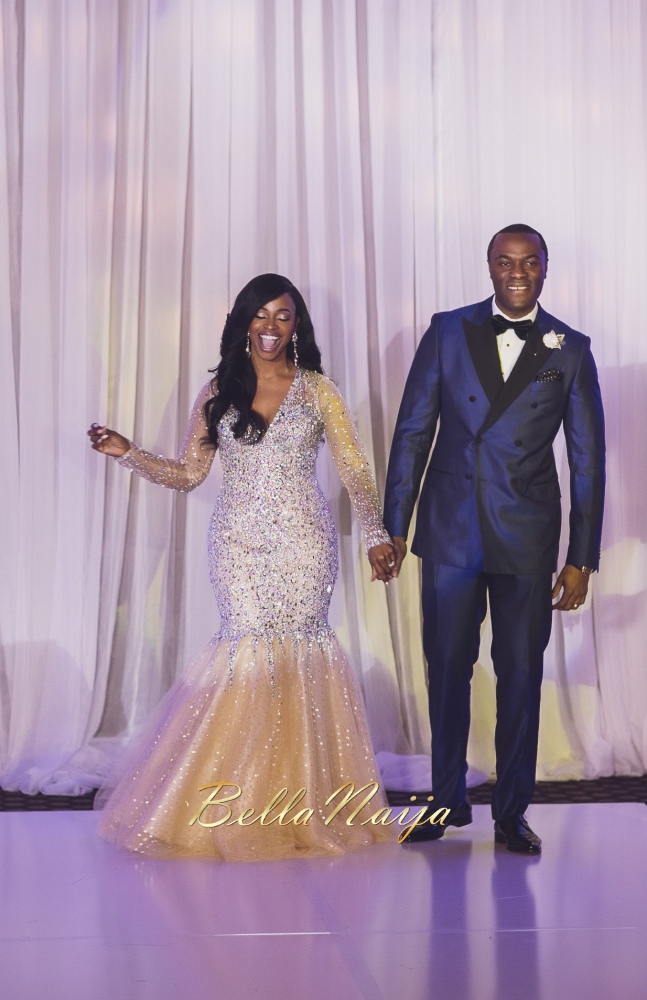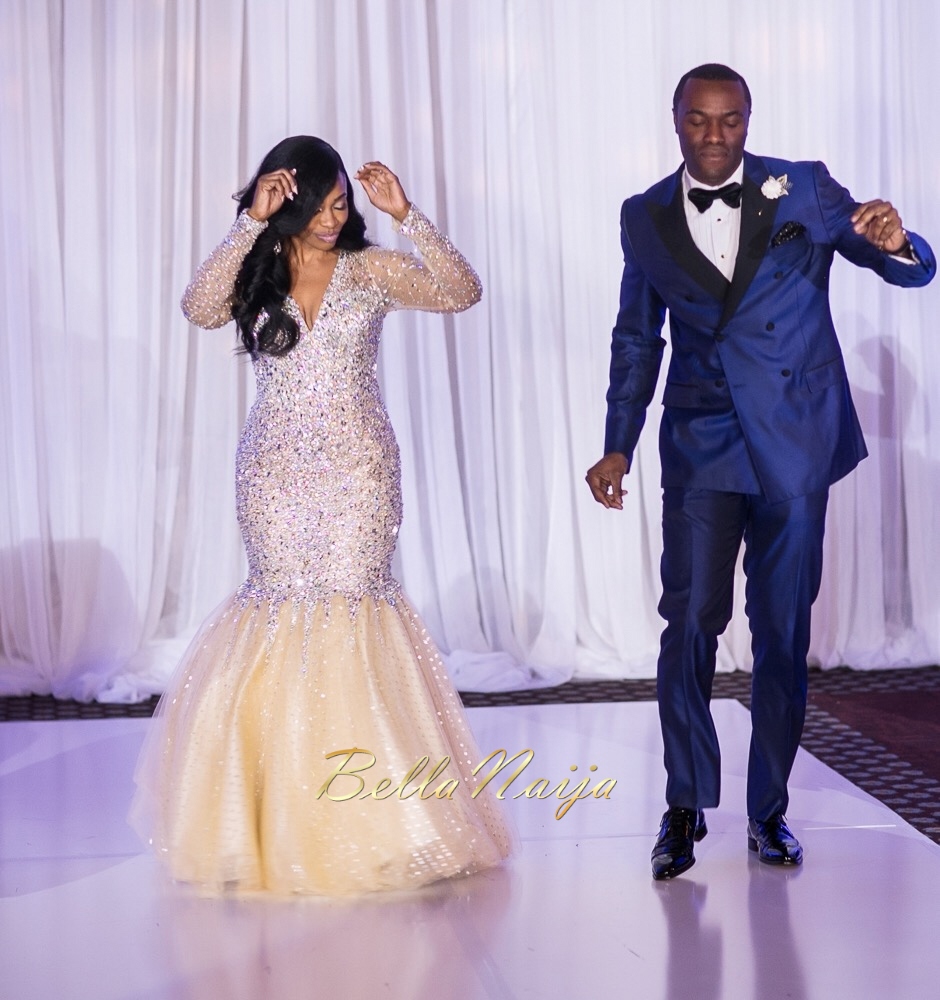 "I wanted a reception dress that was the same silhouette as my wedding dress but provided a different type of WOW factor. I searched high and low for this dress (even traveling to different states) until oddly enough I stumbled across a pageant dress store in a neighboring town.
They had a catalogue of beautiful Alyce Paris Claudine gowns and I selected the dress that had the most crystal bead work on it. Unfortunately for me there were no longer any sizes left of this dress in the U.S. so I had to wait 5 months for it to be made and shipped to me. I was extremely nervous during that time because I did not know if the dress would fit me well or resemble the picture in the catalog but all of my concerns immediately vanished once I tried on the gown…I knew the wait was truly worth it."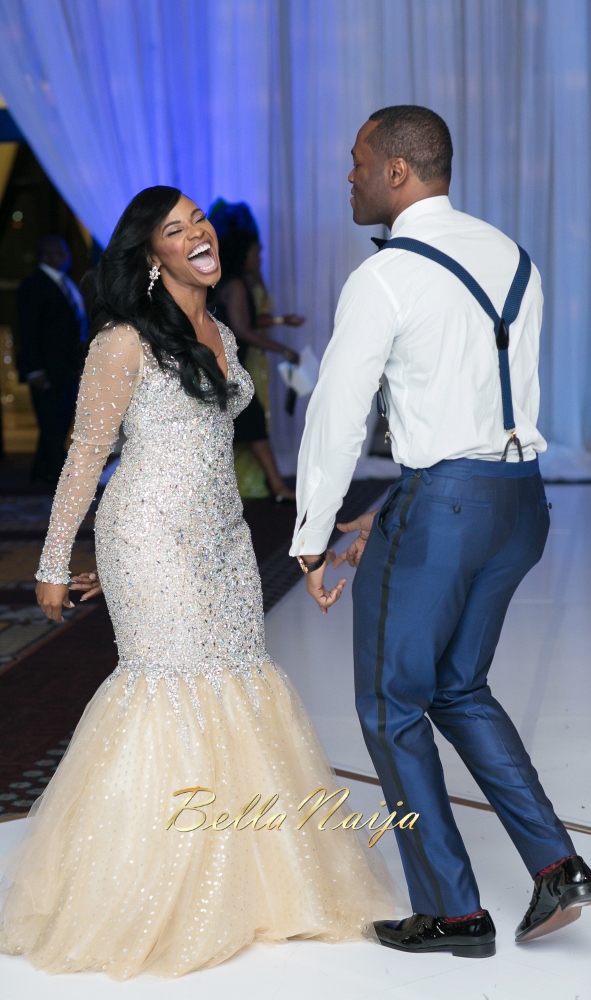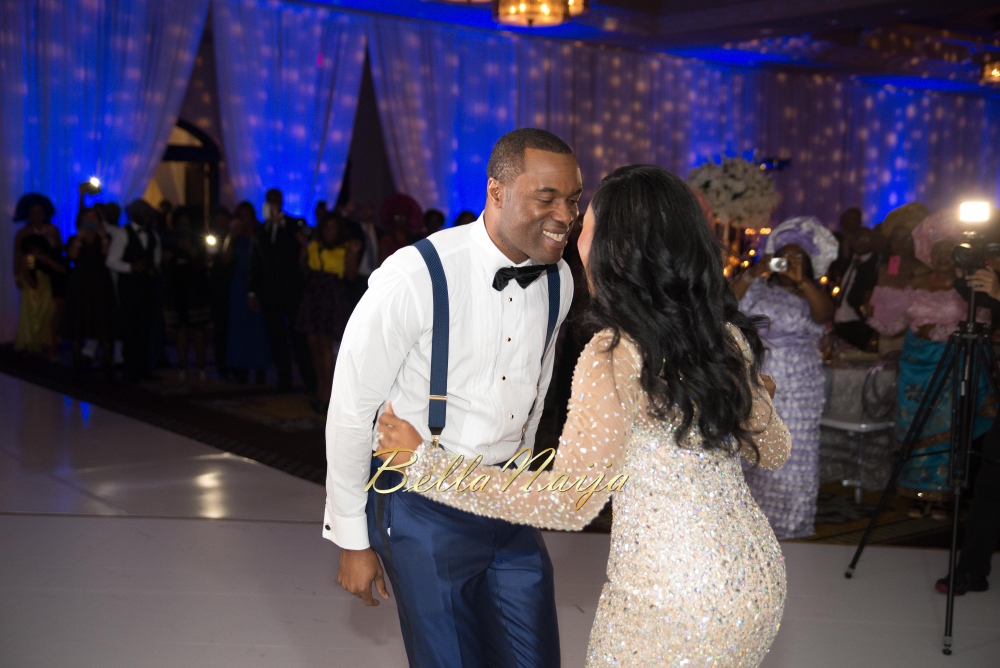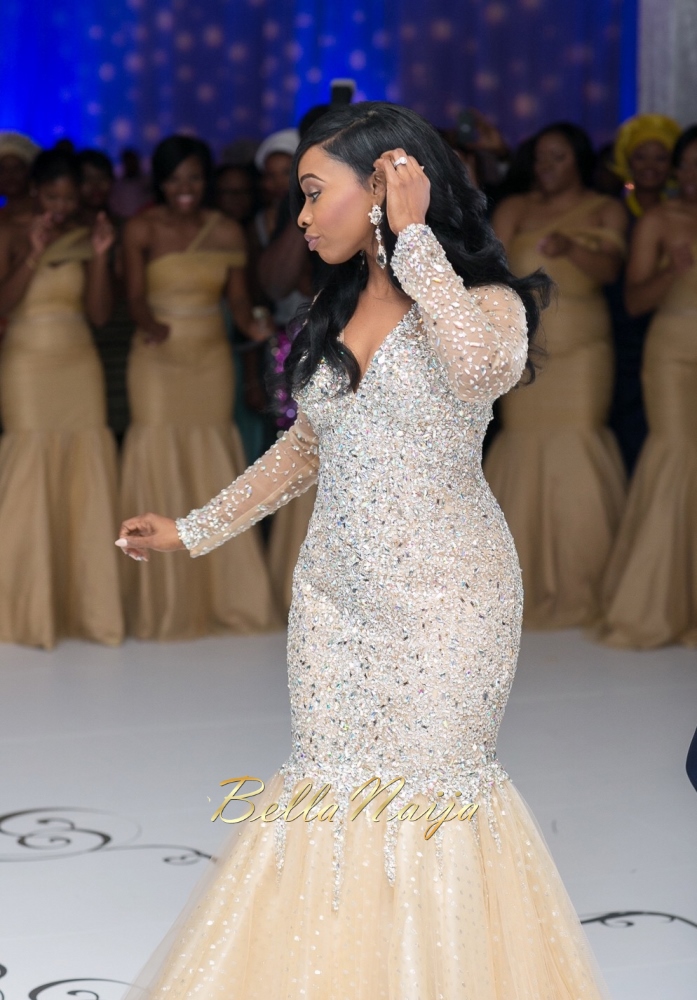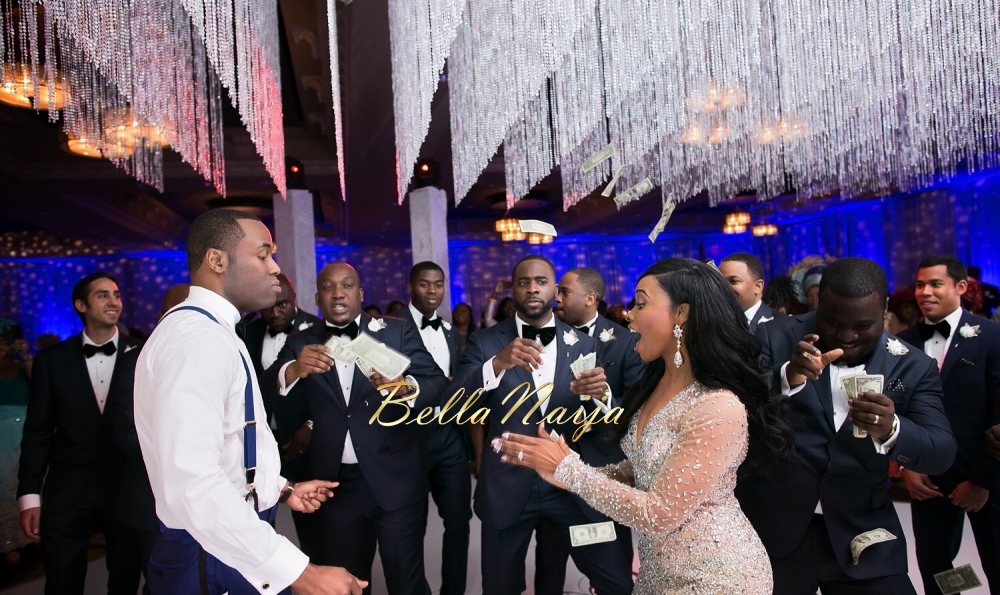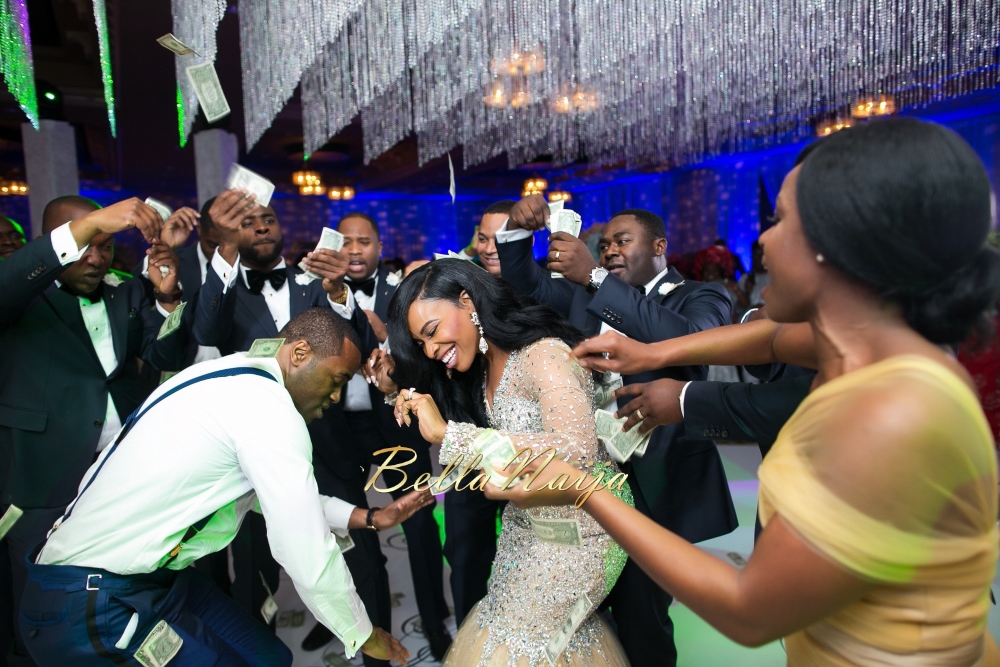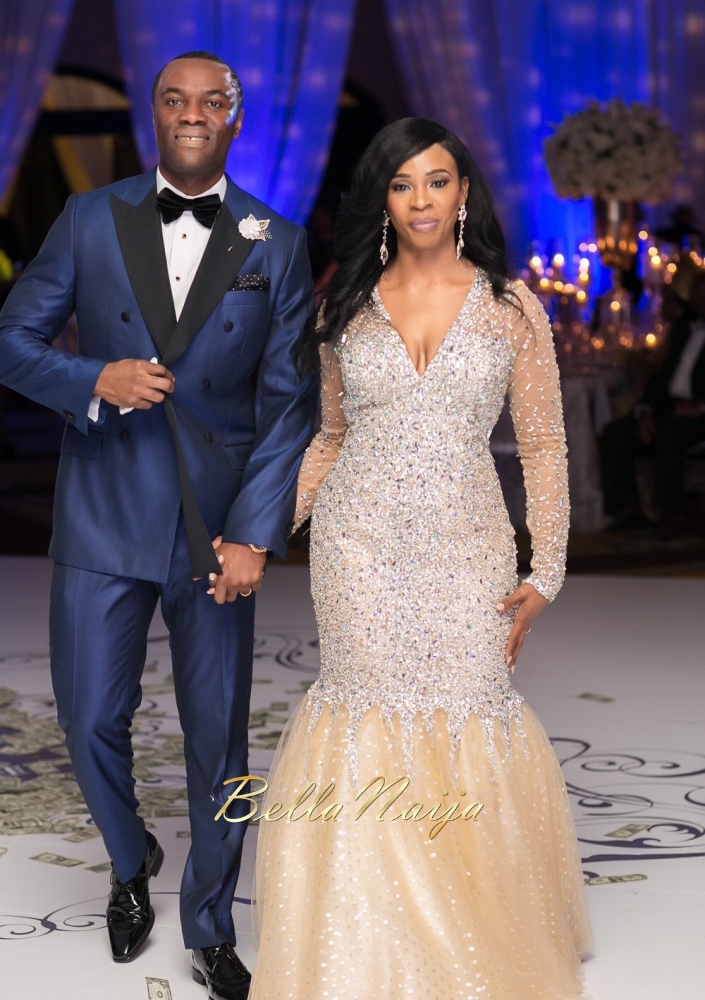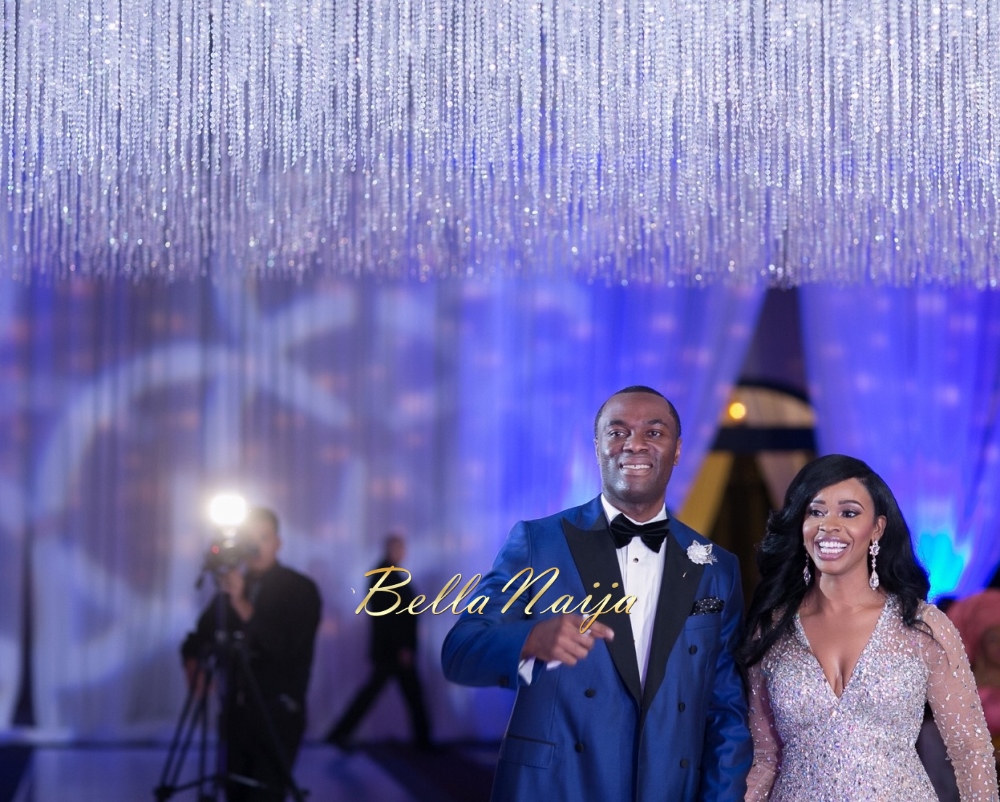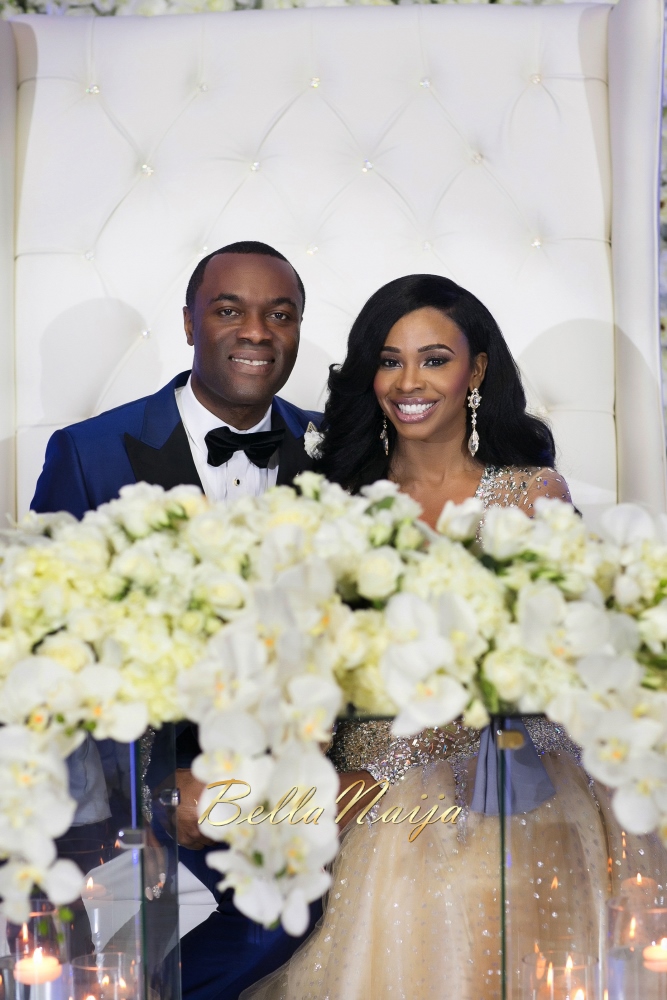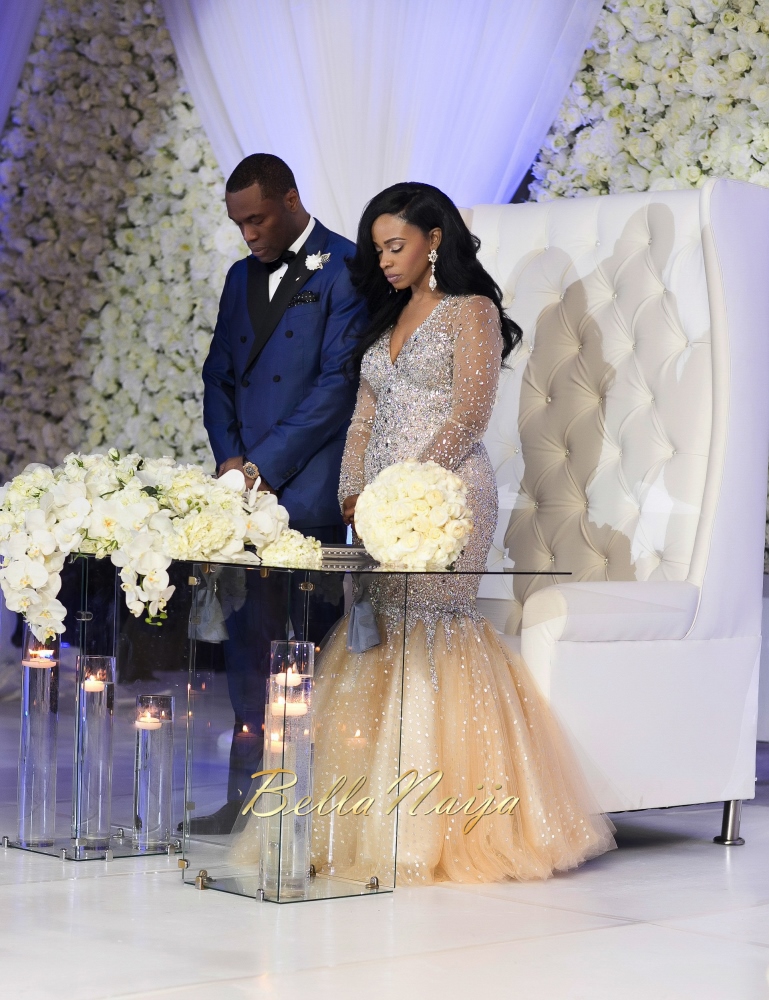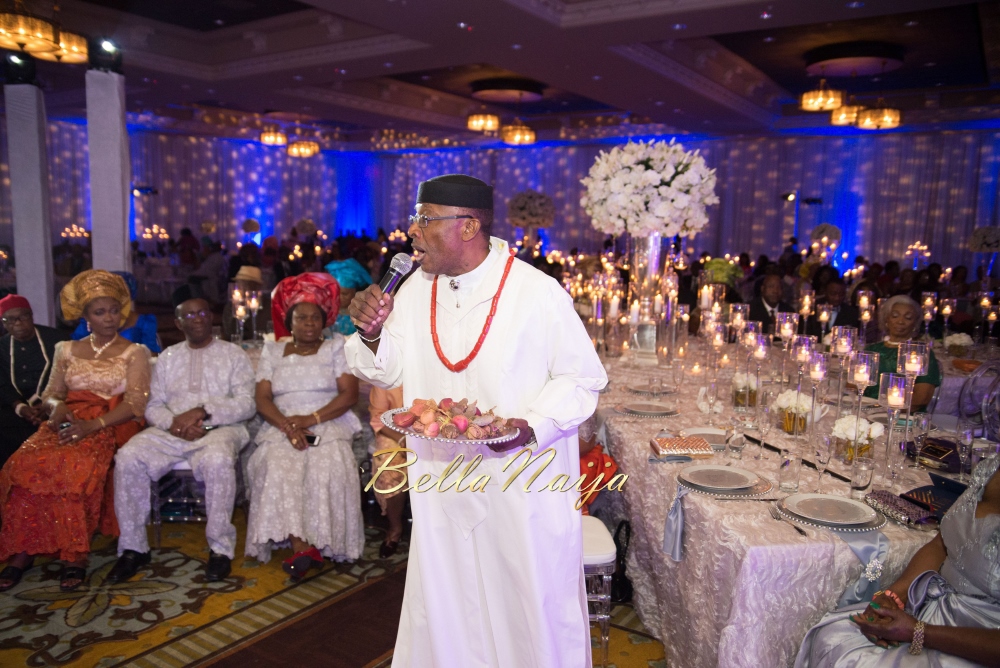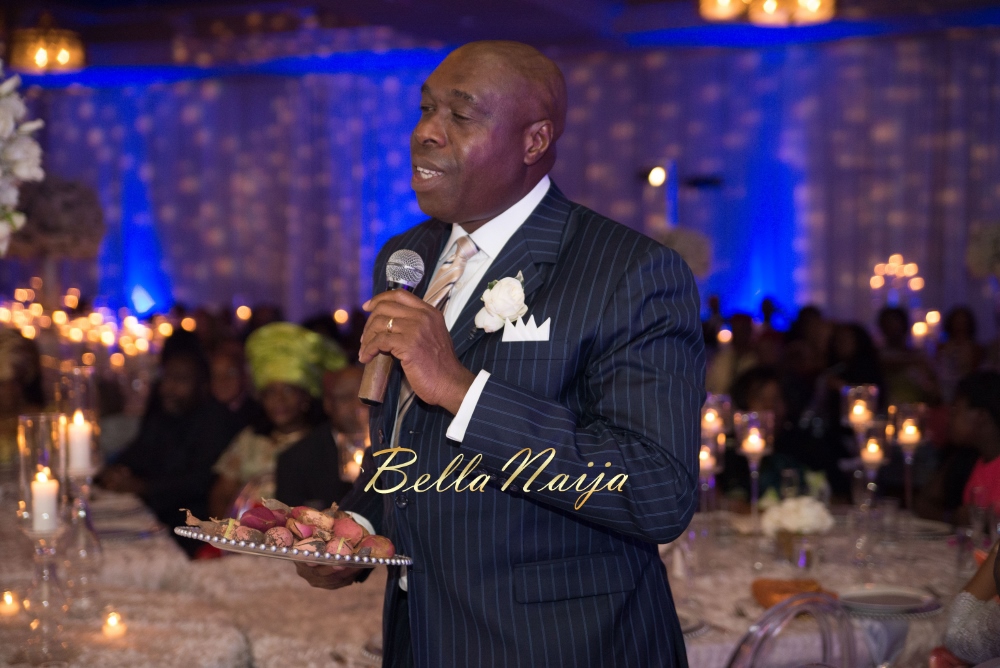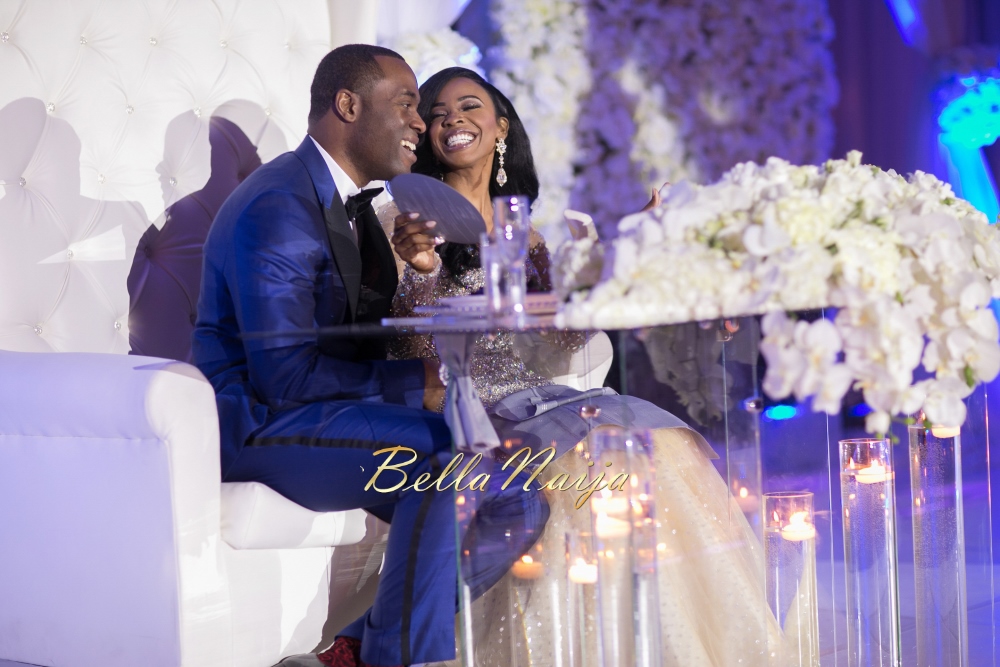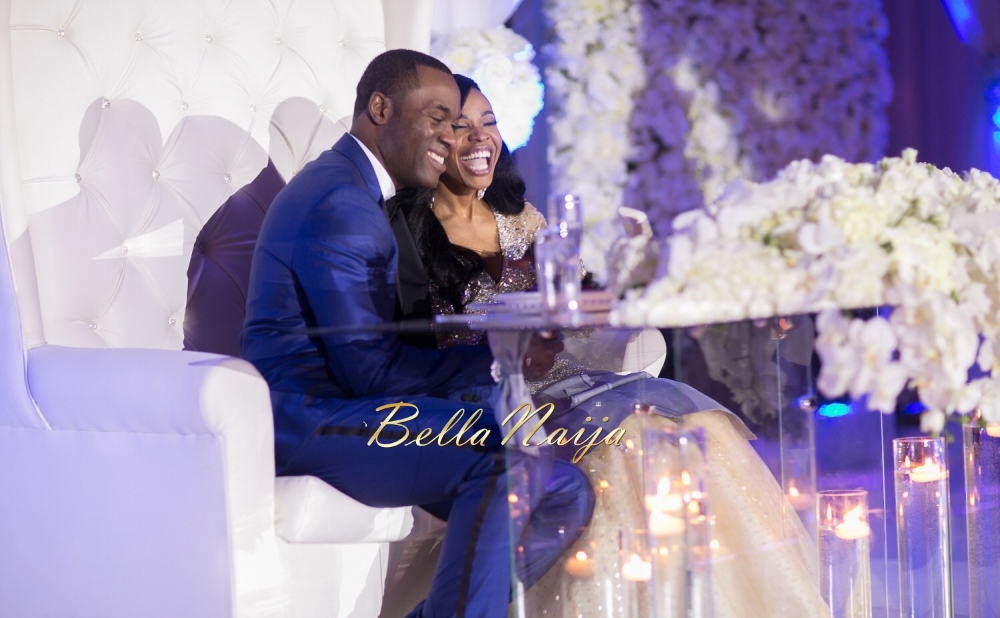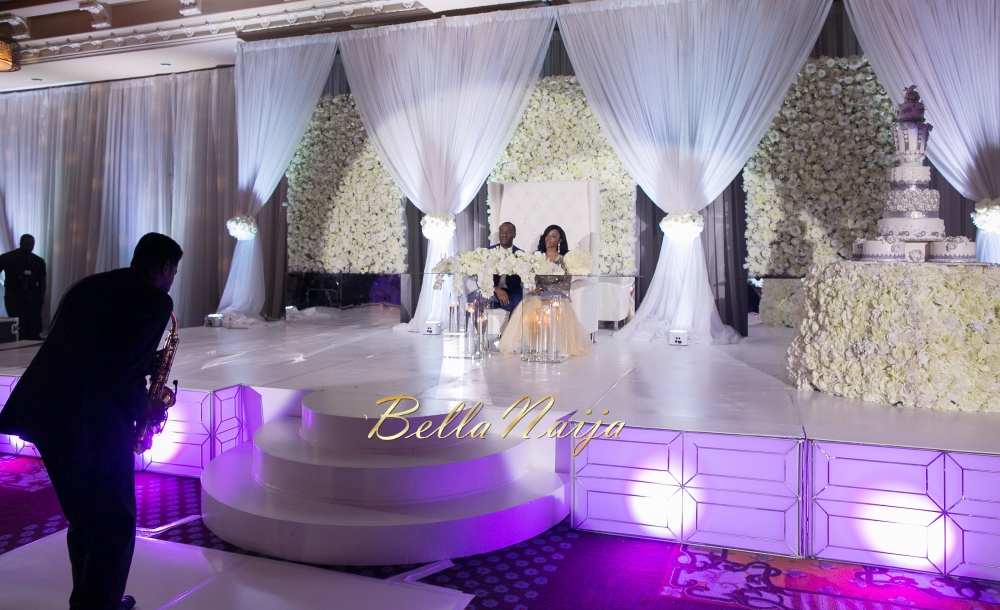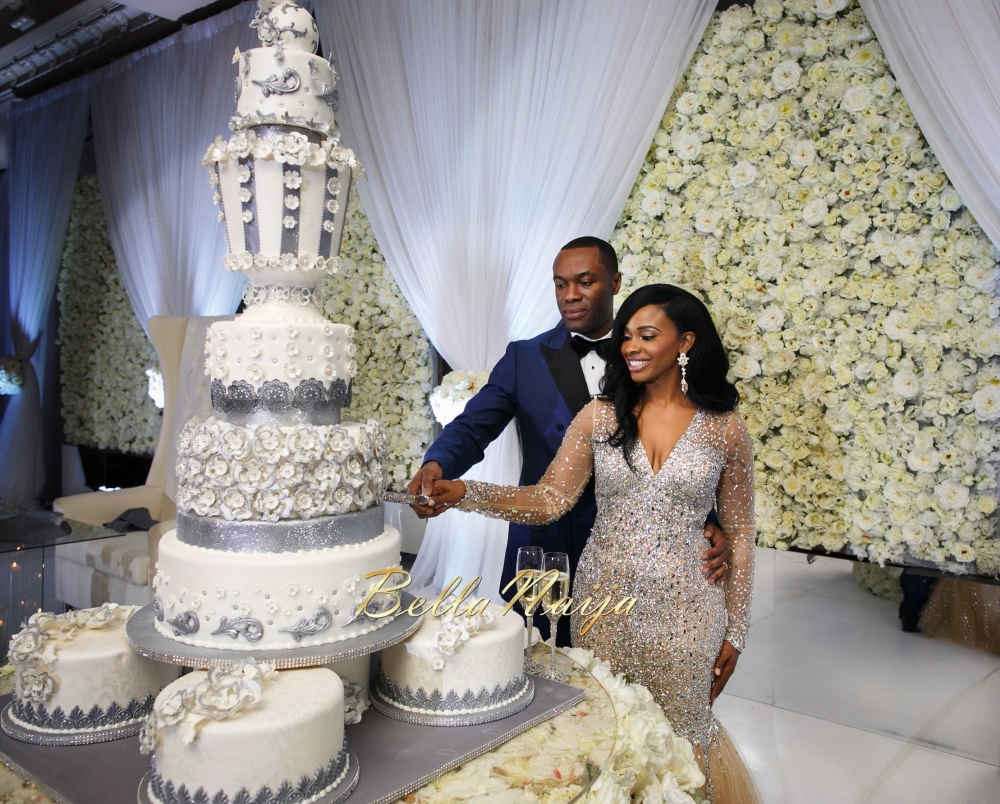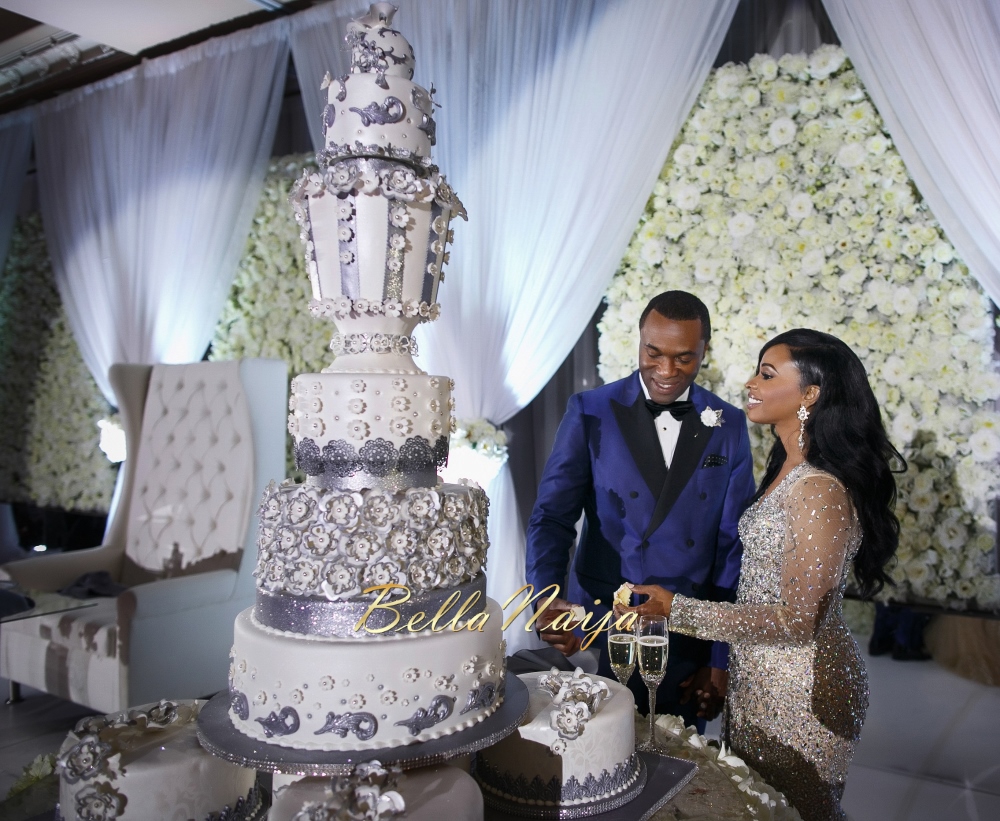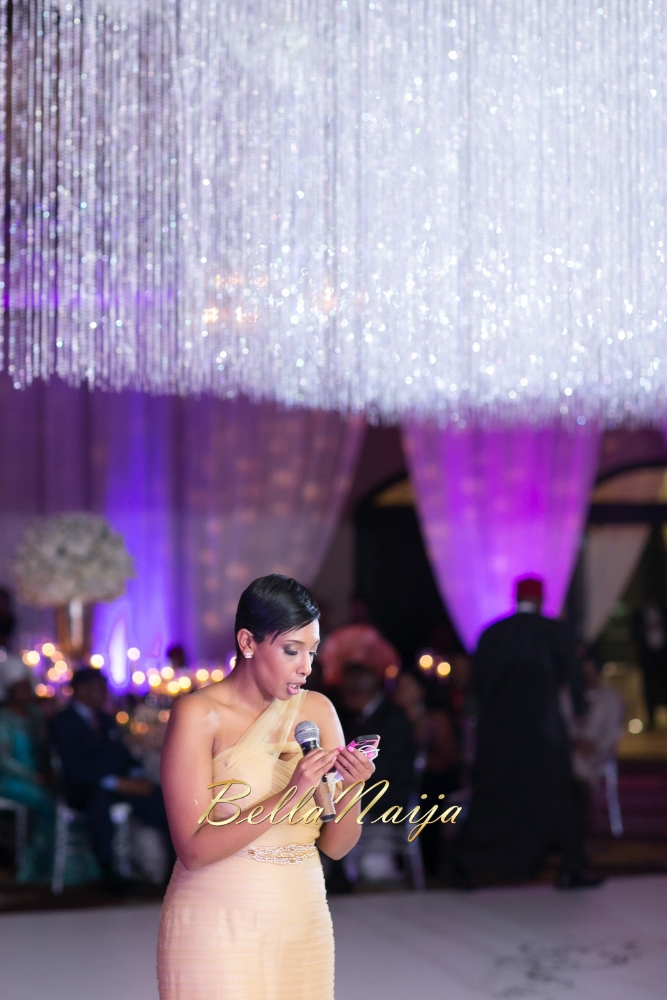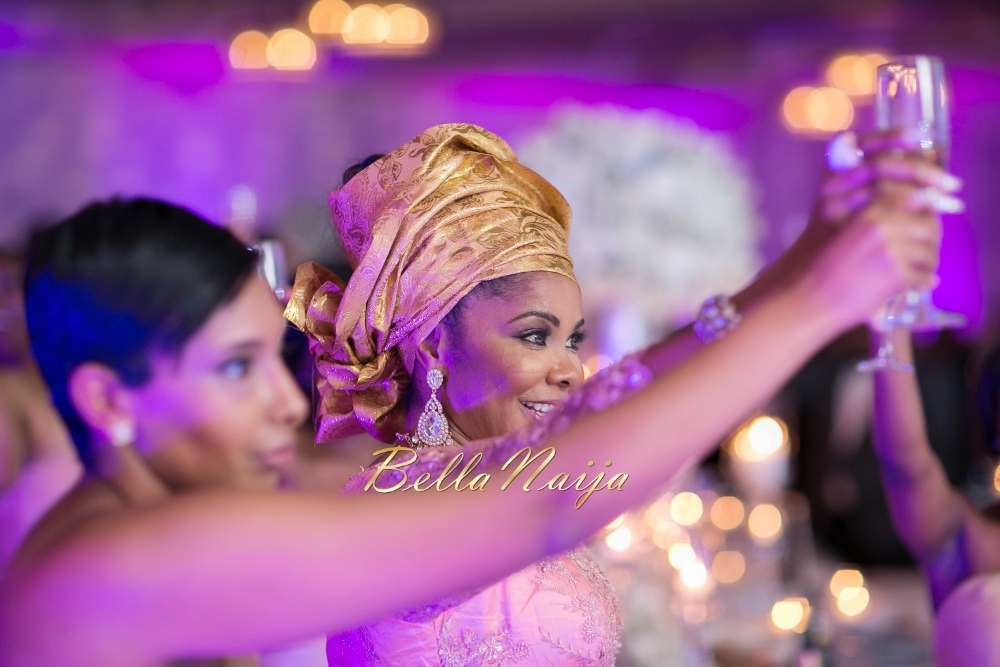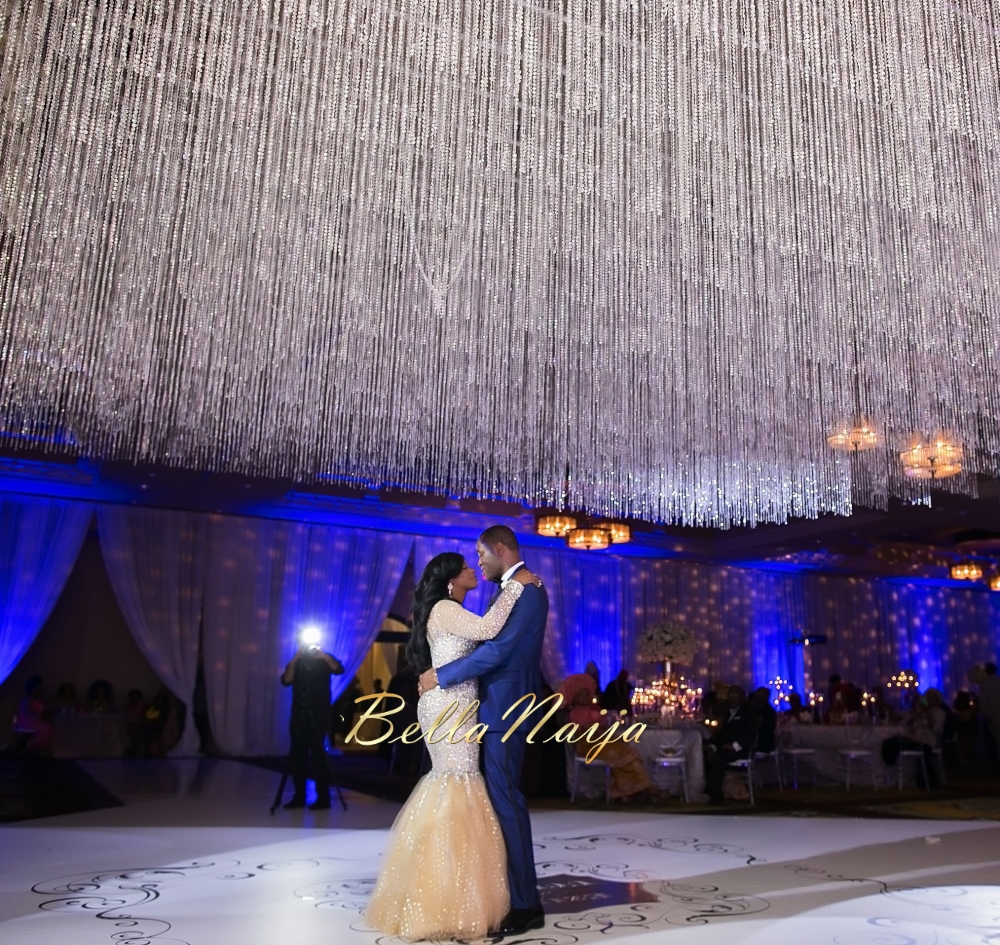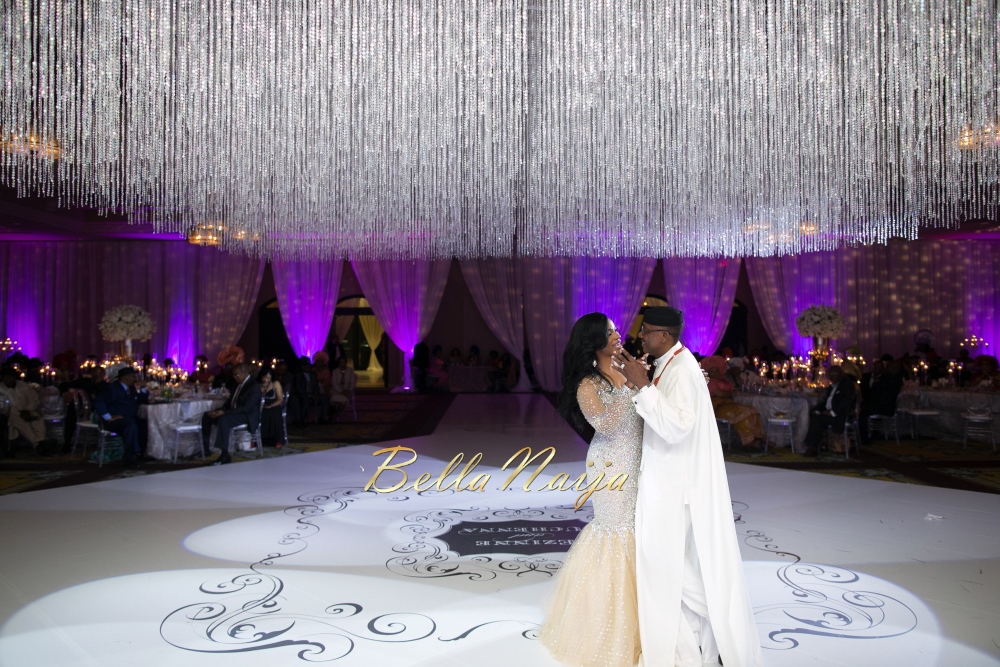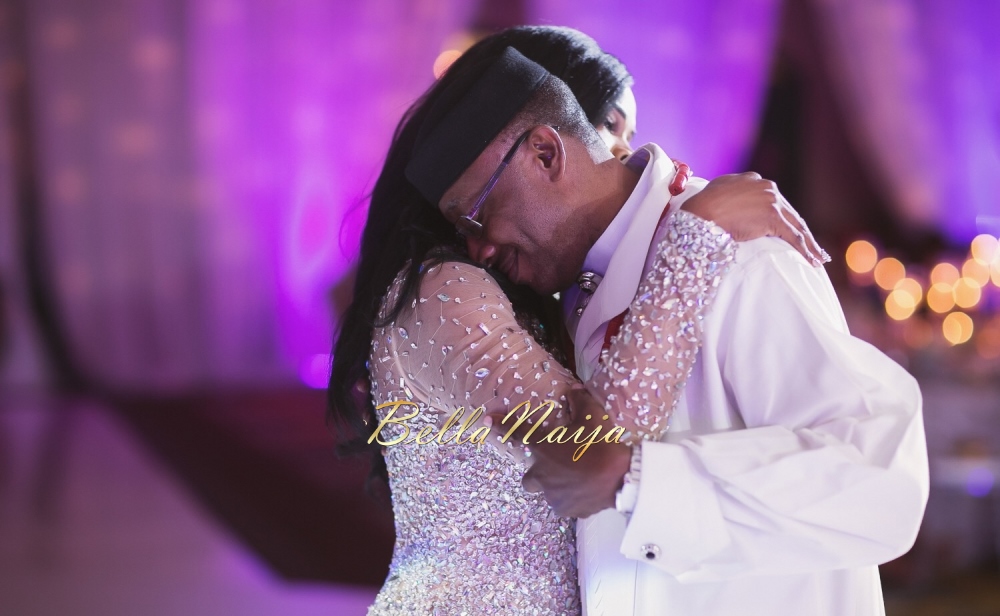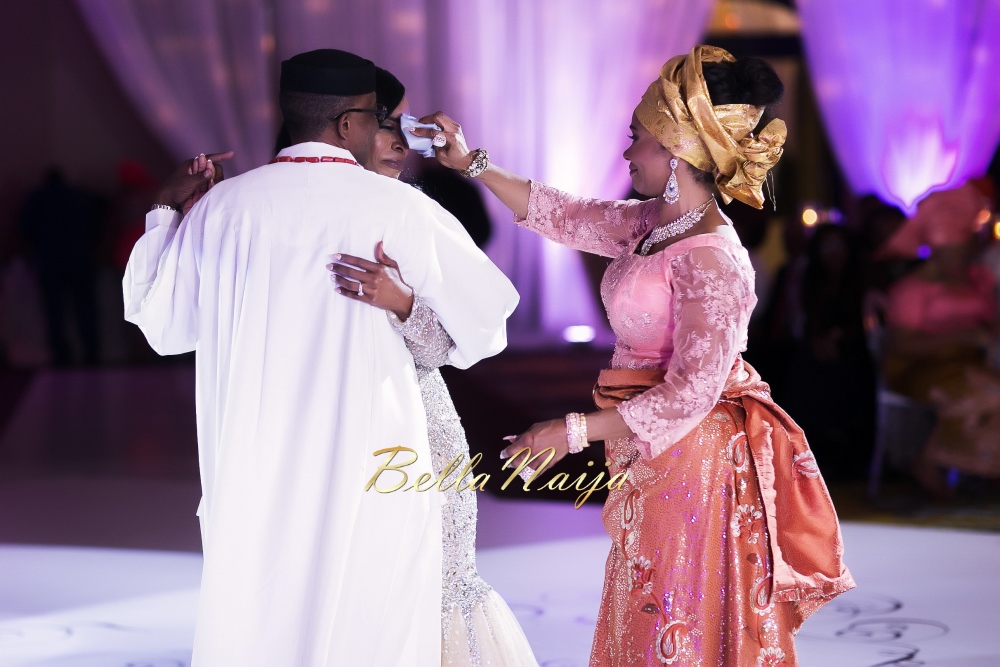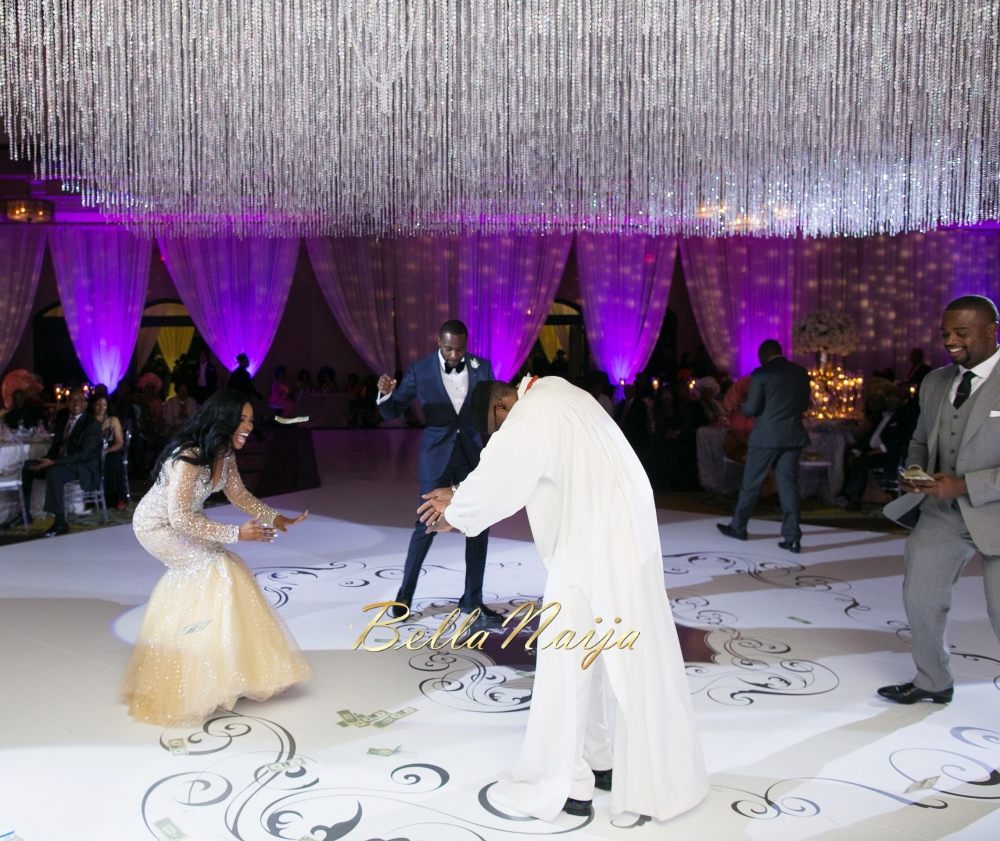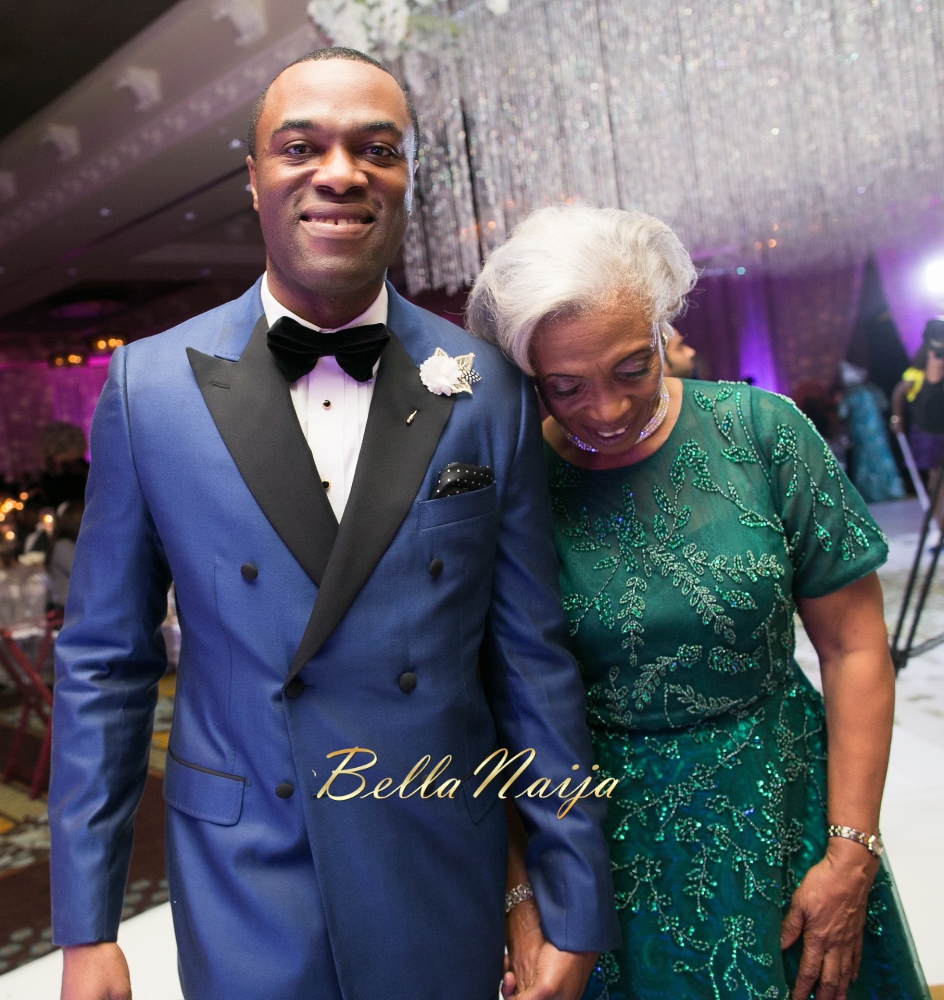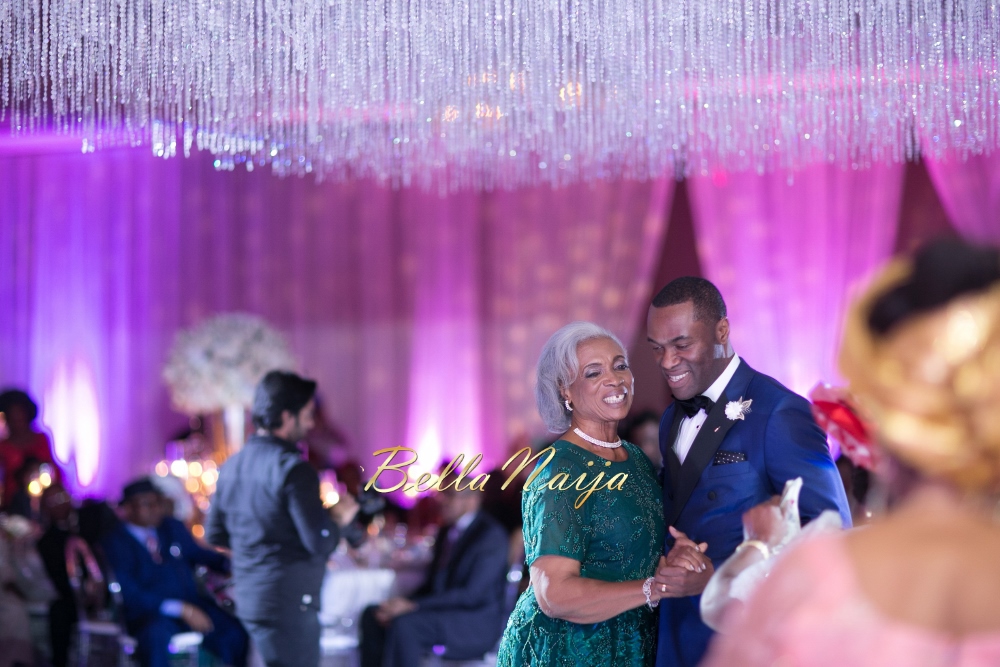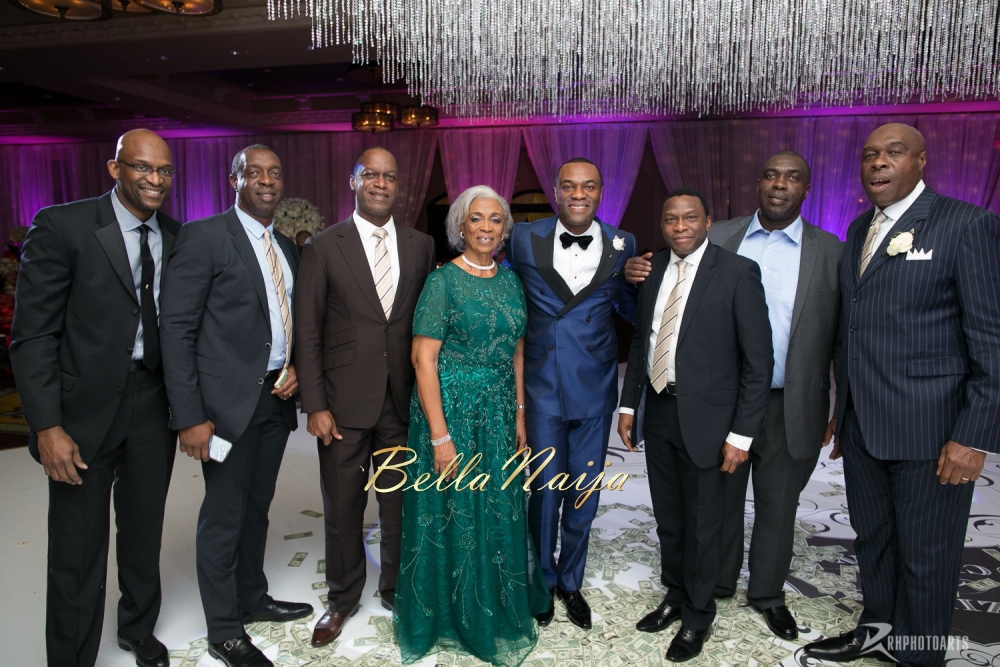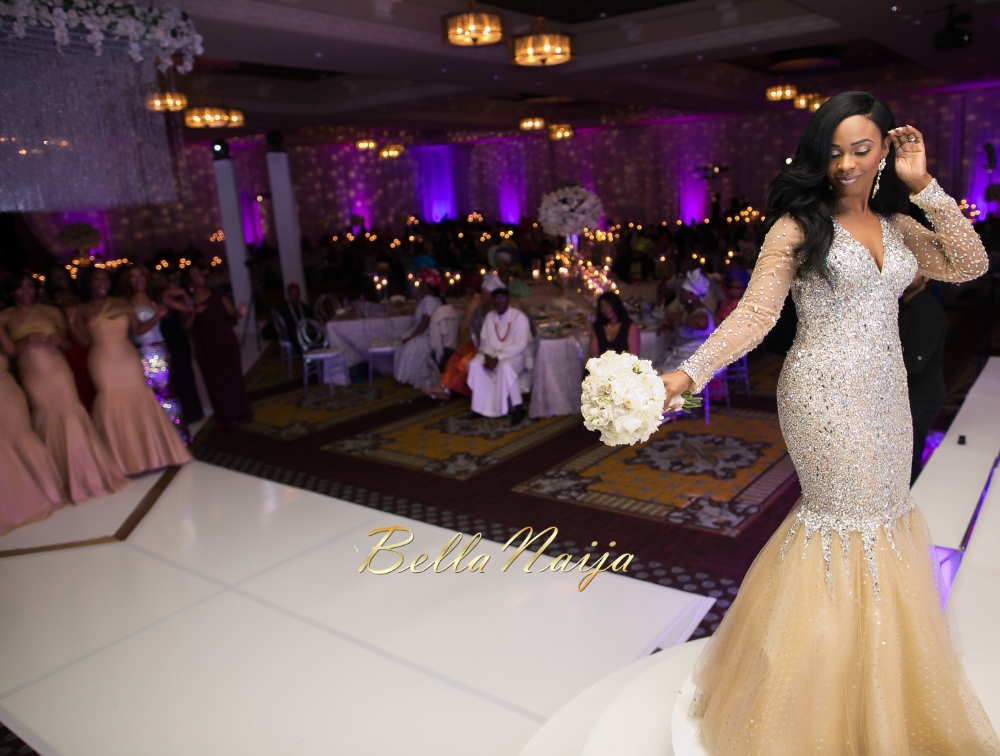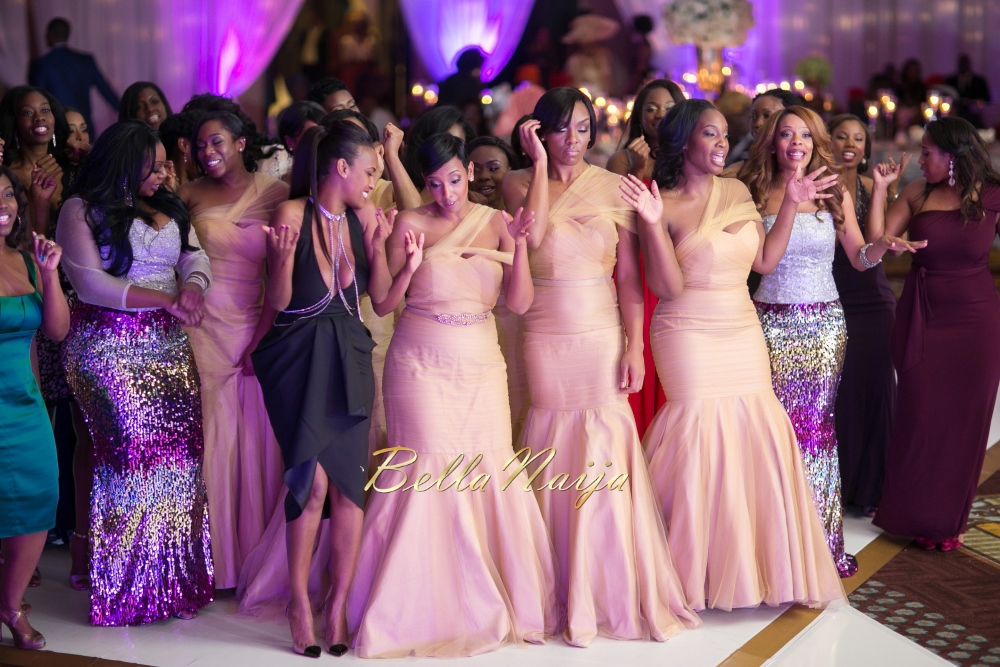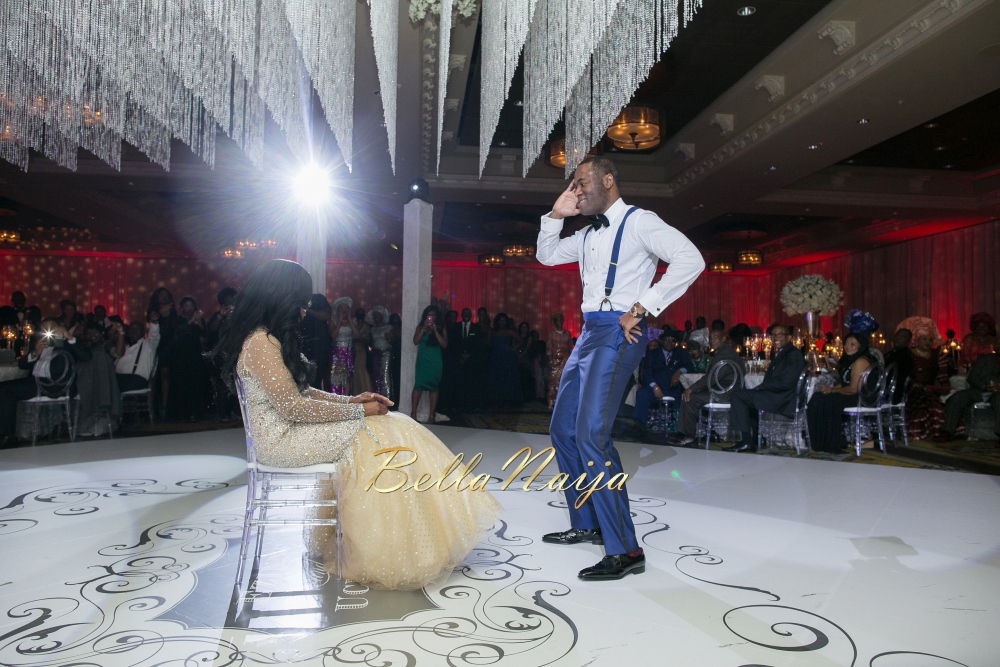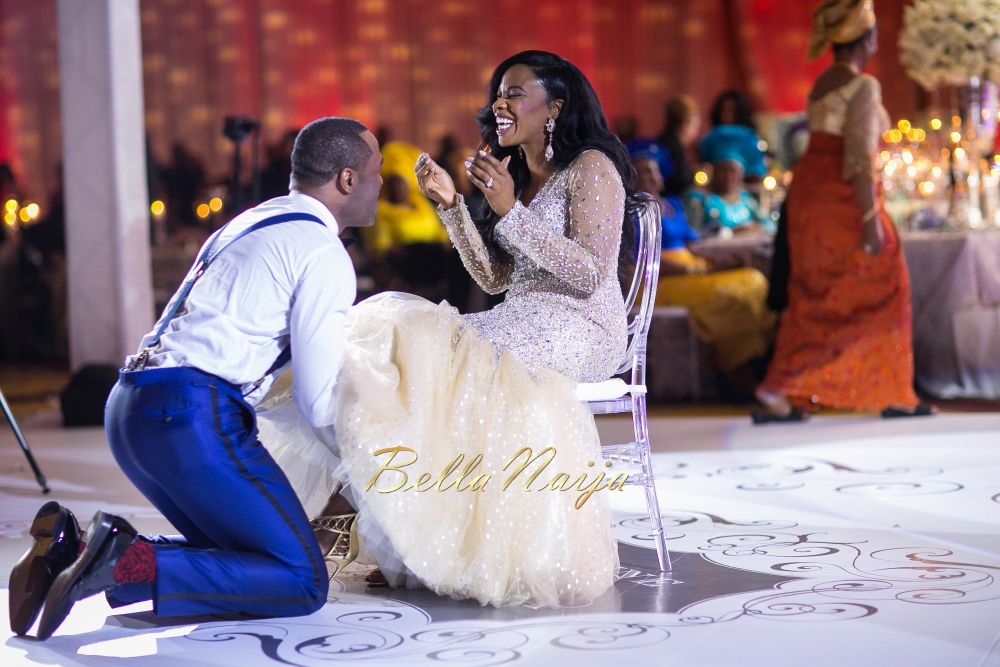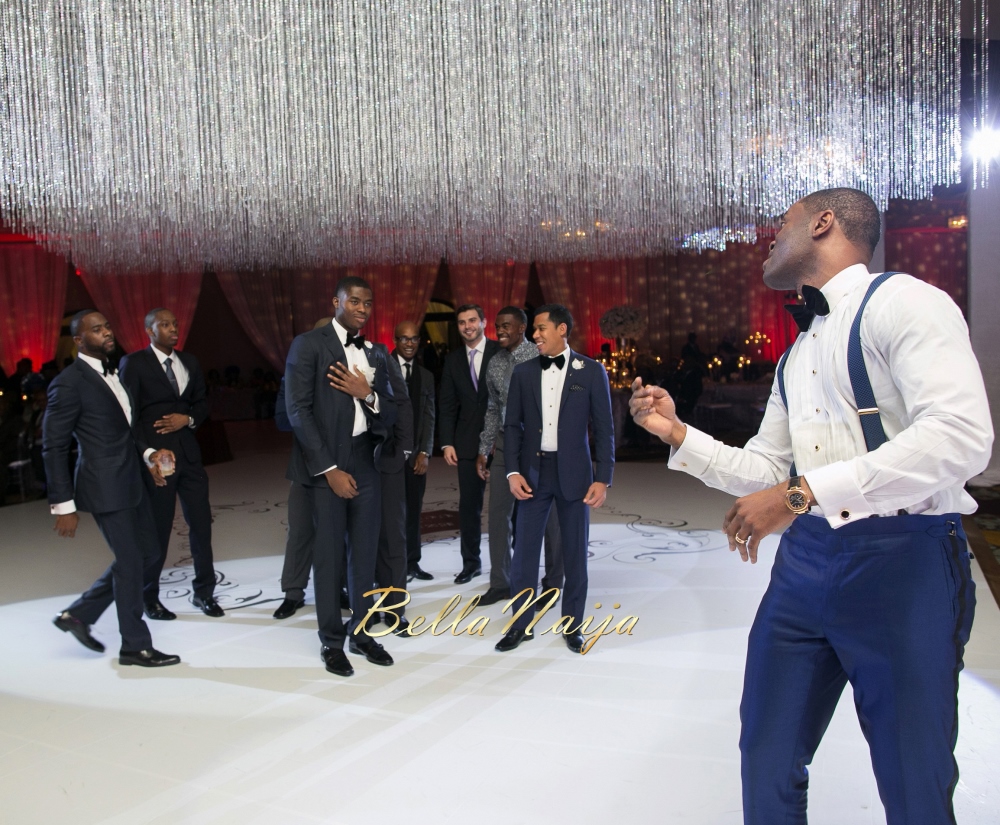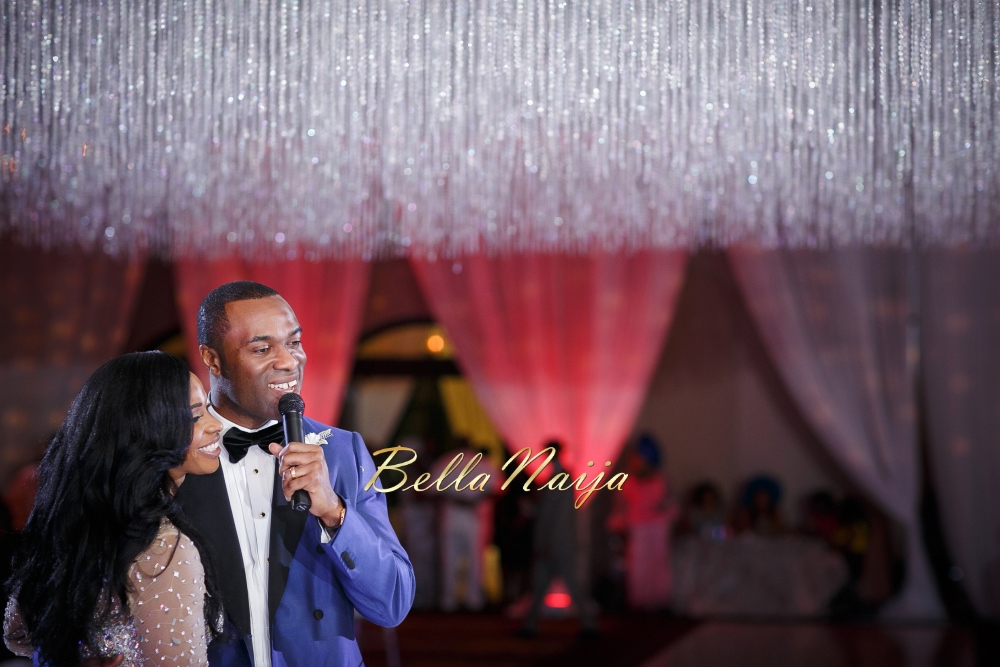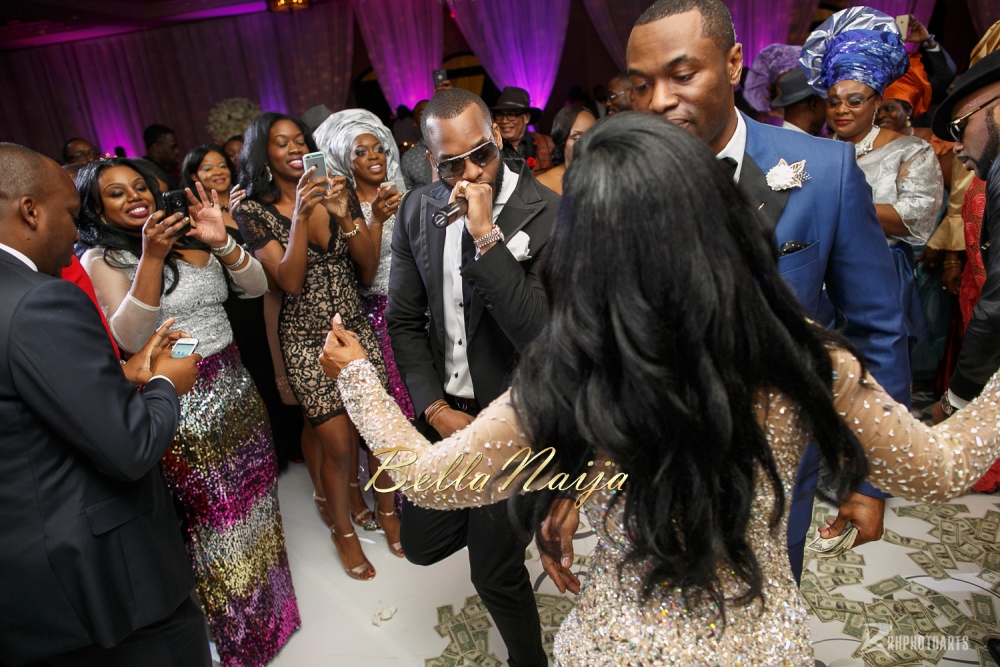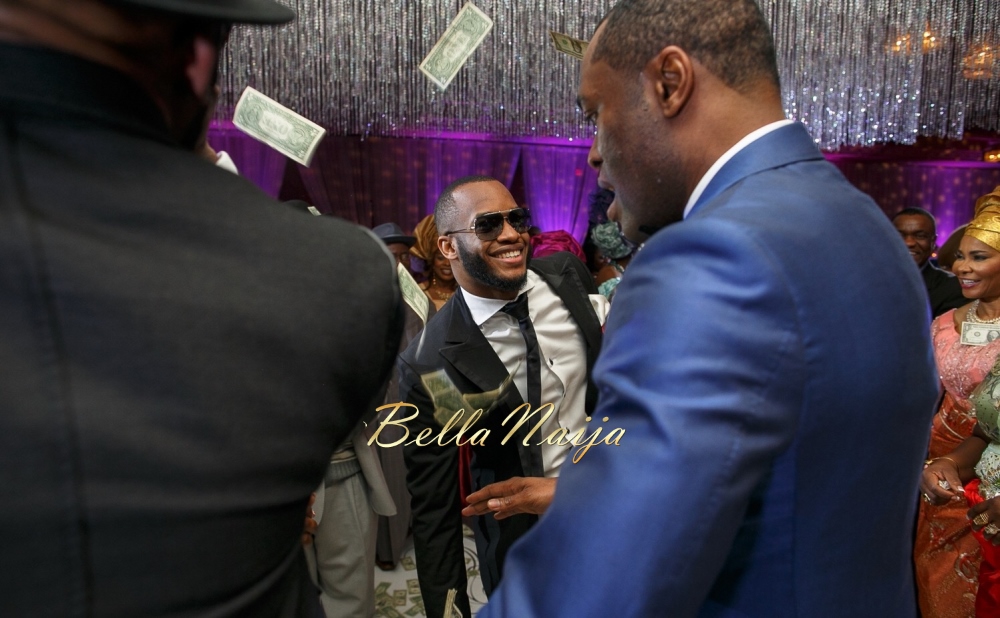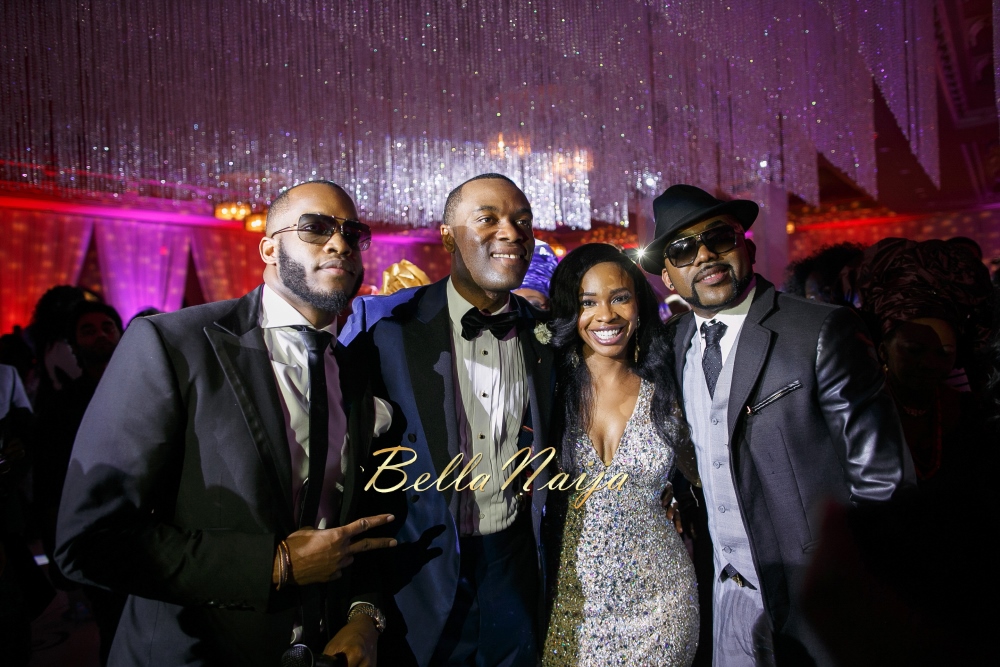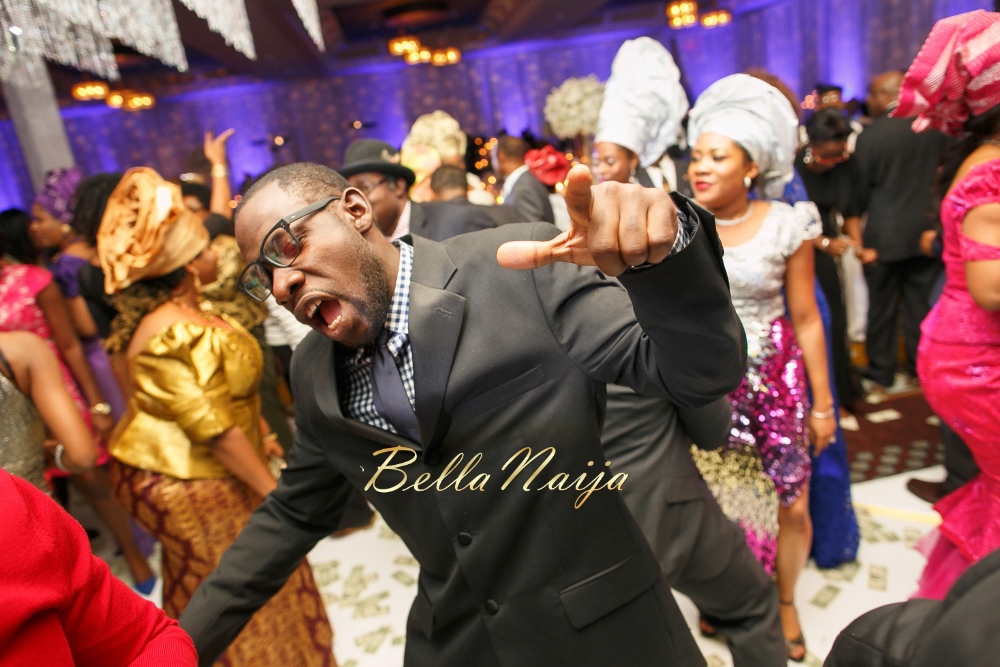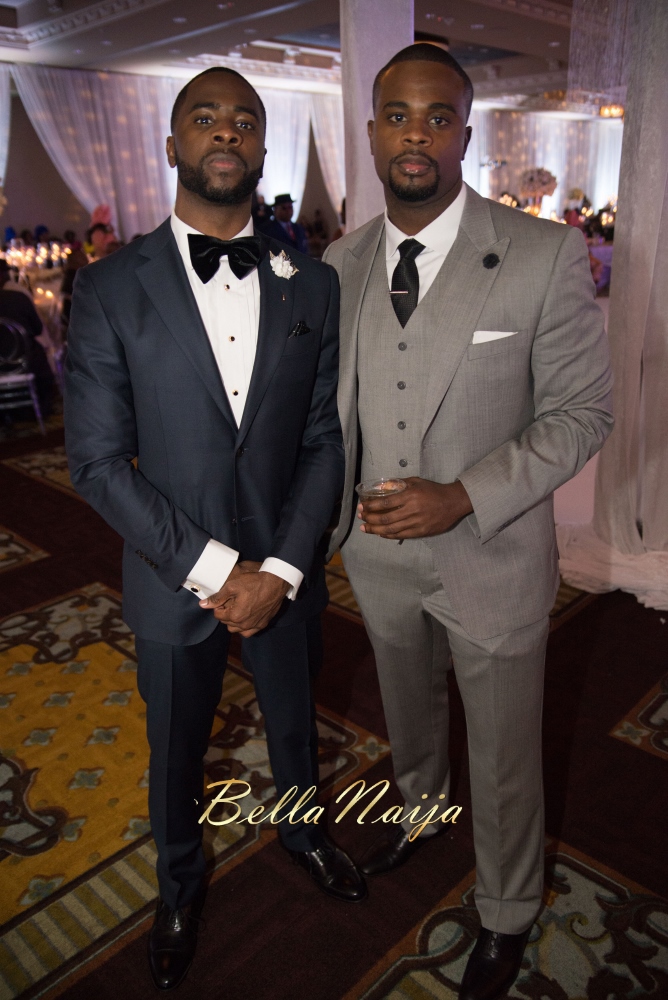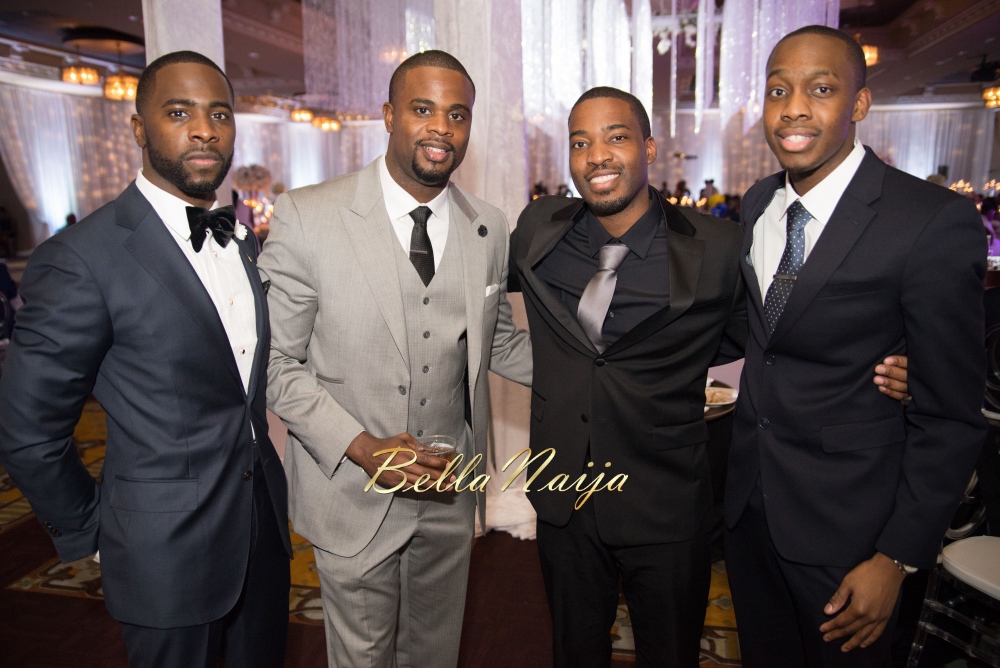 "I wanted to ensure my Nigerian culture was represented at our white wedding as well, so I made sure my third dress would be a traditional one. I worked with the talented Nneka of Brides by Nona to create the design of the dress. I knew I wanted this dress to be cohesive with my other dresses (a long sleeve mermaid gown) but I wanted it to be in a rich color.
After selecting a mostly purple material for my aso ebi girls to wear, I decided my husband and I should wear the same purple hue. I am so glad I made that decision because our outfits stood out from the reception decor."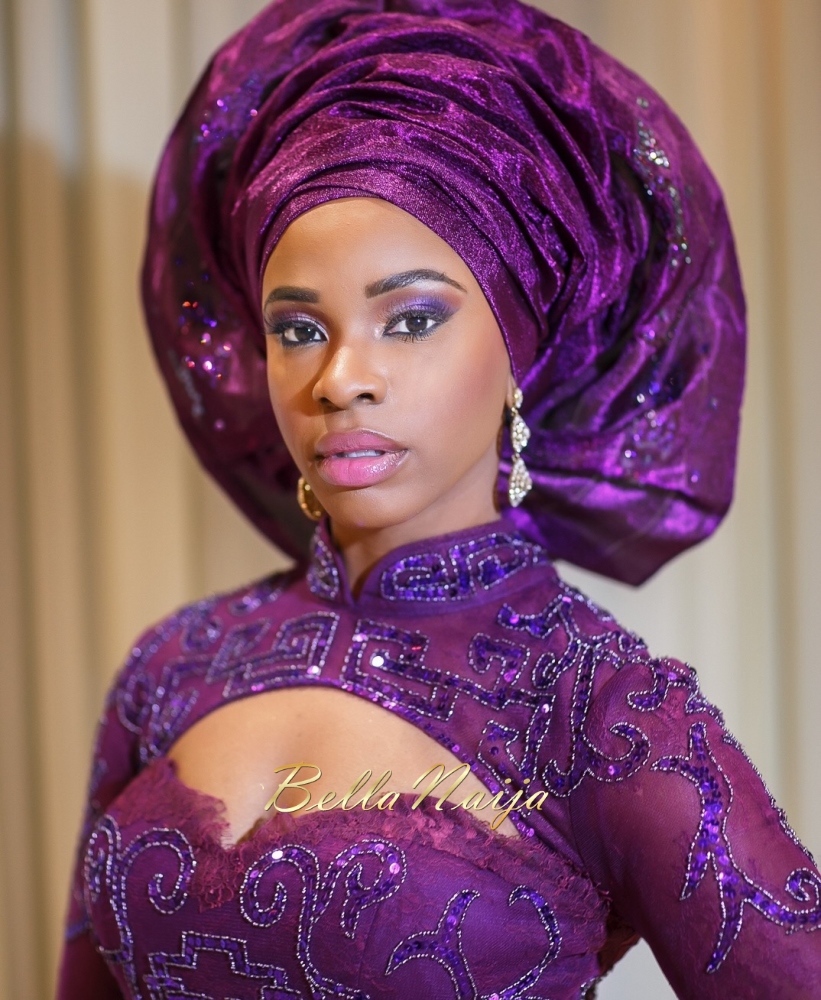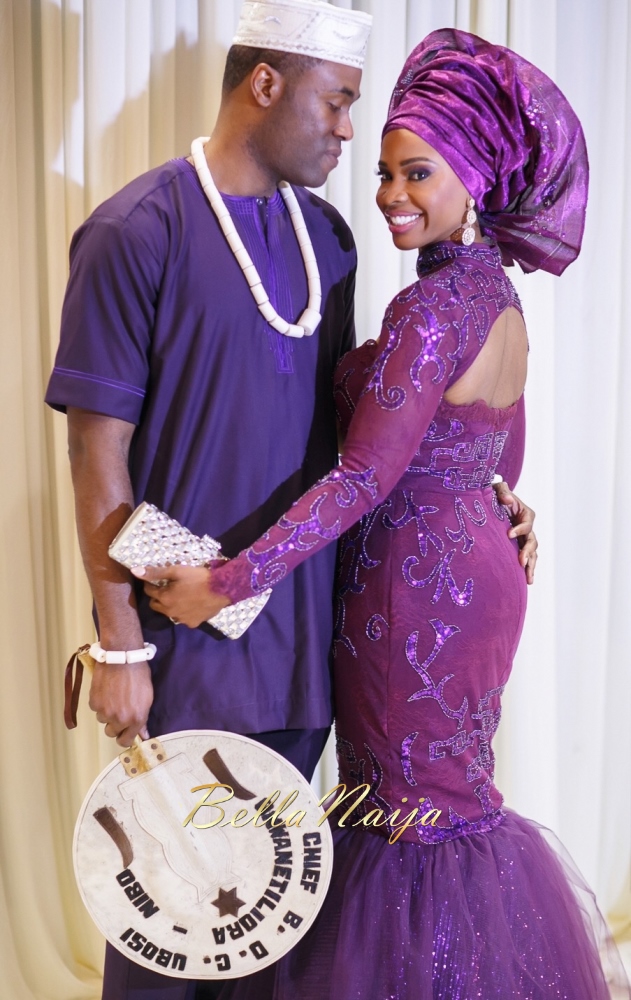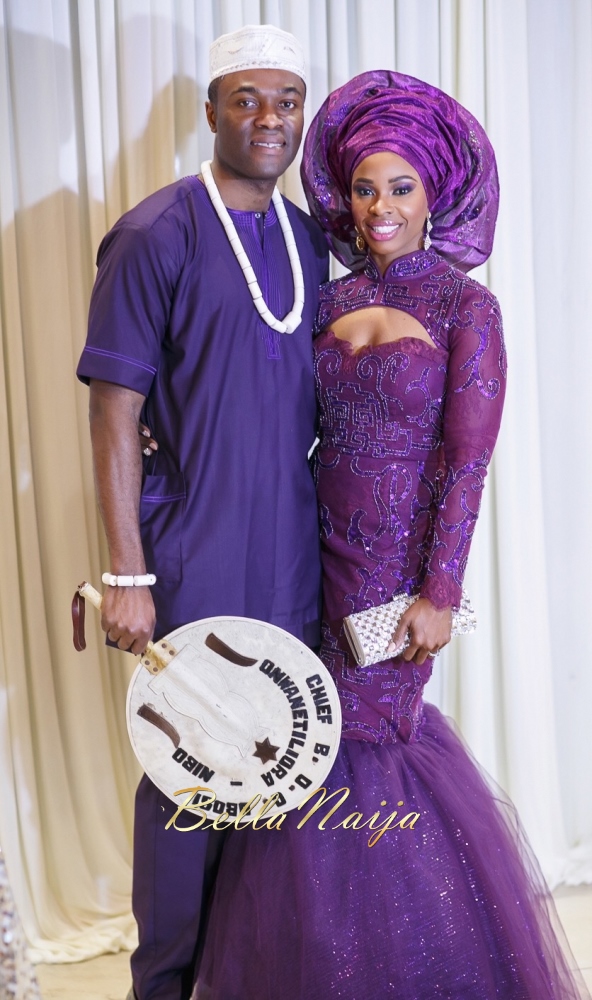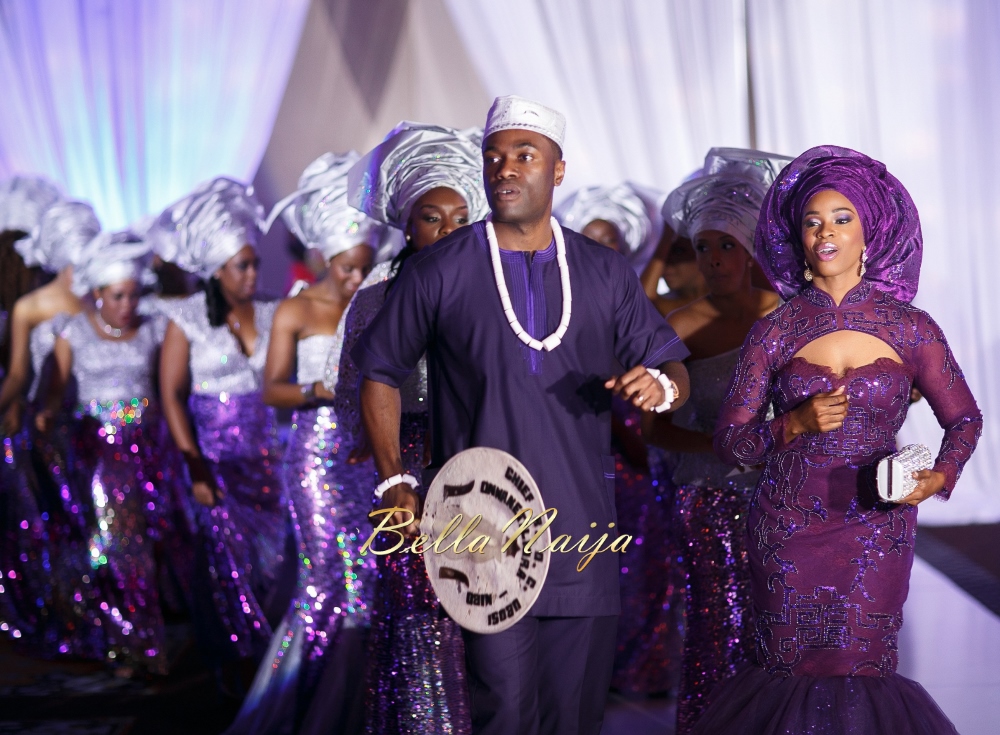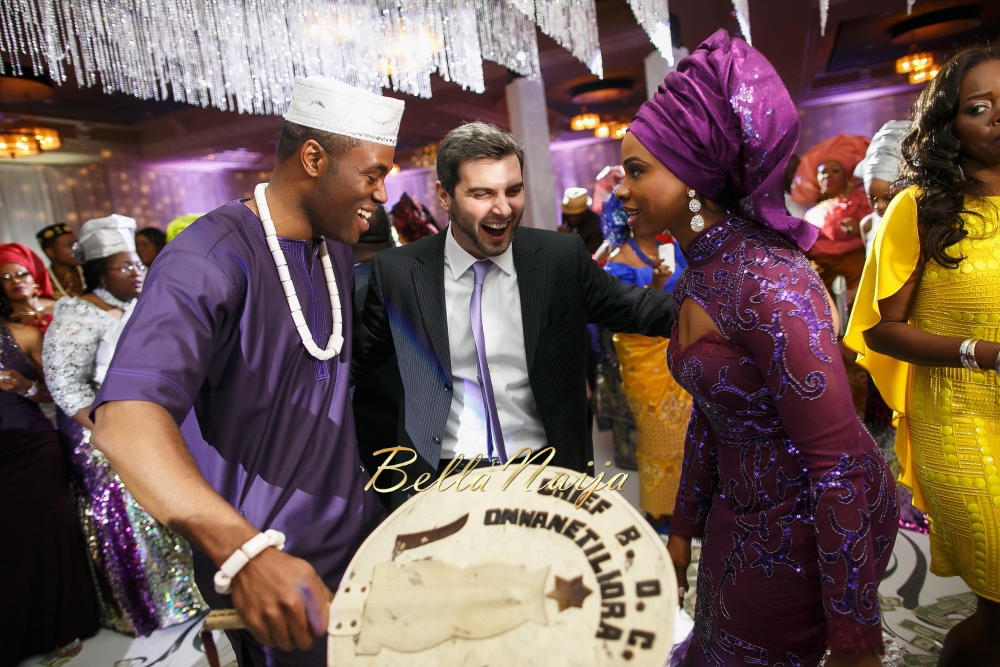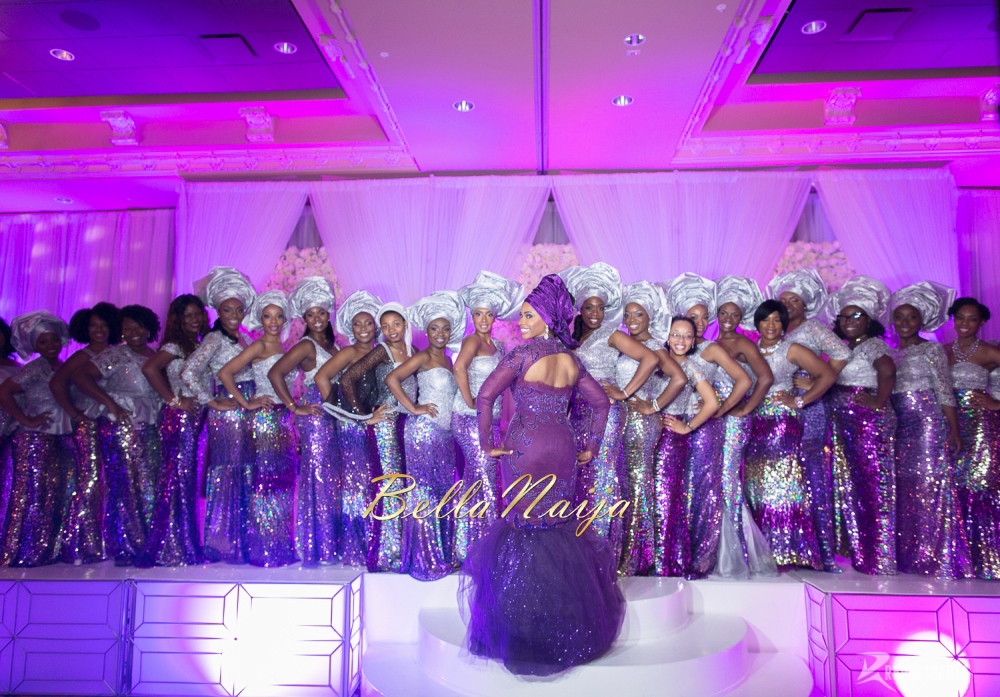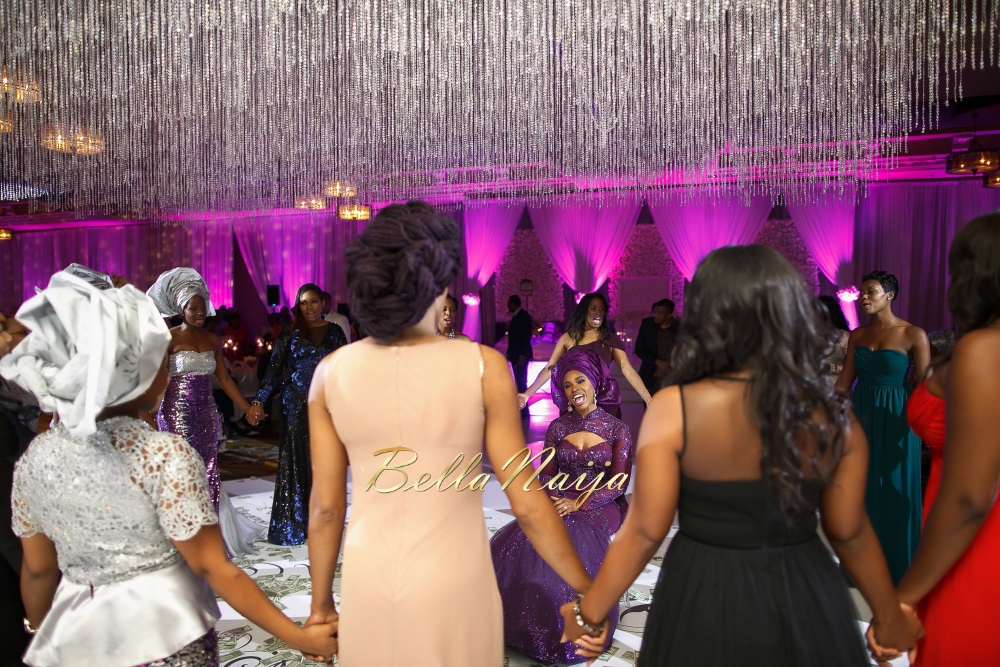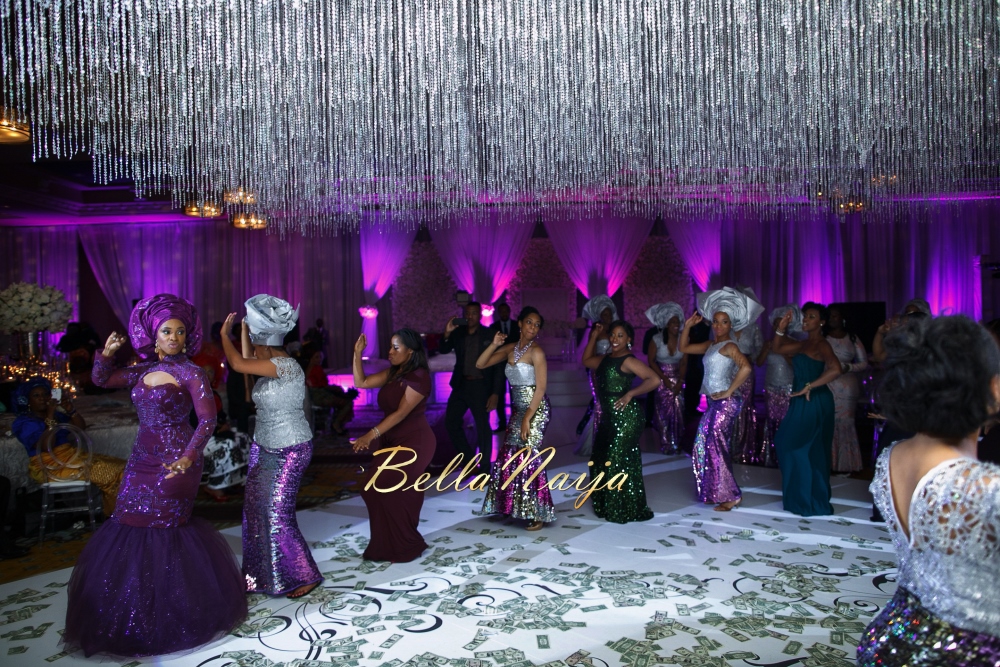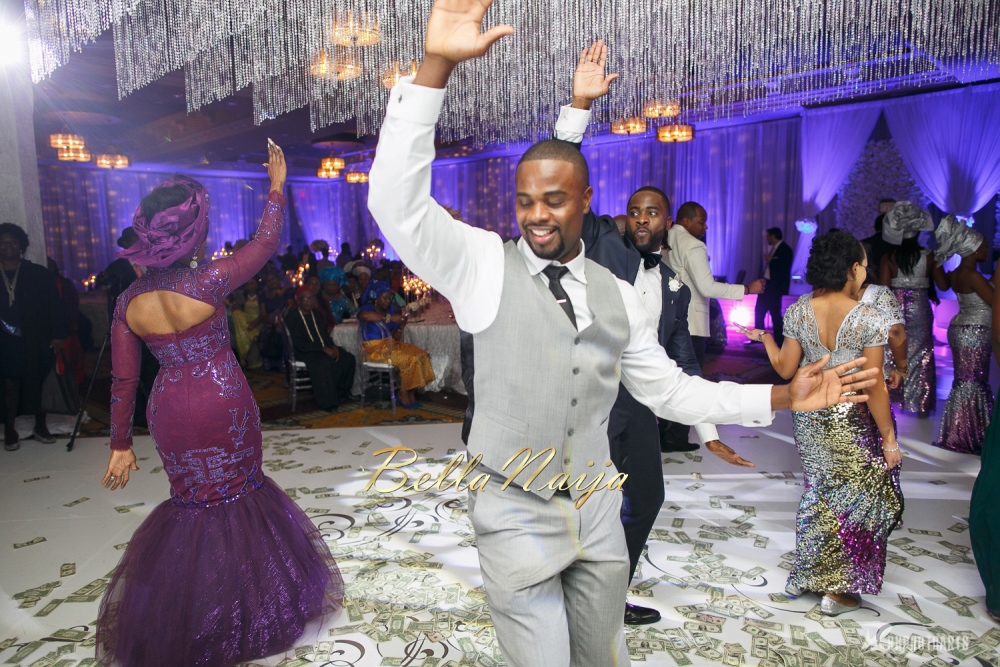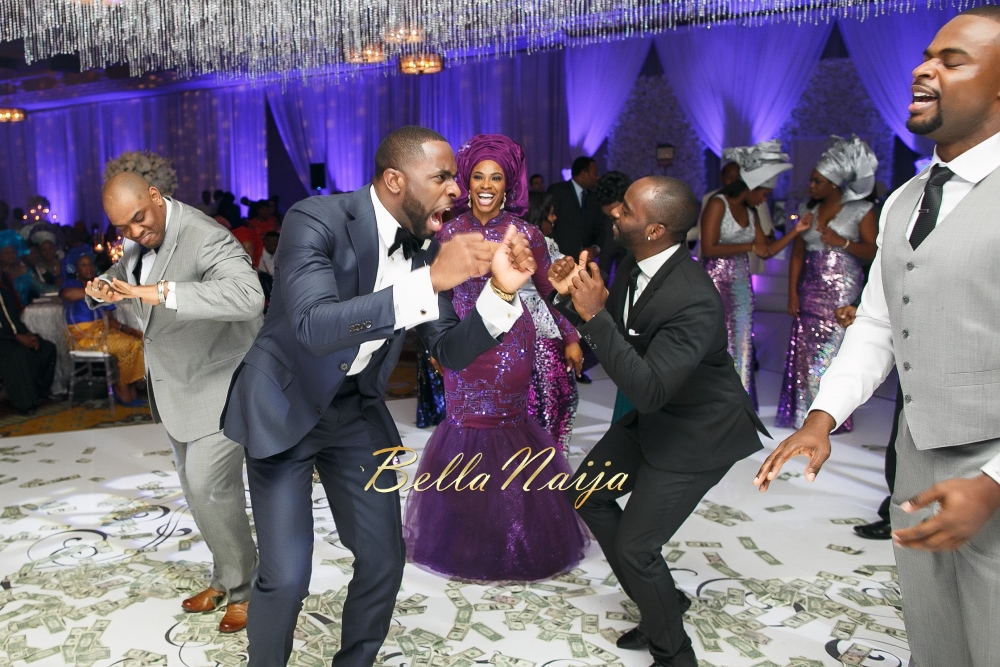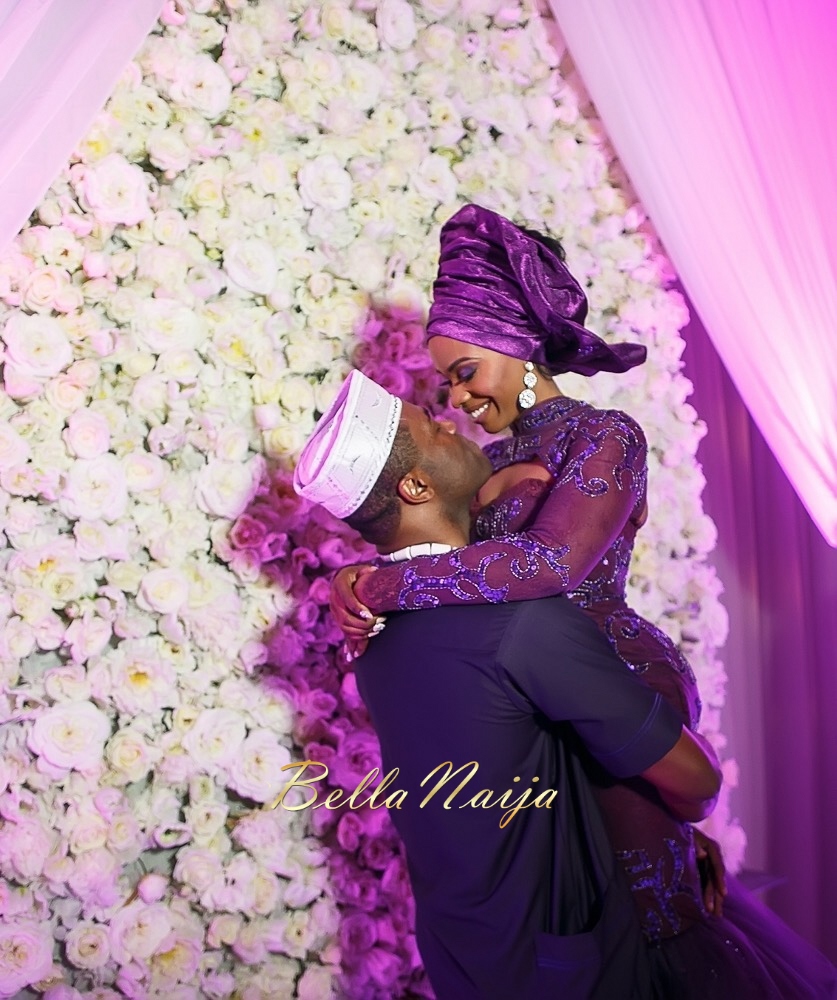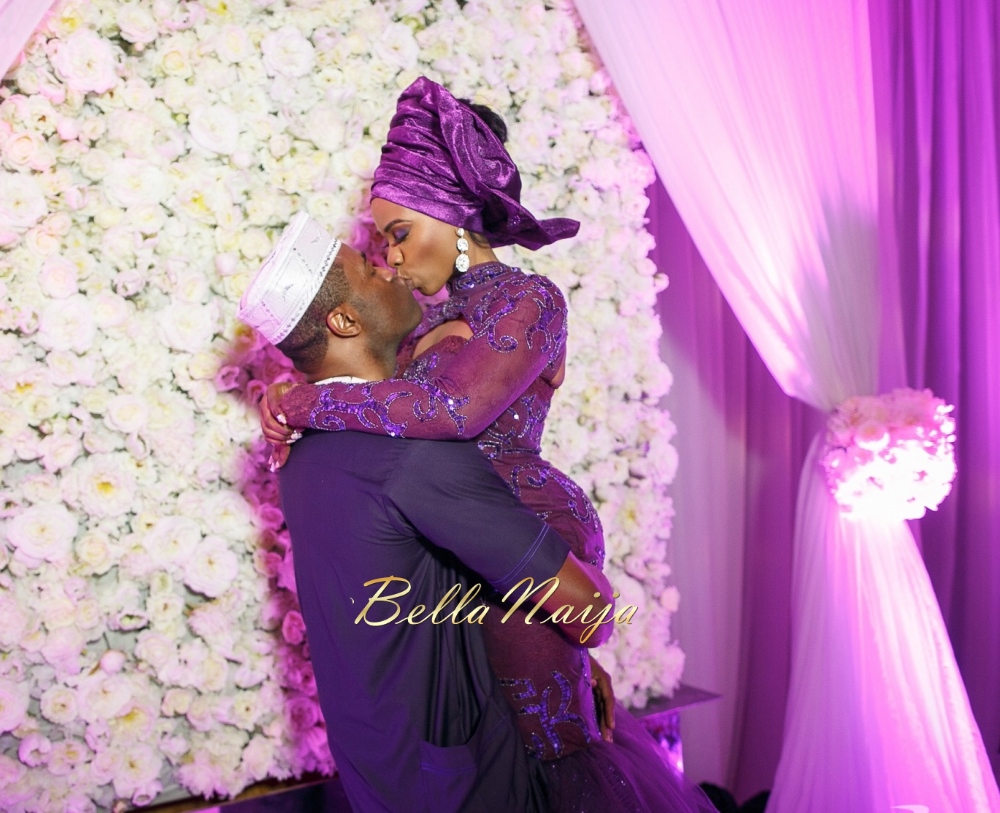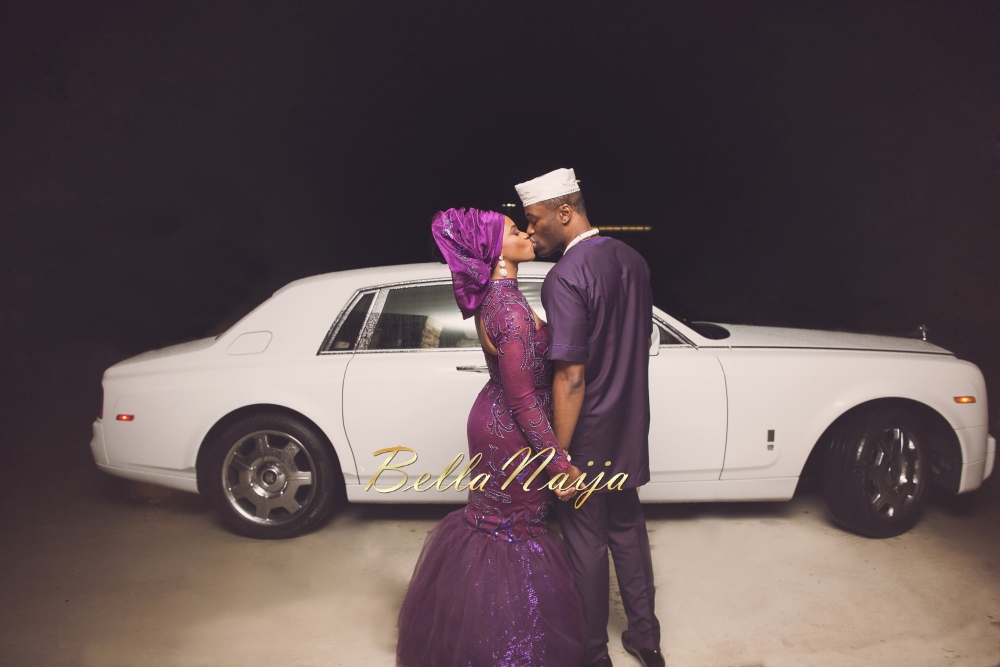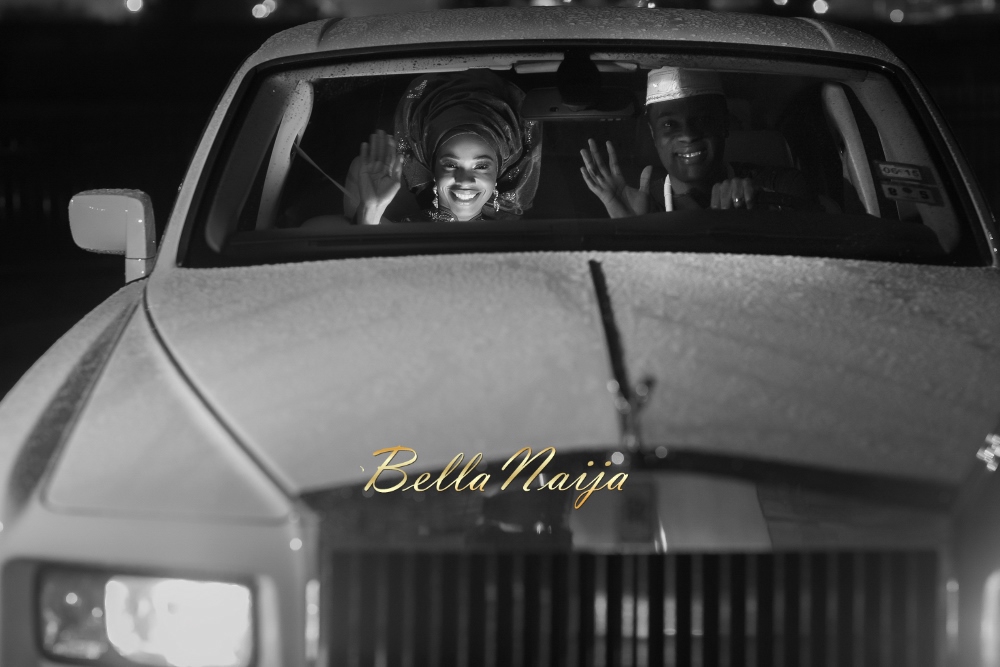 Traditional Wedding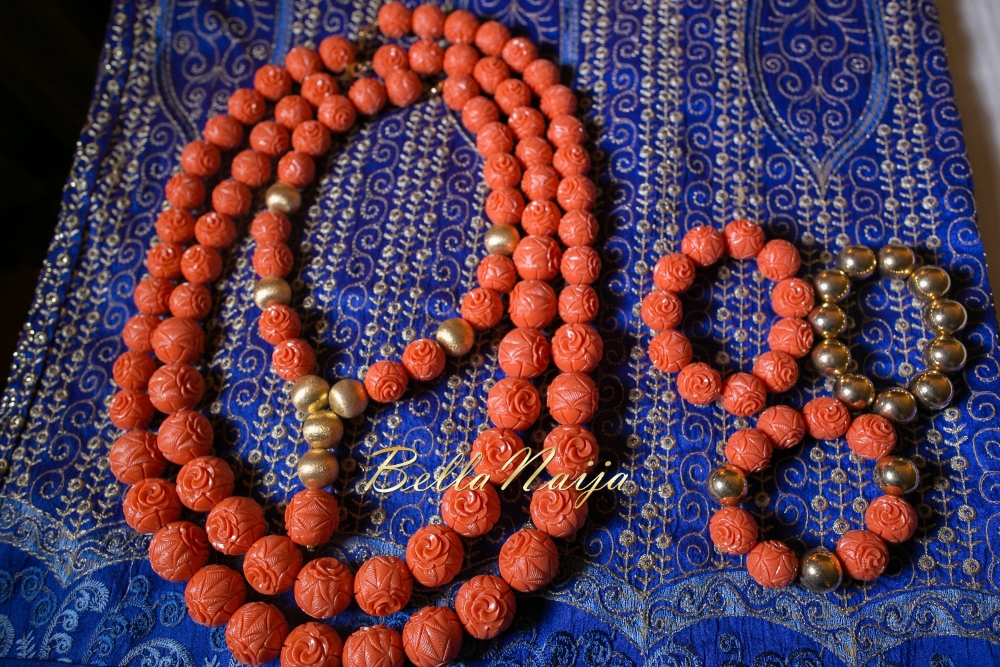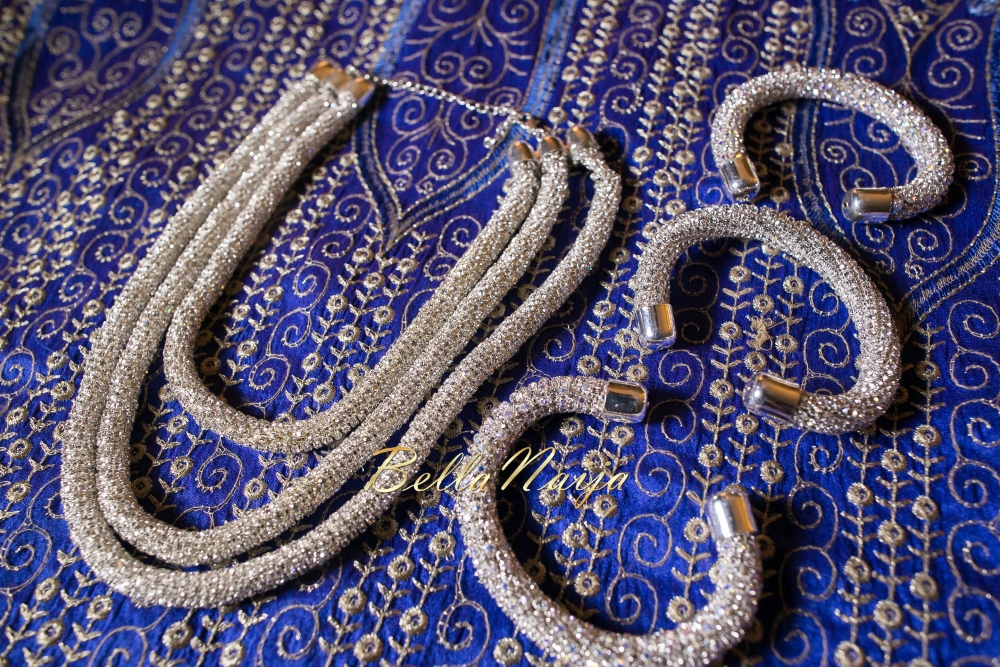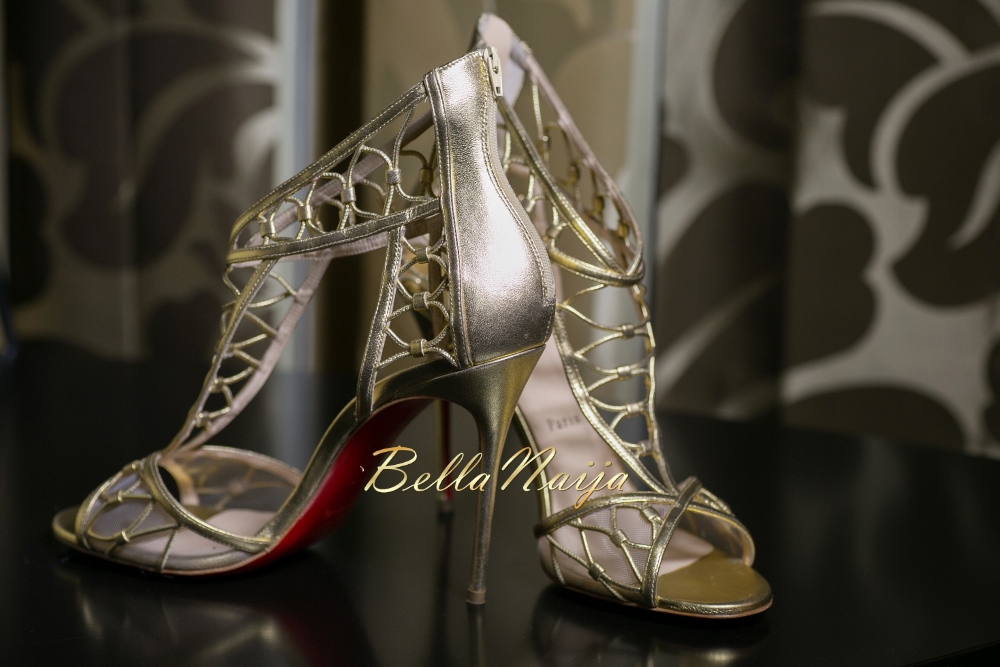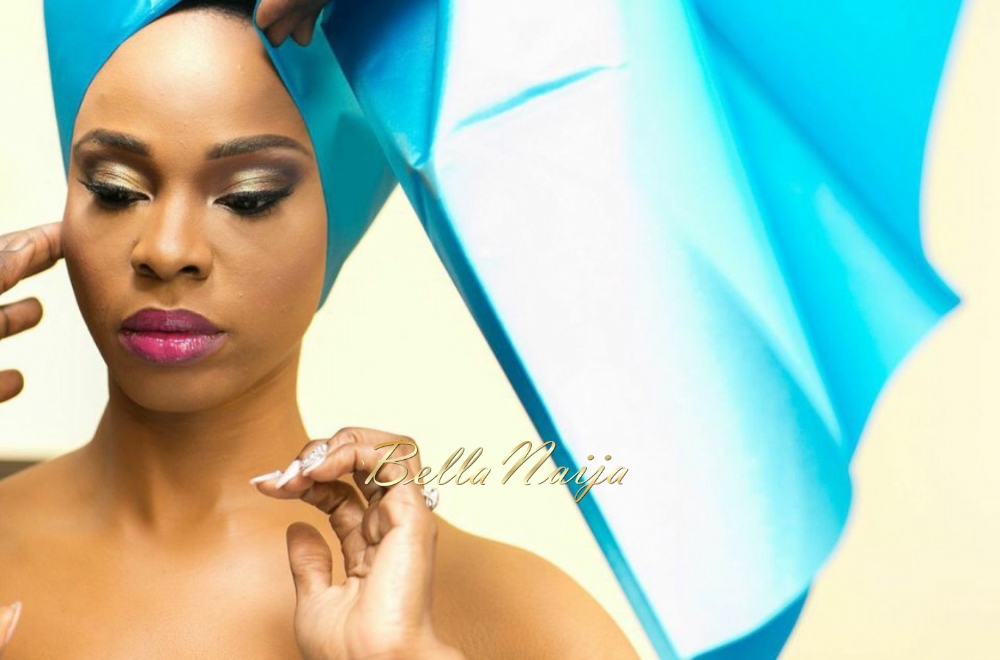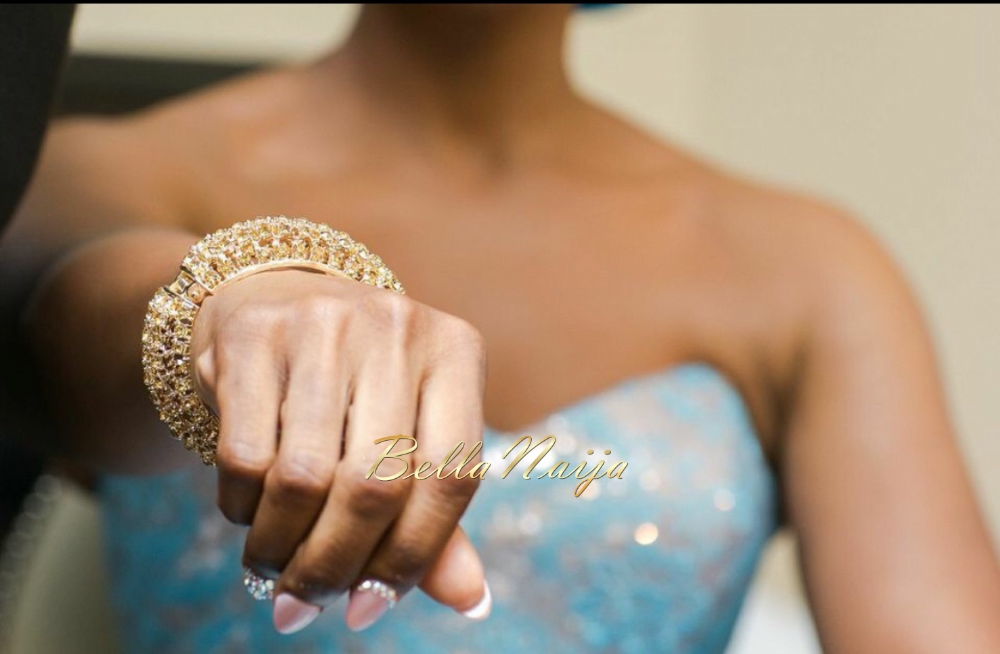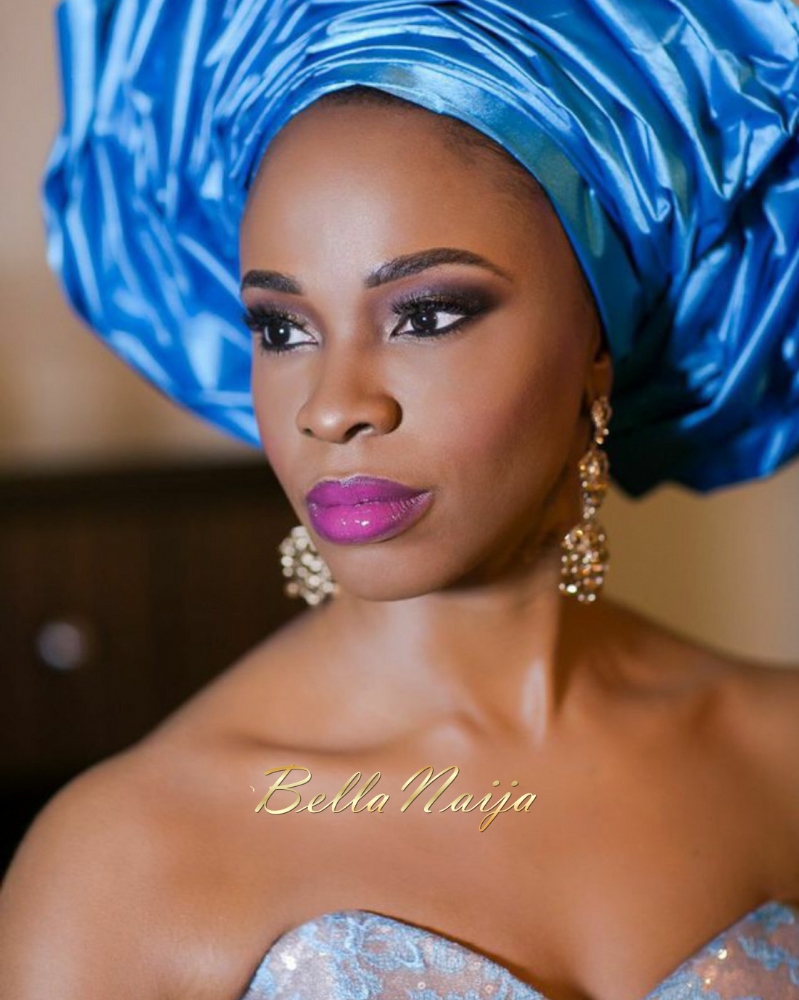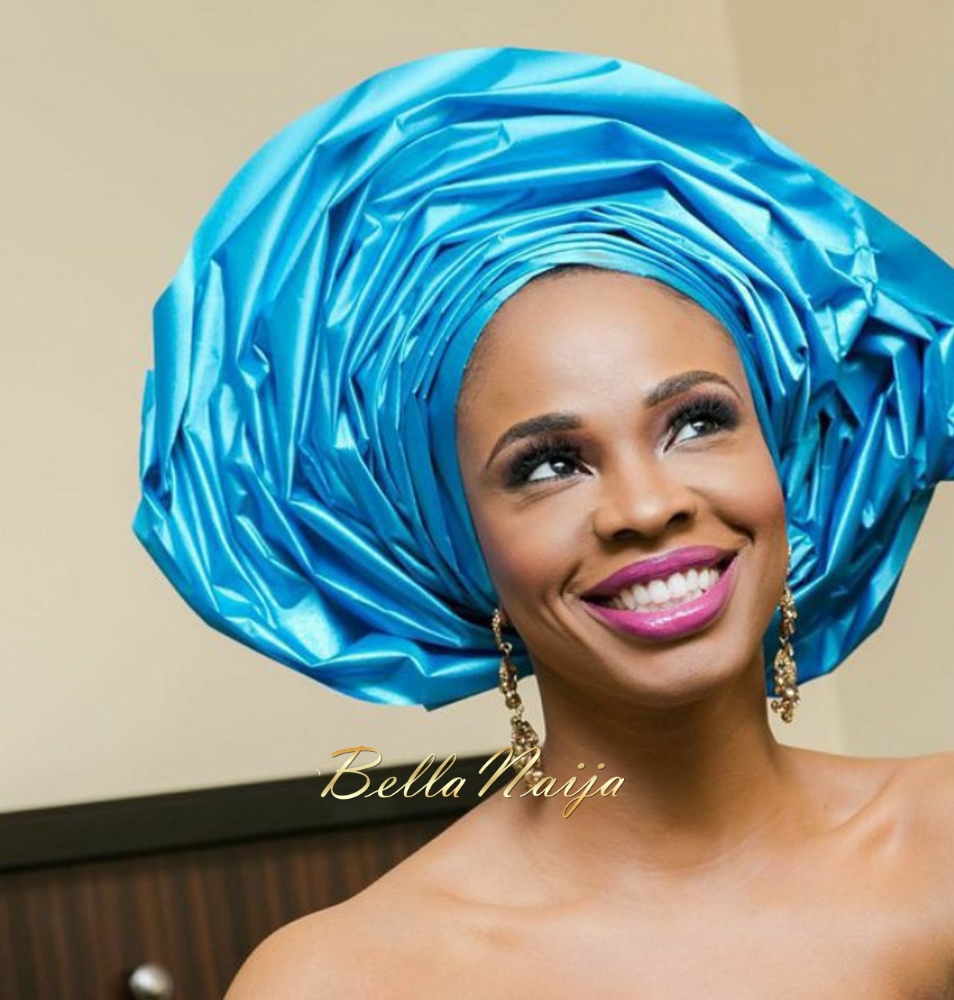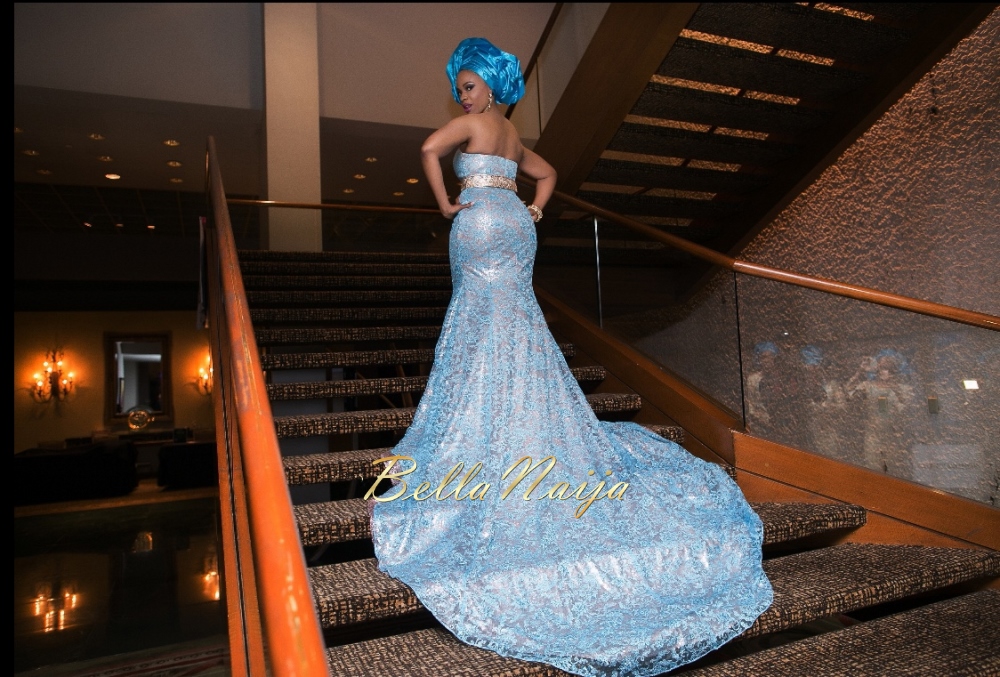 "I wanted my first appearance to be grand one, so I wore a custom Tiffany Blue french lace gown lined with rose pink sequin fabric by Brides by Nona that had an extended train like a wedding gown. Whenever the light hit my dress it sparkled like crazy and my husband told me it left him speechless."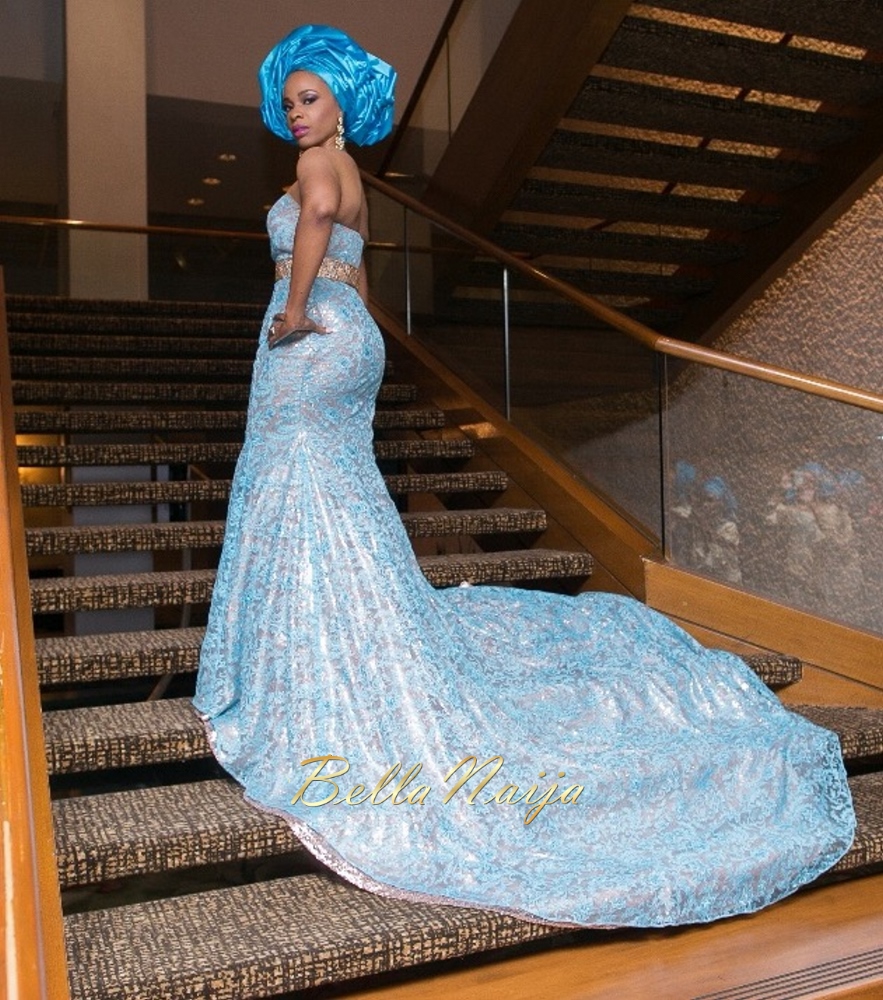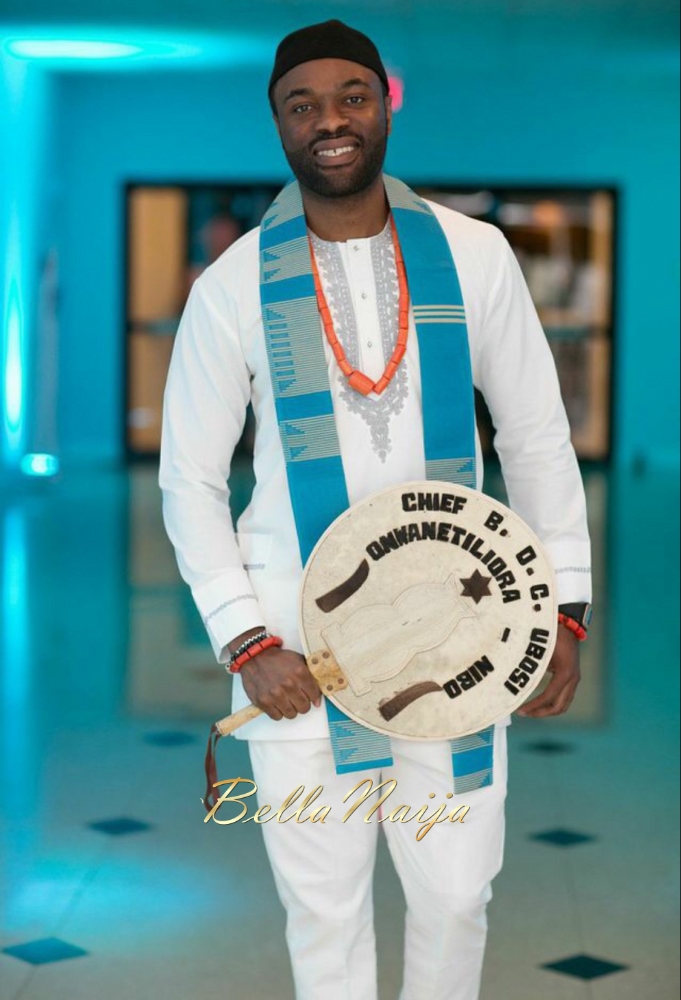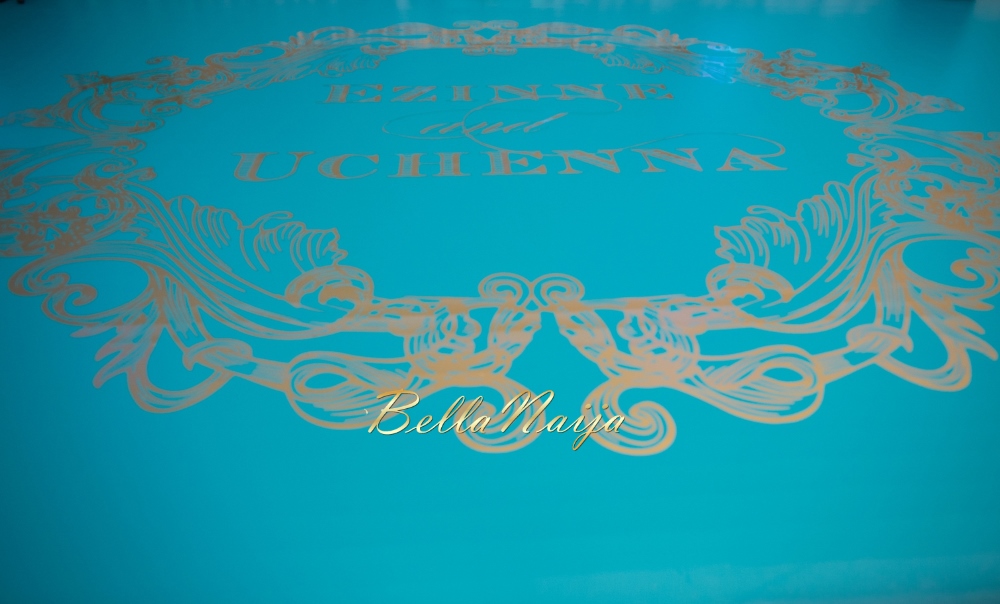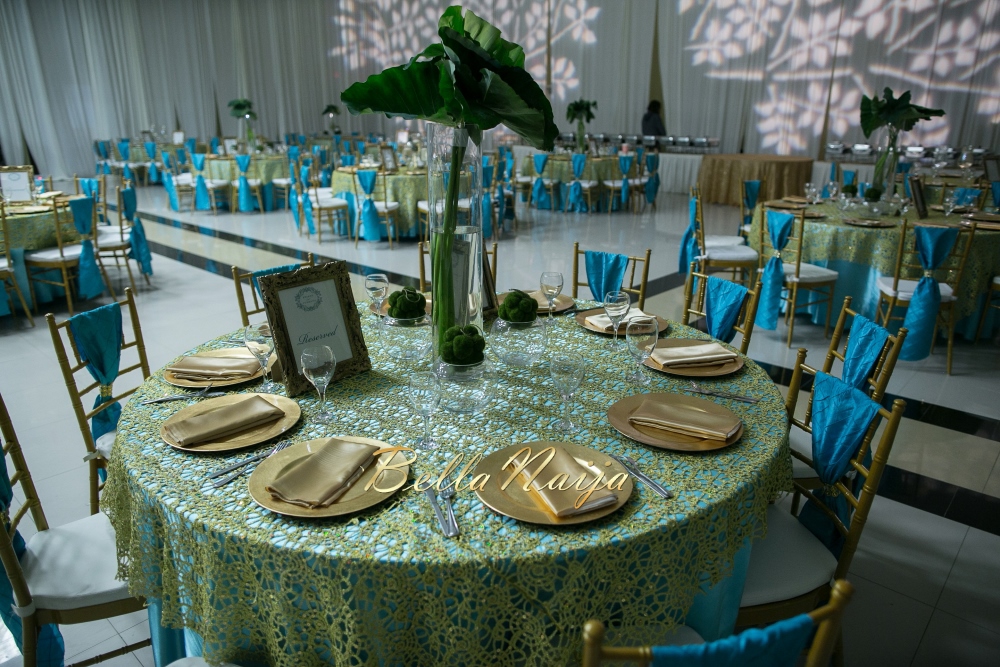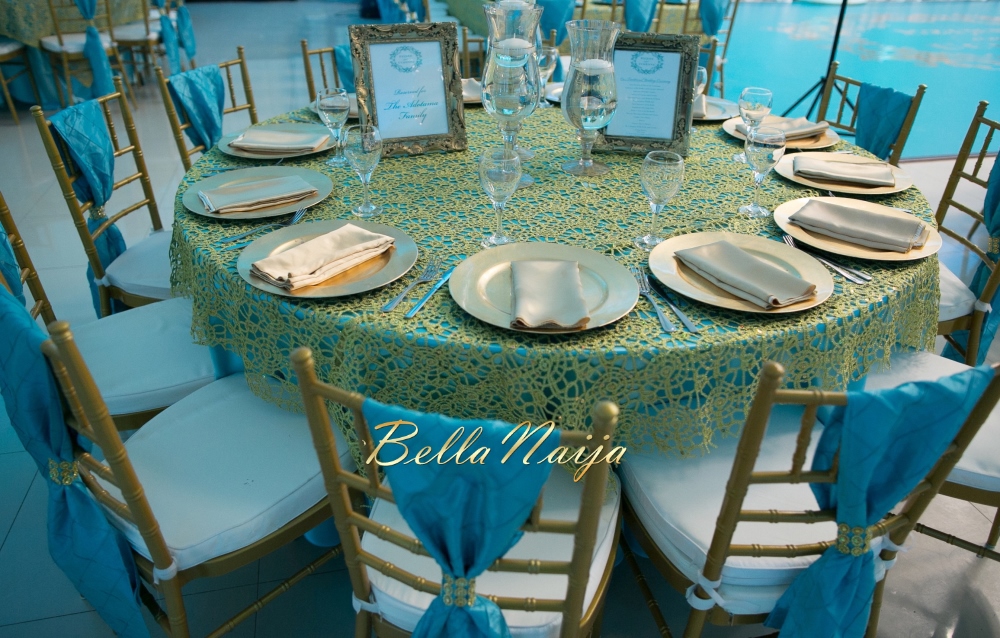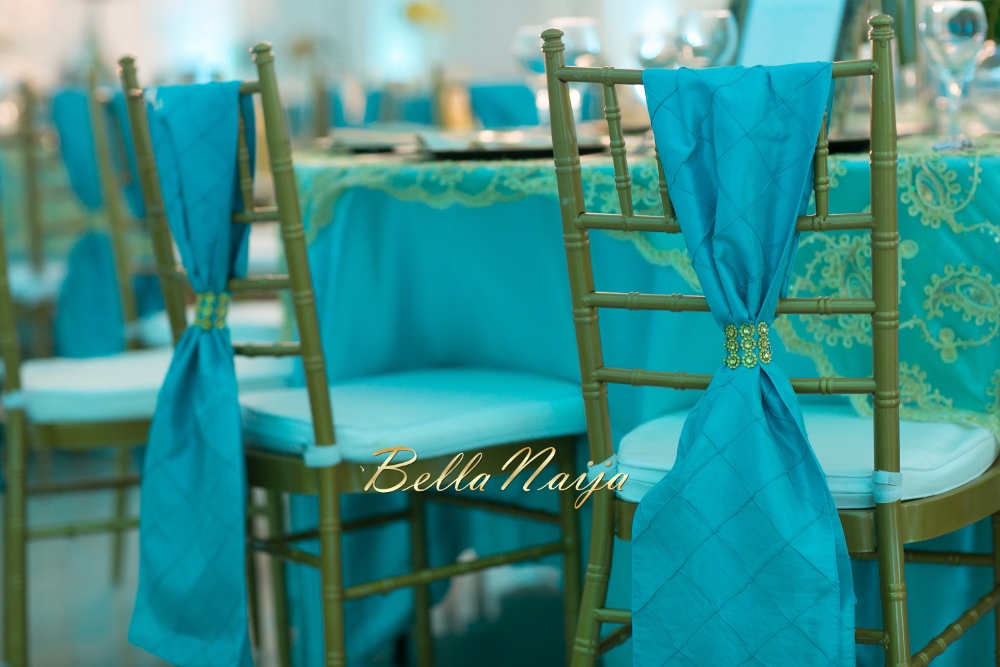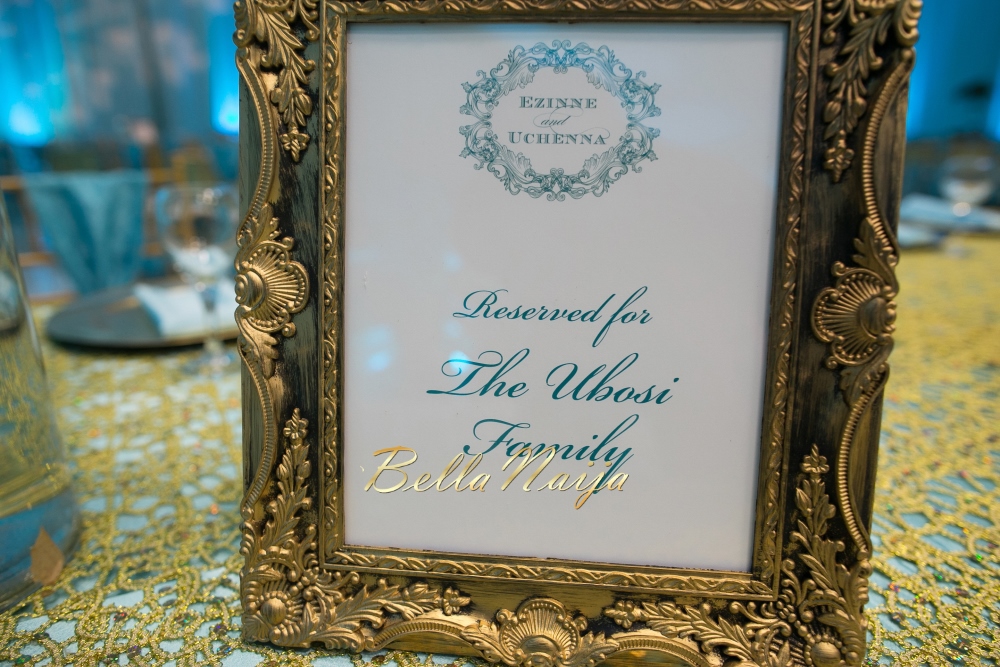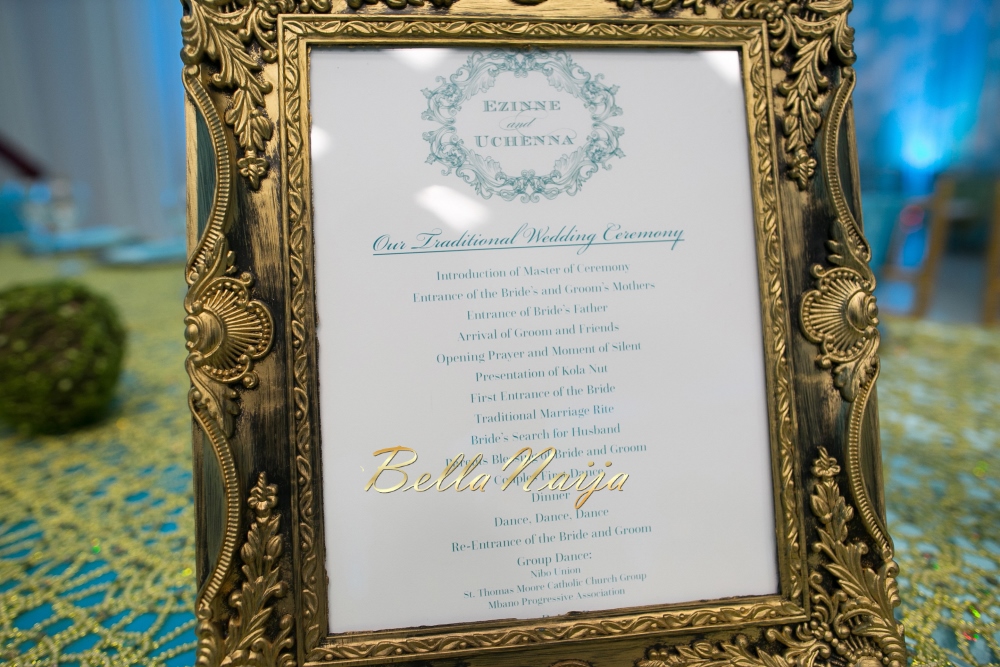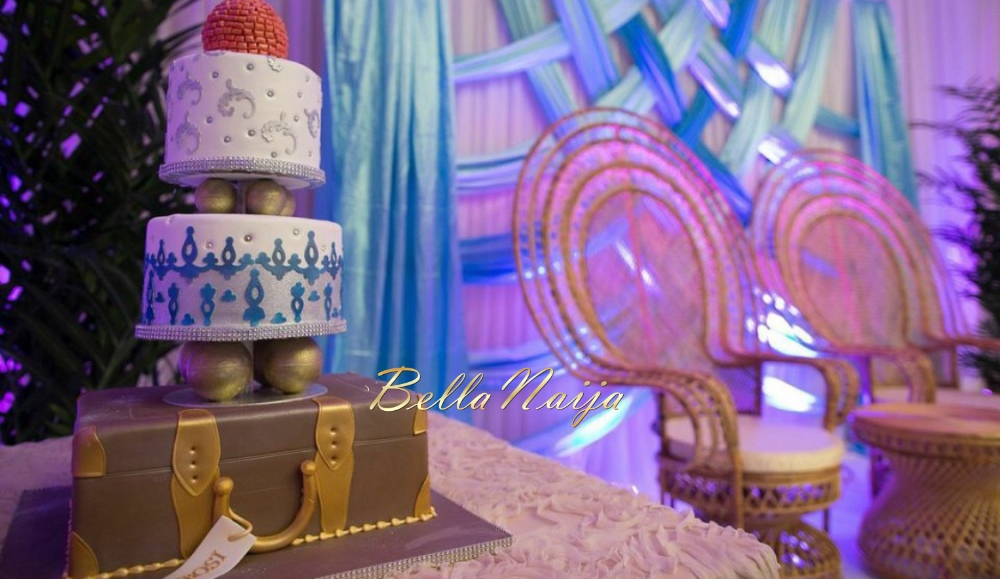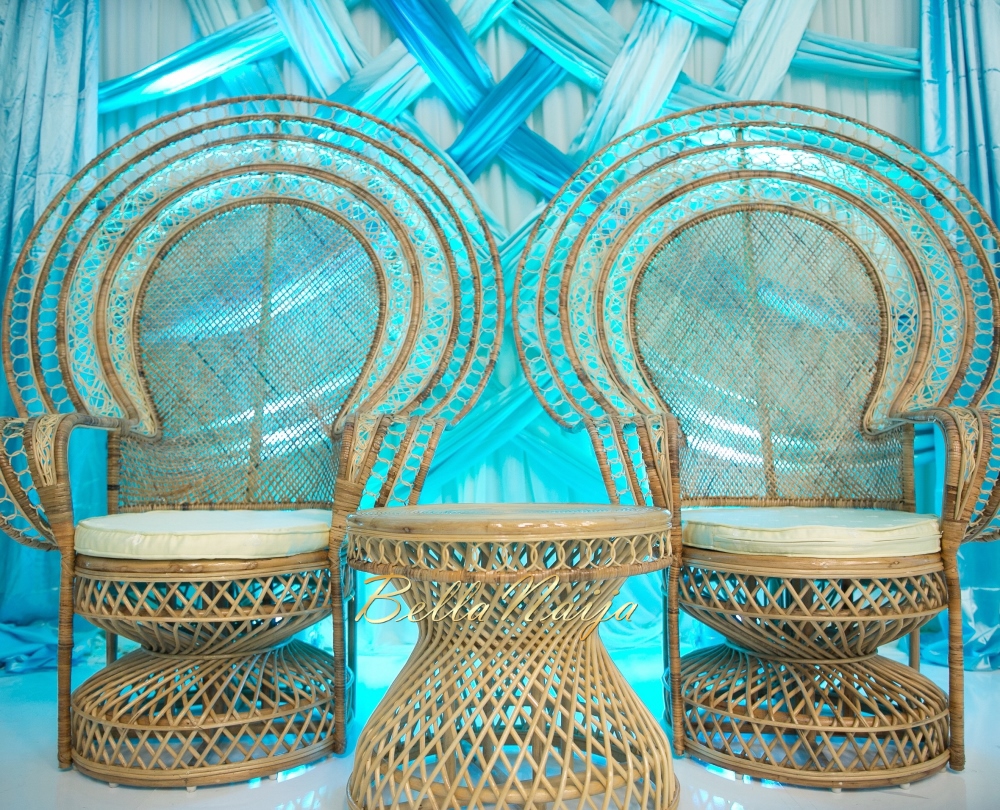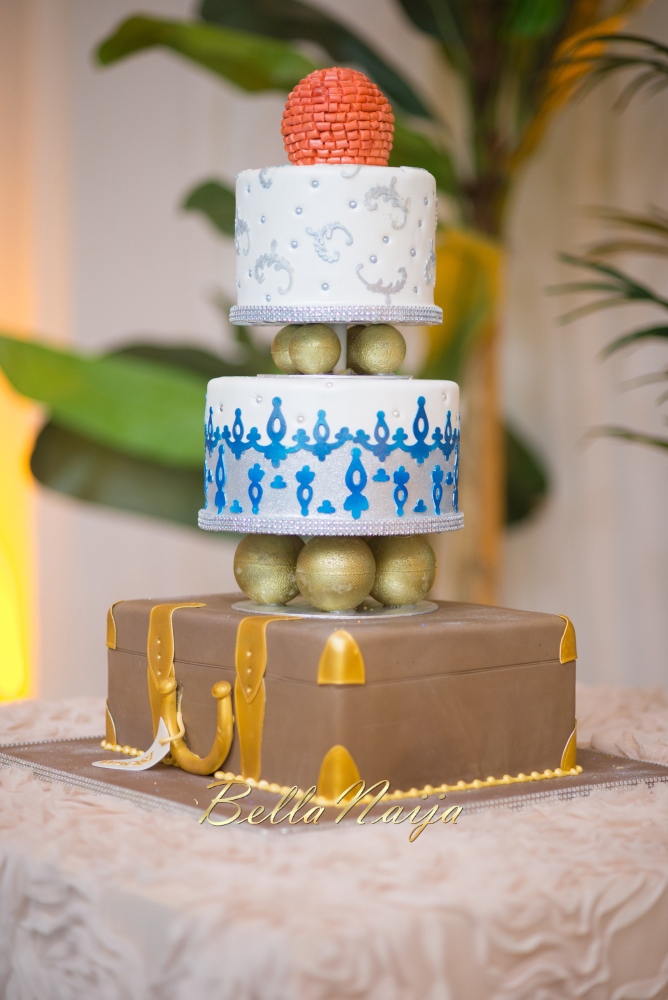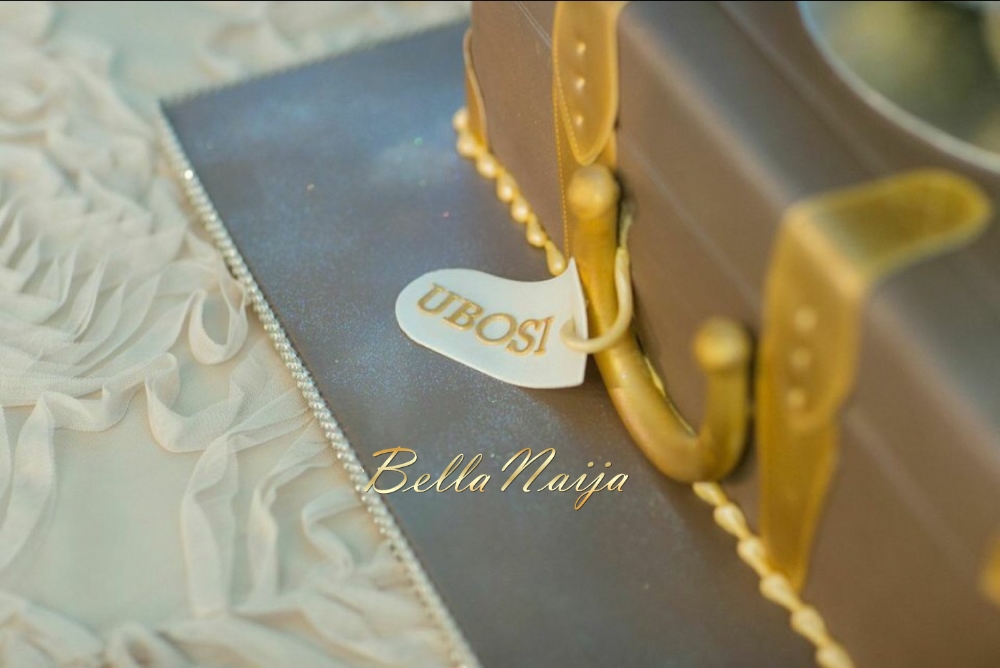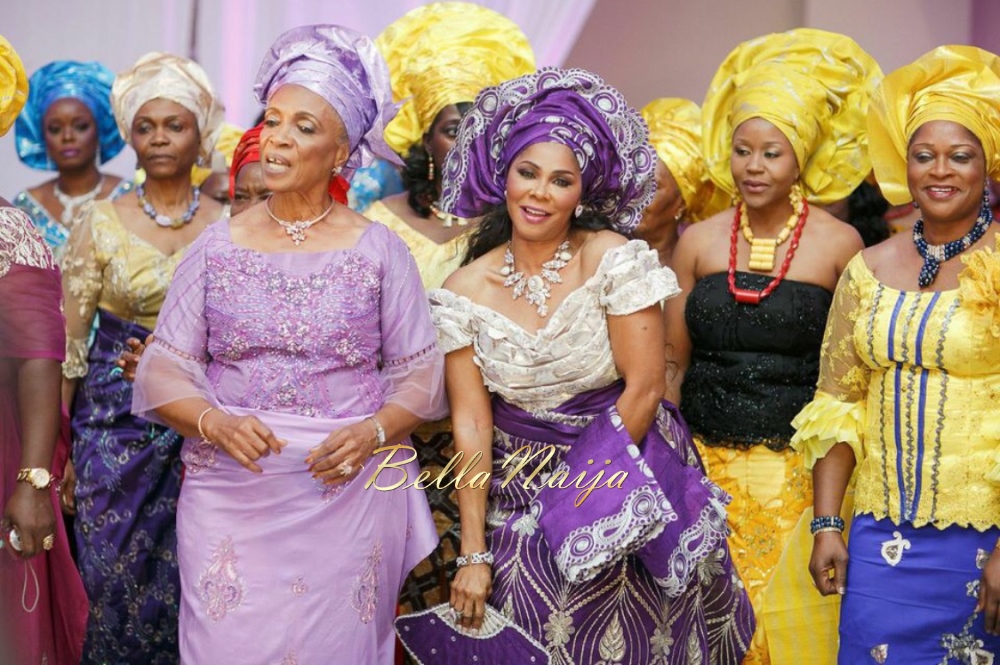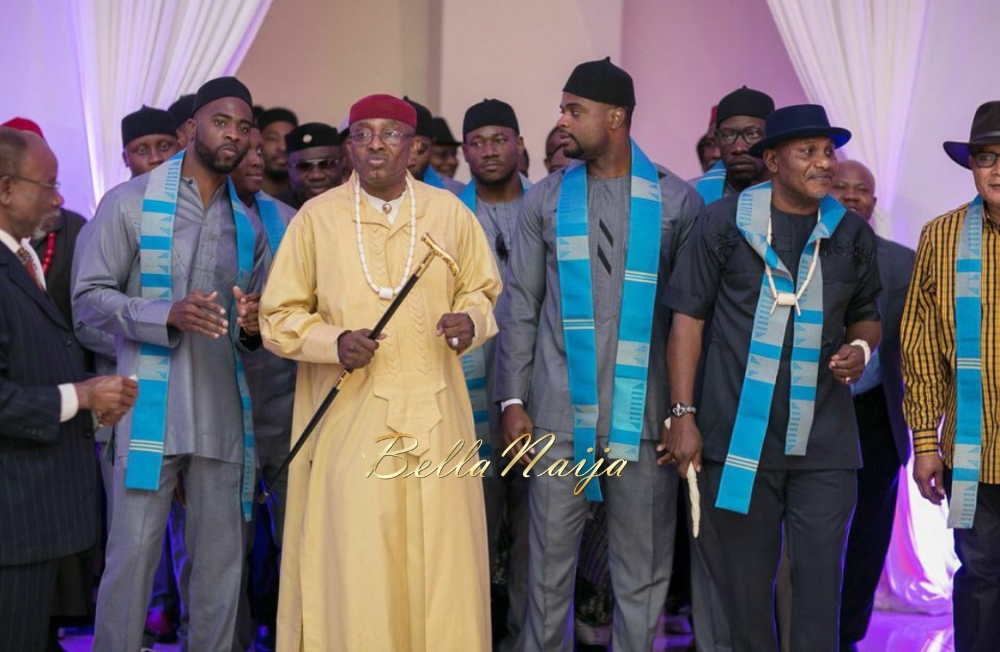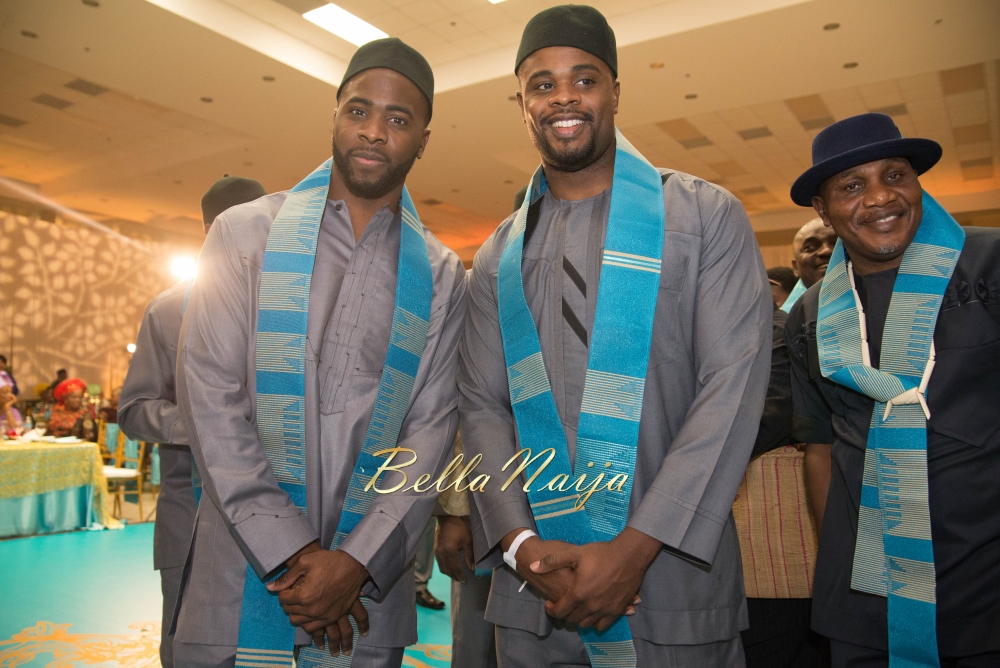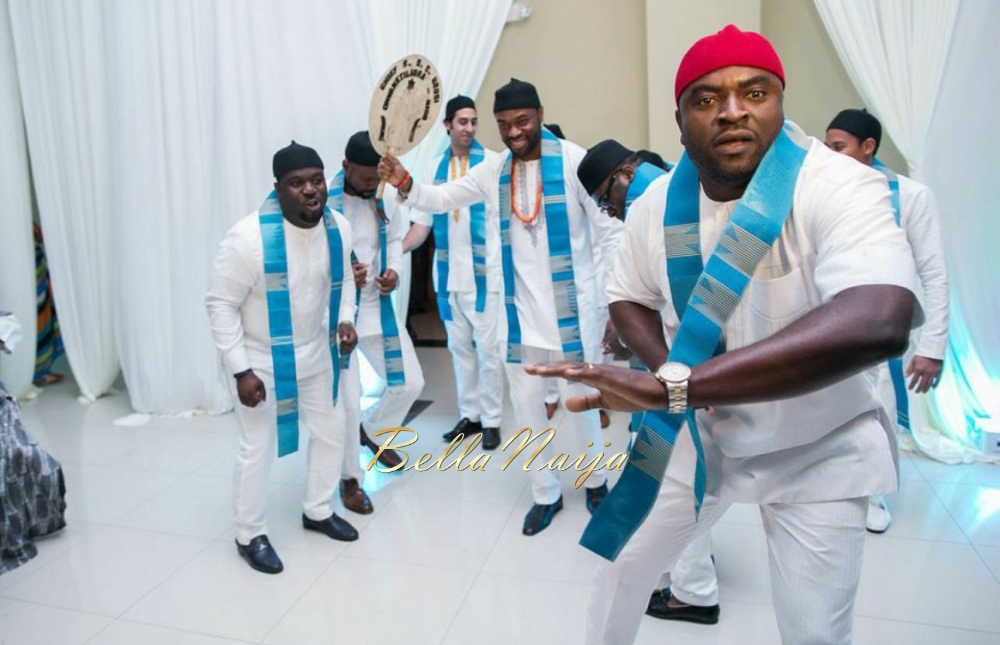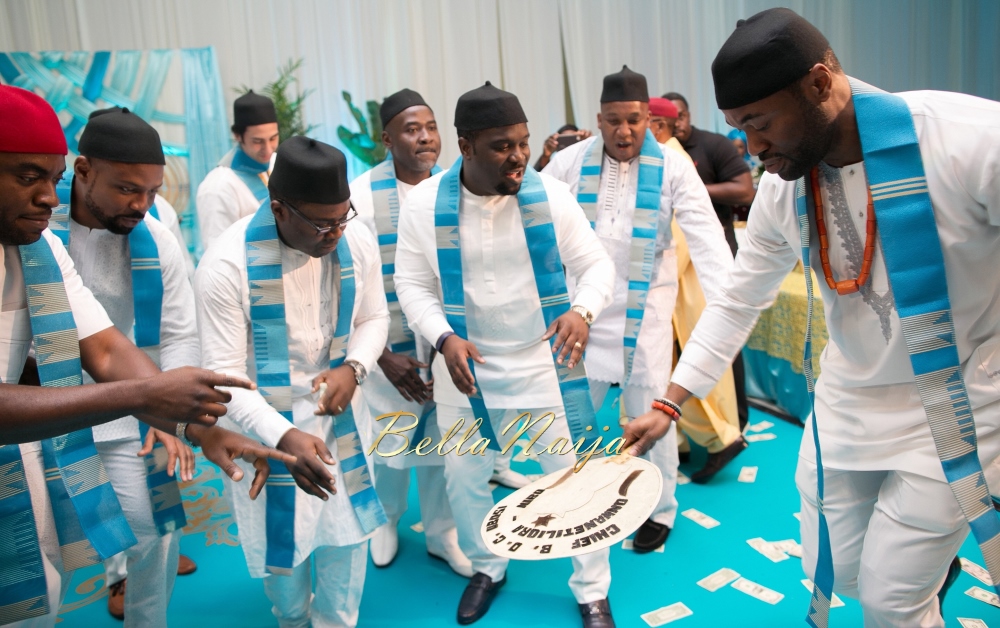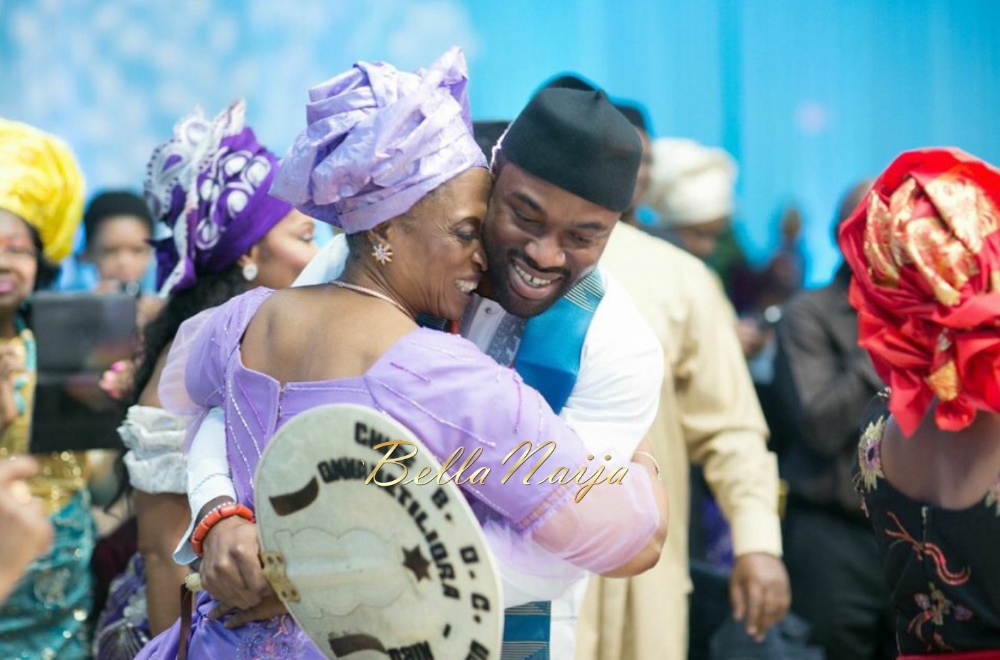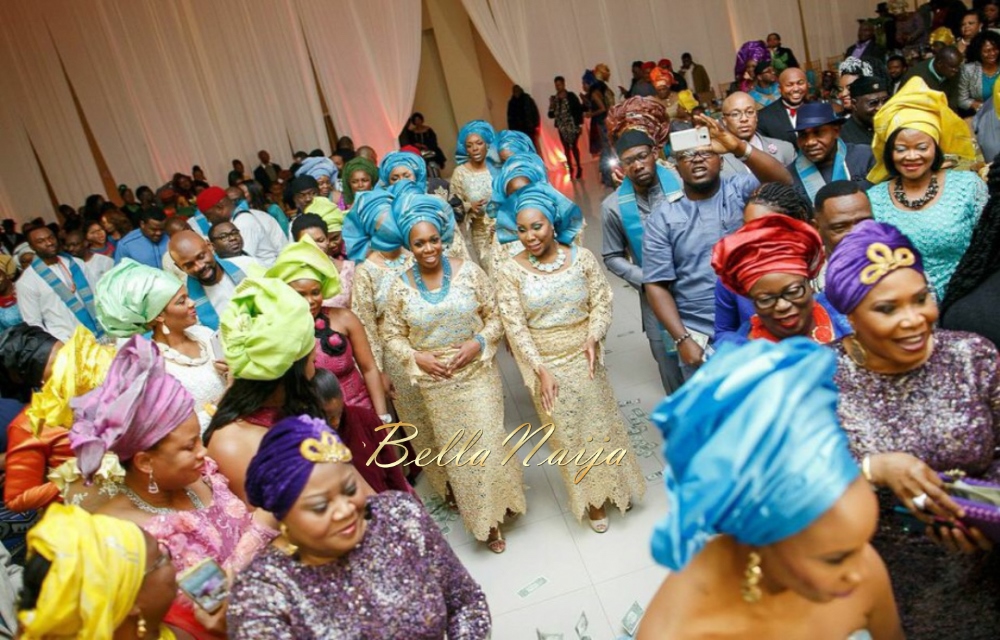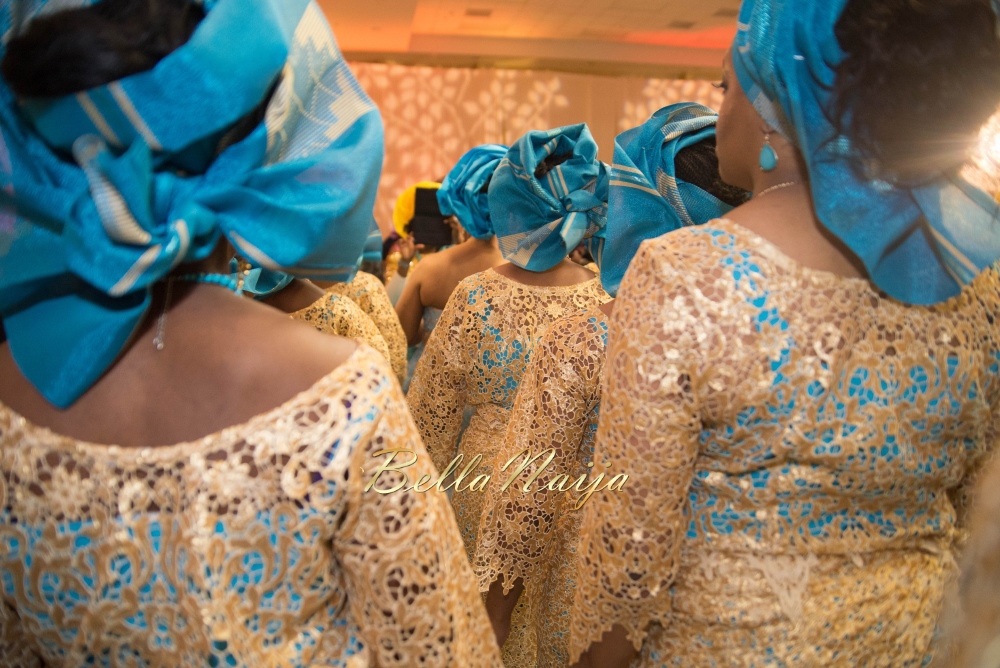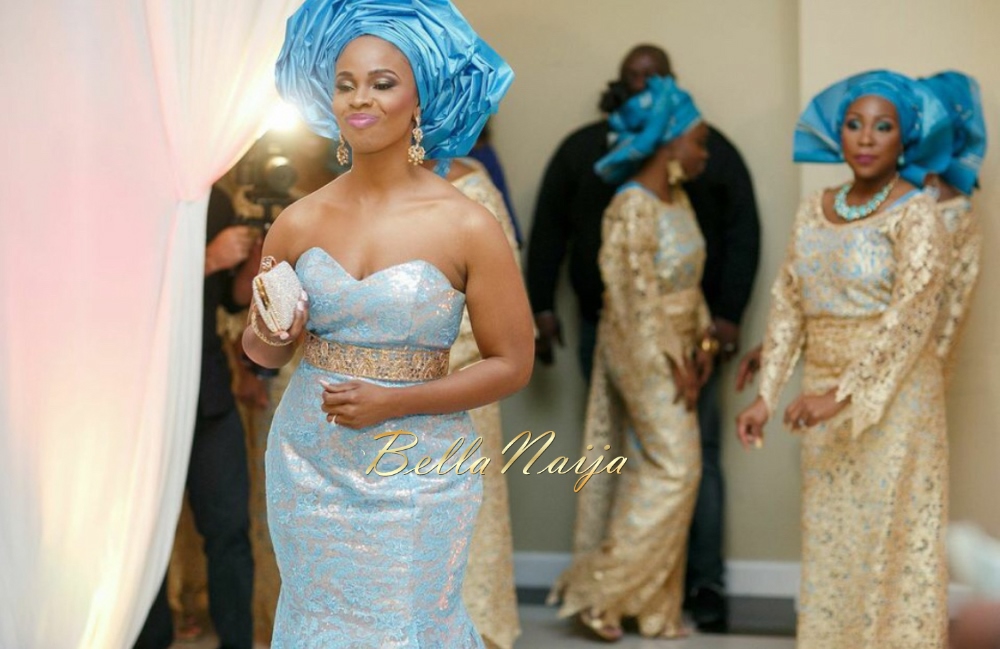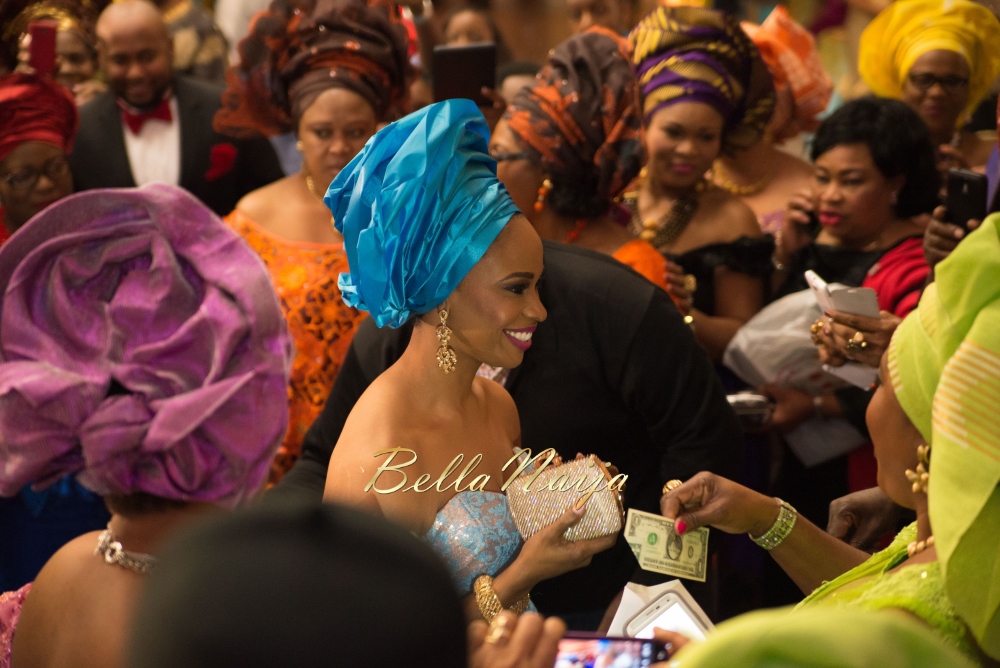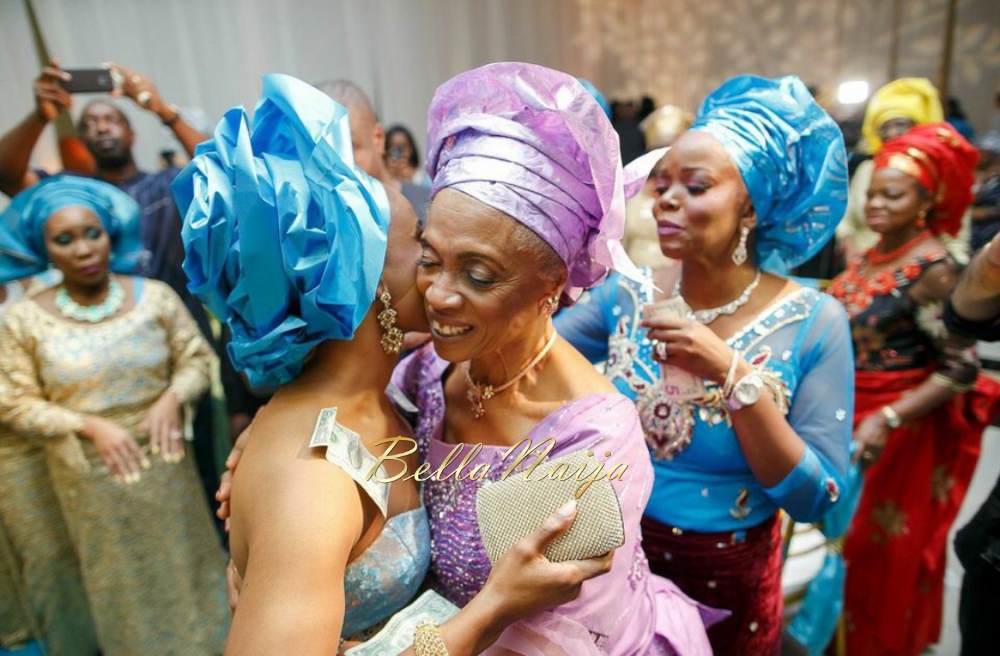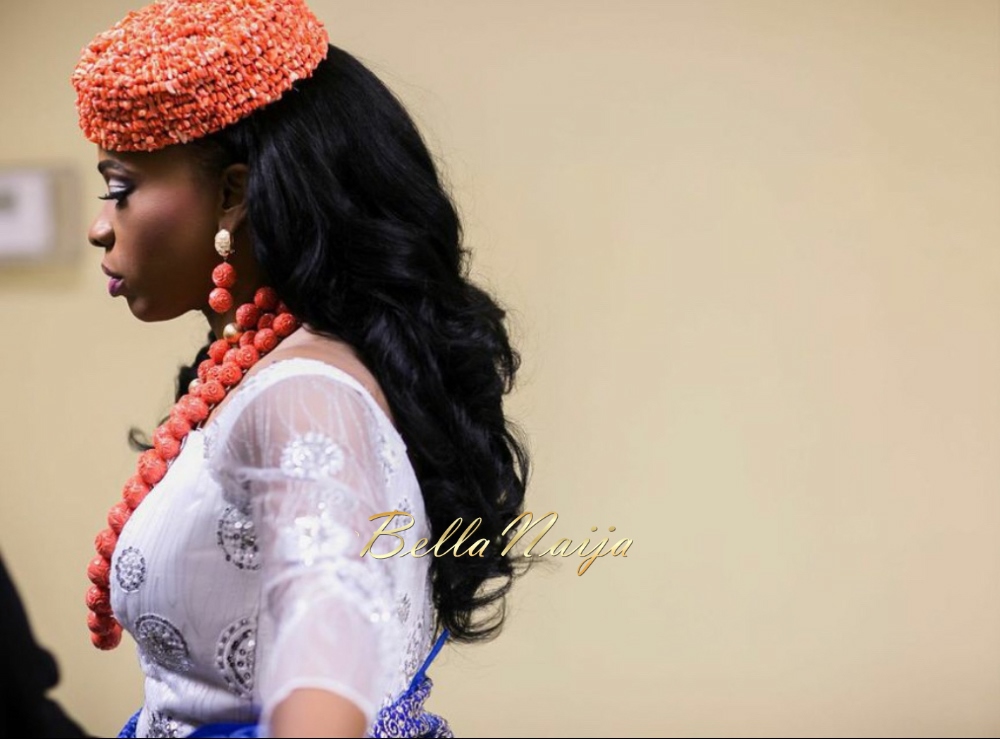 "I love the modern twist brides are doing with coral beads for their traditional wedding, so I incorporated that into mine by wearing a coral bead cap to match my jewelry. I wore a heavily sequined royal blue george wrapper and white sequin patterned blouse to find my husband and serve him palm wine."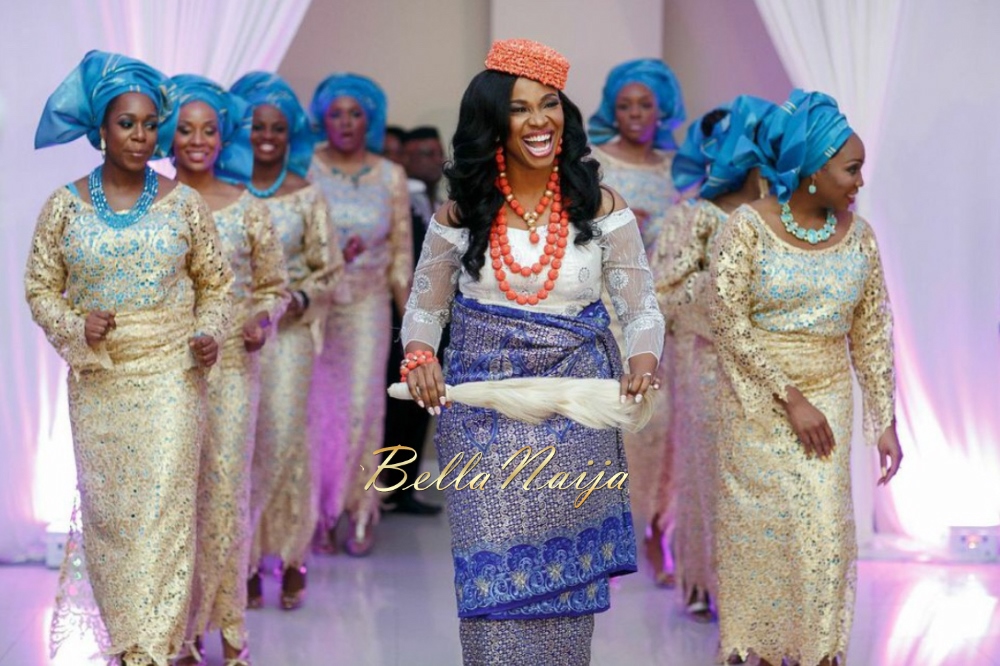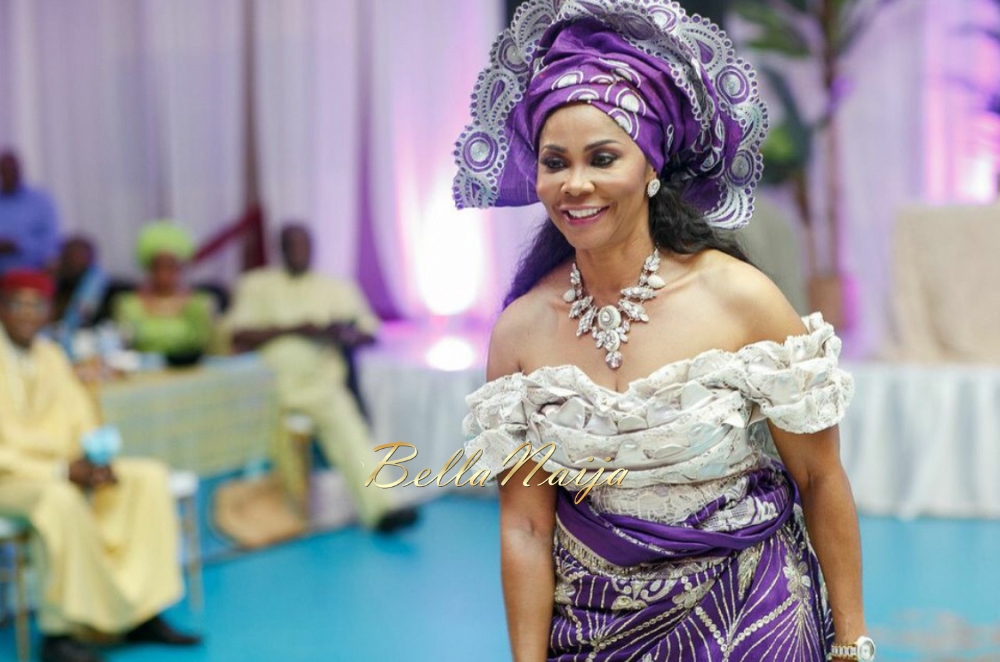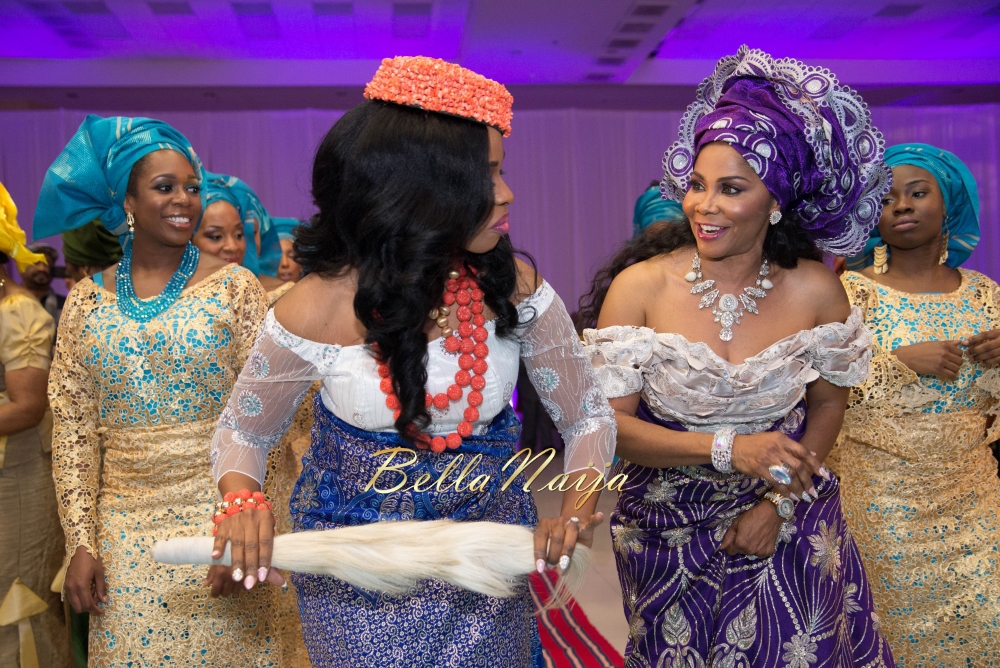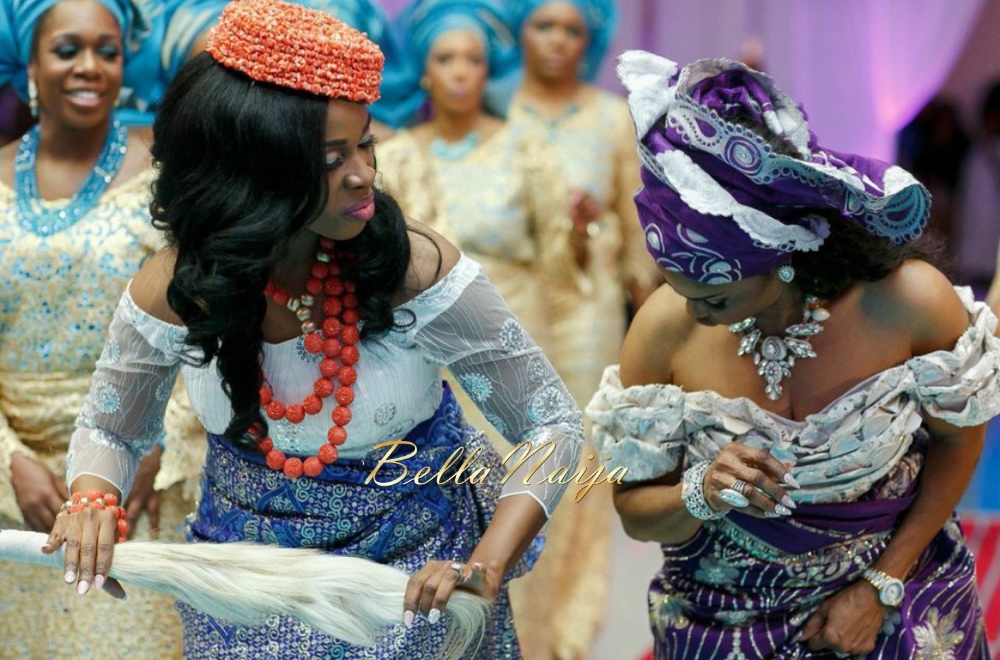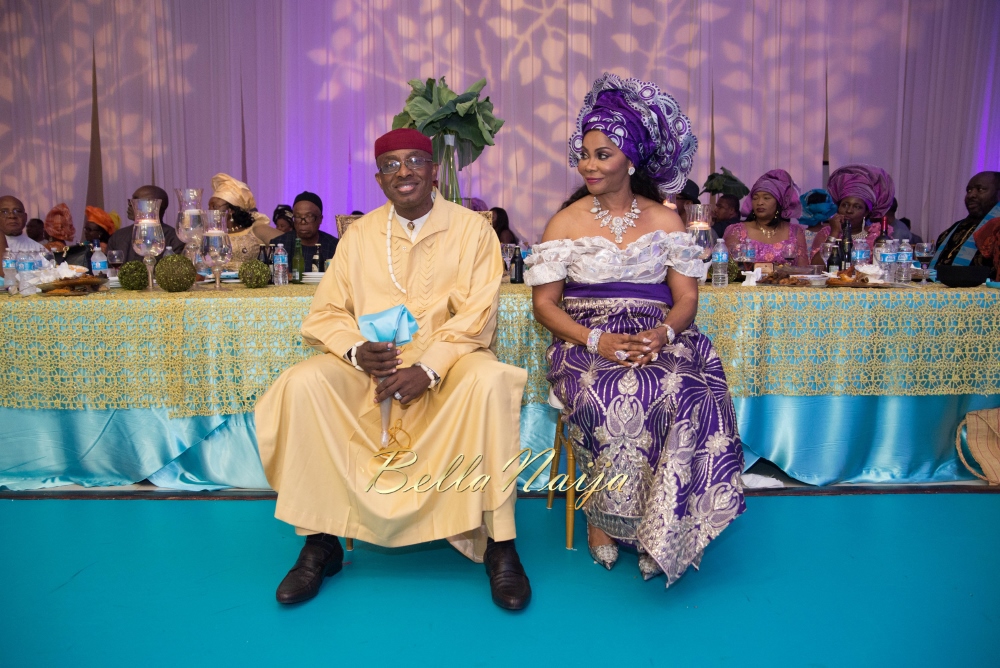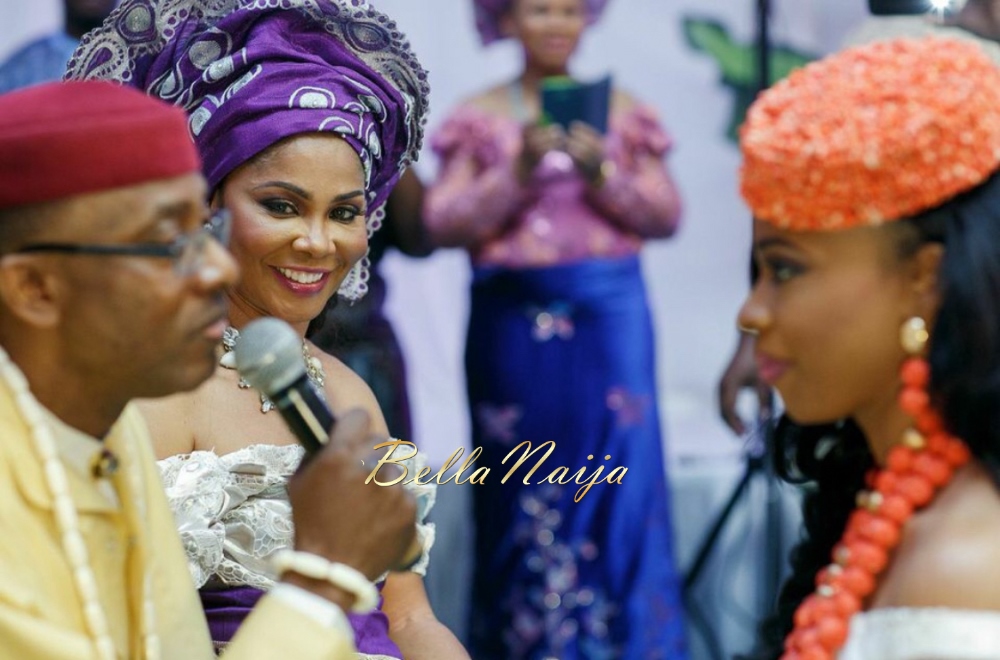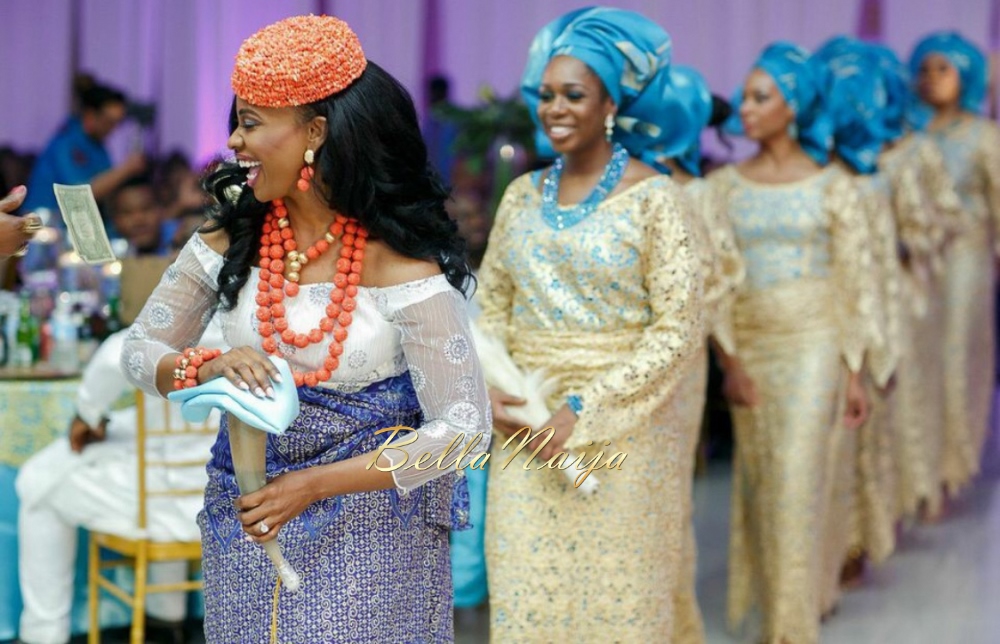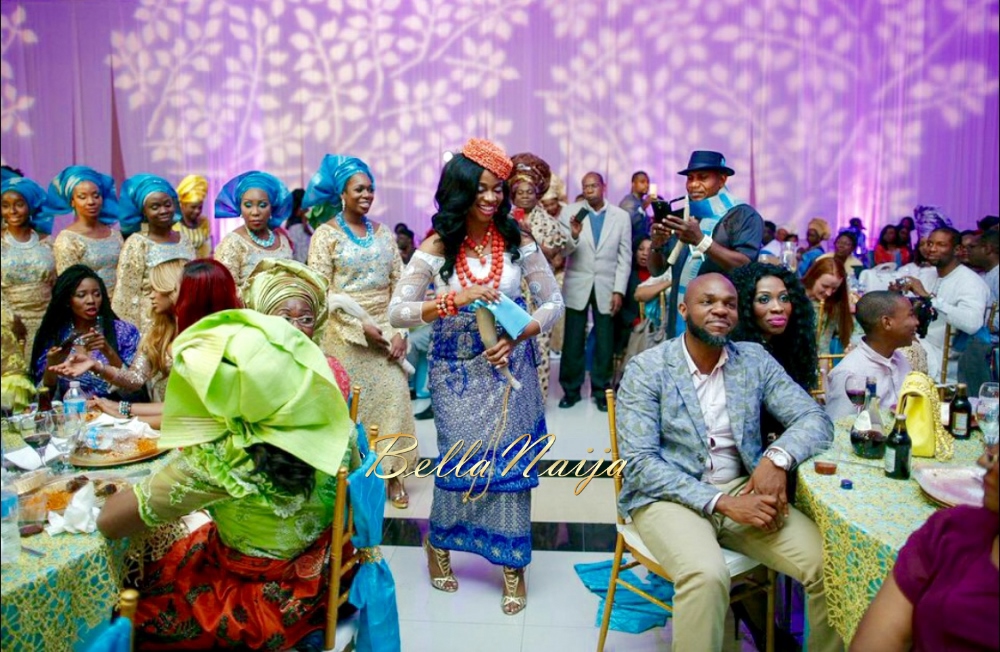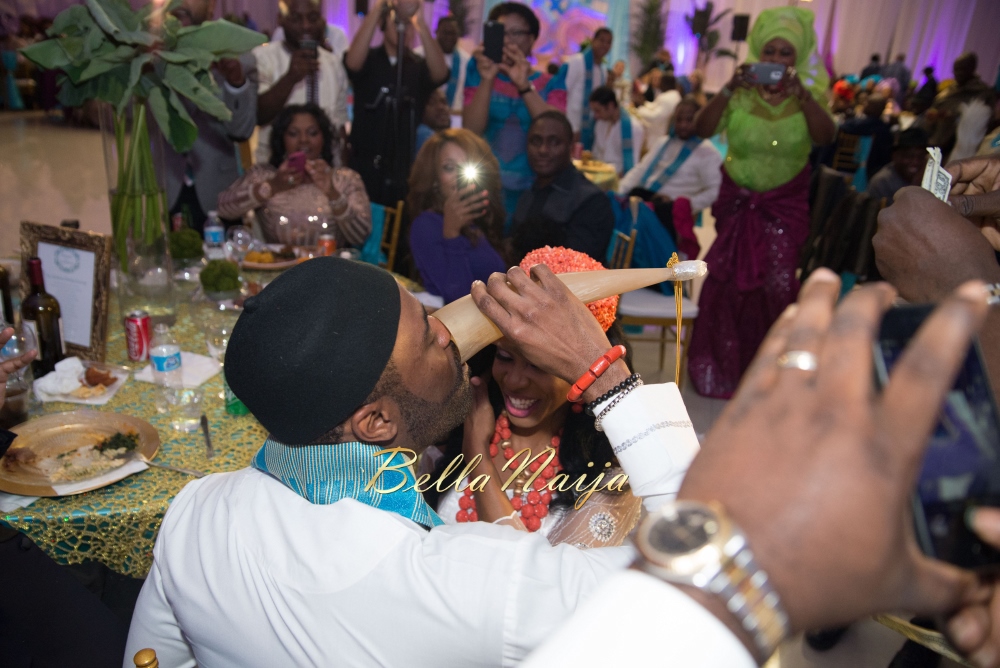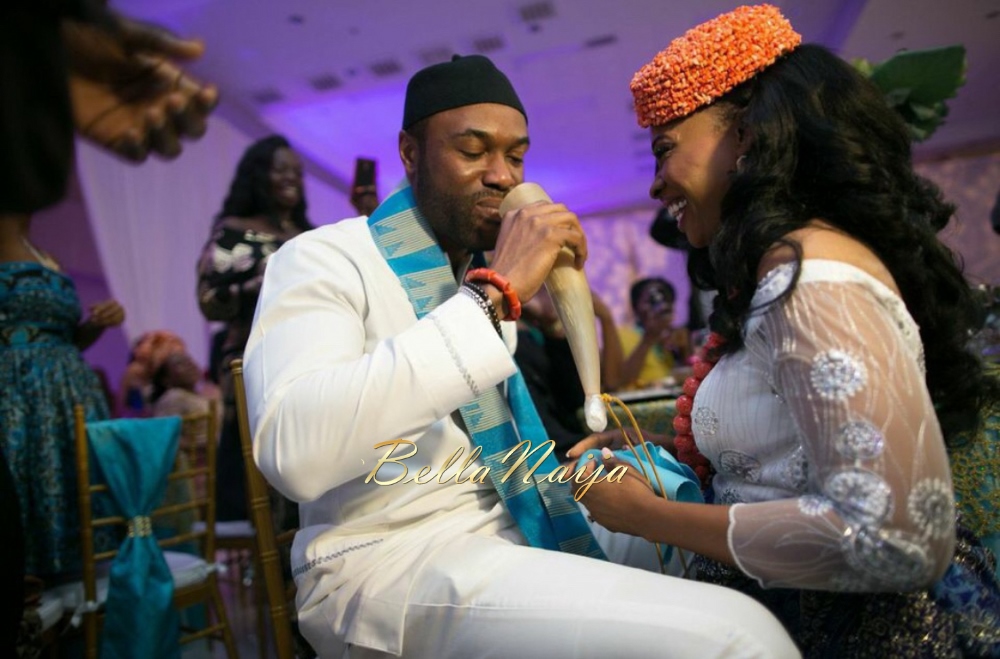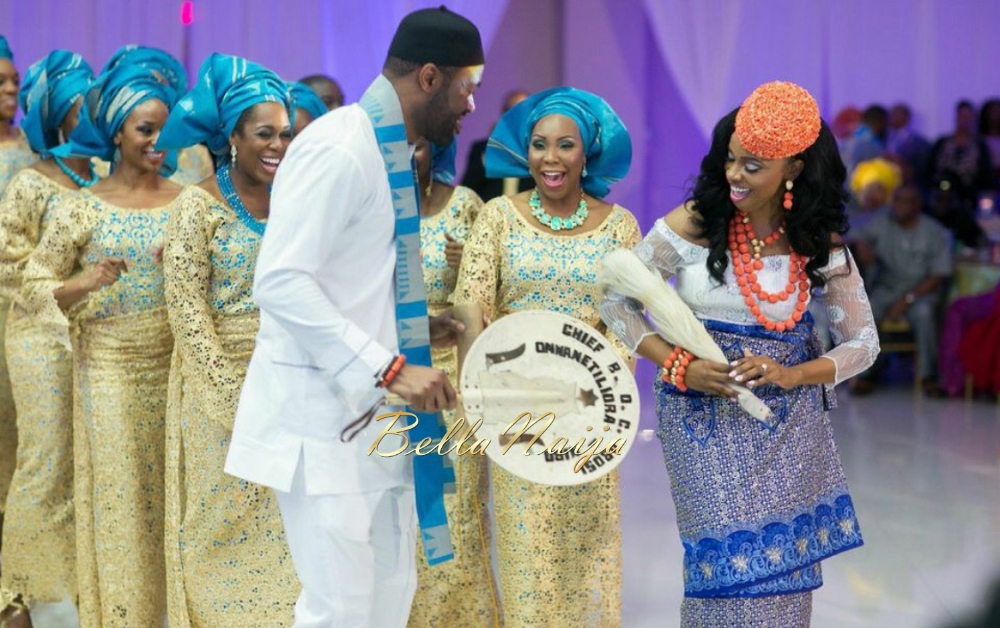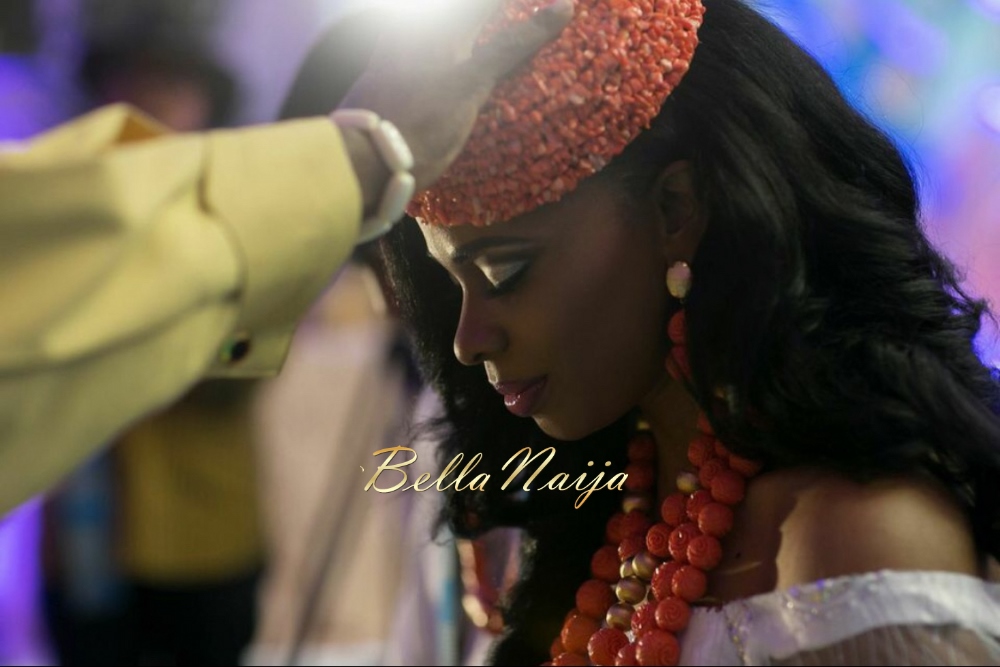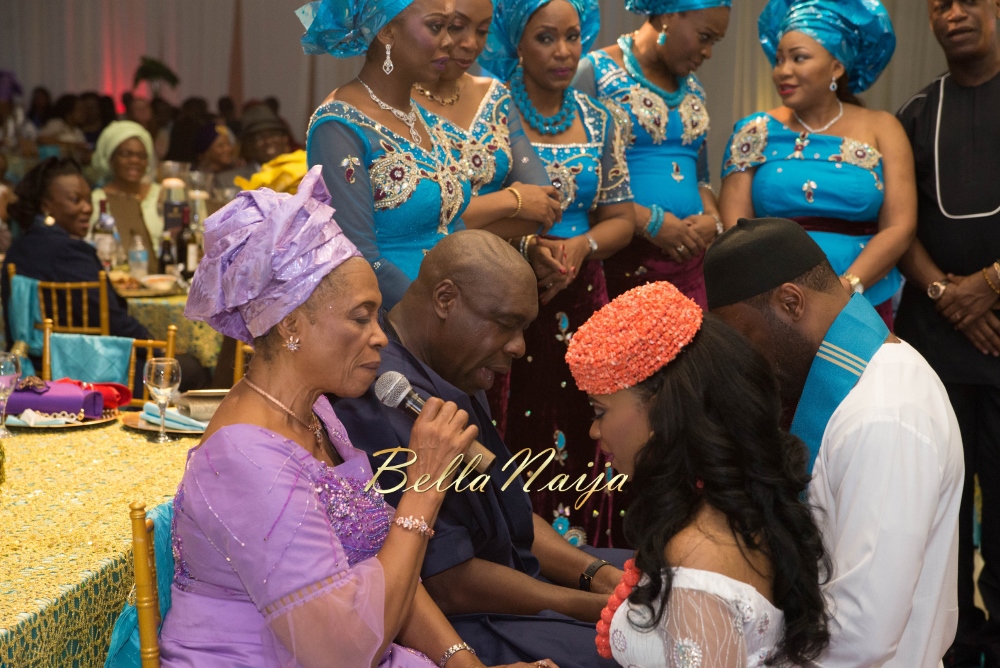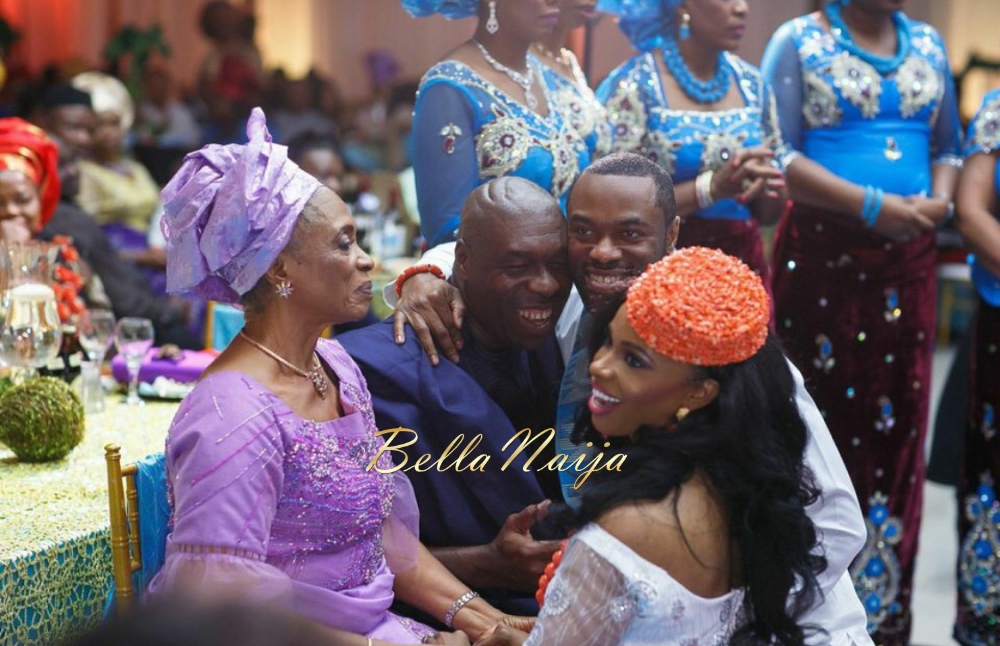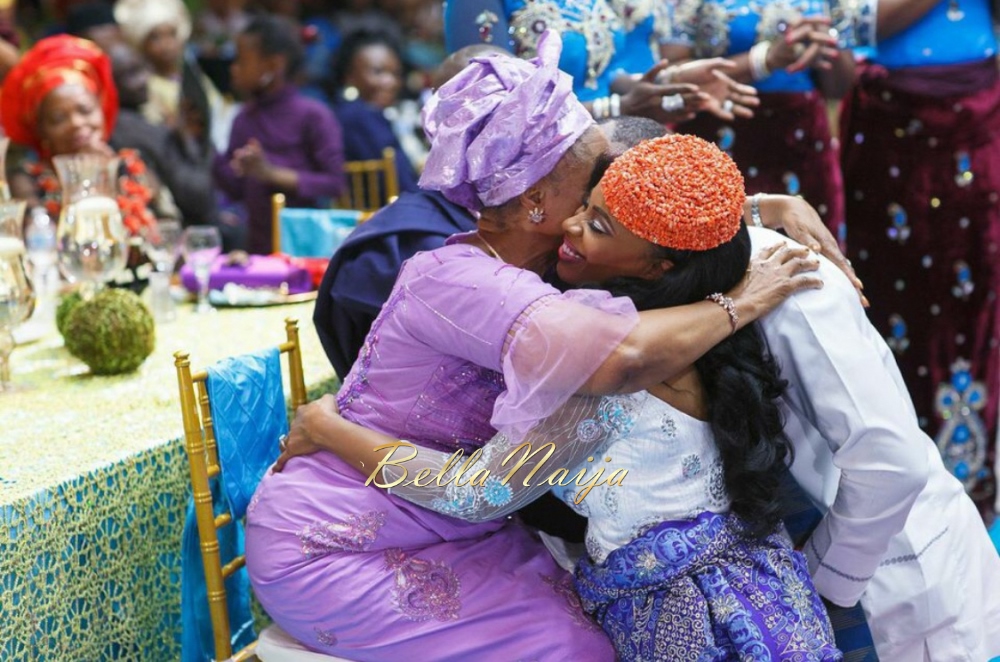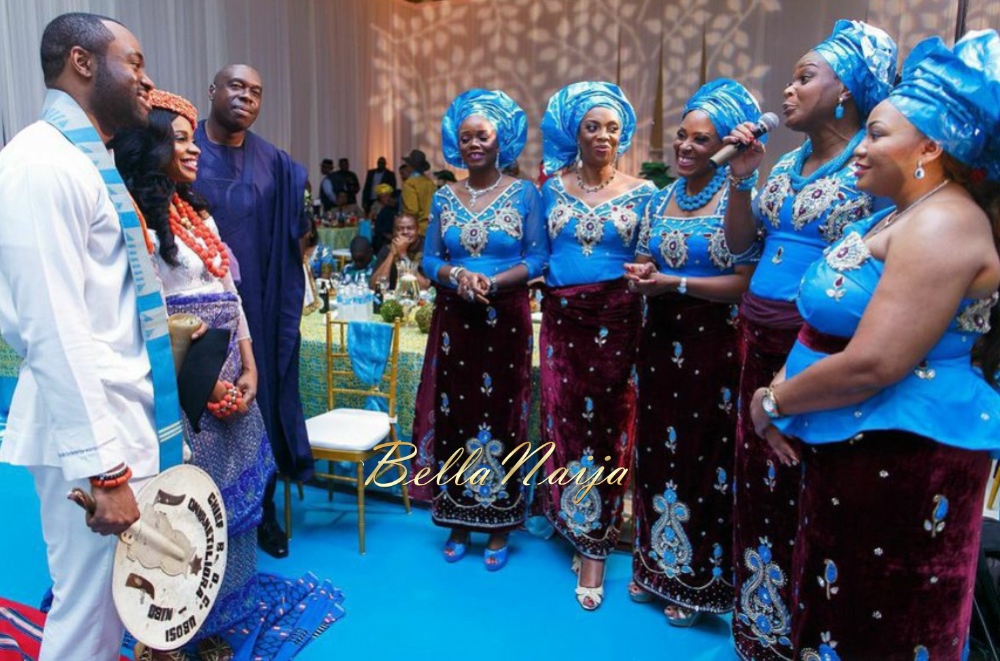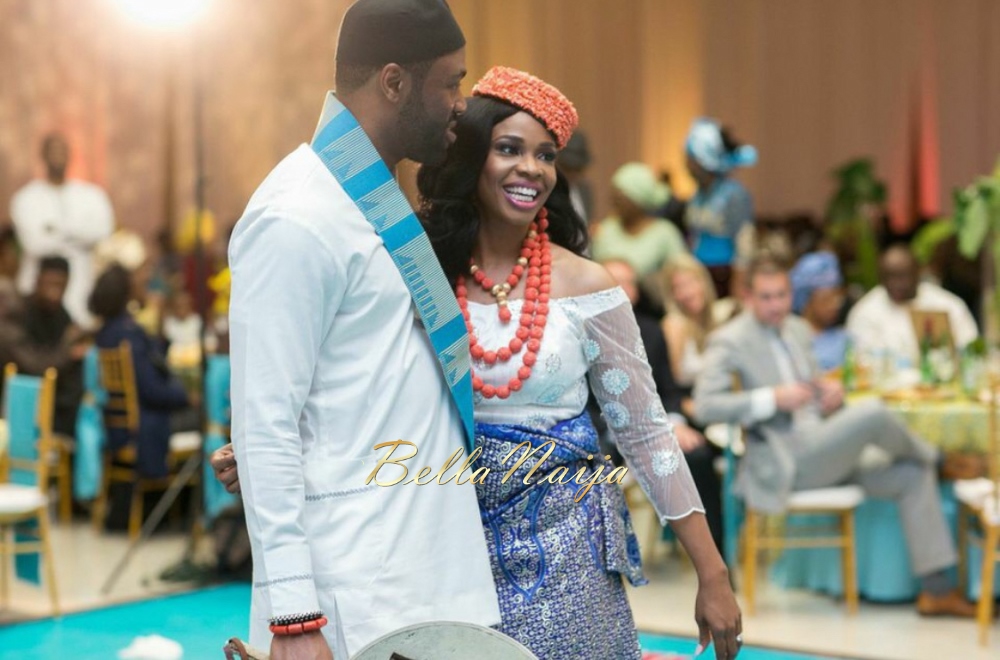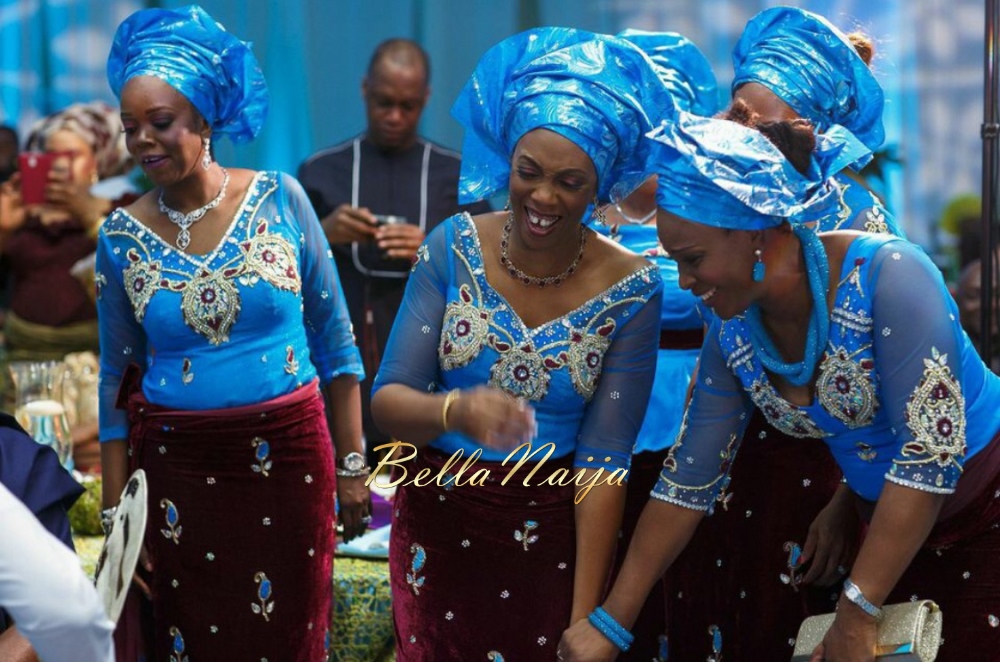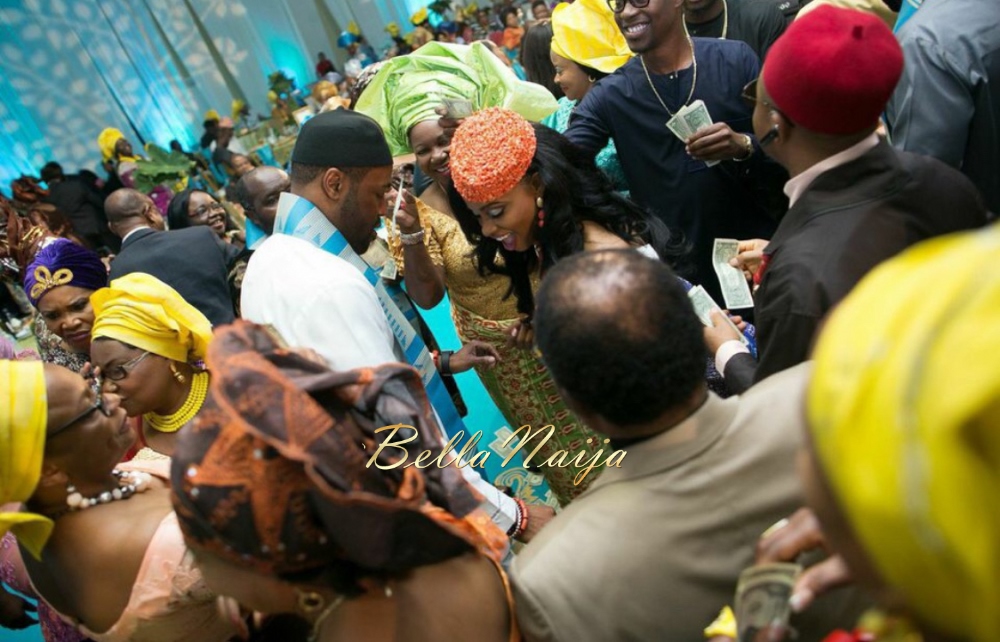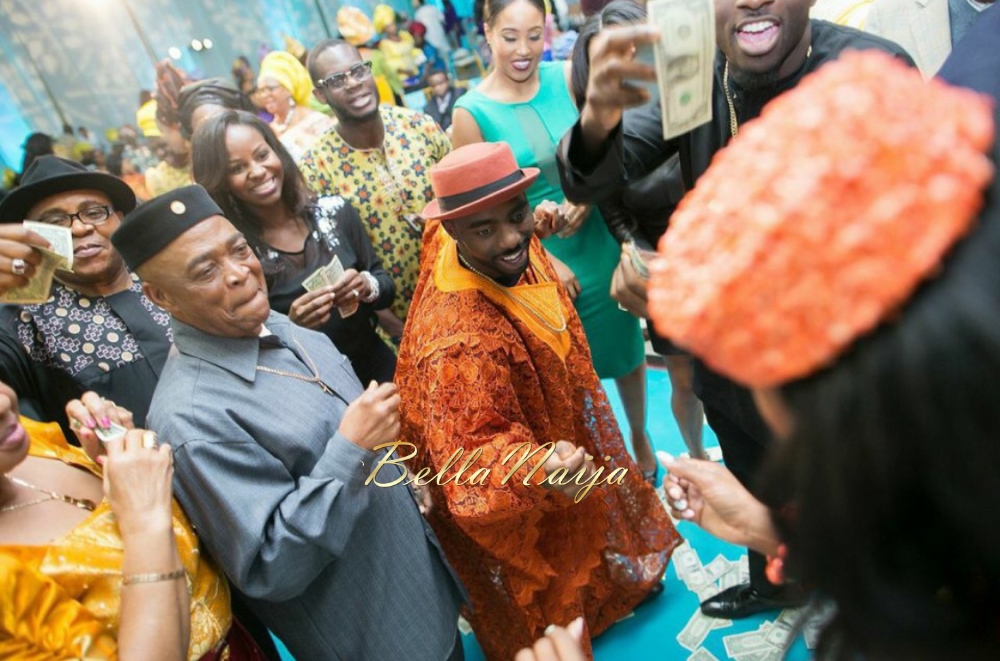 "I wanted the final outfit that I came out with my husband in to be white, and to represent I was a Nigerian bride. I wanted to make the white fabric pop more so I lined it with silver sequined fabric and wore crystal jewelry and accessories."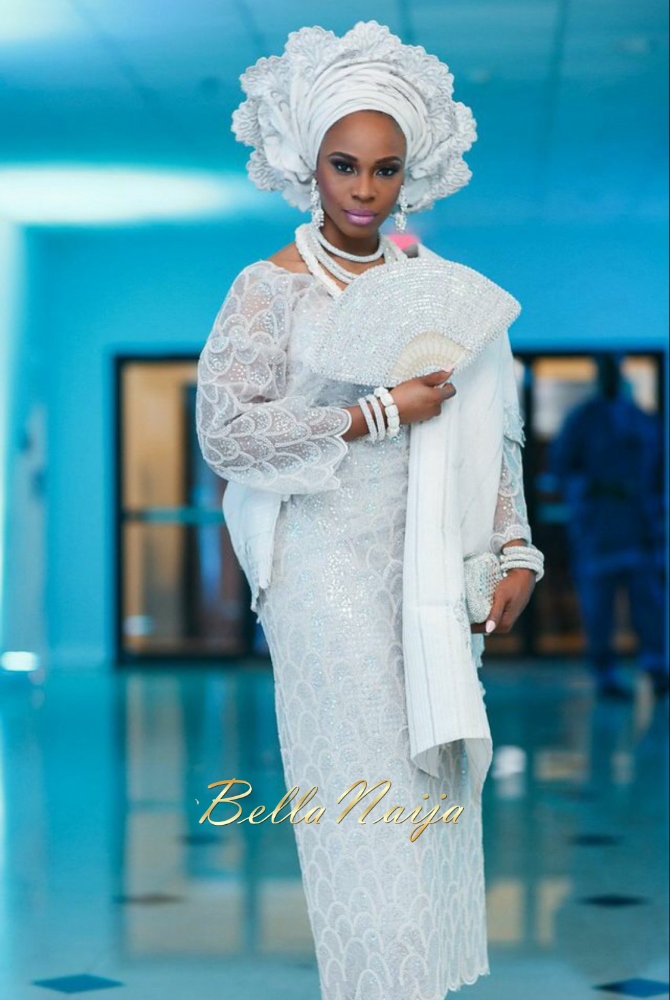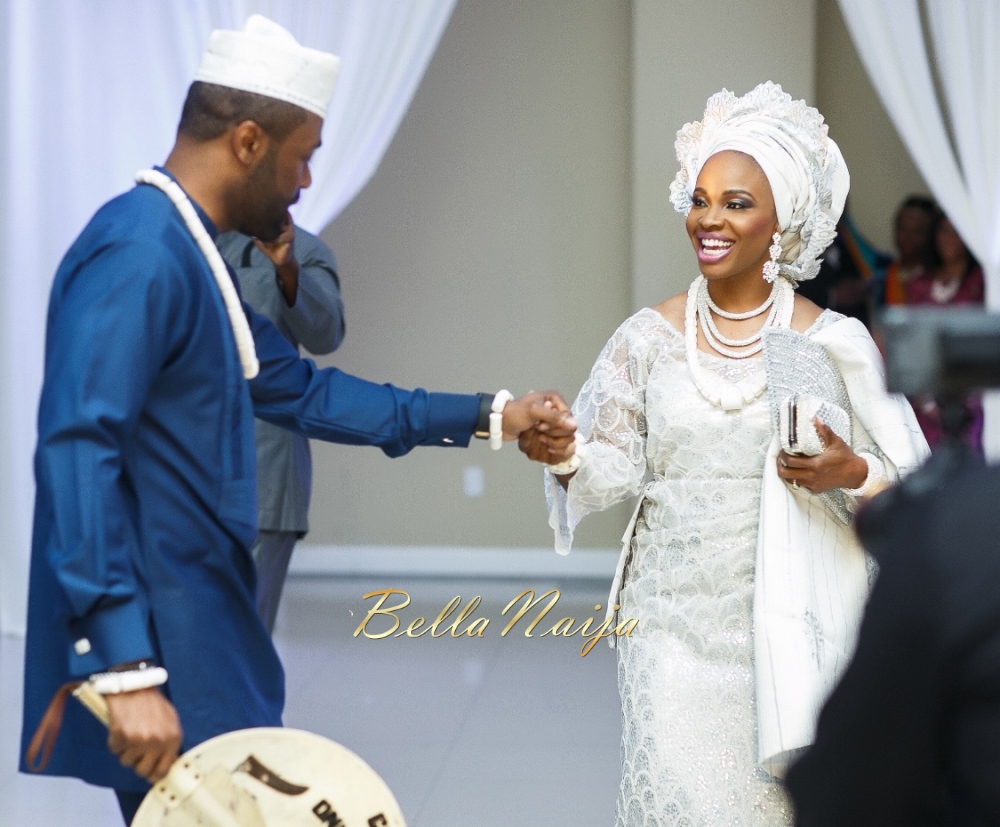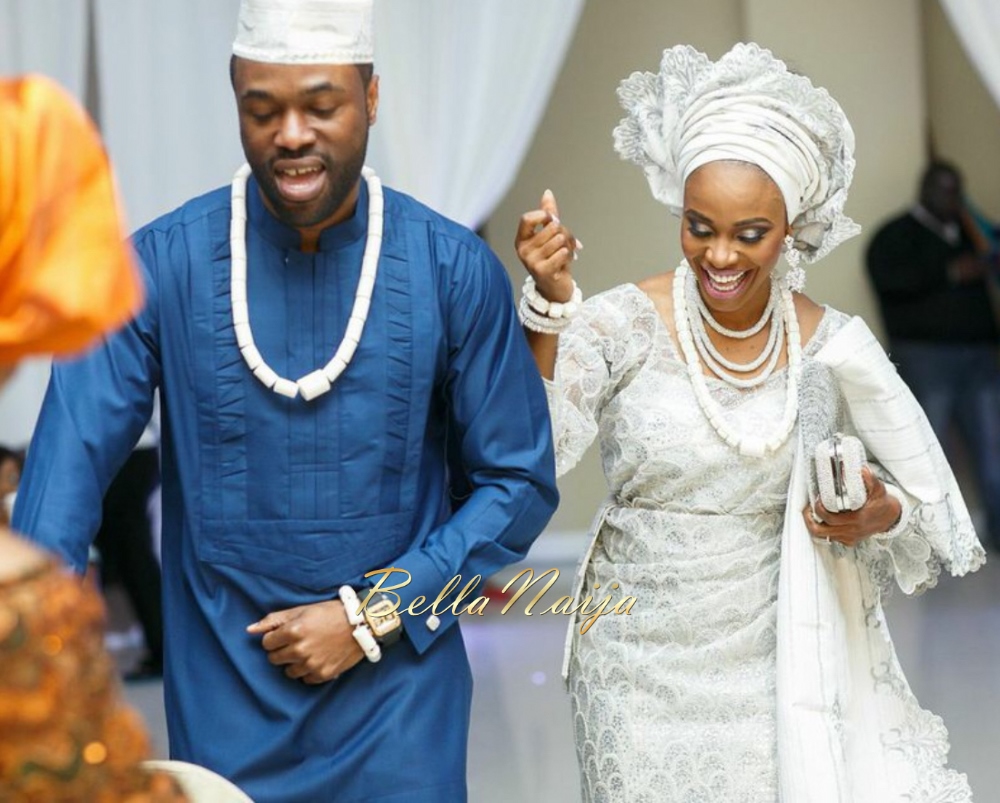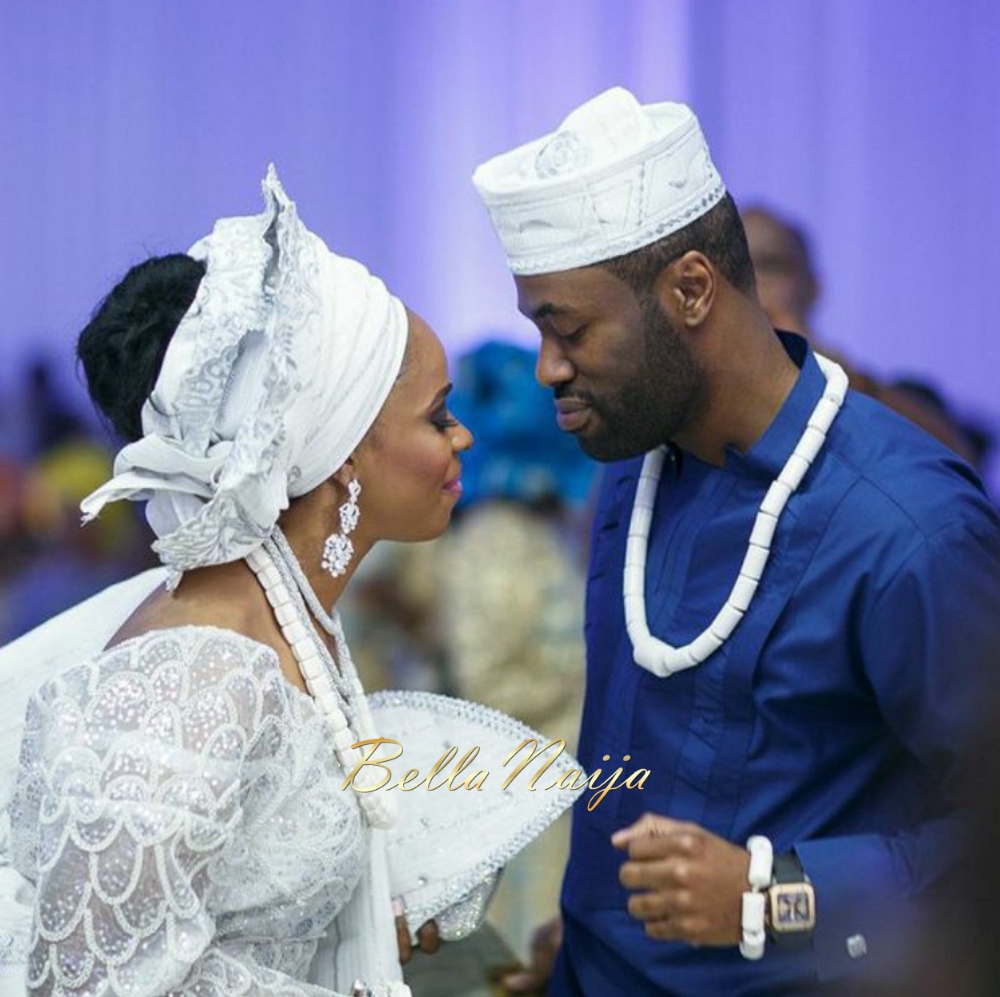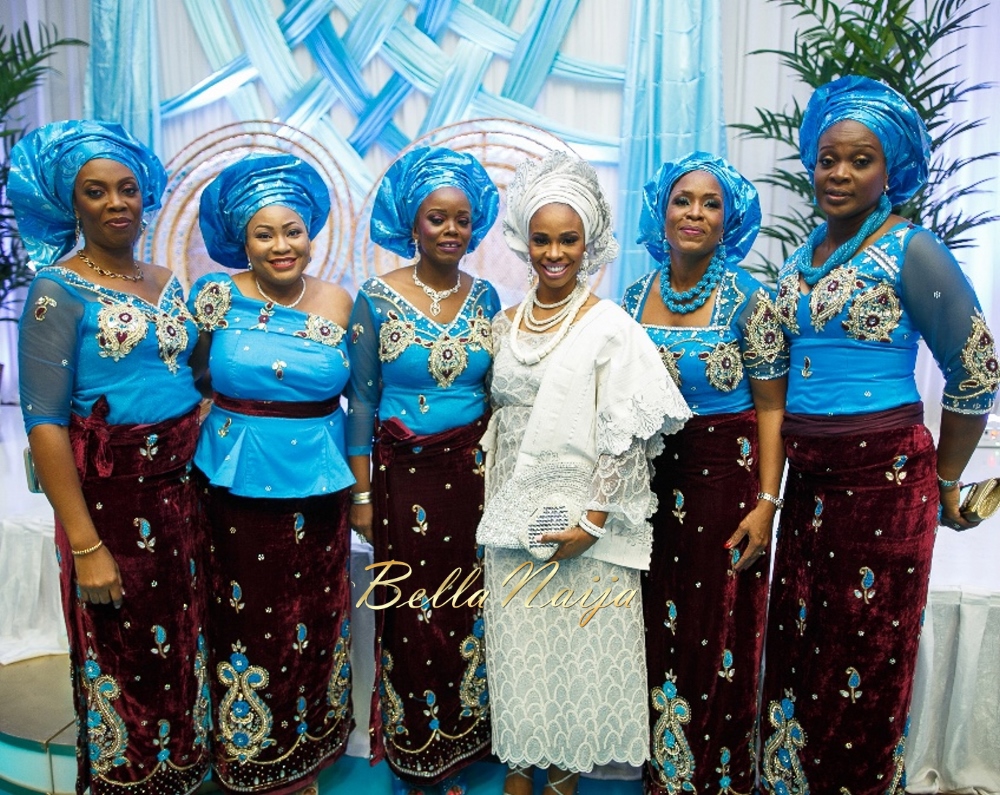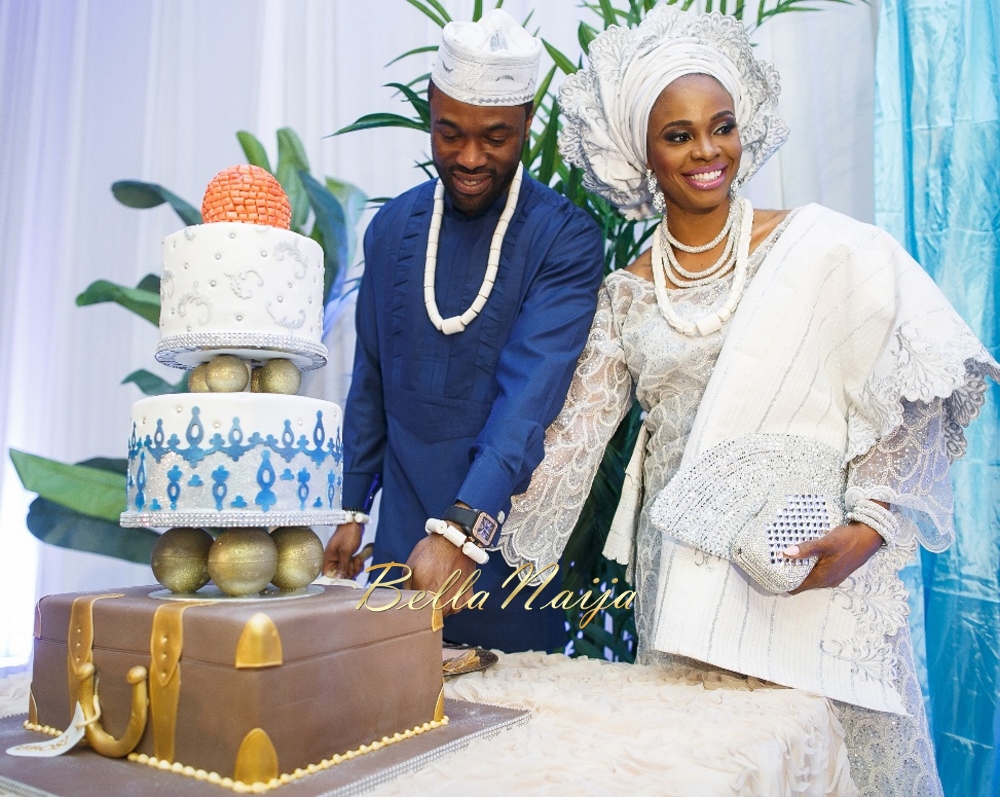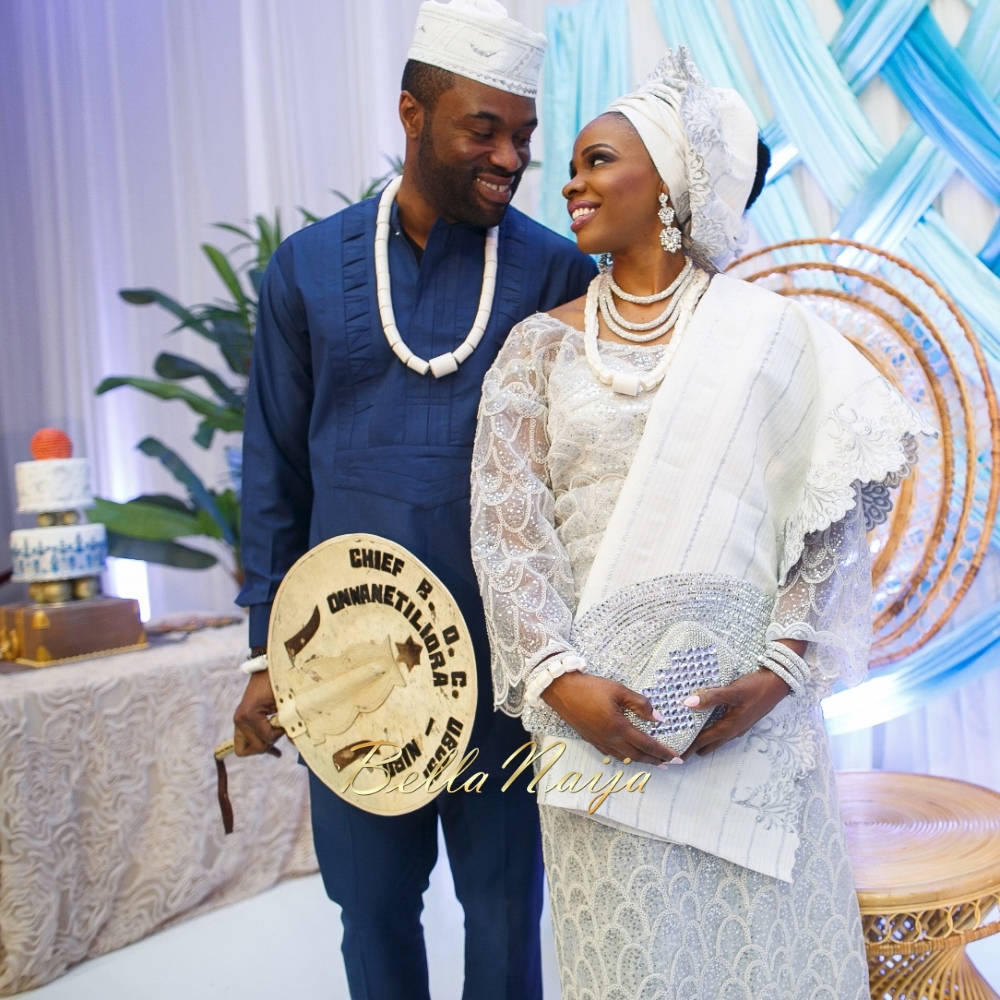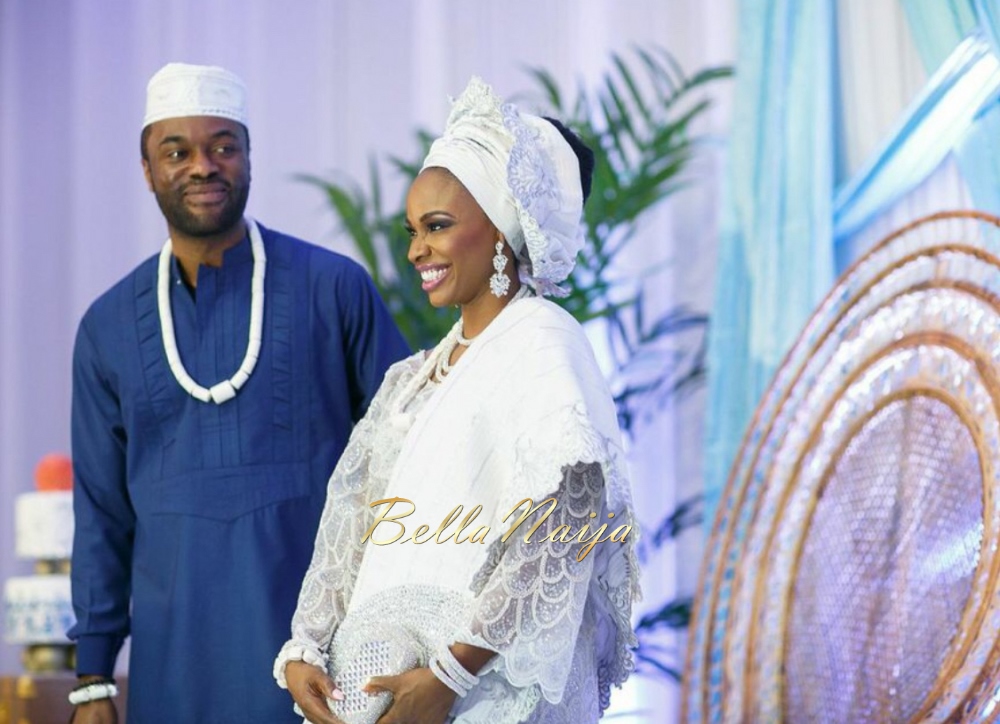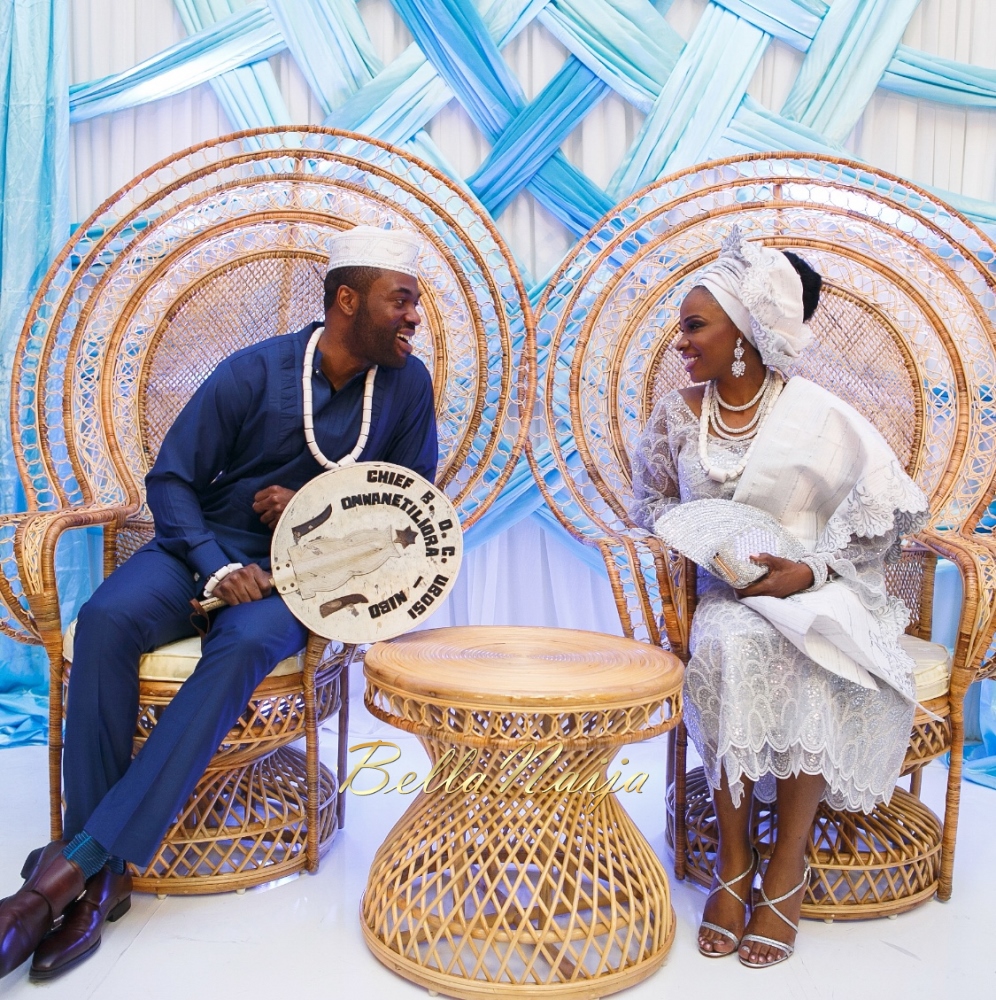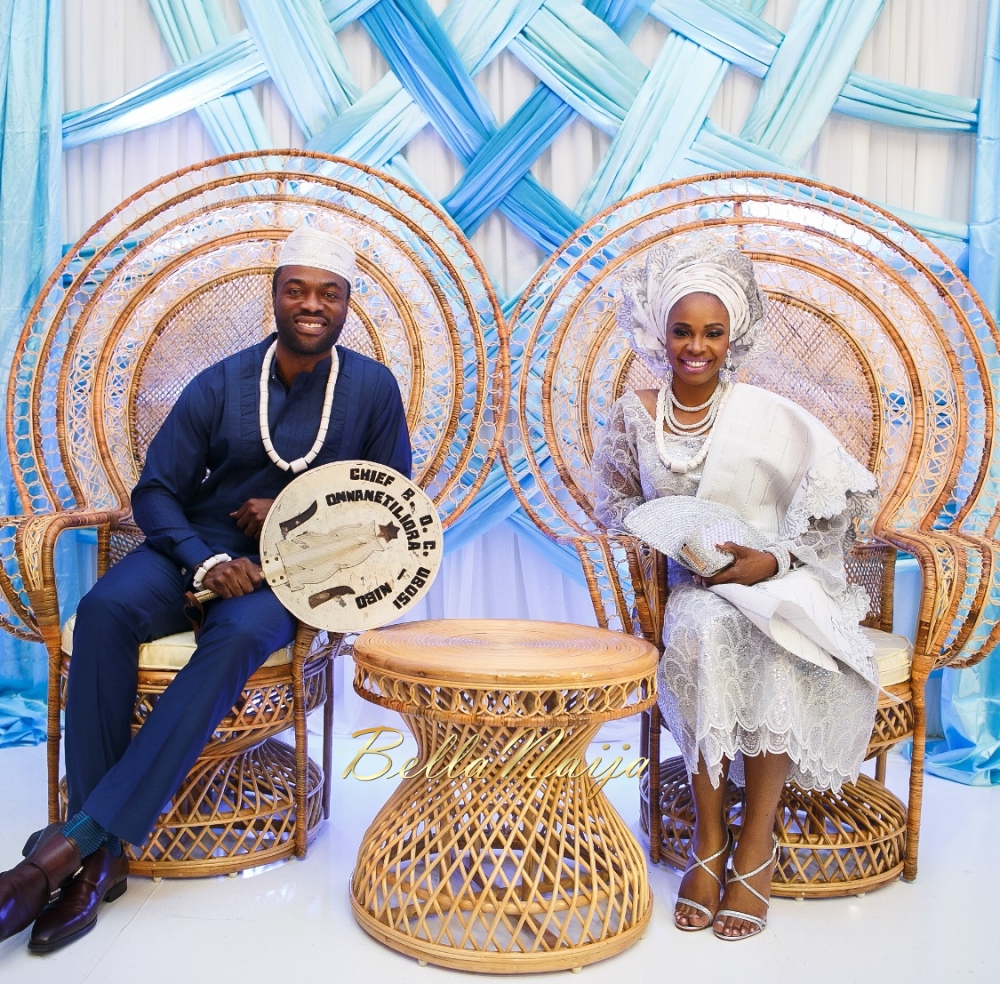 ***
Photography: Raheem of RH Photo Arts | Email: raheem (at) rhphotarts.com | instagram.com/rhphotoarts
Wedding Planner: Chioma of Dure Events | Email: Chioma (at) dureevents.com | instagram.com/dureevents
Wedding Info – Dates, Venues, Colours
Traditional Wedding: Thursday, November 13th, 2014 | Igbo Catholic Center (Houston, Texas) | Tiffany Blue and Gold
White Wedding: Saturday, November 15th, 2014 | Church: First Methodist Church of Houston (Downtown) & Reception: Bayou City Event Center (Houston, Texas) | White, Ivory, Silver, Crystal
Wedding Attire
Wedding Dress: Maggie Sottero from La Reve Bridal Boutique | larevebridalcouture.com
Reception Dress: Alyce Paris | alyceparis.com
Bouquet: Flora & Eventi | floraeventi.com
Veil and Dress Alterations: Kristin Johnston of Kristin Johnston Bridal | kristinjohnstonbridal.com
Bride's Shoes (Both Weddings): Christian Louboutin | christianlouboutin.com
White Wedding Aso Ebi Fabric: Glad Fabrix | facebook.com/glad.fabrix
Bridesmaids Makeup & Hair: Lyzadora | instagram.com/lyzadora
Bridesmaids Dresses: Brides by Nona | instagram.com/bridesbynona
Bridesmaids Gifts: Tiffany & Co Studs – tiffany.com, Maid of Honour: Chanel Logo Studs | chanel.com
Groom's Blue Double Breasted Tuxedo: Custom made by Abbeydale (Charlotte, North Carolina) houseofabbeydale.com | instagram.com/houseofabbeydale
Groom's Shoes: A. Testoni & Ferragamo
Groomsmen Suits: Suit Supply | suitsupply.com
Groomsmen Gifts: Bond of New York cologne, black velvet bowtie from Mrs. Bowtie London, polka dot print pocket square, paisley socks, flower pin lapel, handkerchiefs, suspenders, cufflinks and tuxedo studs to wear.
Grooming/Barber: Scott Wright of Headz Up Barbershop
Groom's Mother's dress: Brides by Nona | instagram.com/bridesbynona
Traditional Wedding Attire
Tiffany Blue/Rose Gold Look: Nneka of Brides by Nona | instagram.com/bridesbynona
Gele: Segun Gele | instagram.com/segungele
Blue and White Blouse and Wrapper & White Aso-Oke: Unknown Vendors (Port Harcourt, Rivers State)
Bride's Beauty Team for Trad & White
Bridal Makeup: Alaina of Color  duJour (Houston, Tx) | instagram.com/colordujour | www.ColorDuJour.com
Hair: Monique Moore of October Silk Salon (Atlanta, GA) | instagram.com/mooreuniquehair
Geles: Segun Gele of Briella's Signature (Houston, TX) | instagram.com/segungele
Vendors
Wedding Cakes: Edet Okon
Decor
Main: Flora & Eventi
Secondary: Decor to Remember & Darryl & Co.
Stationery: Isabella Invitations
Invitations/Stationary: Isabella Invitations
Lighting: DJU Productions
White Wedding Cocktail Hour Appetizers and Reception Dinner: Ral's Fine Catering
Traditional Wedding Food: Glorious Feast Catering
Post-Dinner Appetizers: Glazed the Doughnut Cafe
White Wedding MC: MC Namo
DJ for White Wedding and Trad Wedding: DJ Tunes
Entertainment for White Wedding: Mr. VSax, Banky W, Lynxxx