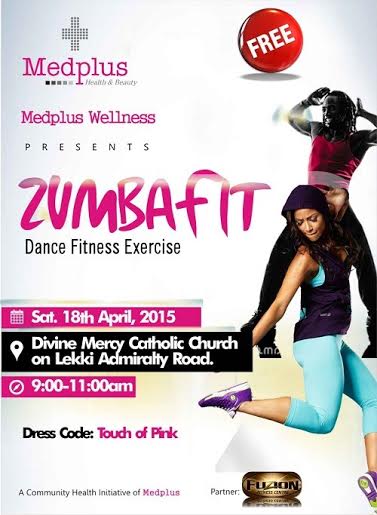 Great news Lekki dwellers! MedPlus Pharmacy will be launching its community wellness initiative to encourage the adoption of healthy lifestyles among Lagosians.
This new and exciting platform will be launched during a free "ZumbaFit" event live at Lekki, Lagos to be hosted by Fuzion Fitness (A Pioneer of the Zumba concept in Nigeria).
Zumba is a dance fitness program and a fun way to exercise, sweat out toxins and stay fit for everyone; and Fuzion's style is where Zumba, Booiaka meets Naija dance to help maintain a healthy lifestyle of incorporating healthy eating, exercise and eliminating stress.
Date: Saturday 18th April 2015
Time: 9AM – 11AM
Venue: Divine Mercy Catholic Church Open Field, Admiralty Road, Lekki, Lagos
Dress Code: A Touch of Pink
Admission is free! Complimentary SweetKiwi vouchers await early birds.
For more enquiries kindly call; 08189800336 or 08122665007 | For more information and updates on next ZumbaFit sessions coming to a location close to you | Follow MedPlus on Twitter: @Medpluspharmacy | Find MedPlus on Facebook: Facebook.com/Medpluspharmacy | Follow MedPlus on  Instagram: @Medpluspharmacyng
________________________________________________________________________________________________
Sponsored Content