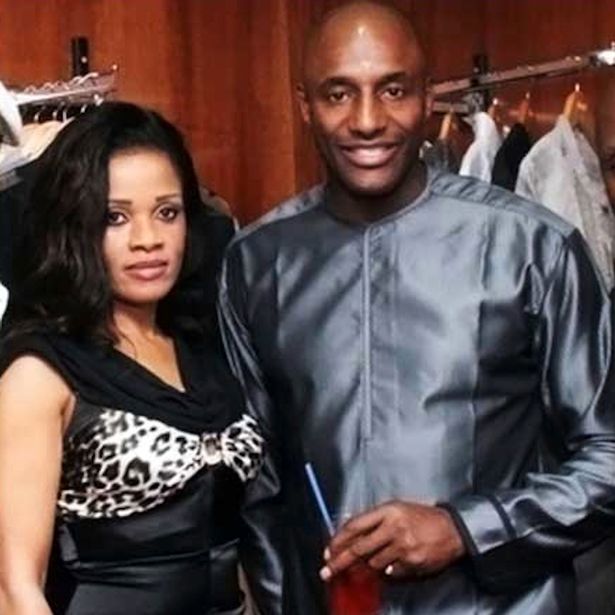 Being an international celebrity certainly has its pros and unfortunately, it also has its cons. John Fashanu and his wife Abigail Onyekwelu are feeling the heat today as intimate details about their marriage have been splashed across UK tabloid pages including the Sunday People section of the Daily Mirror and the Daily Mail.
Background
Football legend John Fashanu married Abigail Onyekwelu – a lawyer and mother of beauty queen/football wife Adaeze Yobo in 2011. At the time, the couple proclaimed their love for each other.
At the time, Abigail shared this with Encomium Magazine.
"Yes, we got married about three weeks ago. We've known each other for some years and we took the whole situation one step at a time, so that we would be able to know what we wanted from each other. And we also wanted to be sure we were compatible and when we knew, we sought the opinion of our children and they said if it's OK by us, we should go ahead. And we did. The thing that endeared me to him is that he is a romantic person and he loves God the way I do. And yes, I am so much in love."
Current Situation
The couple's divorce battle is presently being played out at the Abuja High Court. Both parties have accused the other of infidelity.
Abigail told the Daily Mirror reporter – "Good riddance to bad rubbish! I've left him and washed my hands."
While John says "She attempted to use knives on me. It was terrifying…My life was at stake, there's no two ways about that. Even if you did think I was sleeping with the maid, or even if you thought I was sleeping with Miss Nigeria, don't kill me! Just leave me and go. The ­violence was just too much. My life was at risk and I didn't want it to happen again. That's why I filed for divorce."
What Happened?
No one knows for sure. However, according to John who spoke exclusively to the Daily Mirror reporter, Abigail claims she caught him in bed with the maid and another woman. He denies this and is now countering with his own allegations.
"I've been very fortunate to date some of the most beautiful women in the world," Fash insisted. "I certainly don't have to sleep with my cleaner! This is me, John Fashanu, you're talking to. It's absolute nonsense. If she wants to make up that ­story, at least let her say it's Beyoncé or someone. Don't say it's my cleaner, that's just b******s. It's not true at all. The truth is she's been cheating on me with a woman she calls her spiritual partner. I caught them in the bed many times. That was why I kicked her out of my house."
The Money Angle
John added: "I'm the one who is filing for divorce. I couldn't stand her and, to be honest, she probably couldn't stand me. With Abigail it was just money, money, money.
"I've never seen a woman who has such an appetite for money. Nearly one million Nigerian naira (around £3,300) was stolen from my house in Abuja. There are police reports you can see.
"There were so many assaults, it was just getting too much. It was absolutely ridiculous. She attacked me on multiple occasions. The whole situation was far too hot for me. There are some wonderful, wonderful women. It's just that I met the wrong one."
Abigail's Defence
The Daily Mirror also reached out to Abigail and she denied all John's claims then confirmed she had indeed caught him being unfaithful.
On the Assault Claims
"John's saying I tried to kill him? Oh my God, this is so funny. I don't quite ­understand all this. "How can I kill him? How can ­somebody like me kill this huge man who is an expert in karate. I don't ­understand how I can kill him."
When she was told that he had accused her of going to his house armed with knives before trying to attack him, Abigail retorted: "Oh my God, that is ridiculous."
On the Infidelity Accusations
She also rejected Fashanu's claim that he threw her out of his house after finding her in bed with another woman.
Abigail said: "He didn't kick me out of his house. We were living in my house. He couldn't have kicked me out of my own house – I kicked him out."
Of the woman concerned, she ­insisted: "She is a good friend to me. She has a husband and children. It is ridiculous. She was living with me for a while to get back on her feet."
Yes, I Caught Him Cheating with the Maid…
Abigail went on: "I caught him in bed with two women, the housemaid and one other woman. There were two women, it was awful.
"They were on the bed. They were undressed. I said to them, 'Who are you and what's going on here?'
"He told me that he doesn't know what he's doing and I should pray for him. He knows how to manipulate people, that's one thing he is good at.
On the Divorce Filing
"I last saw him in April last year. I didn't know he'd filed for divorce. He has been calling people asking them to plead with me to get back with him.
"I would have filed for divorce myself but I haven't because I've been very busy. And he asked me not to because he did not want to make it known that we had separated.
"So I went on my way and I left him but I didn't tell anybody anything.
"I've told him, 'I don't want you any more, I have forgiven you, I'm a Christian. But I don't want you any more, just leave me alone.'
I don't take him seriously. I don't have time for him. If I should be angry at anyone, I should be angry at myself for descending so low as to enter into marriage with such a person."
Stolen Money?
Responding to claims she stole money from Fashanu, Abigail added: "Anybody can say anything – but how can I go to his house and steal from him in his house?
"I wasn't living there with him. He's sick and he needs help."
You can read the full story on the Daily Mirror Website HERE
It is really sad when couple's intimate lives play out in the public eye. We hope the situation can be resolved amicably.