After a disappointing internet search for a wedding invitation that was a reflection of our highly spirited and vivacious African wedding ceremonies, Ify Ojo, a Canada based multimedia designer decided to act on an idea by teaming up with her long time friend, Omena Babalola and the entrepreneurial venture, Bibi invitations was created.
Bibi Invitations was launched in July 2012 as an online store for customizable African jollification announcements specializing mainly on African themed wedding invitations and stationery. They offer brides-to-be the opportunity to choose an invitation card from their various collections and work closely with a small group of dedicated and talented designers to customize it their taste and colors.
"We absolutely love what we do! Your wedding invitation offers a chance for that first impression, a sneak peek for your guests about what to expect from your wedding in terms of style and colors. We know the pressure to pull of the perfect Pinterest wedding is HUGE – so to make sure your wedding experience is as personal and memorable as possible we work side by side with you to create the wedding of your dreams without the stress. Each order that comes our way is altered to meet your vision for your big day and each invitation is carefully assembled by hand."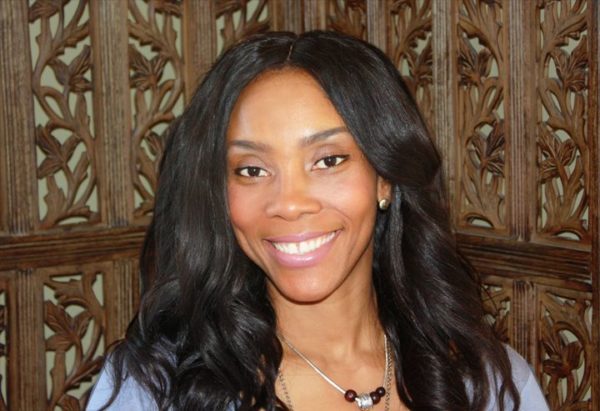 Bibi Invitations has 3 wedding invitation collections:
The Okin Signature collection, is their high end haute couture line of invitations that are hot foiled and die cut on shimmering metallic paper – this collection is especially for couples that truly want to make a bold statement.
The Ifeoma Collection offers an incredible mix of wedding invitations with royal crests and monograms, it provides you with the option to go for elegant simplicity or to bedazzle your invitation to your hearts content.
Our Abena collection is for the budget conscious bride. The invitations in this collection boasts of a bold mix and match of Ankara and other African inspired prints and patterns.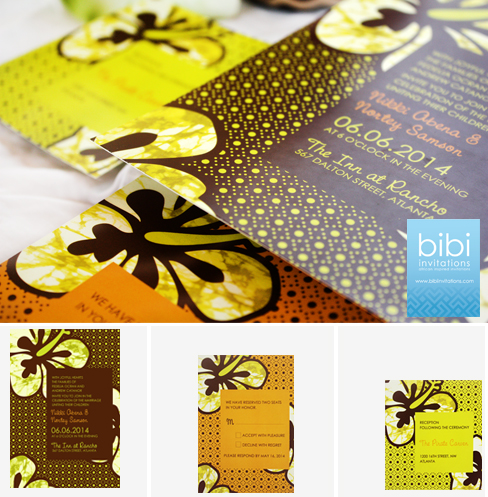 Providing completely unique designs
For couples looking for a unique experience, they offer bespoke services that are tailored to your budget. They work with their brides -to-be to create truly personalized invitations, often incorporating elements and symbols that are of deep significance to the couple or the families. For brides-to-be that want the high end type couture luxury wedding invitation that are mostly made in New York, they can create that without breaking the bank.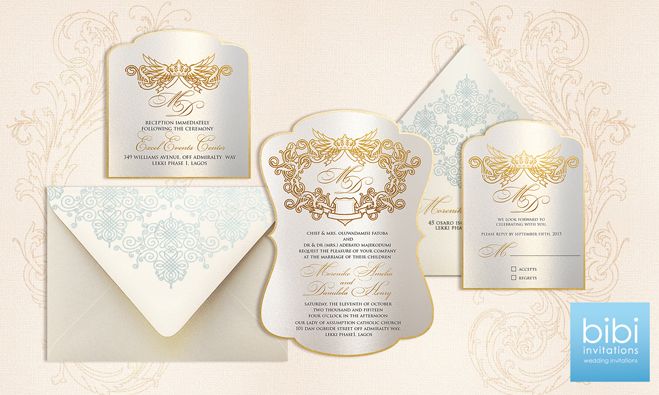 About their exciting African Traditional Invitation Collection.
"We launched our Printable African Traditional Wedding Invitation collection 2 years ago and it has been a tremendous success! These invitations are customizable and we have invitations for various ethnic groups such as Igbo, Yoruba, Efik/Calabar, Idoma, Niger/delta, Edo and Hausa brides-to-be as a well as invitations for Ghanaian, South African, Cameroonian brides-to-be. Our collections just keeps growing to keep up with demands from brides-to-be from other African countries!
This Collection offers a great savings opportunity for our budget conscious brides because we provide their invitation cards in printable digital format for them to print as many copies as they would like but this is done only after our designers have worked with the bride-to-be to complete the customization and proofing process. Providing our African traditional wedding invitations in printable digital format also eliminates that last minute scramble to re-order invites when your excited parents have added 100 or so extra guests your to your list. We also provide a social media version of your invitation to make it easy for you to announce your traditional wedding on your Facebook page."
For couples who would like to have their images used in instead
Yes, for couples looking to have a totally unique design experience they have 2 options, their bespoke traditional wedding invitation, the couple would provide their pictures and their talented designers will create a realistic illustration of the couple in any traditional attire of their choice or they can use their pre-wedding photo shoots in in our African traditional photo templates.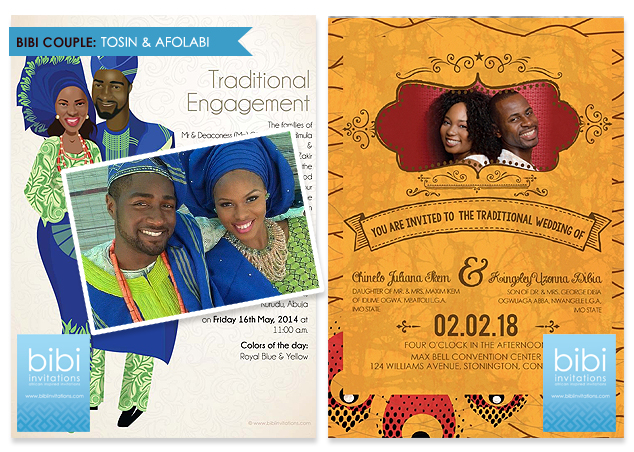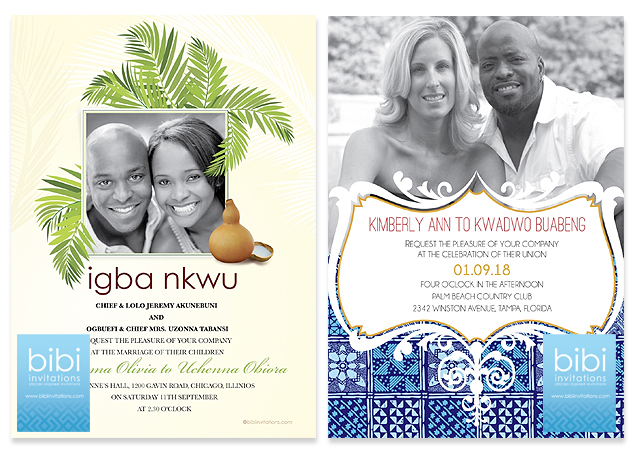 World-wide Shipping
They ship directly to your door step with your invitations fully assembled.

Use Bibi Invitations for your big life moments because every second counts from the moment you said "yes".
Giveaway Contest!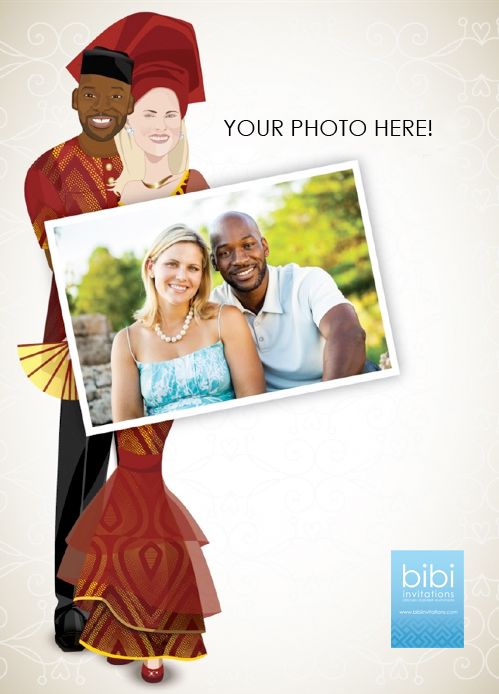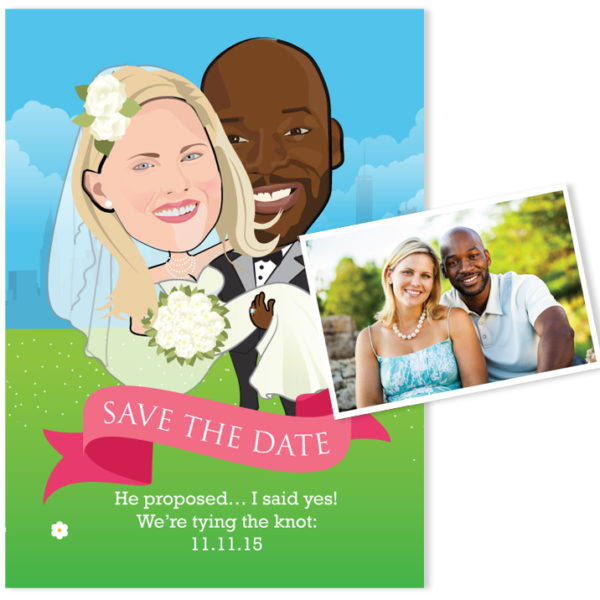 Bibi Invitations is offering one lucky couple the ultimate prize! A free printable custom illustration portrait. This Giveaway is open from now till June 20th.
To enter:
Simply send 2-5 pre-wedding photoshoots to [email protected] along with your love story, no greater than 400 words.
Giveaway Rules
1. One winner receives 1 custom portrait illustration in digital format*
2. Selected entries will be posted on their Facebook timeline on Wednesday July 1st, 2015.
3. The couple with the highest number of "likes" by Thursday July 9th, 2015  will emerge as the winner. (Get your friends to like your photos!)
4. Winner will be notified by email provided and also announced on their **Facebook page and website.
If winner does not respond within 48 hours, another will be selected.
*Traditional attire will be based on already existing African Traditional templates.
*The same background of the "Save the Date" card shown in the picture above will be used
**This promotion is in no way sponsored or endorsed by Facebook.
By applying for this giveaway you grant Bibi Invitations all necessary permission to reuse your content and information.
_____________________________________________________________________________________________
Advertorial – Sponsored Content