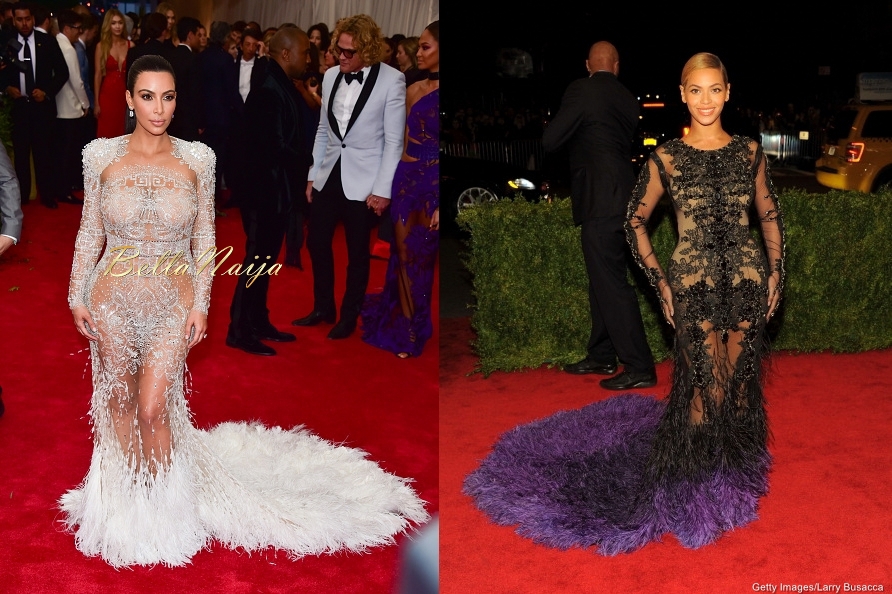 Social media is going in on Kim Kardashian for wearing, what they are calling an imitation of Beyoncé's 2012 MET Gala gown.
The 34-year-old reality TV star stepped out on the red carpet in a gorgeous white sheer Roberto Cavalli gown with fringe detail at the bottom.
While a lot of people are saying the outfit was inspired by Beyoncé's black and purple sheer Givenchy gown with similar fringe elements to the 2012 MET Gala, Kim Kardashian maintains that her look was inspired by Cher's look for the first ever MET gala and not Beyonce.
She posted a photo of her inspiration on Instagram and captioned:
Tonight's inspiration! Cher at the 1st ever Met Gala! I just met her and told her this photo was my inspiration for my dress tonight! She is so beautiful! So happy I met her!
Photo Credit: Getty Images| Instagram – @kimkardashian