Studio Of Modé is the brainchild of Modé Aderinokun, who officially founded the company in 2012 in order to create a space where the voice of a creative person with various skills can be clearly heard and understood; a place where creativity can connect and integrate into modern day society in an expressive, intellectual manner, without necessarily losing one's creative aesthetic.
Since the creation, the company has grown from the founder creating art in a bedroom, to building a studio and having her work highly celebrated resulting to it being in the hands of hundreds of people.
Today, Studio of Modé presents its 2015 campaign collection. All artwork presented are created by Modé. The art has been put on are Phone cases, Laptop Skins, iPads and many more.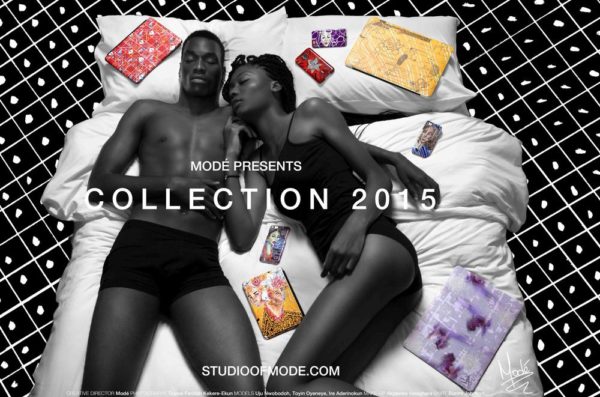 The art created in this collection was based on Guns, Flowers & Adiré. This collection was initially an exploration. Modé dug into her culture and researched the unknown. She aimed to create a hybrid of the culture she already knew.
Guns, Flowers & Adiré came about when she grew fascinated with the vibrancy of flowers and the subtlety and poignancy of Adiré. Guns were a figurative alter-ego of the other two subject matters, a harsh contrast especially towards the delicacy of flowers. Flowers and Guns both have a strange connection with death. The two remind you of the fragility of life. Flowers remind you of how short time is, while Guns presents to you the immediacy of death, once you are gone, you are gone.
All products are now available for sale. Available online at www.studioofmode.com or you can stop by our store at:
Address: Studio of Modé, 4 Olumo Road, Parkview Estate, Ikoyi, Lagos
Contact: +234 909 215 3879
Photo Credits
Creative Director: Modé
Photography: Toyosi Faridah Kekere-Ekun
Pattern: Modé
Models: Uju Nwobodoh, Toyin Oyeneye, Ire Aderinokun
Make-Up: Akpevwe Uvieghara aka Dodos
___________________________________________________________________________________
Advertorial– Sponsored Content