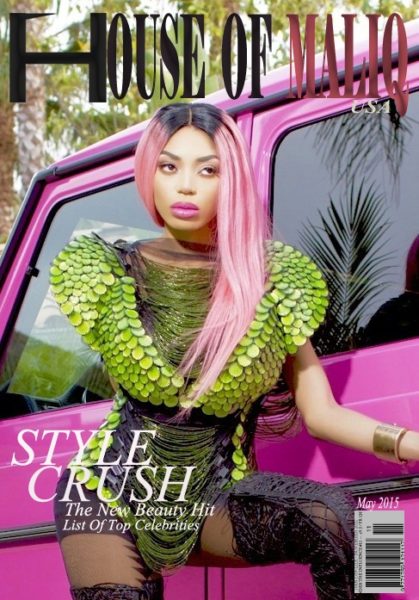 Yesterday we shared the first look at Dencia for House of Maliq magazine's Luxury Issue with the pop star dressed in gold (click here if you missed it).
Now House of Maliq has released more photos from the editorial spread, shot by Scott Herbert, as well as her interview with the magazine.
Read excerpts from her feature below.
On her projects: I've been chasing my dreams and living life.I'm working hard and having lots of fun doing it. I'm currently on the road promoting my new single, "African energy" . This week alone, I just left Las Vegas, where I attended the billboard awards for Los Angeles to kiss my beautiful dogs and now headed to Lagos to premier the video for my new single, "African energy" and then Europe for more promotion.
On her inspirations: I'm a goal driven person who is relentless in pursuing my dreams. I'm inspired by not just one person. I draw inspiration from everything and everyone around me. I'm inspired by powerful & successful women like Folurunsho Alakija, historical greats like the Queen of Matamba, Madam CJ Walker( okay let me not get too deep lol) and of course my grandmother who raised me to be fearless. I'm also inspired by haters, I've observed that the more focused you are and the higher you climb the ladder to success in life, the less you can hear their rants, rumors and lies from below.
On her passion for fashion: Fashion is something i'm extremely passionate about. I truly enjoy colors, sunglasses, shoes, visors, accesories, anything fashion. I believe I've always had style since i was a little girl. I believe fashion is an expression of personal or collective style. it can speak for a person, culture or group of people. There is hip hop inspired fashion,vintage fashion, chic styled fashion, edgy harijuku style & pop fashion, all types of fashion. The most important thing is having your own style and expressing yourself however you chose to. I've attended fashion events all over the world from Europe to Tokyo and of course the United States. I'm always networking and studying the game like Kanye West. You can bet on the fact that I will be respected and known in the fashion industry shortly.
On being controversial in the music industry: What industry? i'm not part of any industry because I am in any every industry . Music is how I express myself,music has helped me grow,I don't relate to most artists because we are different people with different dreams & visions,I have a vision,driven by a vision of a different version.. I don't have the same challenges they have. Im in my own lane,  They can't make their own decisions and rely on music to survive. In my situation, I'm focused on building a beauty brand,fashion & much more that will take care of me and my future kids and their kids. Any controversy is mostly because people choose to focus on my personal choices. I just live my life and people talk about it. I'm motivated by the fact that I'm not yet where God wants me to be.. I found out Steve Forbes the CEO follows me on twitter and i'm very excited. That means i must be doing something right.
You can read up her full feature here.
Photo Credit: House of Maliq