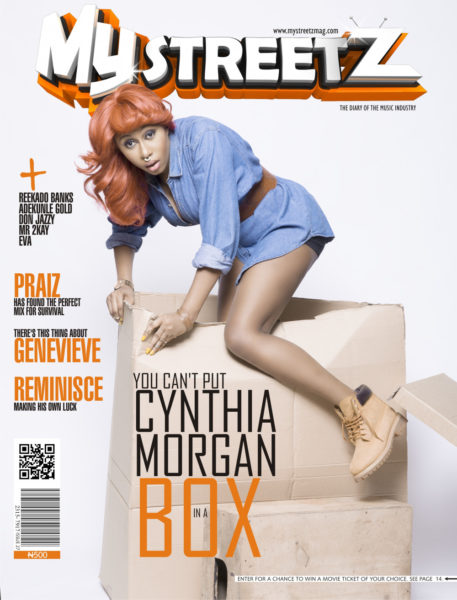 If there is one artist that can't be put in a box it has to be Cynthia Morgan.
The music star came on the music scene with her unique style and sound. She covers the latest issue of Mystreetz magazine, photographed by August Udoh and styled by Jane Michael.
According to Sesan Adeniji, publisher of Mystreetz Magazine, 'The pursuit for survival has somehow shaded the pursuit for happiness. Most people today seldom care about been different, all that matters is to be part of the mix. The bandwagon syndrome is now the new cool.  Gone are the days when majority subscribes to the slogan "I have a dream". All that is visible now, is a majority jumping on the next man's trending dream to put food on the table. They say variety is the spice of life but this is not the case with the Nigerian entertainment scene. Everything now looks and sounds the same. From newsstands, sameness is shouting out loud. The Naija artistes are the guiltiest of this chronic copy-cat disease.  The slight difference within ninety percent of the artiste today is their names and not their sound except for a few like Cynthia Morgan who can't be put in that box.'
This edition will be available in May 2015.