The topic of hair line loss or scanty edges is one that affects a lot of women with different hair types. So, I have decided to help you out in that area.
Your edges have a major role to play in your beauty – they help frame your face and are more or less the introductory paragraph to your hair especially when it's parked or put in a protective hairstyle.
In today's topic, I'm going to list a few reasons why you may be having problems with your hairline like Naomi Campbell, and of course how to fix it.
First of all, you should note that we all have different hairlines – so you should not compare your hairline to that of your friend's. There are 2 common hairlines out there;
– Widow's Peak: This is basically when your hairline has a V-Shape at the front; and the rest of the hairline is further back.
– Round Hairline: This is one of the more common hairlines. In this case the hairline falls into a perfect semi-circle around the forehead. Please note that there are other types out there, and these are just 2 of them.
So, why is your hairline receding?
1. Your edge control is drying out your hair
I know we like to achieve the 'sleek' look on a daily basis, but your hairline will do better if you only use your edge control about three times a week.
This is because some (most) edge controls contain alcohol and other ingredients that cause drying and eventually leads to breakage. Constant use of these products in the same area will definitely lead to a receding hairline.
A quick trick is to spray a little water on your hairline, apply a dollop of shea butter and scarf for 20 mins (You can do this before you shower). Your edges will look as sleek as they would if you use any edge control; but the shea butter is all natural and will not dry out your hairline. Below are the results of spraying water and using shea butter on my edges.
2. Your hair is very fine
Edges are among the most fragile parts of your hair, and the pulling and grabbing naturally involved in styling can put strain on them.
This usually happens when you use a hard brush too often on your edges or your hair in general. Women with fine hair have a harder time with their hairlines. If your strands are fragile and prone to breakage, then you need a gentle hair styling and maintenance routine.
Also when it comes to manipulating your hair and edges; cut back on the edge control and styles that involve pulling your hair back too tight such has ponytails and high buns.
3. You cornrow, flat twist and pull your ponytails too tight
Yes, we all want our edges to look 'sharp', 'sleek' and 'on fleek', but we also have to be realistic. If your hair is very kinky or coily, then the likelihood is that your edges will also have a bit of texture and fuzz to them.
As discussed in our first point, if you want your edges to lay down without having to use any harsh products, spray them with some water and apply shea butter. This should lay them down and smooth them without the use of excessive pulling or a hard brush. If you notice that your hairline has started receding, cut back on the braids, cornrows and ponytails as they pull too tight on the hairline.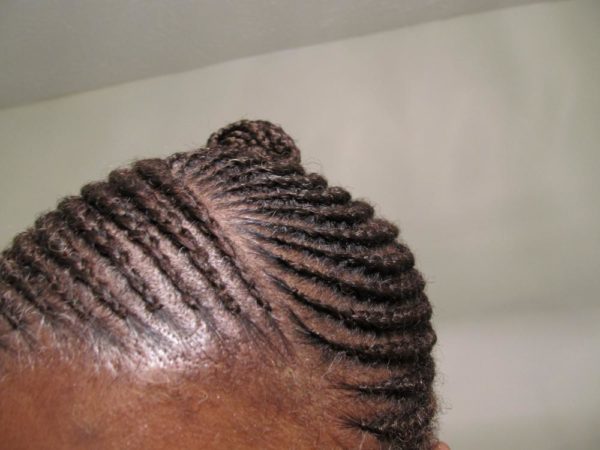 Check out other hairstyles you can try out with your natural hair if you are taking a break from braids, weaves and cornrows here.
4. Your headband and/or bonnet is doing the damaging
Any hair accessory that applies tension or has an elastic band can do possible damage to your edges.
If the elastic of your satin bonnet is creating bald spots, try pulling it down further on your head, or even over your ears. Headbands can also do damage if they're too tight or used excessively. Figure out how much your hair hairline can take, and adjust your usage accordingly. They also affect your nape area and you can end up with this type of breakage.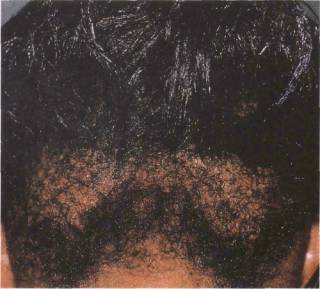 Anything rubbing against your hairline (forehead or nape area) can cause damage in the long run.
5. You have postpartum shedding and hair loss
Sometimes all the pregnancy hormones can affect your hair negatively. New mothers have reported nearly losing their hairlines after giving birth. This is very natural and if this is the reason why your hairline is falling out, you can massage your hairline daily with warm castor oil.
Warming the castor oil will further stimulate the hair follicles in your hairline and encourage growth.
6. You are not moisturizing them
When applying product to your hair, edges and ends are often overlooked. Make sure you treat both sections with TLC (Tender Loving Care). The hair that isn't moisturized in general leads to dryness which in turn leads to breakage.
To avoid this, spray your hairline with some water every 2 – 3 days, apply moisturizer of choice and then seal with some oil – castor oil or olive oil works best. Don't forget to use a silk/satin scarf at night to prevent the hair from rubbing against your cotton fabric pillowcase or you could go for a satin pillowcase if you don't like to tie anything on your head at night.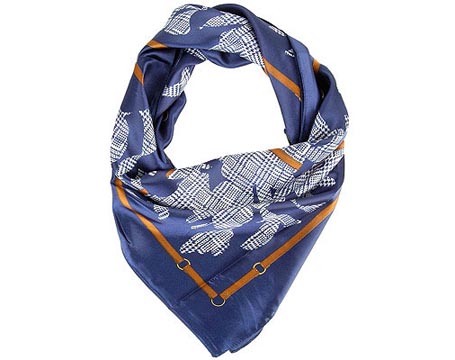 7. You have hand-in-hair syndrome
Do you fiddle with your hair when you're nervous? If you're in the habit of twirling the hair around your edges, you could be creating bald spots. Go for an up-do if you find that letting your hair down leads to you constantly touching it!
Hope this post helps you if you are having issues with your hairline! And if you have solutions that can help, share them with us.
Find Sharms online
Blog | Facebook | Twitter | Instagram | Beauty Directory

Photo Credit: Worldofbraiding | Kamiacantholdwater | Charmstep | Yelp | Africanhairblog.com | Omiru