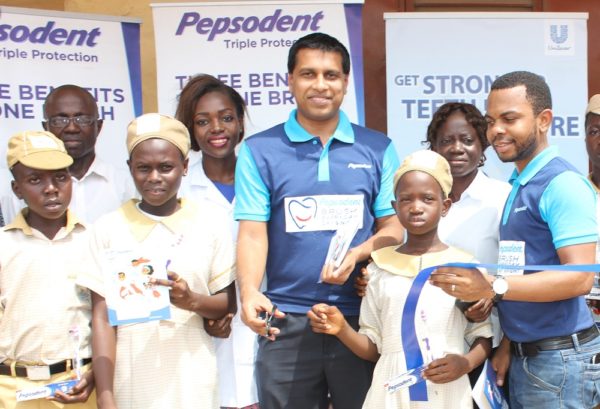 Worried that 9 in 10 tooth decay cases are untreated in Nigeria, dental experts at the ongoing Oral Health Schools' Programme have advised Nigerians to brush twice daily (morning and night) using fluoridated toothpaste in order to prevent tooth problems.
The schools' programme, organized by Pepsodent and Close-Up toothpastes in partnership with the Nigerian Dental Association and Ministry of Health and Universal Basic Education Board in various states, aims to to change the oral care behaviour of ten million Nigerian children by 2020 by convincing them to Brush Twice Daily (morning & night) – to stay healthy and happy and lead a more enjoyable and fulfilled life.
To make the twenty-one day behaviour change programme interesting and impactful, George Umoh, Brand Manager, Pepsodent, Unilever Nigeria said that Super Dentists Comic has been developed alongside other educational materials to engage pupils in over 1,000 primary schools nationwide to help them cultivate the habit of brushing day and night and then become role models of healthy oral lifestyle in their families.
Speaking at the flag-off of the programme in Lagos, he said, "We are targeting children because we believe that kids can change the world and they can use their pester power to make their parents do the same. We are rolling out this programme with our (health) toothpaste – Pepsodent, which delivers three benefits of – Anti cavity, Whitening and Fresh breath in just one Brush".
"These products, together with the educational materials that we have designed are handed over to the kids and for twenty-one days, our instructors and the school teachers are in the schools to ensure that these kids get proper nmoral health education and go back home with the same exercise to influence and convince their parents to do the same. So at the end of the day, we ensure that the habits are enforced, adopted, practised and sustained and together, we can eradicate cavities and other oral diseases in the lives of children and their parents".
He went further to say that "In the 2015 edition, we will be across five different states in Nigeria and will be reaching about 600,000 students and the programme continues every other year till 2020 when we achieve our ambition to influence and improve the lives of 10 million school children in Nigeria".
Speaking during a counselling session with the pupils, Doctor Dorcas Abu, immediate Past President of Nigeria Association of Dental Students, said that it is important to brush twice a day because if not, the bacteria in the mouth will have more time and more food to break the teeth down and cause cavity.
He said; "But this can be prevented by brushing twice daily, first thing in the morning and the last thing at night with fluoride containing toothpaste and it has been found that Pepsodent toothpaste has the right quantity of fluoride that can prevent cavities".
"We should also use a medium-bristled toothbrush for adult and soft-bristled toothbrush for children. For smokers and frequent consumers of caffeine, they can use the hard-bristled toothbrush. The importance of brushing twice daily is not about how frequently you brush but the techniques in which you use. You should use the roll technique in which you brush the upper teeth down and the lower teeth up in a roll direction while you brush the chewing surface of your teeth in a horizontal manner".
"It is important to teach children because when you catch them young, it's like you are teaching the next generation and a nation. It is easier that way because they can teach their siblings, teach their peers and even teach their parents at home. And as we teach them from now, they will teach their own children because they will grow up with it and in a couple of years we will have a cavity free world".
__________________________________________________________________________________
Sponsored Content