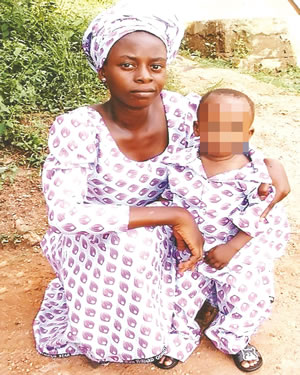 Ogun State Police have arrested a 26-year-old woman Funmilayo Tijani, for allegedly stabbing her two-year-old son, Emmanuel, to death.
It is unclear why she killed her son, but witnesses' accounts indicate that she may have had a mental breakdown.
According to Punch, Tijani and her husband, John, separated two years ago after a quarrel. She then moved to her father's apartment with Emmanuel.
Speaking on the incident, one of her neighbours, Akeem Ijaola, said:
"Funmilayo and her son stayed with her father in a one-room apartment. The boy attended a private school in this area. About 4pm on the fateful day, we noticed that something was going wrong in the apartment.
When people went near, they saw the boy in a pool of blood. He had been stabbed many times. Funmilayo at that time looked like a mentally-derailed woman. The boy died before anyone could take him to a hospital.
Although no one could ascertain the cause of her action, Funmilayo is divorced, and the child was born out of wedlock about three years ago."
Another neighbour, Funmilayo, said:
"She tried to borrow money during that week from her boss, but she failed. There are also arguments whether her husband was the father of the boy or her father, who she stayed with.
Also, her former husband, John, has married another wife who gave birth a few weeks to the incident. I think all these contributed to Funmilayo's emotional breakdown."
Tijani's father, Adebayo, expressed shock over the incident.
"Funmilayo's mother died about 20 years ago. She grew up staying with me. I married a second wife later, but separated from her years ago. Funmilayo had been staying with me since she separated from her husband.
"John initially refused to accept her pregnancy. But they went for a DNA test, which confirmed him as being responsible for the pregnancy. Thereafter, he took her to a place in Apapa, and they were planning to travel to his hometown in Delta State,. but I refused and asked her to come back home," Adebayo said.
Police Public Relations Officer, Muyiwa Adejobi, confirmed the incident, stating that police had deposited the corpse at a morgue.
"The police were at the scene to recover the body of the child. The woman has been acting strangely like someone with an unsound mind. She has been arrested and investigation is ongoing."
Photo Credit: Punch