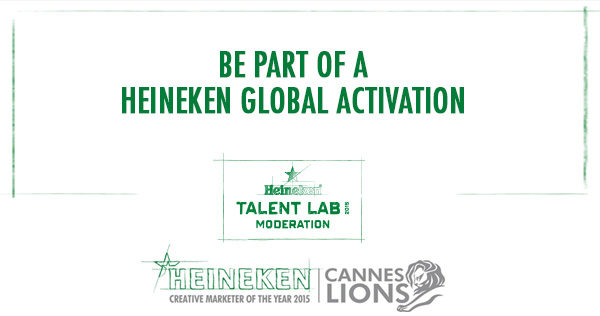 The Talent Lab program is a Heineken initiative that will give 10 up and coming creative talents, from 5 countries across the globe, a pressure cooker creative challenge with the opportunity to develop a global Heineken® activation. The Talent Lab program is linked to the fact that Heineken (company) receives this year at Cannes Lions Festival of Creativity, the award  for Creative Marketer of the Year 2015.
Heineken aims to give creative talents around the world an opportunity to experience an intense creative process in Amsterdam and create potentially award winning work.
The Target:
Young creative talents; students or junior free-lancers in the early stage of their careers. The Heineken Talent Lab is open to creative talents in any of these disciplines: design, copy writing, concept development, music, photography, illustration, performance art, etc.
Selected candidates will have an opportunity to create a themed activation with the support of the global Heineken brand team, with the possibility of the winning activation running globally in 2016.
Think you've got what it takes? Go to www.heineken.com/ng to submit your work.
_________________________________________________________________________________________________
Sponsored Content