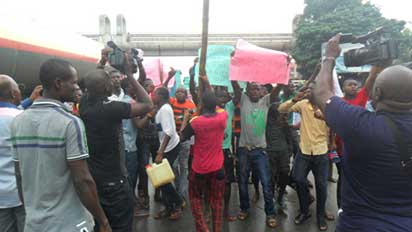 Following widespread protests in Anambra State over the relocation of some Boko Haram prisoners to state prisons, Governor Willie Obiano has promised residents in the state that the prisoners will soon be relocated.
Obiano announced the news after a successful security meeting held with a 7-man delegation from the National Security Adviser (NSA), Sambo Dasuki, on Wednesday, Pulse.ng reports.
"I want to reassure you that the meeting went very well. The various communities in Anambra, the markets, the car Unions, the churches, our traditional institutions and others made a great point to them that we want this people removed and removed immediately…they have reassured that they will take up our message back to Abuja and that this people will be removed very soon" Obiano said.
The security meeting was reportedly attended by traditional rulers, religious leaders, town union executives and market leaders.
Photo Credit: Vanguard