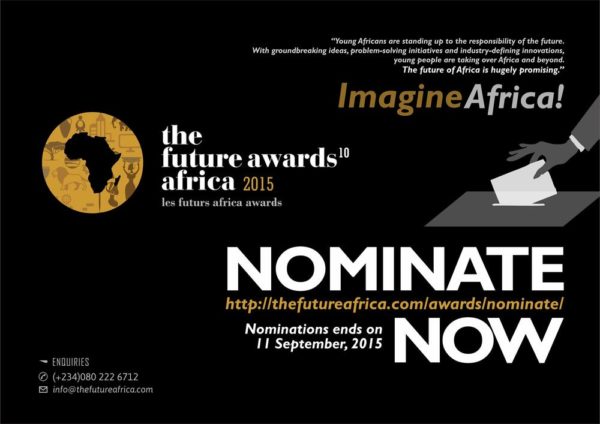 The 2015 season of The Future Awards Africa (TFAA) is nearly here! 
As part of it's launch, The Future Project (TFP) paid courtesy calls to the Canadian High Commissioner, Perry John Calderwood and Swiss Deputy Head of Mission, Daniel Cavegn in Abuja on Tuesday 23rd and Thursday 25th June 2015.
The courtesy visits also announced the commencement of nominations for the 10th annual TFAA. The awards are seeking nominations from the public, for individuals between the ages of 18 and 31 who have created incredible impact and well documented accomplishments within their community and/or globally in the last year. These achievements should revolve around their results, potential for growth plus the ability to inspire other young people in Africans.
The theme for this 10th anniversary is Imagine Africa! This was chosen to highlight young Africans fulfilling the promise of the continent. TFAA is proud to demonstrate the richness and variety of positive change catalysed by these young ideas.
"Locally and globally, young Africans continue to reshape and redefine the narrative of just what it means to be a young individual in a developing country," said Mfon Ekpo, Executive Director, The Future Project Africa. "They are demonstrating incredible resilience and resourcefulness, and in doing so are reshaping a continent and helping to create brighter futures for a continent of over one billion people. It really is an exciting time for us as we highlight the incredible things occurring."
Check out the award categories for 2015 below!
The Future Awards Africa Prize in Education
The Future Awards Africa Prize in Agriculture
The Future Awards Africa Prize in Advocacy
The Future Awards Africa Prize in Technology
The Future Awards Africa Prize in Public Service
The Future Awards Africa Prize in Community Action
The Tony O. Elumelu Prize in Business
The Future Awards Africa Prize in Entertainment
The Future Awards Africa Prize in Enterprise Support
The Future Awards Africa Prize for African Young Person of the Year
Nomination closes on Friday 11th September 2015.
For more information and to nominate a candidate, SMS +2348022226712, email [email protected] or visit www.thefutureafrica.com/awards.
Follow @TFAAfrica to keep up with the latest news on TFAA. The official hashtags for 2015 are #ImagineAfrica and #TFAAS2015.
____________________________________________________________________________
BellaNaija is a media partner with TFAA