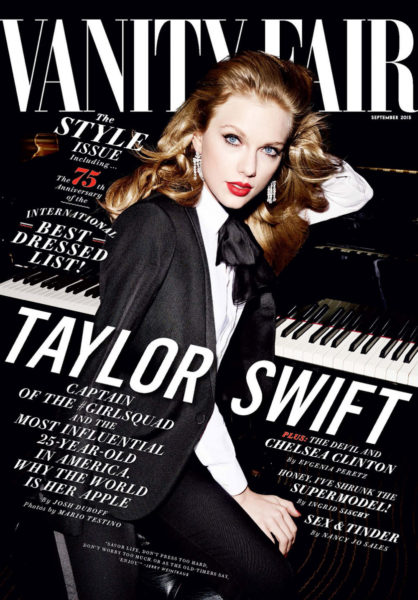 Taylor Swift looks stunning on the cover of Vanity Fair magazine's September 2015 issue, photographed by Mario Testino.
In Vanity Fair's September cover story, the 25-year-old pop star tells writer Josh Duboff about the past year of her life, including her new laid-back attitude toward dating, why her female friendships trump all, and her willingness to take on tech giants.
Read excerpts from her interview below.
On her relationship with Kanye West: "I feel like I wasn't ready to be friends with him until I felt like he had some sort of respect for me, and he wasn't ready to be friends with me until he had some sort of respect for me—so it was the same issue, and we both reached the same place at the same time. I became friends with Jay Z, and I think it was important, for Jay Z, for Kanye and I to get along. It started with both of us really liking Jay and wanting him to be happy. And then Kanye and I both reached a place where he would say really nice things about my music and what I've accomplished, and I could ask him how his kid's doing."
On her letter to Apple Music: "I wrote the letter at around four a.m. The contracts had just gone out to my friends, and one of them sent me a screenshot of one of them. I read the term 'zero percent compensation to rights holders.' Sometimes I'll wake up in the middle of the night and I'll write a song and I can't sleep until I finish it, and it was like that with the letter. I read it to my mom. She's always going to be the one. I just said, 'I'm really scared of this letter, but I had to write it. I might not post it, but I had to say it.'"
On her group of BFFs: "That doesn't happen. We even have girls in our group who have dated the same people. It's almost like the sisterhood has such a higher place on the list of priorities for us. It's so much more important than some guy that it didn't work out with. When you've got this group of girls who need each other as much as we need each other, in this climate, when it's so hard for women to be understood and portrayed the right way in the media … now more than ever we need to be good and kind to each other and not judge each other—and just because you have the same taste in men, we don't hold that against each other."
Read up her full feature and see more photos here.
Photo Credit: Vanity Fair