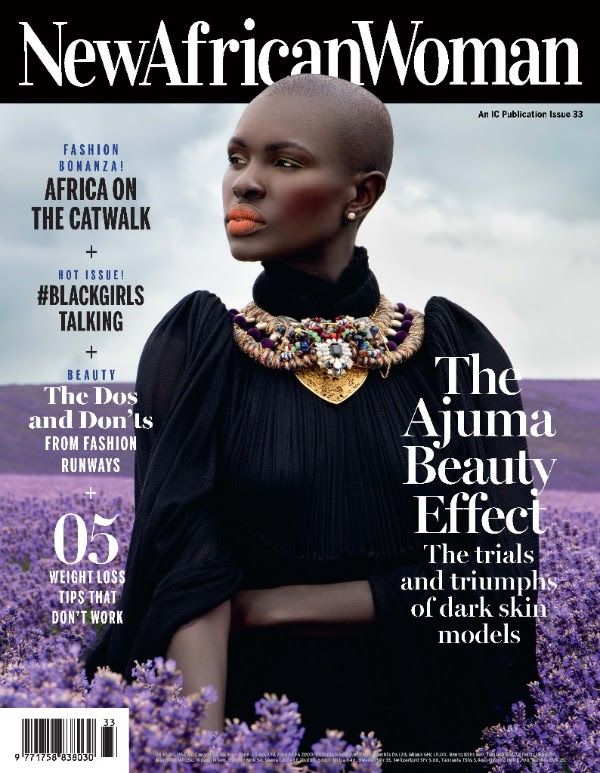 Kenyan athlete-turned-model, Ajuma Nasanyana is also questioning why there is a lack of black models on the global scene.
In the new issue of New African Woman magazine, the model who is also a one-time Vivienne Westwood muse, has an exclusive interview with the magazine to ask this and more questions. She expresses her devotion to the #BlackSkinMatters movement in the beauty industry, and shares why she feels more accepted as a black model today.
Anjuma hasn't been the only one to ask why there is a lack of black models on the global catwalks. A while ago South Sudanese model, Nykhor Paul, also addressed this issue in an open letter to the fashion industry. Click here if you missed it.
Ajuma told the magazine – "As more and more girls of my skin tone come into the industry, who are confident in their beautiful dark skin, the acceptance of the saying 'Black is beautiful' is finally becoming a real. I do not feel like the blackest girl in the world anymore."
The issue also highlights top names and African models that make the fashion industry tick. They also shine a light on the recently concluded Africa Fashion Week London 2015, as well as the Mercedes Benz Fashion Week Africa and the upcoming Heineken Lagos Fashion & Design Week 2015, and more.
You can get your digital copy of the issue HERE.
To find our more about New African Woman magazine, Follow them on Twitter: @NewAfricanWoman | Follow them on Instagram: @NewAfricanWomanMagazine